*** This giveaway is no longer accepting entries – scroll down to see who won!***
Perhaps you've heard of a little store called Ikea? And perhaps you'll be interested in a $350 gift card from them for this week's giveaway? Yeah we couldn't believe it either when they emailed us. Hooray is right, Ikea catalog. Well said.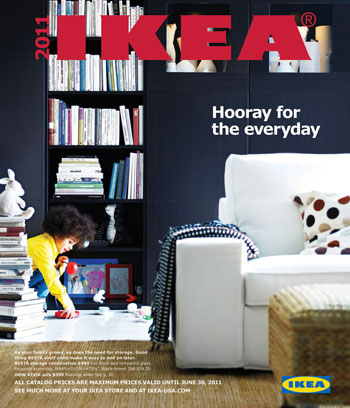 And not only are they generously offering up this week's sweet prize, Ikea's also presenting "The Life Improvement Project" where they'll award one philanthropic individual $100,000 to take a one year sabbatical to help others (start a non-profit, volunteer for a year, etc). Plus they're hosting free seminars in their stores about improving your life through your living space.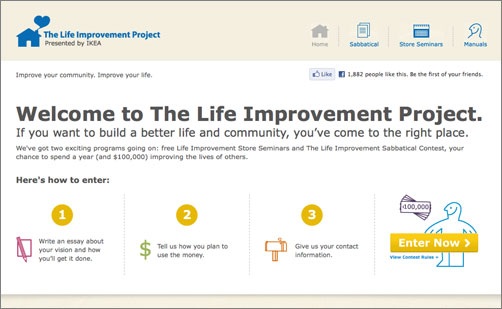 But back to how you can get your mitts on that $350 gift card:
PRIZE: A $350 gift card to Ikea!
TO ENTER: Comment on this post with the words "IKEA Me!" and…
BONUS QUESTION: … tell us what you'd do if you could spend one year helping others. Would you open an after school program? Volunteer at a homeless shelter? Rescue animals?
GIVEAWAY CLOSES: Wednesday, October 27th at 8pm EST
NUMBER OF WINNERS: One
PRIZE SHIPS: The United States
USUAL STUFF: One entry per e-mail address is permitted. The winner will be selected using random.org and announced on Thursday as an update to this post. That's right, come right back here Thursday morning for the announcement of our winner. Good luck…
******************************
You guys are quite impressive with your nearly 11,000 entries. So impressive in fact that Ikea decided to change their plans and give away not just one, not just two, but THREE $350 gift cards. That's over $1000 in gift cards! Thanks Ikea!
So let's see who the lucky three winners are according to random.org:
Alyssa Allen (who's Life Improvement Project would include moving her fam somewhere in the world to help the poverty crisis)
NEPD (who'd give her wedding florist services away free of charge)
Jill (who'd give a year working with the Wildlife Conservation Society)
Note: We weren't paid or perk'd for hosting this giveaway, we just take them on to reward our lovely readers! See our Giveaway FAQs page for more info. Pics from Ikea.