***This giveaway is no longer accepting entries***
When the folks from Two Paperdolls contacted us a couple of months ago about doing a giveaway (like they'd recently done on one of our favorite wedding sites) we knew it would be the perfect Wedding Week prize for you guys. Two Paperdolls – who are on the brink of launching a new e-commerce website with a whole new look – along with their sister site Louella Press are dishing out over $1000 worth of custom letterpress wedding (or party!) invitations. Amazing, eh? So all of you brides-to-be (or anyone else who just wants to throw a party) can cross one thing off of your to-do list.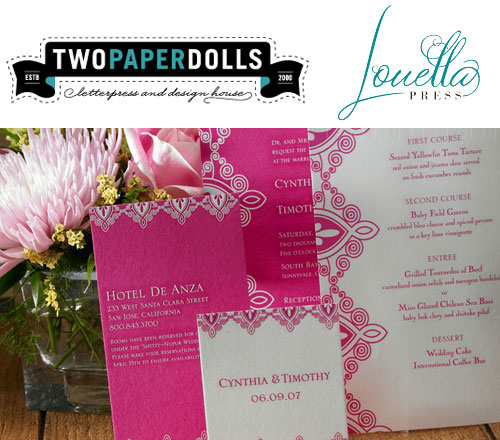 If you don't currently fall into the "engaged" category, go tell your nearest wife-to-be, mother-of-the-bride, or anyone else who is ready to give a killer engagement present about this fab little freebie. Or you yourself can use the prize for any other event or announcement that you've got around the corner (birthday party? baby shower? anniversary party? just-won-amazing-free-invitations party?). Louella Press designs gorgeous classic-yet-fresh invitation sets that are pretty much guaranteed to make an incredible first impression to any guest who is lucky enough to receive 'em.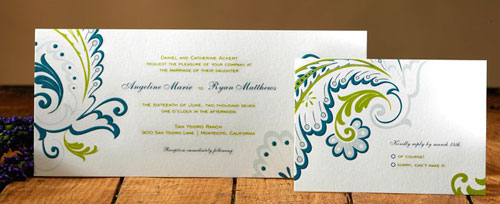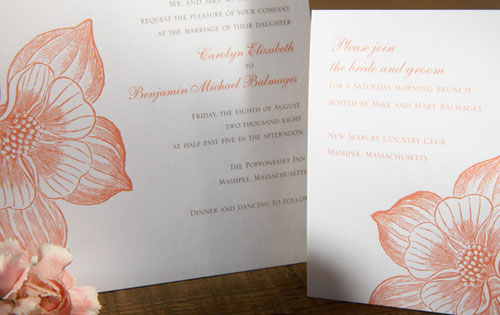 We've chosen a few of our favorites here, but be sure to click over to Louella's site to browse the full collection. Just note that these images show engraved invitations (raised ink) but the winner will be receiving equally-beautiful letterpress invite sets (which each include an invitation, envelope, rsvp card, and rsvp envelope). And if your event or announcement doesn't need the RSVP card and envelope, feel free to convert it to a thank you card and envelope instead. Oh, and you'll all be receiving an exclusive YHL discount on Thursday so stay tuned…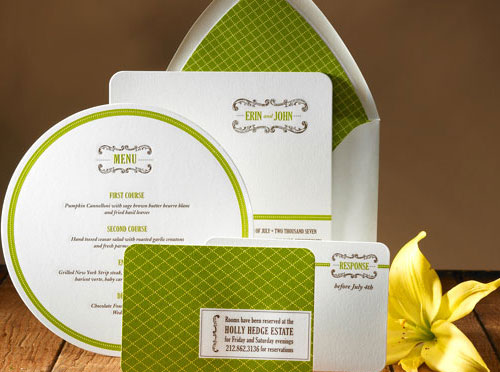 Here are this week's full details:
PRIZE: 50 single-color letterpress invitation sets (including 50 invitations, envelopes, rsvp cards, and rsvp envelopes) on your choice of either fluorescent white or pearl 110 pound paper, courtesy of Two Paperdolls and Louella Press
TO ENTER: Comment on this post with the words "INVITE ME!" and…
BONUS QUESTION: … since we're talking invitations and guest lists, tell us whether you prefer a large family-and-friend-filled wedding or a smaller more intimate event- or maybe even a destination wedding with just a handful of lucky travel companions.
GIVEAWAY CLOSES: Our anniversary! (Wednesday, July 7th at 8pm EST)
NUMBER OF WINNERS: One
PRIZE SHIPS: To the United States of America
USUAL STUFF: One entry per e-mail address is permitted. The winner will be selected using random.org and announced on Thursday. Good luck!
See our Giveaway FAQs page for more info. Pics courtesy of Two Paperdolls & Louella Press.