If it's true that cleanliness is next to Godliness, then selling our house is practically turning us into saints. Not that we weren't teetering on clean freak status before, but I've always considered myself more tidy than clean (i.e. clutter's a no-no, but the tub can go unscrubbed a little longer than I'd like to admit to my mom). But now that we've got strangers touring the place it has kicked us into cleaning hyper drive – which I should note is much needed considering that having a newborn all but halted it for a good while this summer.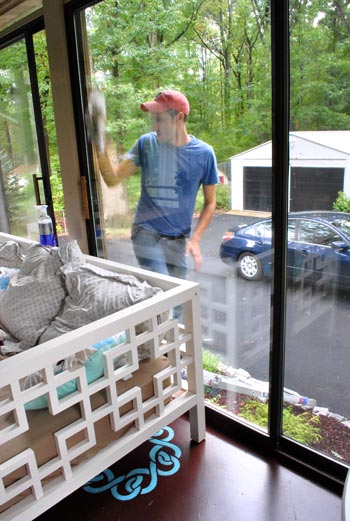 Yes, that's me breaking out the ladder to give a good wash to the outside of our sunroom sliders. Goodbye grime, hello sold house! Okay, maybe I'm getting ahead of myself, but here's hoping my ladder hopping efforts don't go unnoticed.
I'll spare you photos of our other cleaning adventures (polishing all of the stainless steel fixtures, wiping down all of the kitchen cabinets, vacuuming, vacuuming, and more vacuuming…) and instead will subject you to photos of some of the curb appeal-ization that's been going down 'round here. For example, got mulch?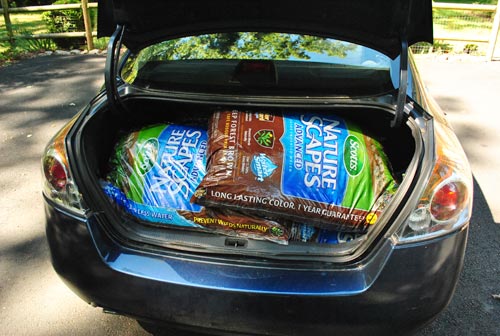 It took me three separate trips to Lowe's to get enough of it to spruce up our plant beds (I don't normally go for the artificial color-boosted mulch, but it was on sale for the same price as the regular stuff and I figured this was one instance where "long lasting color" could do me some good). At least by the end of the day we had a crisper looking yard staring back at us.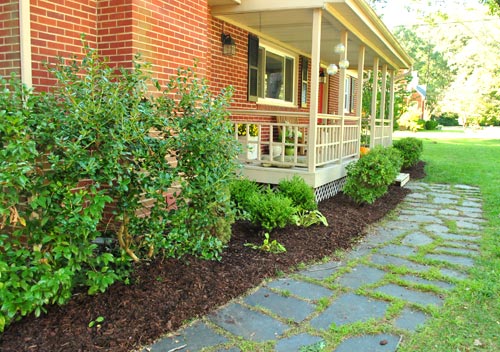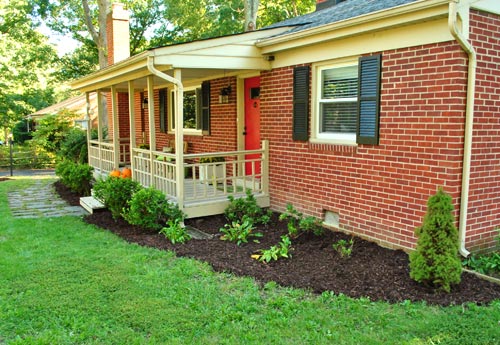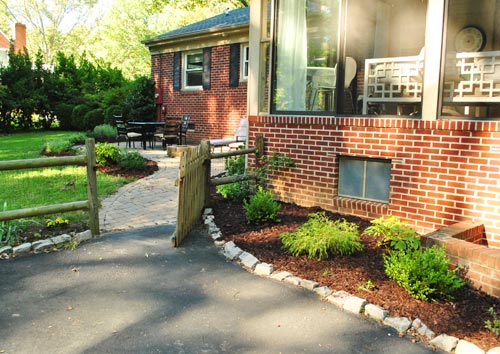 Speaking of the yard, I've also been in the process of re-growing grass in some spots that the hot weather killed this summer. It's been going surprisingly well – especially considering that our county is on emergency water restriction due to a long sweltering summer. Now I'm just crossing my fingers that mowing over it as much as I've had to (to keep that "maintained yard" look that buyers like) doesn't harm those wee sprouts too much. Note: we just seeded and waited for rain- no sprinkler or fertilizer usage was required. Thankfully we've had our fair share of showers in the past three weeks and we've learned that grass really wants to grow in bare dirt. So rain plus grass seed usually equals luck.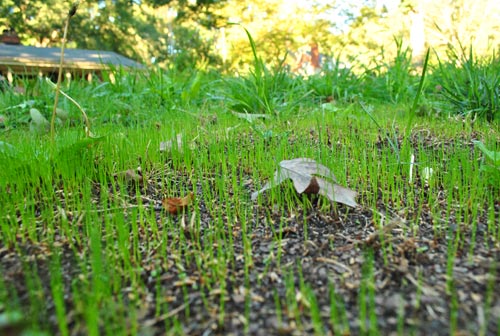 And when I'm not mowing, I can usually be found blowing the driveway clear of acorns. We're in the middle of our annual bombardment, courtesy of the oak trees surrounding our house, so our driveway gets littered with 'em quite quickly. Just check out the collection I'm working on at the driveway's back corner where everything gets blown. Methinks the squirrels should hoist me over their shoulders and sing "For He's A Jolly Good Fellow" for this service to them: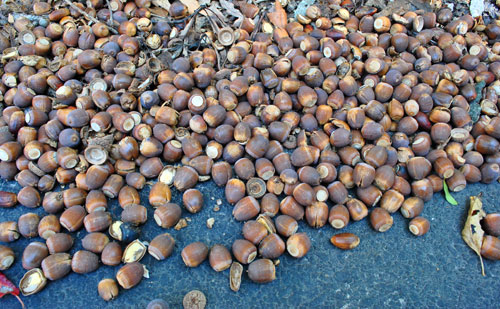 As much as keeping the house in ready-for-a-showing shape is exhausting, we have to admit that it is nice to live in an über-tidy house almost 24/7. And we've got our fingers crossed that the extra effort will pay off soon when it comes to wooing a buyer. Ok, off to remake the bed…