When we whipped up a custom mood board for Chantel (all the way up in Canada) a few months ago, we couldn't wait to see how her living room turned out. Well she's baaaack! And she sent us a few fabulous after pictures along with this lovely letter:
Thank you again for all your help with our living room in January. We followed all of your advice to the letter (except for the pillows because they wanted to charge me $200 to ship to Canada). I hope our replacements are up to your standards! We love the transformation, and everyone who's visited has loved it, too. I don't know how you did it, but you managed to make it feel like a beachy summer day in our living room, even though there's two feet of snow outside! And we hope you're up for another transformation. We'll be sending you before shots and a plea for help for our master bedroom later this week. Thanks again! – Chantel
Aw shucks Chantel, we're so pleased that you're so pleased! First lets remember what the room looked like back in January before the big makeover: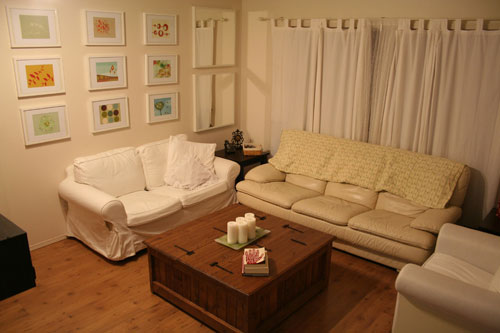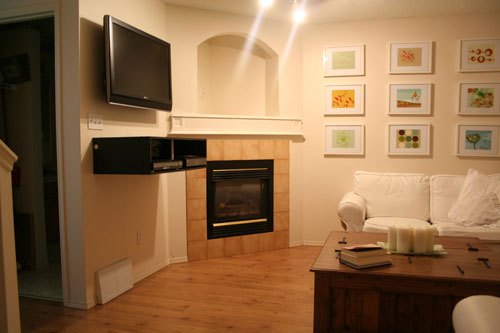 Chantel asked for "a beachy casual space" with pops of green and blue to work with a large work of art that she already had on hand for over the sofa. So here's the mood board that we whipped up for her (see more details about it here):
And here's her room after the big mood board makeover: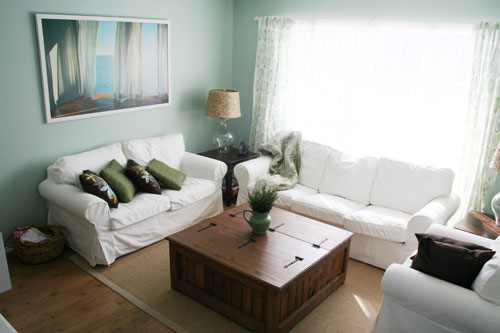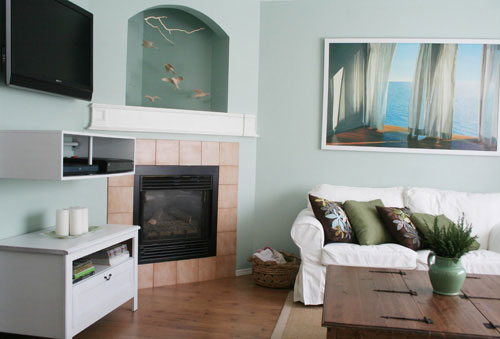 Sometimes a few simple changes can really make all the difference. Switching out Chatel's old leather sofa for a slipcovered one from Ikea and painting the walls a serene blue hue took the entire space from white on white to beachy and light. Painting the TV component shelf white and introducing another white piece of furniture under it really made it appear more integrated and less invasive. And bringing in some texture in the rug, the sweet printed curtains, and even the woven table lamps that flank the sofa really added to the casual-chic vibe that Chantel so desired.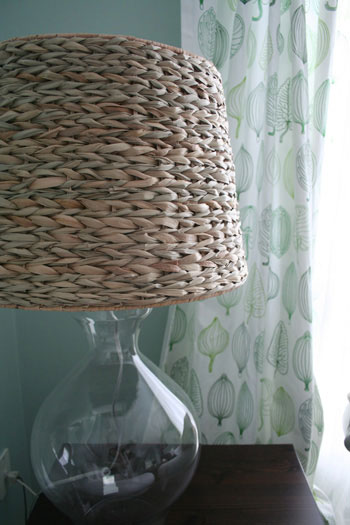 She even took our advice and painted the nook above her fireplace a slightly deeper tone of blue to accent the lovely little mobile we found for her which serves as a charming focal point in the space. Gotta love a 3D piece of art in an empty enclave just begging for an airy and ethereal accessory.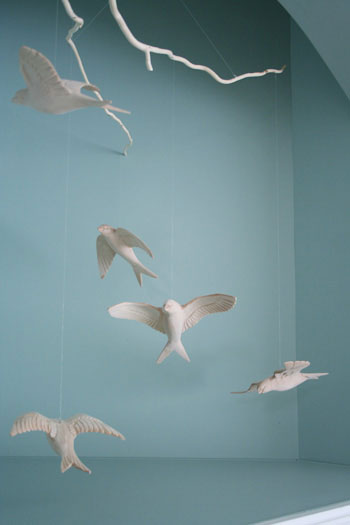 And of course we adore the pillows that Chantel picked up to finish everything off! They're full of the same soothing tones that can be found around the rest of the space, and we love that the stitched look mimics the printed curtains that we picked out. Deeelicious.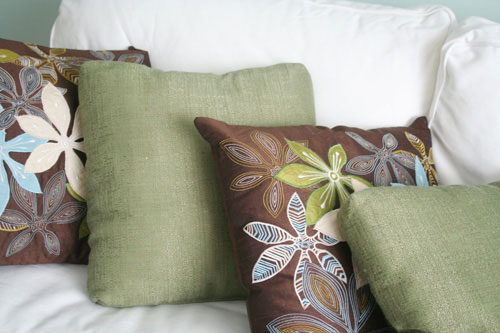 Thanks so much for the fabulous after pictures, Chantel! You'd never know there was snow outside with an airy and inviting living room like that! What do you guys think of her transformation? Did she not do an utterly amazing job?! What's your favorite part? I'm trying to decide between the mobile and those leafy curtains…
Update: We sadly can no longer find the time to take on client commissioned mood boards (we now whip up general inspiration boards instead) but if we ever reinstate them we'll make a big announcement!