When we got Blayne's cry for help with her bedroom, we were excited to swoop in with some simple and chic ideas. Here's her letter:
I am so excited to get your help with my house! I saw your bedroom on The Nest when I was looking for ideas, and that's how I found your site. We moved into our house 4 months ago, and I've been working on decorating it myself. I like the direction I'm going but my rooms feel unfinished which is where you come in (first with the bedroom and maybe a few other rooms down the road). I would describe our style as transitional since my husband prefers modern and I prefer traditional- even a little rustic. In the bedroom, I was going for a Moroccan feel. I'd like to keep most of the major furniture pieces and the carpet needs to stay (but not necessarily the rug). I'd also like to keep the sheets since they are new. I'd love to have something to sit the TV on (it's currently on the floor), and conceal it if possible. I like the wall color but I'm also open to changing it. Every wall in the house is that color except for one accent wall in the living room that I painted. The room is having a color scheme identity crisis, with the blue/brown/tan and red/orange/yellow. I really need a lot of guidance for the walls, as far as how much art to use and how to place it. I was thinking about doing some kind of paint treatment or stencil, but I just don't know. Help! Can you handle it?  Please swankify me! Thank you in advance! – Blayne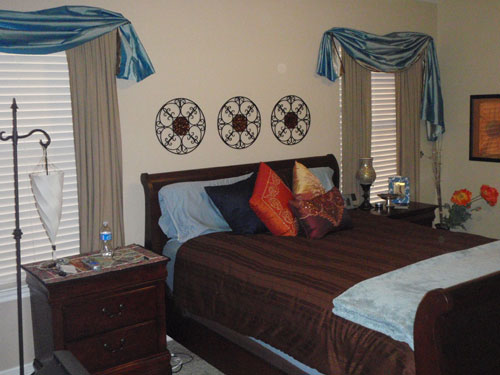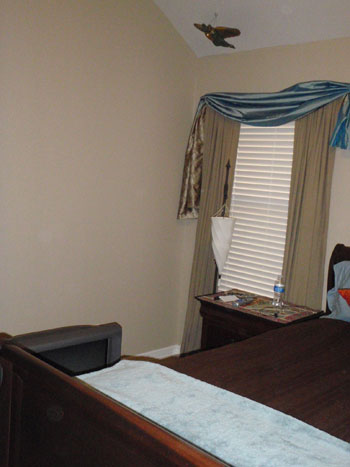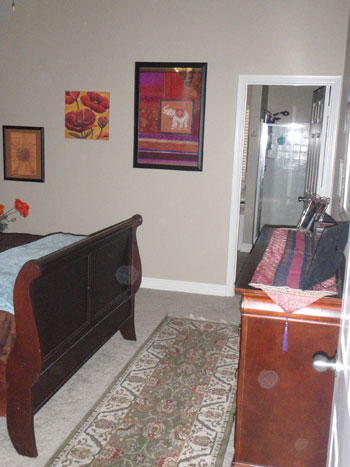 And now for our crisp, Moroccan mood board makeover:
Here's the mood board breakdown.
1. Since Blayne was going for a bit of Moroccan flair in her bedroom, we decided to incorporate some of the colors she already had going on in the space (reds, oranges, yellows, and blues) while tempering them with some neutral tans and browns to keep things from looking too crazy-carnival. We also wanted to represent her husband's love of modern while keeping things cozy, warm and traditional for Blayne, so by balancing crisp and clean lines with a warm and layered color palette they'll both get what they want from the space. We definitely think keeping the walls that neutral tone makes sense since it's carried through the rest of their home, but we'd love to see the wall behind the bed go a few tones deeper for a splash of luxury and warmth as soon as you enter. A rich medium brown tone (try Glidden's Pottery's Clay) on just the wall behind the bed will look luxurious and soothing, especially when they add in some dark chocolate silk curtains and festive Moroccan-inspired bedding which ties our whole palette together.
2. Sometimes the littlest things can inspire, and these small glass candle votives in a rich amber tone really got out wheels turning. They'll look great on the side tables and add ambiance and romance for under 13 bucks.
3. And now for a bit of crisp and current customization- what every bedroom needs to feel truly special. Centering a 18″ decal of their monogram (with Blayne's hubby's first initial, the first initial of the their last name and Blayne's first initial) above the bed in a clean white tone will add elegance and romance while keeping things feeling current and balanced instead of themey and overly Moroccan. And it'll pop especially well thanks to the new darker background that Blayne and her hubby will be adding to the space.
4. While Blayne's current curtains are certainly colorful and Moroccan, we thought these handsome chocolate silk beauties (hung high and wide around the windows for even more drama) would add polish and poshness to the entire space in a snap. They'll also look fabulous against the medium brown accent wall, and since there's no valance necessary, the eyes will focus more on the bed and the other stylish details of the room instead of going right to the swagged curtain rods.
5. Blayne mentioned that she and her husband loved the look of Williams-Sonoma Home, and this lamp looks identical to a $400+ version that they're currently peddling. And since our version is a whole lot cheaper (and still every bit as stylish) we'd love to see two of them in the space (one on each night table). It's amazing what two matching lamps flanking a bed can do for the entire room, and it's such a luxury to flip off the lights from the bed. And again, the modern design and crisp lines of this piece will balance the more bohemian patterns and colors that we're bringing into the space to keep things from getting too busy.
6. Everyone needs more storage and these laquered boxes from Crate & Barrel work perfectly with our palette. They'd look great stacked on the dresser (storing jewelry, watches, change, receipts, etc) and they'd also look great on the night tables (containing all those random things near the bed like lotion, contact cases, glasses, hair bands, bobby pins, etc).
7. Blayne asked us for help with her walls so here we go. We'd love to see a geometric display of frames, like the one shown above, on both walls on either side of the bed. Eight 8×10 frames on each wall should do it (4 hung on top of 4 more in a grid-like pattern on each wall) and anything from botanicals (as seen above) to black and white pictures would look fabulous en masse. Picking up a bunch of matching frames from somewhere inexpensive like Target or even Walmart will make this project a snap (for a finished product that looks super expensive) and we'd actually love to see all the frames spray painted an antique gold color (again for that rustic Moroccan look that Blayne loves) or even a crisp pale yellow (if gold isn't their thing) for something with loads of look-at-me style.  And as for the wall above the dresser, we'd love to see a flat screen tv up there for much easier bedtime TV watching (their current TV lives on the floor to the left of the bed) and hung on the wall on either side of the TV we'd love to see two of those iron medallions that currently live above the bed (also sprayed gold or pale lemon to match the frames on the adjoining walls).
8. And now for the bedding that will single-handedly make sense of all those colors. Blue? Check. Orange? Check. Red? Check. Yellow? Check. This super Moroccan and utterly inspiring bedding is the missing link to take this bedroom from hodge podge to polished and posh. And it's an absolute steal for $68 (including the adorable little pillow). And speaking of pillows we think a lot of Blayne's current pillows will still work with this new bedding, which will save her some money and prove that she was definitely on the right track with all those colors even though it seemed confusing at the time.
9. And lastly we'll replace Blayne's current runner with something a little more exotic (and on sale!) for that clean and modern yet totally bohemian bedroom vibe. The sleek lamps and lacquered boxes balance the festively patterned bedding and rug to create a warm and welcoming room with a current feeling and tons of polish (thanks to the customized monogram and those luxe silk curtains).
So there you have it. An exotic budoir with style for miles and oodles of cozy details. We can't wait to hear what you guys think!
Update: Blayne sent us after pictures and they're nothing short of amazing. Check them out right here.
Update #2: We sadly can no longer find the time to take on client commissioned mood boards (we now whip up general inspiration boards instead) but if we ever reinstate them we'll make a big announcement!