Eons ago we promised you updated photos of the new grass-tastic backyard after the Craigslist success story. Well, the grass has FINALLY decided to grow, so instead of sitting around and waiting we can post these pics for you.
Here's the before- which was perfect for our backyard wedding, but waaaay too much work to maintain: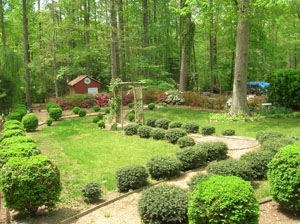 So we put an ad for free bushes and gravel on Criagslist, and this is what we were left with: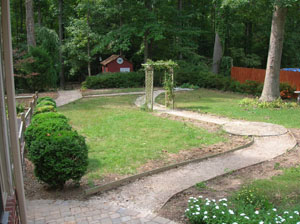 Now that the grass has finally filled in, we have a wide-open (and super easy to maintain) yard that's perfect for Burger's bug hunting expeditions: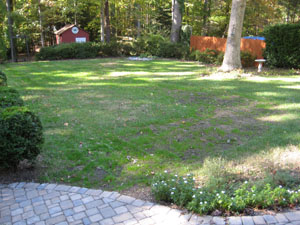 It's not exactly "lush" but it's getting there, and by next spring it'll be denser than Jessica Simpson. Our dream would be to have giant stepping stones that lead from the patio (which you see in the foreground) to the woods in the back (where we have a fun little fire pit along with a hammock for two). The best thing about big slate or bluestone stepping stones is that if you dig them into established grass, you can mow right over them so there's no need to edge or use a weedwacker. And by this point I think you get that we're all about easy maintenance. Life's too short to spend it wielding a weedwacker.
But we'll have to wait until spring to get down and dirty in the backyard again. Until then we'll leave the getting-dirty-in-the-backyard up to Burger.