We try to stick pretty closely to home improvement and decorating related content, but when we saw this little five dollar salsa kit at the farmer's market we immediately loved the "homey" feeling it gave us. And it was a DIY project of sorts. We also thought it would make an adorable hostess or housewarming gift. Who knew tossing salsa ingredients into a decorative basket or bowl could be so darn cute?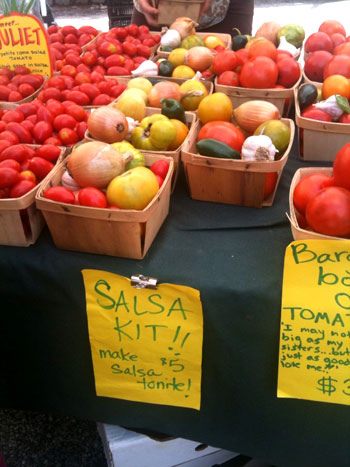 After happily handing five dollars over in return for some locally grown salsa ingredients, John sweetly asked if it came with any directions. The response? Just chop everything up and let it stand for an hour. It doesn't get much easier than that. So we stopped for some tortilla chips and got to work whipping up our homemade salsa as soon as we got home.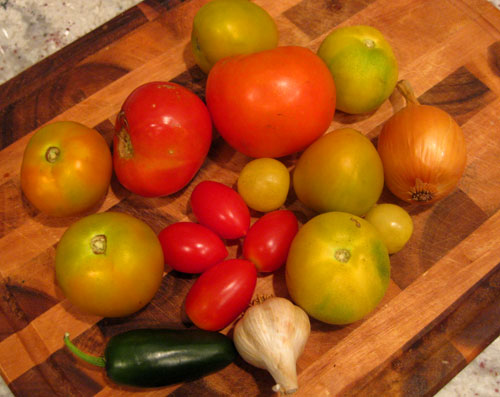 It took about fifteen minutes for us to chop up the varied collection of tomatoes along with the garlic and the onion (and we only used half of the jalapeño because we're wusses). Before we knew it we had a multi-colored bowl of goodness staring us in the face.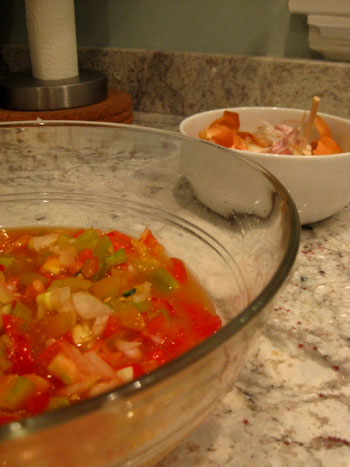 And what's that bowl in the background of the photo above? That's what I like to call John's Rachael Ray bowl. He likes to use a regular old cereal bowl to collect the skin and ends of all the stuff we chop to keep the counter and the cutting board nice and clean. Didn't I hit the jackpot when I married my little chef? It's also nice because it easily allows us to pick out the stuff we can compost and then dump the rest of it in the garbage in one fell swoop. Another bowl bonus? Using it to collect the waste while we cook keeps the base cabinet where we store our garbage pail and compost container much cleaner since we only open it once at the end of the project instead of constantly tossing things in the trash with dirty hands as we go.
But back to the salsa at hand. After our chop fest we just let it sit for an hour or so in the fridge and then it was fiesta time.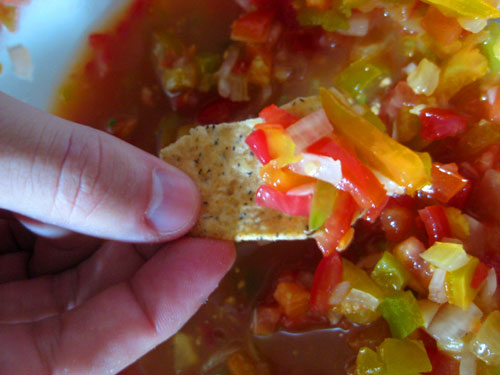 So what do you guys think? Wouldn't a DIY salsa kit make a cute little gift for a friend? Or a sweet little date night activity? And while we're on the subject of DIY meals, do you have any other favorite snacks or meals to whip up in a snap that still feel special and fun? Do tell. We also love making s'mores in our backyard firepit… and come to think of it a s'mores kit would also be a great gift. Gotta love DIY projects that result in a delicious treat.