When Amy sent us pictures of her living room a few short weeks after we whipped up a custom mood board for her space, we couldn't wait to share the goods! Here's her letter:
I'm so excited to share my "after" pictures with you! I absolutely LOVE my new room and so does everyone else. I had a party Friday evening and the changes were a big hit. Funniest comment was "now that you've changed it, I just have to tell you that the brick was horrendous!" That cracked me up because I had to agree! And using your inspiration I was even able to save money and repurpose some things that we already had. We already owned round coffee & end tables, so I used them. And I used some advice from your 'How To' section to spray-paint the existing fan using Rustoleum for a whole new look. I love the wall color you picked so much (BM Sepia Tan 1116) that I painted the entryway the same color and am about to paint the hallway walls the same color too. We also loved your idea of a darker accent wall near the kitchen, and went one shade darker (BM Classic Caramel 1118). I haven't hung up any artwork yet, but I plan to frame some of my photography soon. The makeover was a LOT of work (especially the brick!) but so worth it! I'm actually on the sofa emailing this to you while watching a movie. We never hung out in here before because it didn't feel cozy or welcoming. Now we want to be in here and my husband keeps saying how awesome it looks and he didn't even want the brick painted at first! Thanks again SO much! You'll be hearing from me soon in regards to my kitchen! -Amy
To refresh everyone's memory, here's Amy's living room before the overhaul: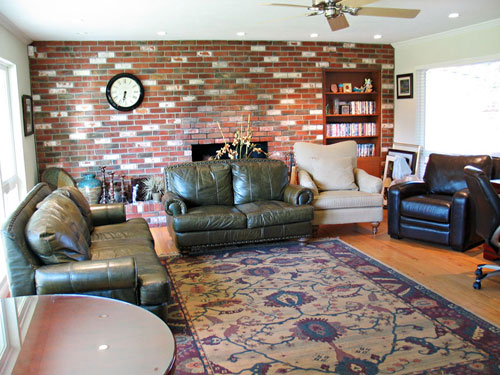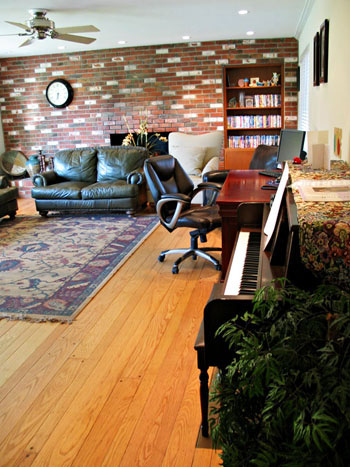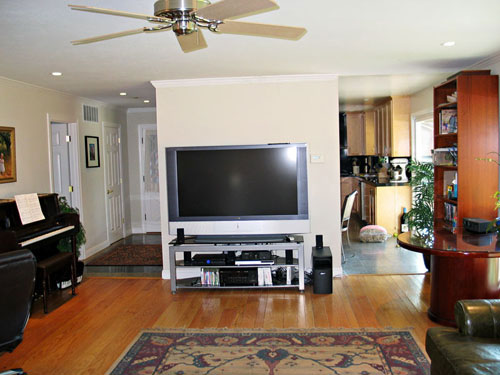 And here's the same space after our custom mood board makeover: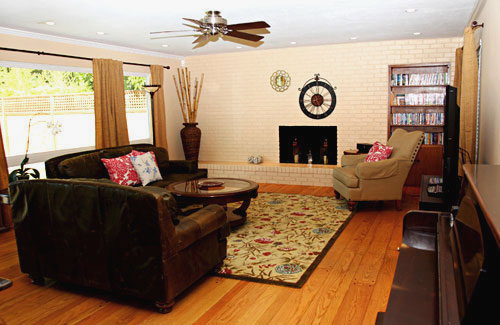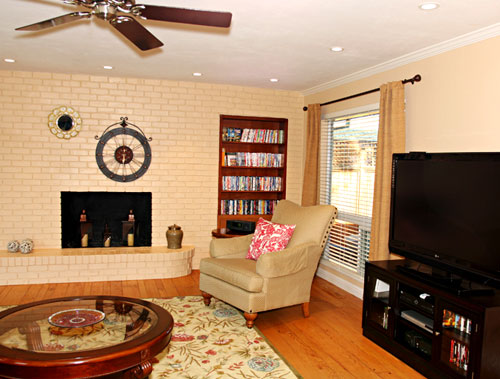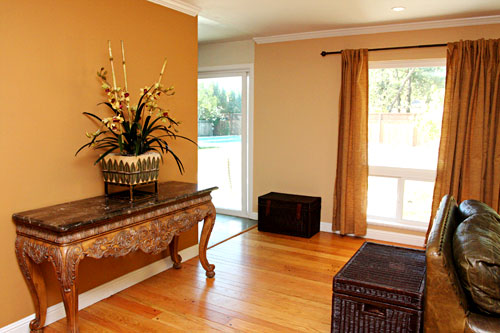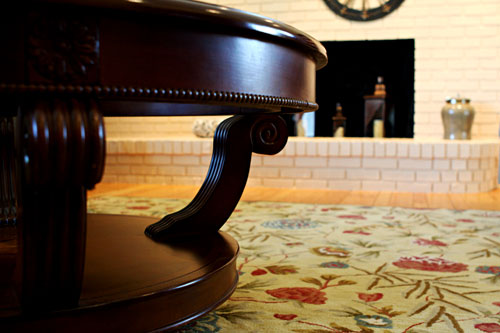 Didn't Amy do an amazing job?! We love everything from the freshened fireplace to the cozy patterned rug, and of course the golden wheat tones in the curtains and on the wall (especially that accent wall near the kitchen) really add a lot of warmth and ambiance to the space. And you know we're loving that Amy got all DIY on us and spray painted the existing fan to make it work. Love that!
So what do you guys think? Any favorite parts or kind words to pass along to Amy in return for sending her fabulous after photos our way? Let's give the girl a round of virtual applause!
Update: We sadly can no longer find the time to take on client commissioned mood boards (we now whip up general inspiration boards instead) but if we ever reinstate them we'll make a big announcement!