Here they are: the show notes for Episode #18 of Young House Love Has A Podcast. Does that mean the podcast has reached episode adulthood? Can it go off now and get a tattoo without our consent? (silently ponders). Anyway, on this week's episode, Design*Sponge founder Grace Bonney shares what 12 years of design blogging has taught her about her style, the Internet, and why there's no such thing as work-life balance. We also take you behind the scenes of our new coloring book, turn to a titillating source for some design advice, and talk about the curse that's plaguing John this year. Plus, find out what we're doing to cut down on unwanted clutter from the postman.
You can download this episode from iTunes, Google Play, Stitcher and TuneIn Radio – or listen to it below! Then use this page to check out any links, notes, or photos that we referenced.
What's New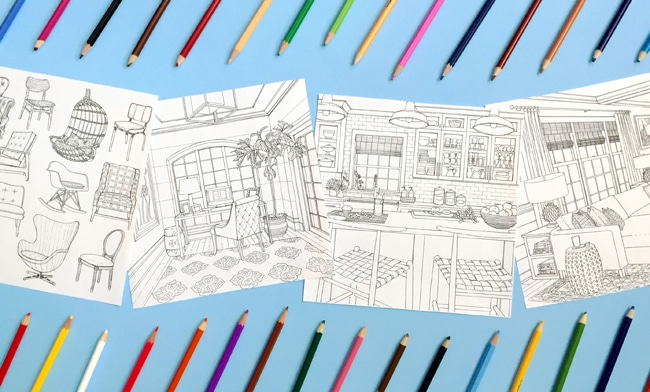 Woo to the hoo! Our coloring book comes out this week (October 4th to be exact), and there are some preview pages for you to check out above (including the chair collage that we mentioned was a favorite). And here are all the links to order it if you're so inclined:
Amazon | Barnes & Noble | Books-A-Million | Indigo (Canada)
Amazon (UK) | Book Depository (Worldwide) | Fountain Books (Autographed)
What's Not
Here's the link to the Playboy article I mentioned: The 9 Biggest Mistakes Guys Make When Laying Out A Room. Where you go from there is your own business ;)
Grace Bonney
You can find Grace and tons of great info about design, style, travel, and business on Design*Sponge
And check out her interviews with over 100 female makers, artists, and creative entrepreneurs in her new book, In The Company of Women
We're Digging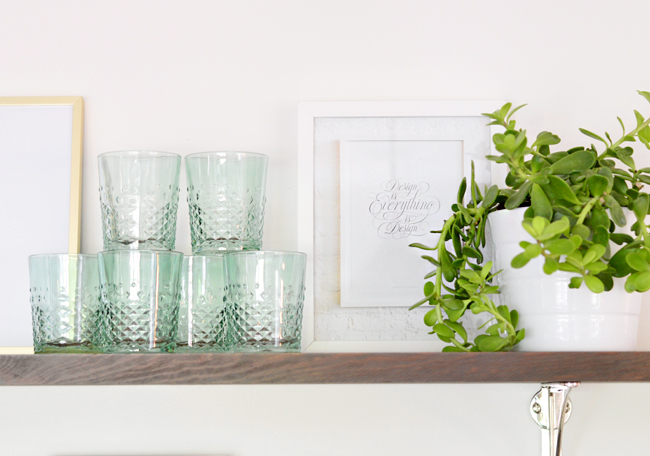 Here's where you can snag a set of four Carats DOF drinking glasses from World Market. We have the green – shown above – and the pink ones (and yes, that's a sneak peek of our new kitchen, which you can read more about here).
And if you wanna check out the PaperKarma app, you can download it for iOS and GooglePlay
Psst- Looking for something we've dug in a past episode, but don't remember which show notes to click into? Well, here's a master list of everything we've been digging from all past episodes.
*This post contains affiliate links*