Road Trips & Travel
Exactly eight years ago today, Sherry and I picked up and moved from NYC to Richmond, VA together. Apart from the towns that we grew up in, neither of us have ever lived any place longer – and it's the only hometown that Clara has ever known. So we thought it would be fun to commemorate this date – and this city that we love. Especially since you guys ask us plenty of "when in Rome Richmond" questions – the biggest one being "what thrift/discount stores should I hit up when I pass through?"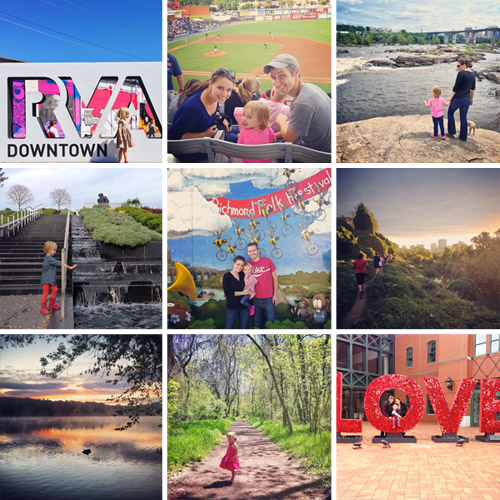 Three years ago we celebrated our 5th anniversary by sharing a quick post about our "Five Richmond Top Fives" – but that only mentioned two thrift shops – and we've definitely found other haunts, activities, and eateries since then. So we thought a more thorough guide was in order… complete with an interactive map and an itinerary (you know me – I love a good graphic).
And since Richmond was recently named The Best River Town in America and one of Frommer's Top Destinations for 2014 (only one of three in the US, the others being Palm Springs and Hawaii!), well, we figured our eighth anniversary was the perfect occasion to break things down for you guys.

With the help of modern technology (i.e. Google) we've embedded an interactive map with a dozen of our favorite thrift and discount stores in Richmond (green dots), along with some other suggested spots for eating (blue dots), or otherwise having-a-good-time spots (red dots). You can click any of the dots below for more info on each one of them – including a description from us about what you'll find, some tips about when they're closed, etc. Note: if you can't see the map, try clicking here.

And here's a hypothetical itinerary. It doesn't include all of the eating options or any of the red dots (those are other fun activities outside of shopping/thrifting) but if you click those dots on the map you'll get more info on each of those.
Let's hit the road, shall we? Assuming you're starting somewhere near the city center, you can head either clockwise or counter-clockwise around the map – we'll do the latter in this post. Either way, you might want to fuel up at Sugar Shack Donuts or Dixie Donuts (pictured) before you start shopping (check out Sugar Shack's FB page for secret free donut deals like "recite an ode to your donut"). Most thrift stores don't open 'til 9 or 10am, so you've got time to enjoy it. Oh and many are closed on Sundays, Mondays, and Tuesdays – so try to avoid those days if you want to cram the most in.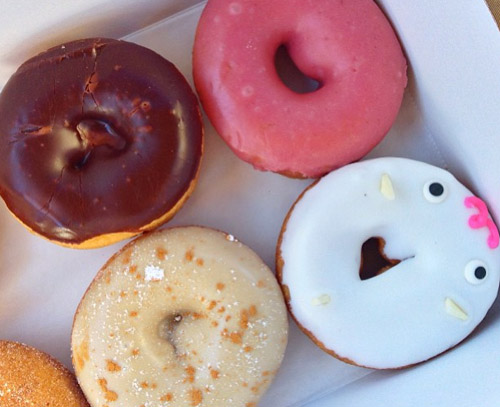 Our local Habitat for Humanity ReStore is our go-to spot for donating, and is usually a good shot at finding building materials and fixtures. If you're more in the market for furniture and accessory finds, you might want to start at Diversity Thrift. We got lots of stuff there over the years, including the glass and metal table in our first house's living/dining room (we still have it in the garage with a plan for tweaking it for our back porch someday).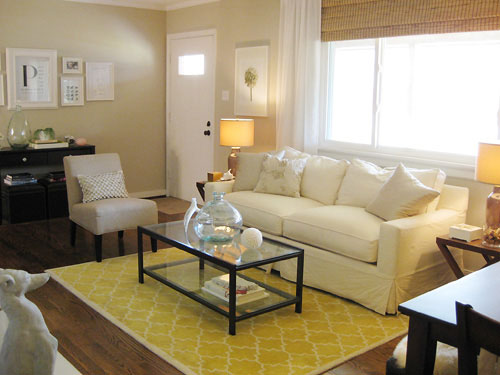 Next head north on nearby I-95 to Lakeside Avenue which has a few thrift and antique spots, most notably Consignment Connection. It's got tons of little rooms full of things, and is sort of a mix between an antique shop and a thrift store. It's where Sherry found her beloved whale globe.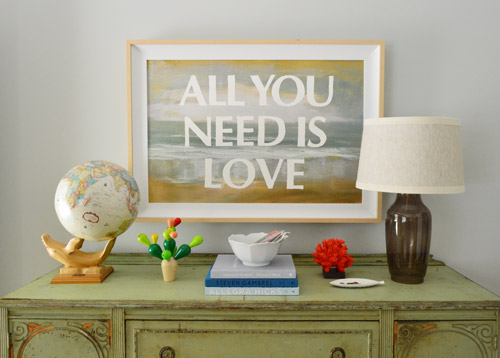 If you want the inspiration and tools for revamping your thrifted finds – or just want to buy something that has already been made over, make the short trek up I-95 to Ashland and swing by Thrill of the Hunt which has great upcycled furniture.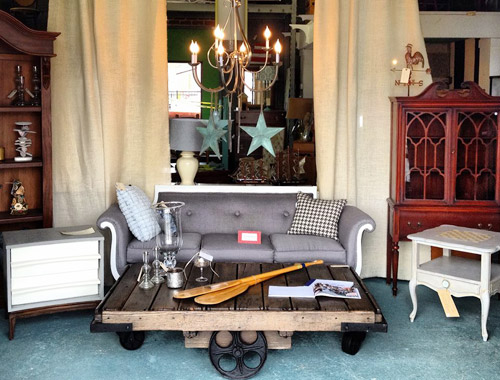 On your way back, don't miss Class and Trash for lots of vintage and shabby chic stuff, including tons of metal signs and letters. We try to stop in a few times a season since there's always a lot of stuff (both big and small) to see. If you've haven't already needed a lunch break, you could pop down to the Short Pump area for a burger. We love Burgerworks for a casual but filling one built to your liking (I always get a fried egg on top). Burger Bach, a New Zealand-style gastropub, is also nearby for a foodie-r experience (it's really good, but you might have a bit of a wait).
You may just need to go nap and call it a day by this point, but if not – head south on I-288 toward the river. Wait, but slip through HOPE Thrift on your way. It's the newest store on our radar and we know we're bound to find something cool there soon. Once you hit Midlothian Turnpike, you've entered our main drag of thrift stores. You can start small at RAL Reuse, which we love because it supports the Richmond Animal League. And also because its near one of our favorite cafes, Urban Farmhouse. Even if you're not hungry, stop in for a coffee/tea and some pretty amazing design inspiration. There's also a location downtown if you don't have time to spare.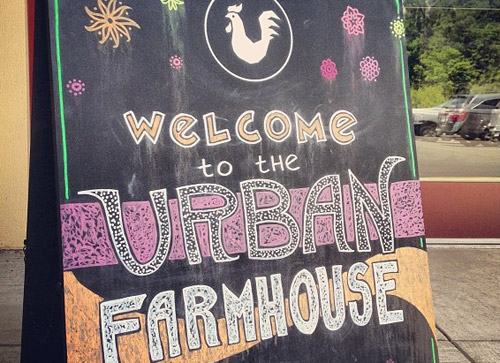 Further down the road is a Salvation Army Family Center, which is one of the more furniture-heavy thrift stores that we've been into locally. If that's not really what you're looking for, you can skip it and head straight for The Decorating Outlet. It's not technically a thrift store, but it's too full of deals to leave off the list. We get tons of lights there, but we've also scored rugs and furniture there too – including our crazy discounted kitchen table.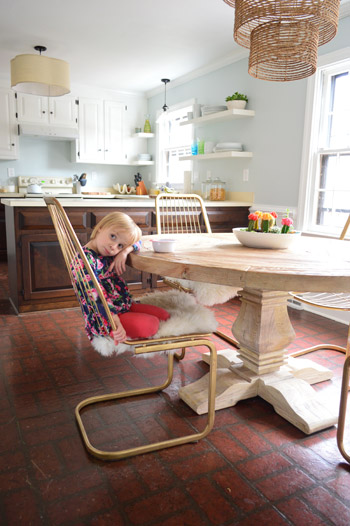 By the time you get to this part of the route, it means you're nearing our #1 go-to spot for thrifted furniture: Love of Jesus Thrift Store on Midlothian. They've got tons of furniture, and we scored a bunch of stuff for our book there – including this dresser that we painted in a gradient back in 2012 (and still use in our bedroom today). Across the street is Family Thrift Center, which used to just be a convenience (i.e. pity) stop, but we just found this $9.98 headboard for the showhouse there, so it's a new favorite.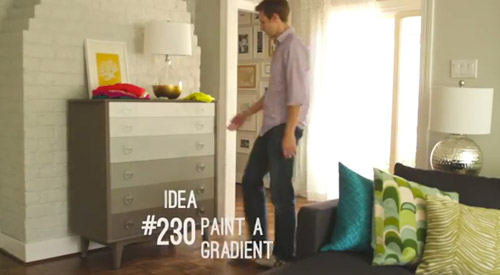 If you still have time (admittedly, doubtful) – Caravati's is also worth a stop. It's an architectural salvage place so prices are much higher than thrift stores, but there are such cool sights that make it worth the detour. And once all the stores are closed, hit up the Proper Pie Company for dinner and dessert (yup, they've got savory and sweet pies) – along with one last dose of vintage decor inspiration.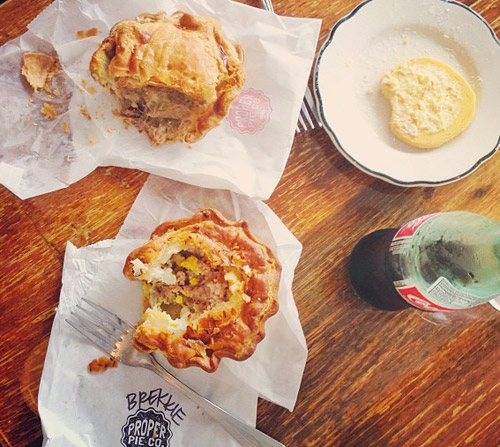 Admittedly it's probably a bit ambitious to cram all of this into just one day, especially if you like to take your time perusing like Sherry does (or take your time eating like I do). But maybe that just means you'll need to stay the weekend. Or move here entirely. You know, either one works.
Now what about you guys? What are the best thrifting spots in your town? Wouldn't it be awesome to have a city-by-city database of them somewhere with user rated reviews and a "print me a map" feature so you'd know where to go when you get to a new place? Somebody get on that. Or does it already exist and we're the last ones to know?
&nbsp&nbsp&nbsp
The last few weeks have been deliciously random and so productive for us! I think we should bounce around from room to room all the time like this… at least until we dive into a big renovation that demands all of our attention. So far this week we've painted raindrops & a pink door in Clara's room, had some fun with Shannon's design dilemma, finally finished our big sunroom floor project, and we're actually starting to work on something in the kitchen for Monday (ahhh! that room needs more help than I did in Calculus class).
And this week's little crafty project didn't bomb, which is a huge relief because there were definitely a few moments of doubt. I decided to tackle something I've been meaning to do for, oh, about two years: displaying our vacation keepsakes in a charming and easy-to-see way. So here's where I ended up…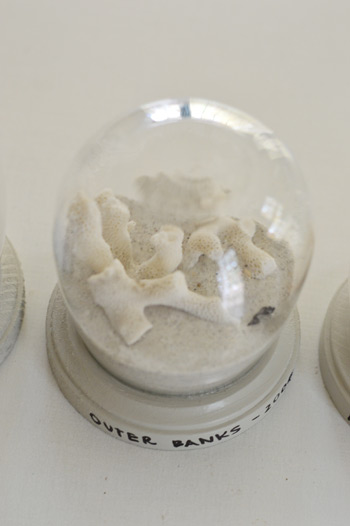 It's sort of like a vacation-memory-jar-meets-snowglobe-or-cloche, and it was actually really easy and only ran me $2.79 to make each one.
But let's grab a ride in the Delorean and go back in time for a second. Once upon a time (back in 2008) I made six vacation time capsules here… but I haven't been displaying them for the last few years because I just don't love them anymore. Which is sad because I love the keepsakes – I just didn't like the containers as much anymore.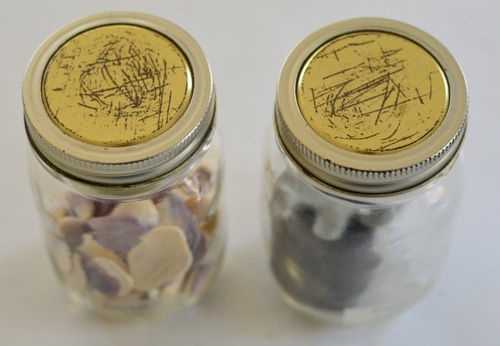 I certainly think canning jars are crazy charming (and they're probably more "in" now than ever) but I didn't like that when you looked down at them on surfaces like console tables or desks or dressers, almost all that you saw was the lid instead of whatever was inside (see above).
And I also didn't love that when you lowered your gaze to stare at them head-on (or placed them in high places like up on a bookcase) the glass was wavy, so it blurred the items inside. Here's a comparison of how the canning jars obscured the contents compared to a regular stemless wine glass. See how much clearer the objects in the glass on the right are?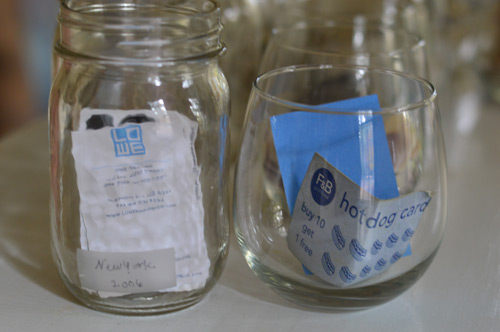 I also thought the scotch tape labels that I had added so many years ago were hard to read, especially depending on what's behind it (you can see one in the picture above). So I wanted to come up with a way to accomplish three things:
more clearly label the contents of each jar
display our keepsakes behind non-wavy glass
make them visible from above and the side instead of just from the side if at all possible
At first it felt like a tall order, but I was inspired after coming across this project, which made me realize that there might be a way to use inexpensive stemless wine glasses or vases from the craft store along with little slices of wood and some type of adhesive or caulk to connect them. It definitely could have bombed (uh… sand everywhere) but I had a few lucky breaks along the way.
For one, I couldn't find any tree branches of the right thickness to slice in our yard or at a local firewood spot (they were all triangular or too narrow, and free of bark) and I couldn't even locate any pre-made wood slices in the craft store (other than some too-large birch ones for $15 a pop online). But when I walked around JoAnn I did notice these little 4 x 4″ round wood plaques for 79 cents each (in their wooden box/birdhouse/plaque area). They also sold stemless wine glasses (in their party/glassware area) for $1.99.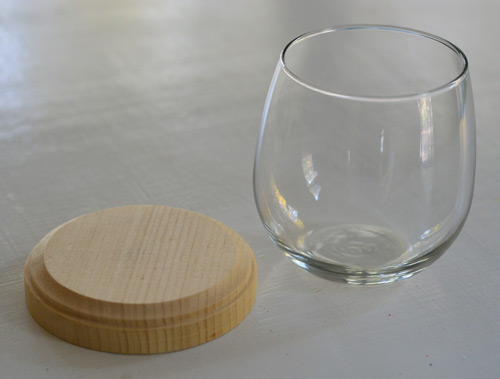 It was nice to find both potential items at the same store because I could flip the glass over on top of the wood plaque to see how they'd work together. It kind of felt like a miracle when they lined up so well.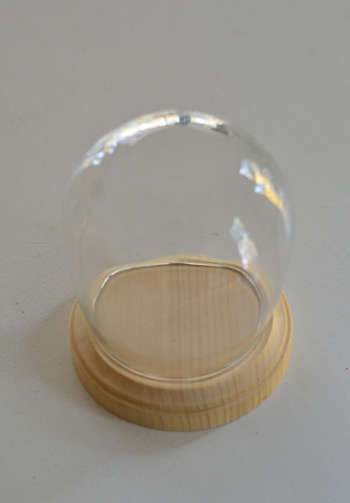 So as soon as I got home, I jumped right into painting the wood plaques. I debated everything from a bold color to white or charcoal or even a whitewash or a stain, but in the end I liked the idea of a timeless neutral taupe-y color the best so the items in each jar could be the focus – and I already had leftover Revere Pewter from the bathroom project upstairs. Two coats did the trick without any bleed-through from the wood (which is nice because I didn't use primer, so it was sort of a gamble).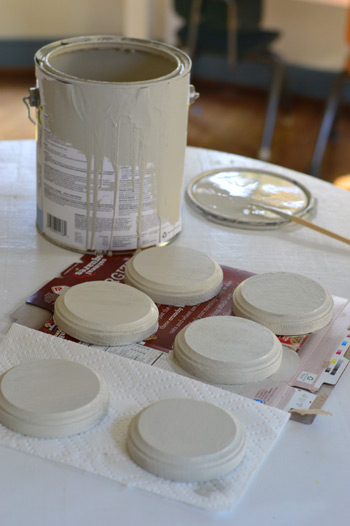 After they dried I used a sharpie to write each of the places we'd been on the side of each one, along with the year that we traveled there. It's so much clearer and easier to read than tape on a wavy glass jar!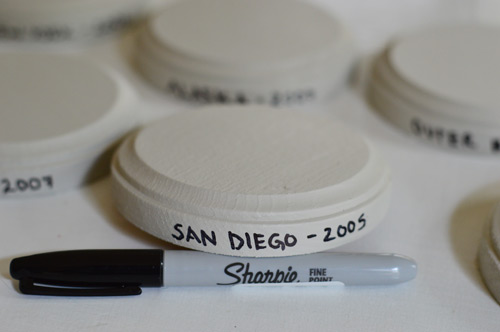 Next I decided that clear silicone caulk would be a good way to seal the glass to the wood. Here's why: some types of adhesives/glues are thinner/runnier and I worried the seal wouldn't be as tight as it would with a more thick/dense line of something to stick them together. The other reason that I went with clear caulk is that it can easily be sliced with an exacto knife and peeled back to free up the contents of these jars. So I don't have to Hulk-smash them like an old school piggy bank to access things (which definitely could have been the case with crazy glue). Instead, I can just score and peel the silicone caulk to open these up again whenever I'd like. But in the meantime they'll be nice and secure – even with things like sand floating around inside.
I just ran a thin line of it around the top of the glass like this (I used GE Premium Waterproof Silicone II Caulk in the clear color). Tip: try not to make the opening in your caulk tube too wide or caulk will pour out a lot faster/thicker and you'll end up with a drippy ol' mess (this is universally true for practically every caulking project, so it's a good skill to master).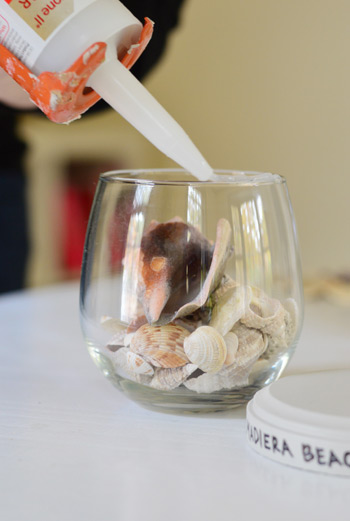 Update: I'm a paranoid prego, so I wore a ventilator and worked the caulk gun like Darth Vader (since caulk can get fumey sometimes), but I later learned that this type of caulk is on the green list. Hurrah!
After getting a thin ring of caulk around the top of the glass, I pressed the wood round onto the cup while it was still in the upright position (didn't want things to spill all over the floor, which I was certain would happen if I flipped it over before joining it to the wooden plaque).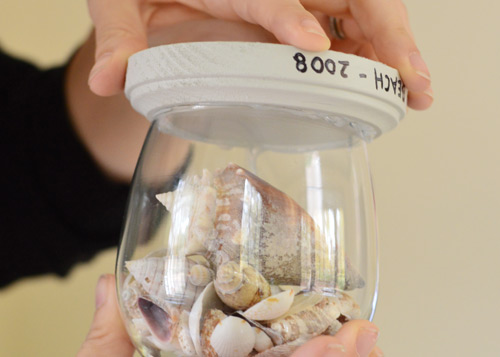 Once they were joined, I could easily turn it over without anything spilling. So I placed it on the table and made sure the glass dome was centered. Then I pressed the glass down with one hand (to keep it centered, since it can slide around a little before things start to set) and used the other hand to wipe the edge down with a paper towel to remove any extra caulk that was oozing out.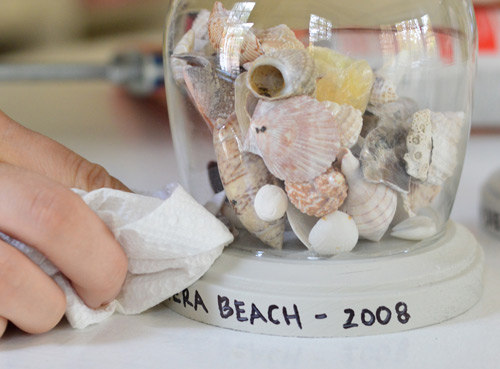 It only took them three hours to dry, and they were sealed up and pretty dang seamless looking. Here's the sand, all nice and contained (you can sort of make out the clear shiny line around the base, which is the caulk doing its job). I shook that thing like a snow globe and there wasn't a sand explosion or anything. So glad.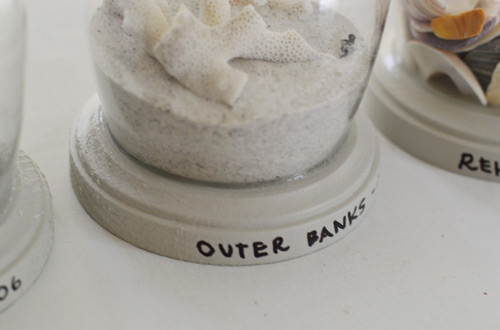 Right now they're chilling on various surfaces in the office and living room, but my dream is for them to eventually end up all together in our bedroom (we'd love to add a wall of built-in cabinetry in there to make our bed feel like it's tucked into a nook – and I can just picture them all lined up on one of the shelves). Sigh. Can't you see it?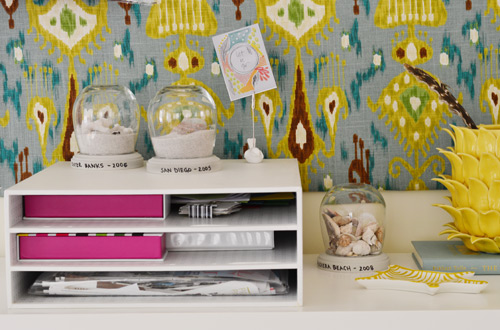 I'd love to keep making more over time as we travel to new places, so the paranoid collector in me is tempted to buy at least ten more wood plaques and glasses just to keep around for future vacations so they all match. Is that crazy? What do you think?
Is anyone else out there displaying vacation keepsakes? How do you do it? In shadow boxes? Scrapbooks? With framed photos? I read somewhere once that "experiential purchases" bring you the most happiness. So instead of buying a new car, if you spend money on an amazing vacation, the effects can last longer and you won't take the purchase for granted like you might if you upgraded something that you'd use everyday and would soon become accustomed to (I found an article here about it, although I'm not sure this is the same one). Certainly makes me want to make the most of our little vacations and memorialize them when we're back home – even though they're usually just road trips as opposed to exotic foreign locales. Maybe someday I'll have a vacation jar for Morocco or Australia. A girl can dream…
&nbsp&nbsp&nbsp