Our Book
This may sound hard to believe – but this is our very last book tour recap post. Yup, all of our scheduled tour stops have officially wrapped up so we've just got these last three cities to share our adventures from: New York, Charlotte, and Atlanta. If you want to see our previous recaps, they're all linked up on this page. And like all the other recaps, this guy is just as long. But I personally think our insane conversation with Mark McGrath (!!!) makes this whole post worth reading.
New York City was actually supposed to be sort of our big kick off event back in November. But then Sandy happened and the date had to be rescheduled for the very end of January. So it was awesome to finally get back to our old stomping grounds, including a stroll past the midtown office building where we met.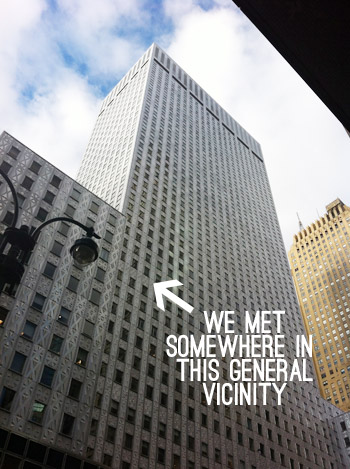 Even though the trip was quick – and we had some flight delays on both ends – we managed to squeeze in a few extracurriculars. Like getting lunch with our book agent at one of Sherry's favorite Manhattan restaurants (Dos Caminos) which marked the first time we'd met her face-to-face, even though we've been working with her for over three years to birth this book baby of ours. And like the true professionals that we are, we failed to get a single photo. Nice work Petersiks. But a huge shout out goes to Rachel, who made this entire thing possible. We love her like family at this point.
We also failed to get a photo of the quick pre-signing meal that we grabbed with Roo of SemiProper. We first met Roo at our Connecticut signing last fall and Sherry has become fast text-friends with Roo (I was pretty much the third wheel during dinner). They bond over things like loving burritos and hip hop. Luckily Roo instagrammed this totally-not-Photoshopped pic of our encounter.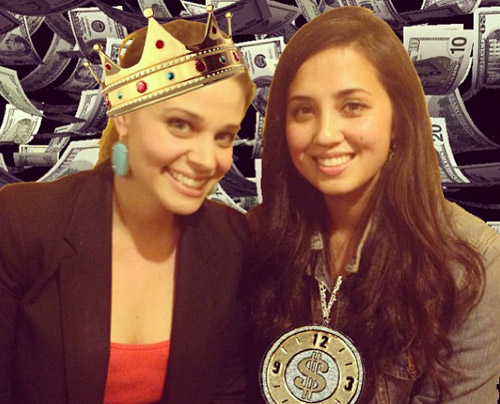 But before we knew it, it was book signing time. It was held at a FLOR store (like our DC event) but this time it was in Soho. Oh and there was a photobooth, which they basically had to pry us away from because it was time to let the line in.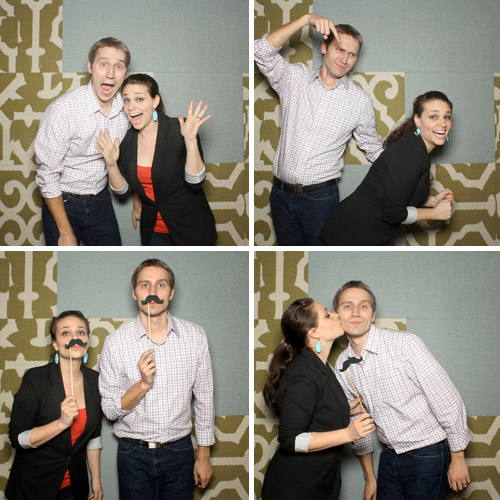 If you want to browse more of the pics from that night – you know, to count how many times we stuck our faces in the fame, hunt for your doppelganger, whatever – they've got 'em all posted here. You might even see the pregnancy announcement from John & Lisa (cameo by their friend Kristen).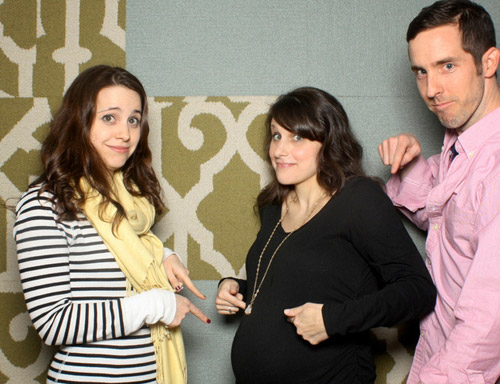 The night, like many others before, was filled with fun people, interesting stories and not-so-serious photo ops. Like these lovely ladies (sorry I didn't write down your names!) who were sporting their best Sherry-wear. Black blazer? Check. Bird shirt that looks like turkey legs? Check.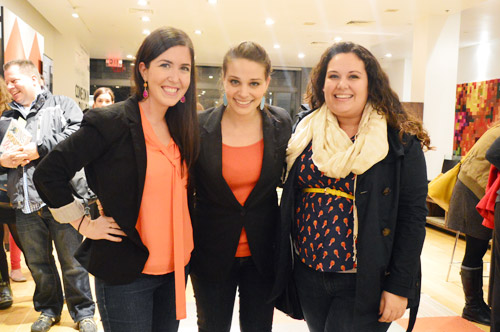 Helping with the not-so-serious nature of several of the photos was Michelle, who brought these paper mustaches for our snapshot. She was going to leave them with us but we suggested that she drop them down at the photobooth (can you tell we were still thinking about it?) for others to use as a prop and she kindly obliged. So if you wore a mustache that night – thank Michelle. Oh, and here's her blog post about the night.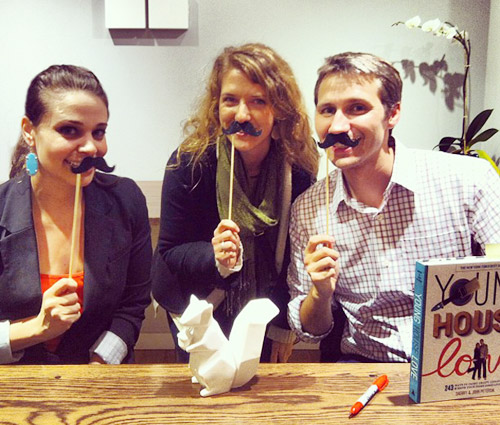 I'll admit I don't remember the full story behind this photo, but Goldie and her friend brought us personalized latex gloves. I think it was a reference to keeping paint or stain off your hands but after snapping them on my fingers for the picture all I could think of was a certain, um, medical exam. My peace sign below certainly isn't helping that image escape my mind.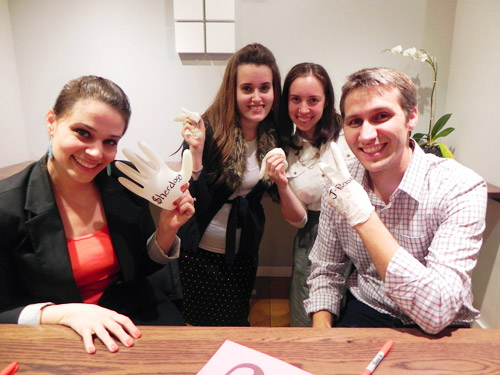 Being in our former city meant bumping into some familiar faces, like my high school/college friend Vidya (urgh, blurry picture!) and our old coworker Megan. (Chelsea, this is who you remind us of). Megan and I were interns together at the ad agency where we later both got hired (started same day, in neighboring cubicles) and would've have survived entry level advertising jobs without one another. We hadn't seen her since leaving the city nearly 7 years prior, so it was waaaay too short of a reunion.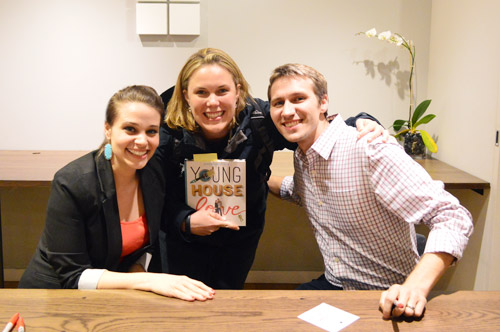 And speaking of reunions, we also saw my college friend Marisa who shared a somewhat lacking apartment with me in Astoria, Queens after we both graduated and couldn't afford to live in any of the nicer places that we looked at. She's the person I suffered through a bed bug infestation with, hence the present she brought for Clara.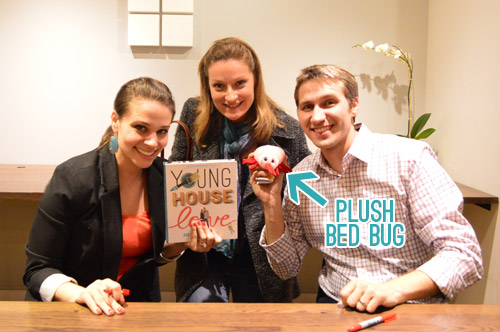 Even though our signing was done Wednesday night, we still had a fairly full Thursday ahead of us. And since we were in the city our publisher scheduled a few meetings, so the day started with a taping of The Better Show, a syndicated morning show that has spun-off from Better Homes & Gardens magazine. Here's our clip below where you can see me demonstrate the crazy-over-simplified TV version of the first project in the book.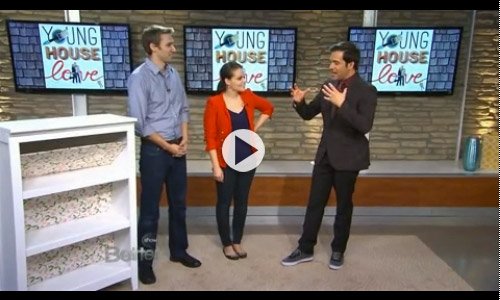 But the real story of that morning was not caught on film, because it happened in the green room. I'll set the stage. Sherry's got iPhone blinders on as she furiously tries to get that morning's post up before we go on the show. I'm just trying to play it cool when two guys walk in and are so loudly ragging on one another that they clearly want everyone in the room involved. One of them keeps looking my way, but I refuse to be baited into the discussion of who is more annoying to whom. As I do my best to figure out what band they're in, Sherry finally looks up and says "Hey, I know you guys! You're from Vanderpump Rules!"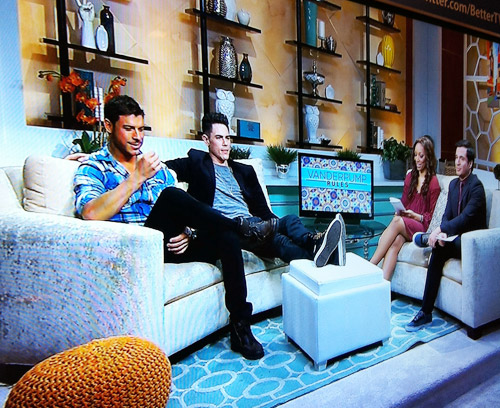 I watch a fair amount of reality TV with Sherry, but this Bravo show is one I've drawn the line at. However Sherry was suddenly very excited by the appearance of Jax and Tom because she got to ask gossipy questions like "Are you and Stassi still together??" (Tom said they had just hung out the night before – Jax said nothing). In other words, Tom was chatting away happily with Sherry. Jax played it cool – so cool that Sherry practically disinvited him from taking a photo together ("You don't have to, if you're not into it Jax"). But in the end he got in there. Not quite as close as Tom though. Dude, mitts off my girl.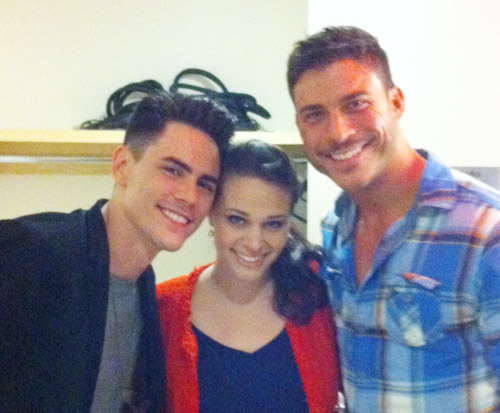 Personally, it was our other green room encounter that had me (and our book publicist Molly) talking the rest of the day. Here's the set up. The three of us were talking about a certain tip in the book whose title carries a second meaning that we didn't intend, which Molly hadn't heard about yet:
SHERRY: You know how the book has those recurring tips of some item 3 ways? Like "one bed, three ways" or "one couch, three ways."
JOHN: Well, a reader pointed out afterwards that one is especially – uh – suggestive, because "one nightstand, three ways" can be read as "one night stand threeways."
MOLLY: (giggling) Oh my gosh, how did everyone miss that during editing?
SHERRY: (also giggling) It's like an accidental double double-entendre.
MARK McGRATH: Sounds like my kind of book!
Yup, Mr. Sugar Ray himself was there and chose the mention of three ways to jump into our conversation. After I burst his bubble that it was a book about DIY and the entry was actually about nightstands, he still (expertly) feigned interest. This pic happened right before a producer pulled us into the studio, so picture the lyrics to "I just wanna fly" running through my head the entire time we filmed our clip on the show.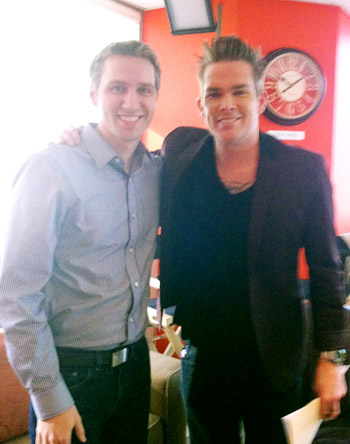 With our famous people encounters out of the way for the trip, we hit up a few more meetings and our publisher even took us out to lunch at a cool midtown spot called The Smith. The whole place was awesome to look at, but mostly I just stared at the cheese covered potato chips they delivered to our table instead of the usual bread basket. I can not explain in words how good these were and how many bowls I could've devoured.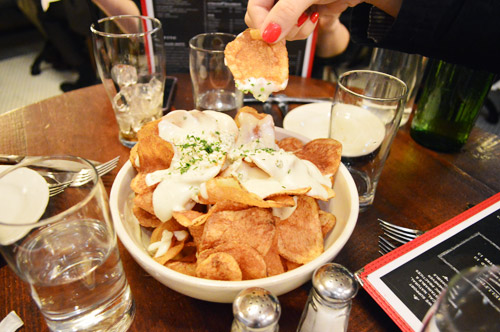 Once the chips were gone and my life was over, I hit the restrooms to discover that it was just one big unisex restroom… with a photobooth in it. Only in New York, right?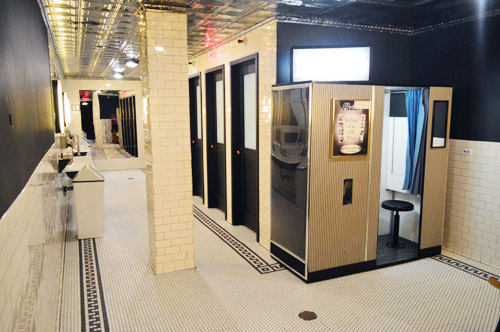 But we're never ones to turn down a photobooth, I went back to our table and told our publishers that I needed to steal my wife away to the bathroom for a moment. I promised them it was just for a photobooth, but I think I still got a raised eyebrow or two.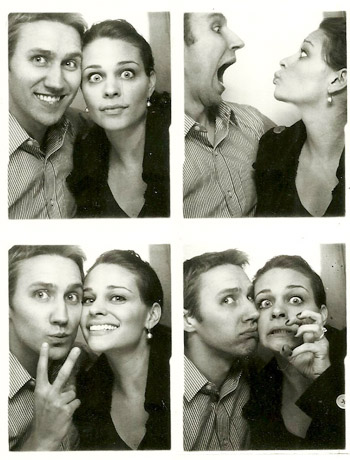 You know how weird it is to wait three minutes in a unisex bathroom for your photostrip to print? Fortunately we eventually retrieved our proof to our publishers that there was in fact a photobooth in the bathroom. Plus, they knew we were cuckoo for photobooths already, since we stole a few shots with them the night before at FLOR. That's Judy in green and Molly next to her. Judy basically made the book happen and Molly (along with Allison, not pictured) basically made the tour happen. And yes, this was our first time meeting them face-to-face too.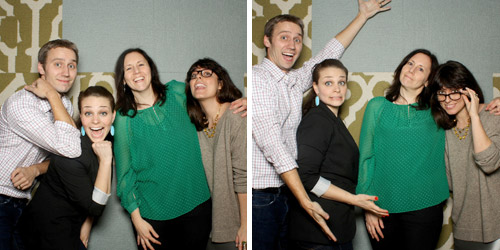 Once our day of meetings was over, we spent entirely too long at LaGuardia airport and eventually hopped two flights home (the last of the tour!) to Clara and Burger, who we couldn't wait to see.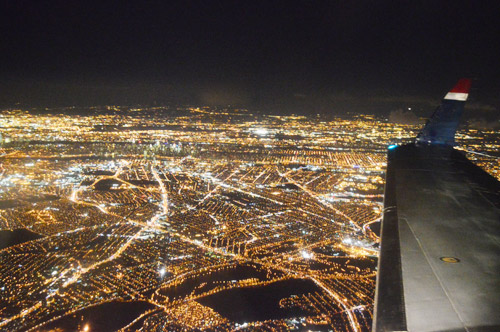 After returning from New York, we had four days at home to breathe and then we were packing our bags (with Clara in tow) for our next two stops: Charlotte, NC and Atlanta, GA. We drove to these since they were so close (5 hours to Charlotte, another 3 to Atlanta) and despite all of the cool places we've stayed in throughout the tour (which were all around $100 to $150 a night, but many of which were unique and quirky one-of-a-kind places), Charlotte definitely wins for the most posh-looking. Hello Duke Mansion.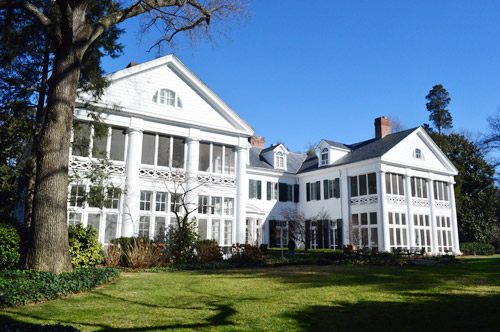 The reason we stayed in such an incredible inn was actually the reason that we were in Charlotte in the first place. We had been invited to speak at a private blogger event happening there, which is actually how the book signings got added in the first place (we told Molly we were going to be in NC and voila, book events in Charlotte and Atlanta got added to the tour for you guys). And since we saved them flight money by driving, they surprised us by putting us up in a nice, non-hotel location for our stay (it was also the location of the blogger chat so it was nice and convenient).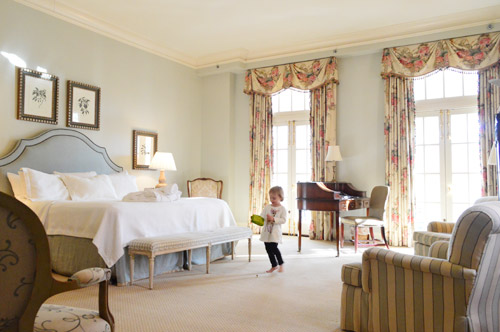 Just looking at that room again makes me want to break out a British accent and pretend we're on an episode of Downton Abbey. Although considering the amazing sunporch that was attached to our room, maybe I should be working on my Southern accent instead.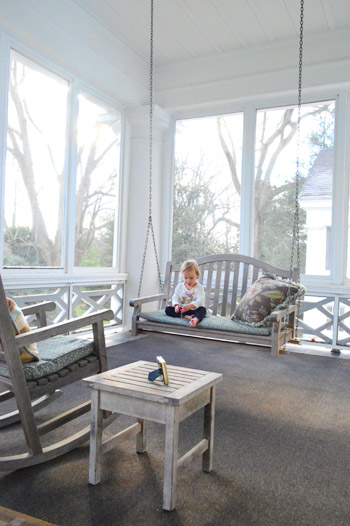 Clara came with us on this trip (as you hopefully noticed) so we had to hire a babysitter to watch her while we were at the events. It was our first time hiring a non-family-member to watch Clara (nerve-wracking!) but thanks to recommendations from a local friend (and house crash alum), Clara was well cared for and had a great time. Which made enjoying our night with all of you guys at the UNC-Charlotte bookstore that much easier.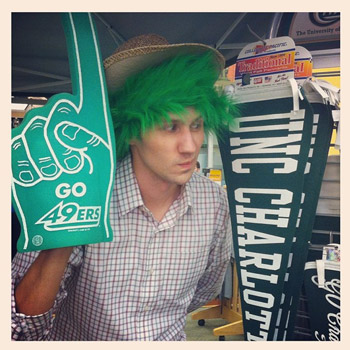 We somehow missed the memo that this event included a speech, so when we showed up to a podium and a seated crowded we scrambled to remember the talk we'd given previously in Austin and Florida. Thankfully it came right back to us and we had a fun time with Q&A as usual – including a question from Susan via Facetime.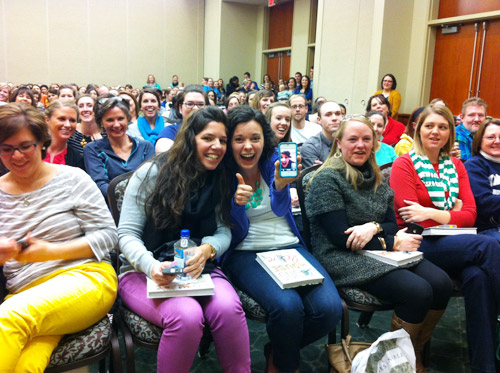 As anticipated, the South extended lots of hospitality and we had an awesome time chatting with everyone. Like Ashley and her friend who were late for their friend's surprise engagement party. Good news: they made it. Better news: the fiancee-to-be said yes.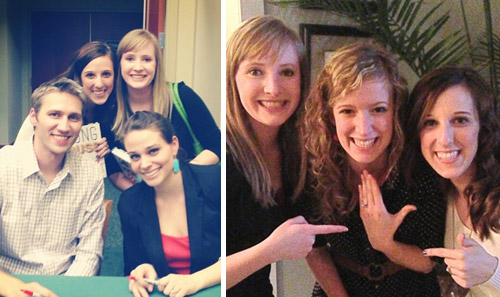 And just check out these mind-blowing cookies from Brittanie and Wendy. I still can't fathom how much time it must've taken to make them. No two were alike and they were delicious. And they were delivered in a paint can. Win-win-win.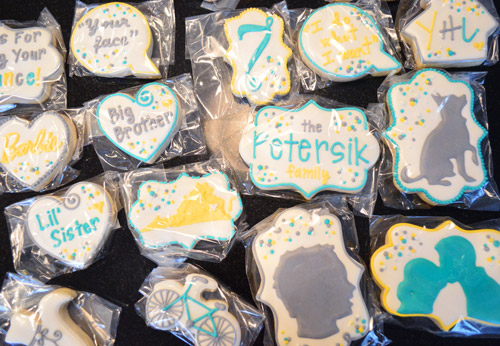 And since it was our only signing at a college, it was fitting that someone asked us to sign some research for their thesis to help them get motivated. Neither of us had any clue what the title of that paper meant (latent variable whaaaa?), so we mustered up the best generic advice we could manage in the face of big scary math words.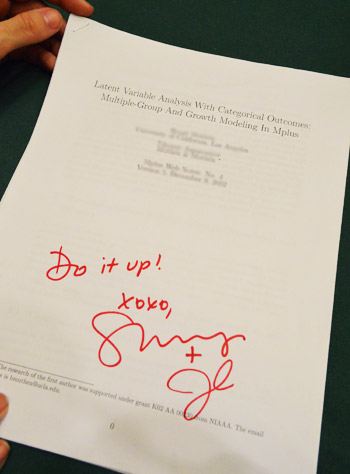 How's this for a creative approach? When I asked if they drew straws for which lovely lady was stuck being me and Burger, they said it was easy because their family has a Sherry and a Clara (spelled Sherri and a Klaira) too. What are the odds?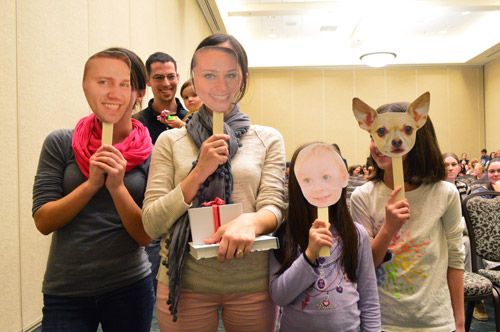 I figured this family deserved to have their real faces shown too, so here's the whole gaggle of 'em sans masks.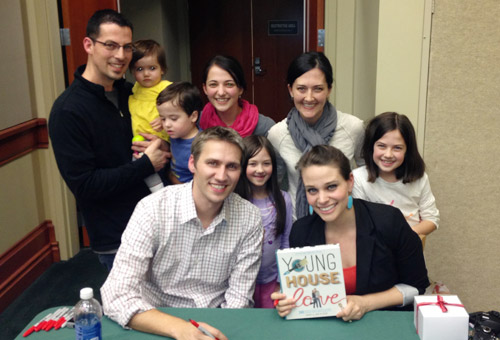 To our surprise, they weren't the only quartet who impersonated us for the night. Shortly behind them, this group strolled up with our names on their nametags – but of course it didn't take long to figure out who was who. We were totally flattered – and relieved to finally understand who people were wearing ears and tutus). Chihuahua shirt for the win!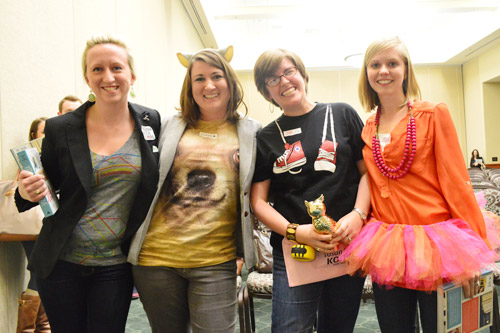 Charlotte was just as awesome as we had hoped and you can see a few more pics from the evening on Emily's blog. Lucky for us, since we had our private speaking event the following night, it bought us a full day in the Queen City to have some family time – including a trip to their children's museum, Discovery Place. Where Clara literally had a ball.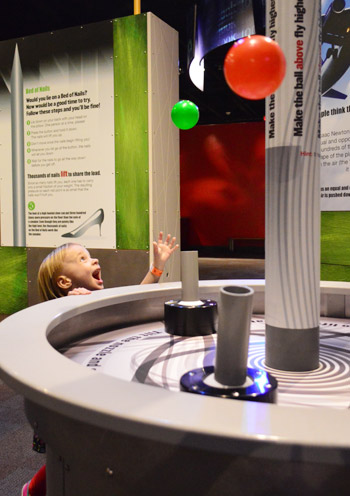 Clara even to meet (and touch!) a snake named Princess.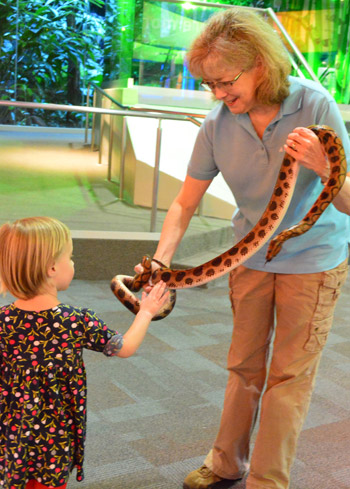 I, on the other hand, tried my hand at laying on a bed of nails. Eat your heart out David Blaine.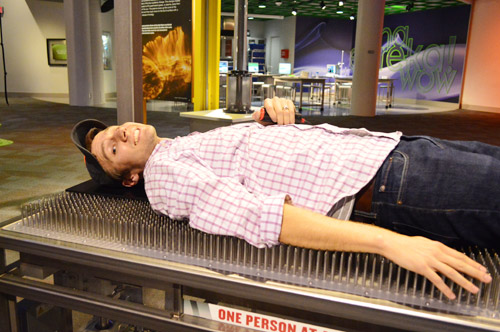 The next morning we packed up our things, waved goodbye to our beautiful accommodations (which Clara was apparently opposed to sleeping in – we didn't have very peaceful nights there) and made the rainy three hour drive to the Atlanta area where headed for our most anticipated lodging arrangement of the tour: Katie Bower's house! And on the way, we got a glimpse of our favorite roadside attraction, the giant peach in Gaffney, SC.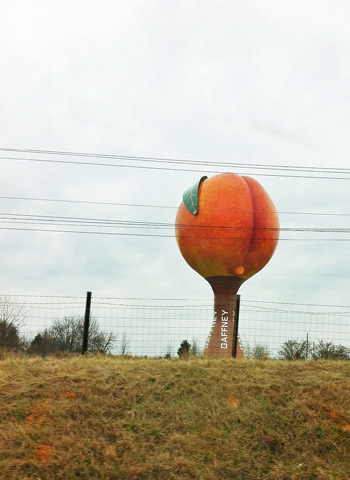 As for our time with the Bowers, we'll post about that part of our visit separately – since there was some secondhand shopping, crafting, and videotaping involved. And after arriving at Chez Bower, unpacking, freshening up a bit, and oogling baby Weston – we gave Katie's mom some quick babysitting instructions (she had generously offered to watch Clara and Will that night) and the rest of us headed downtown to that night's FLOR event. And what better way to wrap up a tour where bad weather has been a constant companion than with a remarkably cold and rainy night in Atlanta? Par for the course guys. Heck we brought a nor'easter to Boston with us a few months ago…
So thanks again to everyone who braved the chill, yet still managed to put a smile on our face (or a crown on our head!) when they arrived at our signing table. Since I already got to wear Miss District of Columbia's crown, I let Pearl – who competed for Miss Georgia – give this one to my lady-wife.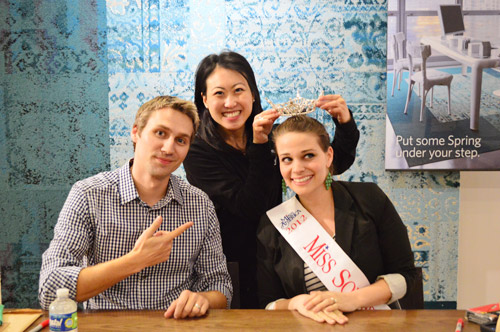 And how could I not include a photo of this group who made t-shirts with nose-picking references on them? If only I could dig up the picture we took with our fingers up our noses… (for those whose books we touched after this photo, I promise it wasn't a real up-nose finger shot – we just did a good job faking it).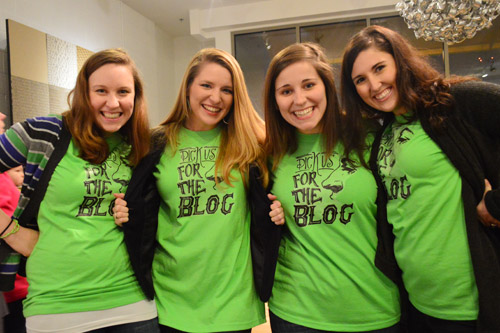 We didn't expect to see a lot of family or familiar faces in Atlanta (though Sherry was secretly hoping Nene would show up since that Vanderpump Rules sighting distorted her sense of reality), we did meet Johanna (on the right) who's apparently related to us. Her cousin Kevin married our cousin Casey (we met up with them during our Boston stop) and we even were at their wedding together back in 2009. Small world!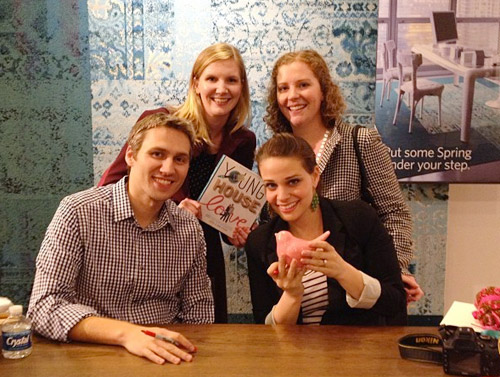 We also finally got to meet our blog friend Maria Fé from Layers of Meaning and Helen from Eleni Creative who made this felt Burger I ordered for Sherry as a pregnancy gift back in the day. Helen made us another felt creation which you can't see very well here, but it'll definitely show up in a project soon…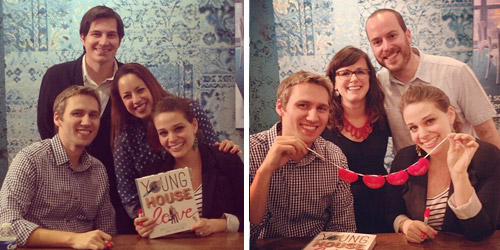 In addition to familiar-ish faces, there were some pretty good weird-faced-photos in Atlanta too. These ladies noticed we were watching the new creepy Fox show The Following, so their picture prompt was: "React to the scene where the girl stabs herself in the eye" (did I mention the show was creepy?).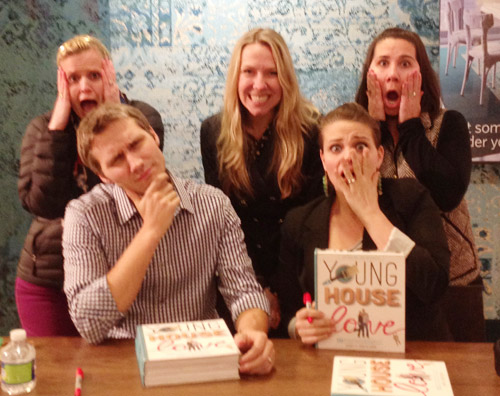 I'm not sure there was a specific direction for this funny face photo with Sarah, Jillian, Brittany, Annie, Jennifer, Jamie and Suzanne (not necessarily in that order) but I think it's a masterpiece.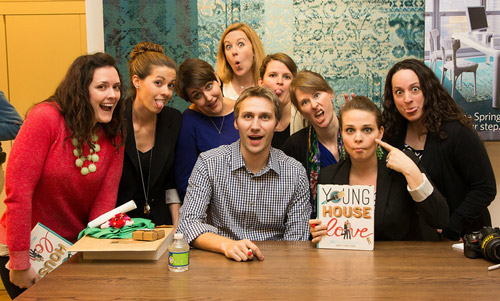 Fortunately the people of Atlanta are very blog-happy, so you can read more about that night by checking out posts from Sarah (who cohosted a Pinterest Challenge with us last fall), Emily (who you may know from this awesome reader redesign), Nina, Katie and another Katie.
And speaking of Katies, those who came to our Atlanta signing got a bonus blogger meet-and-greet with Katie Bower. She, Jeremy, and baby Weston had just planned to stay for the very start of the event, but quickly found a line of folks waiting to talk to them too. They graciously stayed the whole time (props to 2.5-month old Weston for lasting four hours, and to Jeremy who held him that long) and I know they had a blast talking with everyone too. Such a fun way to cap off the tour.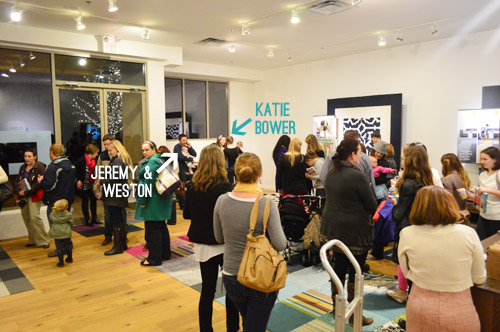 The book tour has been a blast – an experience of a lifetime and something that we are so wildly grateful for. But it was also thrilling to think that we could unpack our suitcases and settle in at home again. All good things must come to an end.
Thanks to every last person who came out to see us on this crazy tour of ours. It means so much to us. Seriously, we're extremely thankful for you guys for taking the time to come out and have fun with us at each of our stops. Plus now we've actually met so we're "real friends" instead of "internet friends" right? Sounds good to me.
&nbsp&nbsp&nbsp
Can you believe it's been three weeks since our last tour update? But even though you haven't heard much about it, we've been on the road (and in the air) quite a lot lately. It took us nearly to the end of our book tour, but we finally made it all the way to the other side of the United States. So let's dive right in with our recap of our stops in all three west coast states. #warningitslong
We started off in Tacoma, Washington at the Tacoma Home & Garden Show on Friday, January 25th. The people running the show did a great job getting the word out that we'd be there, even scoring this local newspaper article that featured an awesome / hilarious illustration of us which I just had to throw in. We think I look pretty spot on, but Sherry is a little Courteney Cox-ish. And clearly Burger wins.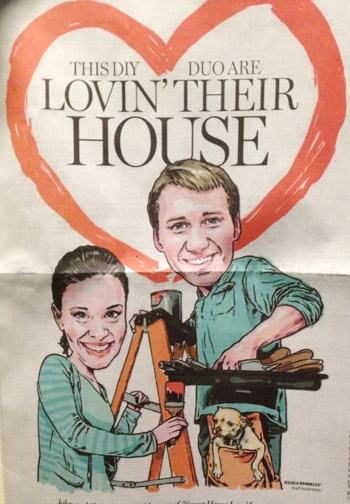 The Home Show was being held at the Tacoma Dome which is this big arena that also hosts concerts and sporting events. We even learned that Lady Gaga had performed there the previous week so we spent a few minutes walking around the backstage areas saying things like "Lady Gaga used this bathroom! Probably." and striking in a Gaga pose or two. Ok, that was all Sherry.
But the Dome looked quite different than a Gaga concert when we were there. Much like our trip to the Portland Home & Garden Show last year, the place was decked out in vendor booths and awesome gardens displays built just for the few days of the show. I was particularly mesmerized by this water feature. Isn't it convincingly outside-looking for being inside a big industrial dome?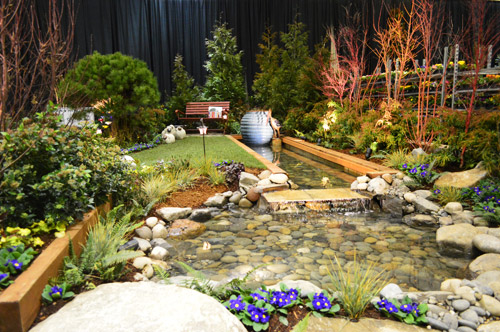 Our favorite section was an area called "The Vintage Market" which was basically a flea market / antique mall set up right amidst all the usual home show fare. Amongst other things, we really liked this vintage classroom map of the United States. It was $50 and the only thing that stopped us from buying it was figuring out how to get it home.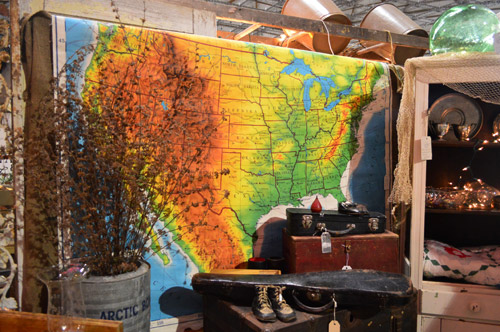 Sherry also was obsessed with these old metal, powder blue chairs while I was oooh-ing over a bunch of the vintage letters at various booths. It was probably good that we couldn't fit anything into our carry-on, otherwise we probably could've done some damage to our bank account.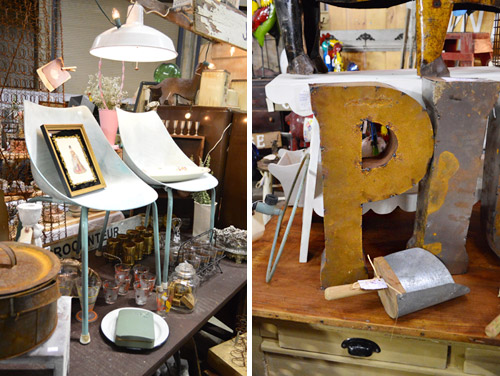 After some press stuff and a private meet-and-greet with Ali and her family (which you can read about on Ali's blog) it was time for the main event: a presentation and book signing. They even let us give a 10-minute warning announcement across the PA system. Apologies to anyone who had to hear it – it was our first time speaking to an entire dome full of people and I'm sure we yelled more than we meant to. I also remember it starting with an extremely smooth: "Hello? Is anyone listening?" Nice, right?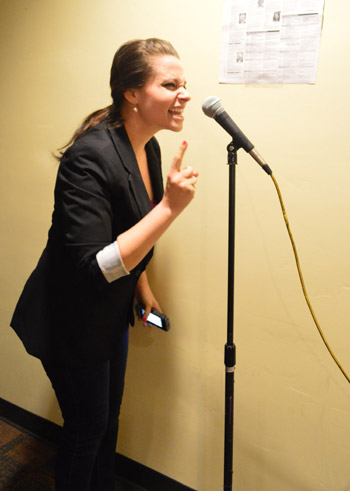 The stage for the presentation was pretty sweet and made us feel much more legit than we really are. We were even miked!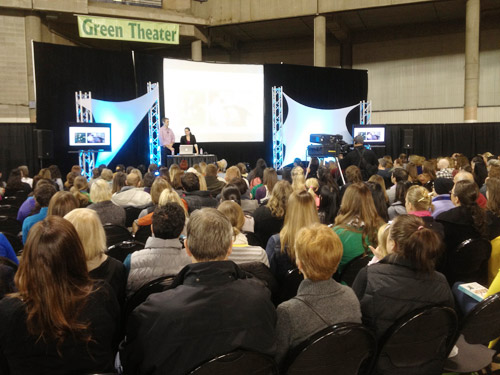 It was pretty awesome looking out at your smiling faces (and various baby strollers).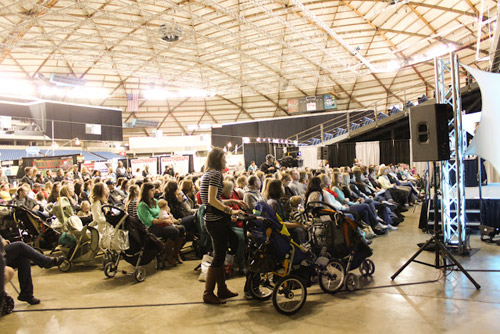 Following the talk and a short Q&A session, it was book signing time. In addition to books, there were requests to sign fun items too – like a sexy gold spray painted rhino (I think the only rhino Sherry could like more than a white rhino is a gold one). And I got my first ever plunger-signing request. Before you try to interpret the meaning behind me signing a toilet tool, let me explain that there was a booth nearby that was giving them away – so I think it was just coincidentally a home-related item. I hope it was, at least, because I think I signed three by the end of the day.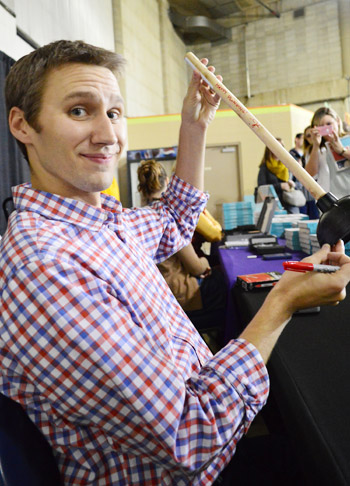 Tacoma also knocked our socks off with the thoughtfulness of its residents. Reina and Tina of hello, cupcake couldn't make the signing but sent over a dozen personalized cupcakes. They were delicious – and we earned points with the home show crew for sharing. Although it was a bit strange inviting people to take a bite of your own face (Sherry ate Clara and I ate Burger because we missed them the most).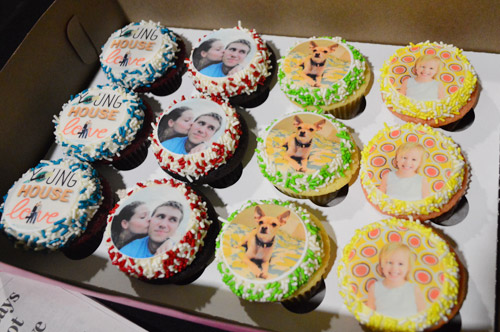 Sherry also received her first pair of gifted underwear, which had me cry-laughing. Andrea picked them out for Sherry because of the gold lettering (Jersey represent!) and the "Young" reference, but also because "if Sherry's underwear situation is anything like her bra situation – the girl needs 'em."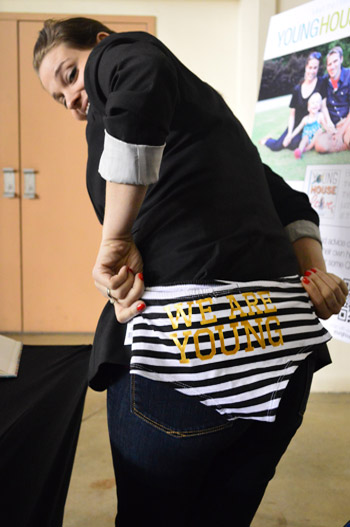 In addition to getting our first undergarment in Tacoma, this was also the site of my first baby dental exam – courtesy of baby Ruby who was so mesmerized by my mouth that she had to get a feel. Her mom Jennifer is very apologetic on her blog about it, but I must say that I wasn't fazed in the least (despite what my face says below). How could you have anything but love for that little lady?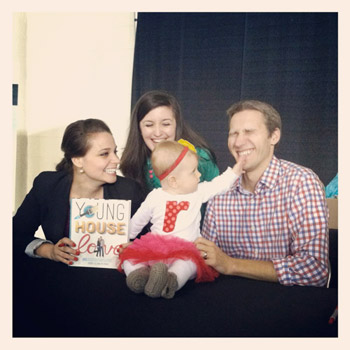 When the signing wrapped up around 4pm we were ready to call it a day (we had been there since 9am), but first I made Sherry take a spin in weird contraption. I just thought it looked funny, but I actually had trouble getting her to get out once she experienced it. It was basically a dry hot tub / steam free sauna that, if you're really curious, is explained in more detail on their website.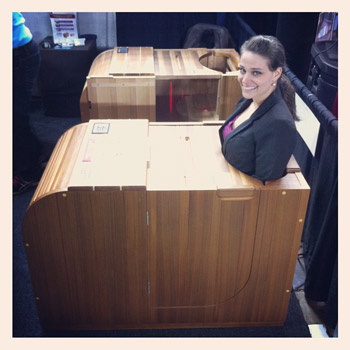 The next morning we hit the road for Portland. Since the drive is only a little over two hours, we opted to rent a car instead of go through the whole airport rigmarole. We like road trips so it was much more our style. Heck, if had the time and energy I probably would've been happy to drive to every stop on this tour.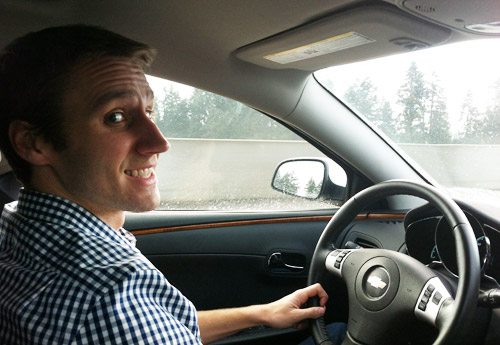 Once in Portland, we headed to Rejuvenation for our signing. It was our first time at the store ever, because during last year's visit we actually got lost trying to locate it. So we were really glad to get to experience it this time around because in addition to all of their new production lighting, furniture, and accessories (which is how I always think of them), they also had another half of the store that was filled with architectural salvage. I could've spent hours browsing there, but again the whole getting-items-home (plus the gotta-go-start-a-book-signing thing too) cut our shopping adventure short.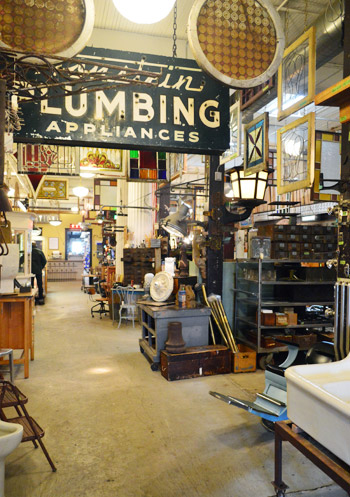 We started the signing with a quick talk from this "stage" at the bottom of the stairs. I hope no one who came was disappointed when they realized we weren't selling snacks like the sign above our heads indicated. If you're curious as to what we talked about, you can watch a video of the one we did in Austin earlier this month.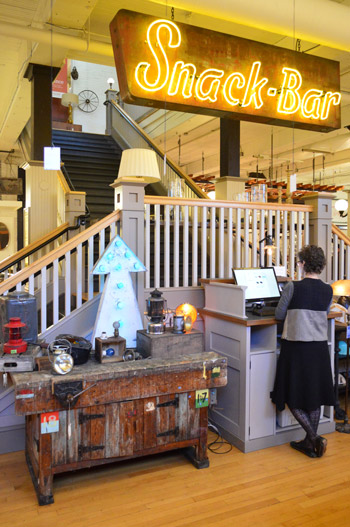 As the signing started, we were again greeted by some amazing personalized cupcakes (this time from Lindsay at Undercover Cupcake). I ate the Burger after the signing and he was incredible.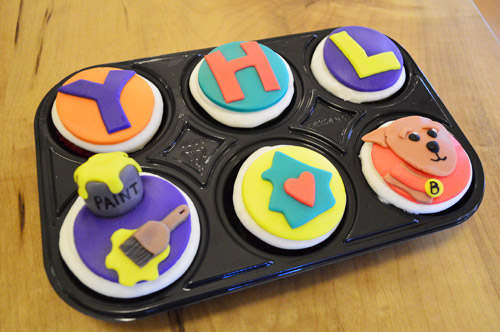 In the "unusual items signed" category for Portland, we can't forget Ellen's request to sign the inside of her black blazer in honor of Sherry's book signing "uniform" (Sherry changes her earrings, shoes, and the shirt under her blazer, but she has rocked the same blazer the entire time, which I appreciate to no end because there's not a giant "what should I wear?" debate before each of these 22 events).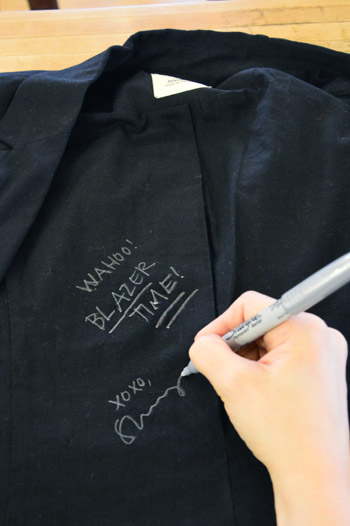 Someone also requested that we sign their book in the form of speech bubbles over our pictures. Sherry wrote something normal (with lots of exclamation points) and I wrote something obnoxious. I wasn't actually hungry, but I just figured that's something I think a lot. So, in short, I was going for accuracy.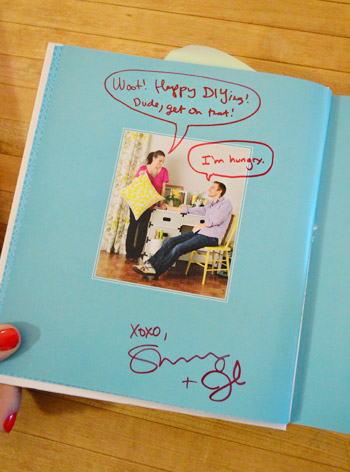 These signings are also great because we get to put a lot of faces to comment-names. We also get to see familiar faces, like Katy who we met in Portland last year. At that meet-and-greet she broke the mold by asking us to pose with her laying on a nearby model-home bed so we had high hopes for her photo concept this time around. She delivered by suggesting we do a cheesy 80's sitcom pose. She's playing the role of the wacky neighbor.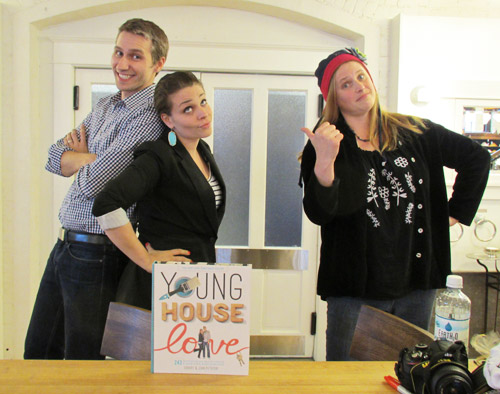 We love when folks, like Katy, come up and say "let's take a funny picture." And since we're running out of weird facial expressions to break out, we've started doing extremely strange off-the-cuff things. Like this. Sherry swapped places with Amy so that she and Ben looked like excited fans. I love how much Ben committed to the role. Amy even did the Sherry head-tilt.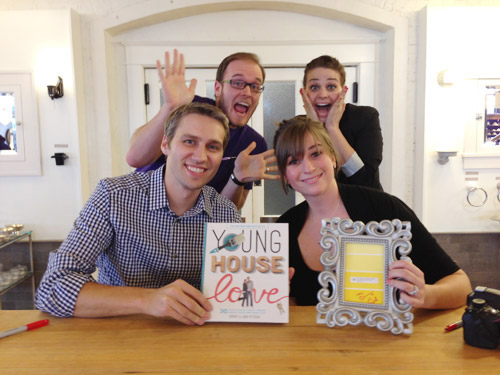 We also got a great engagement story out of the visit. Veronica's now-fiancé had originally scheduled a weekend getaway the day of our signing in order to propose to her. But when he learned how much she wanted to come to the signing and a business trip got moved, he rescheduled the engagement plan for a few weeks earlier so that Veronica could get her ring and her book signed. Sounds like she snagged a good one.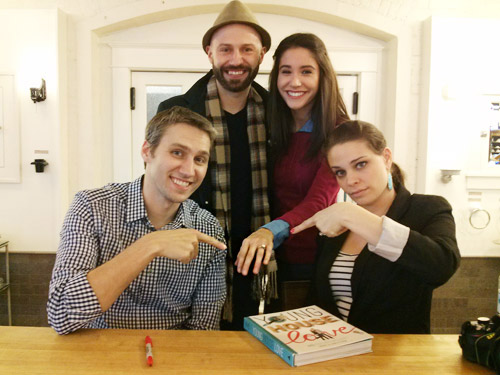 The signing actually wrapped up a couple of hours before we needed to leave for the airport, so we were excited to take in a couple more Portland sights that afternoon. So excited that I wasn't paying attention while chatting with someone and closing the trunk of our rental car… with the keys in it. Yup. So instead of enjoying PDX, we spent 90 minutes waiting for the rental car company's roadside assistance to come rescue us.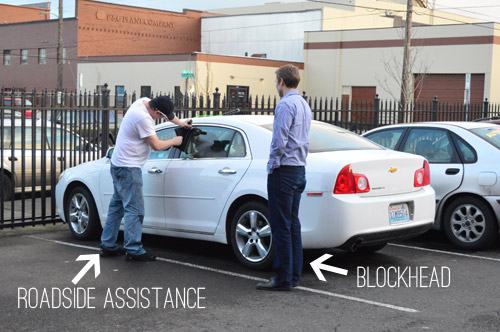 I'm glad we had been in Portland last year so at least we didn't feel cheated out of learning about the city (for anyone visiting, you have to check out Pine State Biscuits, Por Que No, and Salt & Straw – all of which we loved last year). In fact, Portland is the only city on this tour that where we didn't spend the night (well, it happened in DC too, but that's local-ish). Since we drove from Washington that morning and flew out that night to Northern California, we actually managed to visit three west coast states in a matter of 12 hours. And that's not just a layover situation, we actually had breakfast in Washington, drove to Oregon for the signing and most of the day, and then flew to California that night to check into the hotel and sleep there.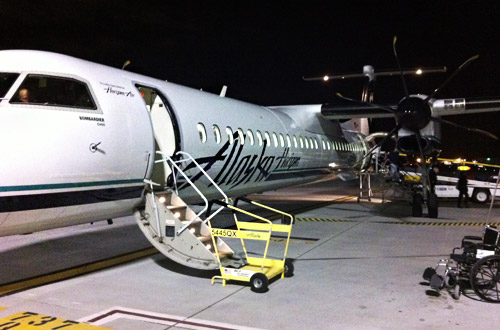 After getting some much needed rest in our hotel in Palo Alto, we were up bright and early to spend some time with my Aunt Liz before our book signing. She lives in nearby San Jose so she and her friend Joan came down to hang out for a bit. For the sake of my other aunts, I should note that Liz made the sign.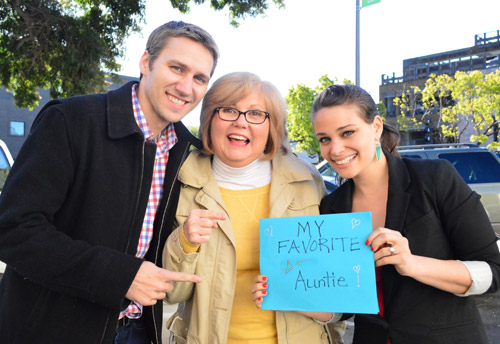 And if anyone saw people cut the line and sneak a picture in before the event started, it was my friend Jamie and his fiancée Ashley who live in Berkeley. You may recall Jamie from this uber-thoughtful gift that he gave Clara last year, so now you know why he got special privileges.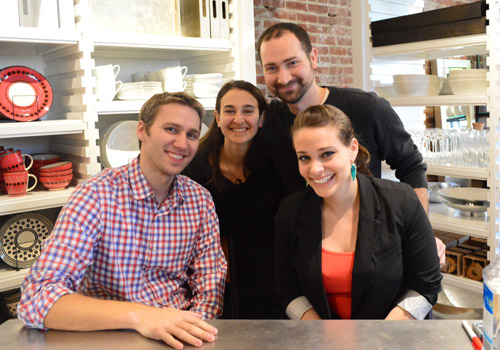 When the signing doors opened for real, we were first greeted by these lovely ladies who had driven up from Los Angeles that morning and – if that didn't prove their dedication enough – had also DIYed these awesome homemade shirts. How cool is that house with the heart in the middle? Sherry wanted one.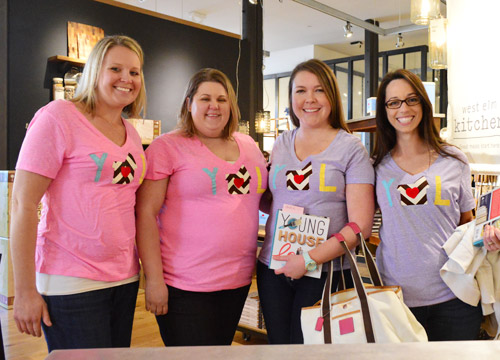 We also met Emily (left) and her friends Abigail and Jillian who brought some of their finds from completing the Macklemore Challenge earlier that weekend. You can read more about them on Emily's blog.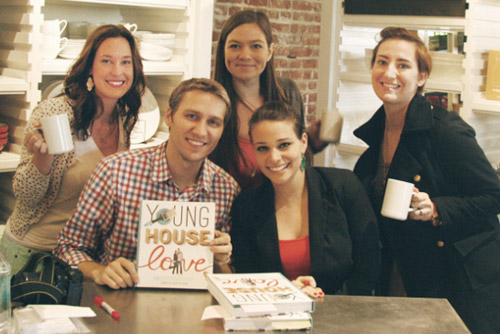 Tasneem and her husband Asif (who, by the way, drove 300 miles from LA even though it was his birthday) arrived with a white ceramic dog for us to help us cope with the still fresh loss of this guy. I think our matching faces say it all.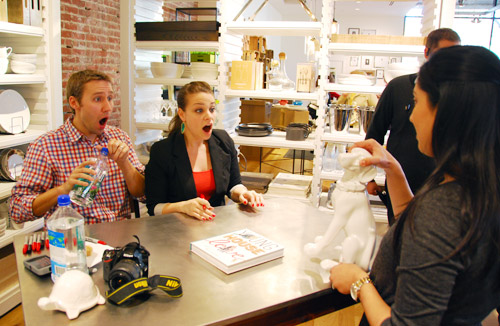 And how cool is this? Akiyo makes these stuffed penguin toys and she made one for Clara that's dressed in a Burger costume! It's not ceramic, but it ranks way up there with one of my favorite animals in the house.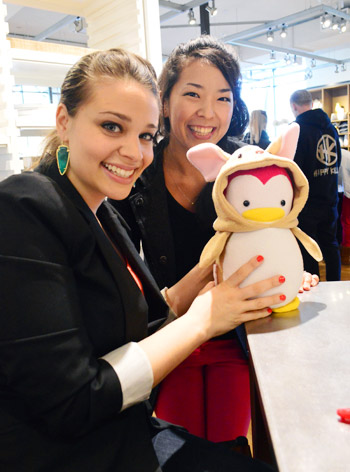 Palo Alto was also fun because we had our first canine visitors. I wish I had the mental capacity to remember their names now, but regardless – they were enough to soothe the missing-Burger ache we always have on these trips.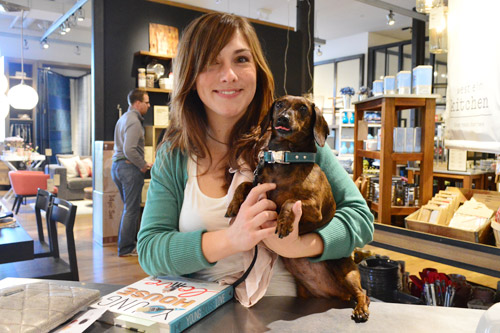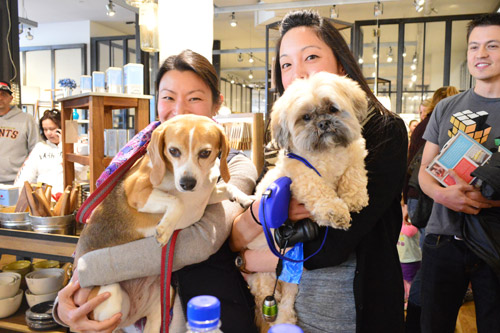 After the signing wrapped up, we met up briefly with our friends Matt and Kristin who have made several appearances on our blog (here's one of 'em) thanks to their stylish place in Charlotte, NC. Last year they actually moved to San Francisco, hence our meet up on the other side of the country.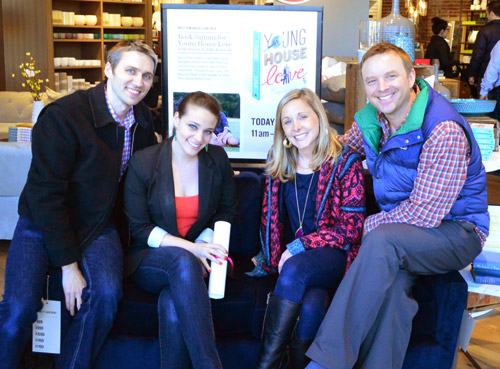 We went out to lunch with them (Oren's Hummus was awesome!) and caught up on the life they're loving out there in the Bay Area. Oh yeah, and they even drove us to a street nearby with a very special name.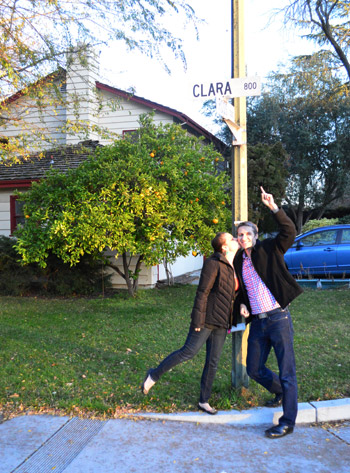 We then spent the night back in our hotel and got up crazy early (4am) for our flight back to our side of the States. It's one of those days where you wished the time zones worked the other way, since despite leaving at sunrise, we didn't get home until sunset in Virginia.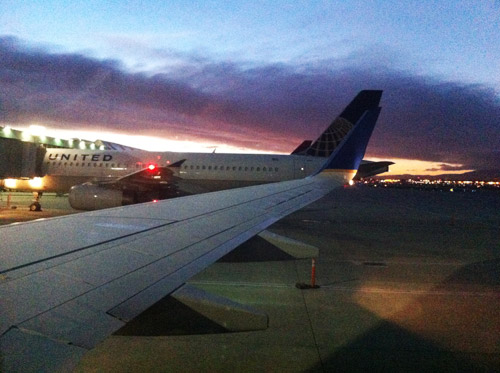 But we're so so glad we got to spend some time on the Pacific Coast with a bunch of you guys. I'm sorry we didn't get scheduled elsewhere in California, but hopefully an LA stop will happen someday for some fun event. And if that happens, we'd better get to meet a celebrity or else I'll feel cheated. Someone get Matt Damon on the phone!
Psst- If you want to read about some of our previous book tour stops, you can check a round-up of them here.
&nbsp&nbsp&nbsp