Author Archive
This post was 3,000 words long. They all felt overly complicated and heavy and weird. I clicked delete. Then I just typed what we're really feeling, complete with things we've never said out loud and even a few things we've never fully admitted to ourselves before.
The truth is that we love you guys. Like for real. Even for the tough love. We know you say it because you care (or hopefully you did at some point), and we want you to know we care right back. We want to do a good job. We want to do this with joy and excitement. We want to inspire you. We know this is an incredible way to have made a living and we are full of gratitude for the experience to have shared the last seven years of our lives with you guys online.
We would NEVER be here without you, and not a day goes by that we don't know that. It's why we asked for your feedback last week and read every last comment. We appreciate the honesty and the passion you guys have on the topic of making this blog great. And we agree with a lot of what was being said. We have been feeling off for a while – like we have lost our rhythm and we're somehow missing the mark for ourselves and for you guys. We too miss the good old days when we did this for the love and were full of such obvious joy and spontaneity. This felt like a place we all hung out and it just doesn't have that vibe anymore.
Over the years many amazing opportunities popped up for us. Things we never dreamed of doing in a million years, and things we're incredibly grateful to have had the chance to experience. A book deal, curating paint picks with Benjamin Moore, a line sold at Target, a showhouse, etc. But in hindsight those things also made this feel a lot more like a business than a personal blog to many of you, and to us as well. We have actually ramped those down behind the scenes in an attempt to get back to our roots (we no longer do the BM color collection, the second book is mostly written, our products at Target have completed their run, and we finished the showhouse) but we never really made a big announcement about that – so it's completely understandable that some of you might think we've moved on to those greener pastures and left the blog in the dust, so to speak. The reality is that our site propels the success of any outside project like a product or book, so we could never turn our backs on the blog and expect those items to continue to sell as well.
Not only have we felt this shift from "John and Sherry" to "Young House Love: The Brand", but the blogosphere as a whole has become increasingly sponsored/corporate lately. We can see from the outside prospective as a reader, or even a fellow blogger, that it's hard to read a blog post without suspecting some ulterior motive or money-making system behind it. Last week a few of you mentioned that we might need to keep giveaways around because they pay us well, which surprised us since they're never something we accept payment for (we like to pass free things along to you as a thank you for reading).
Along with the whole business/brand thing that's going on, and the side gigs that felt like they muddied the water for some of you, there are certainly other things we wish we had handled differently in hindsight. Just to name a few, there's: being too defensive, over-explaining, letting things get in our heads and change our lighthearted approach, and the internal struggle between being transparent and oversharing personal details like a vacant new house without an alarm system (looking back we wish we'd handled our third house announcement differently). We know many of you felt insulted that we didn't share more freely about that house, and we truly apologize.
Anyway, back to that whole "we're sexy stumbling and you know it" thing. It's endlessly frustrating to do a job that you love poorly, especially when it's a blog baby that you've birthed yourself and nurtured for seven years. And especially when it's such an amazing job that we once felt so inspired and joyful to wake up and do each day. What's wrong with us? We know this is a dream job. We acknowledge it's a once in a lifetime opportunity. We know most people who have built something like this would be more inspired than ever. It's not that we lost the gratitude, I think it's that we feel like we've fallen out of our groove. We feel like we're letting you guys down repeatedly. It got to the point that every time we pressed "publish" we braced ourselves.
So in an attempt to stop stumbling around and feeling like we just can't get it back, we're taking a break. We don't know exactly how long we'll be stepping away, but our guess would be at least a month. We will certainly be exploring other options for supporting our family (something we mentioned we were considering back in April). We had that fiery blog-spark back when we had day jobs and did this as a hobby, so we think it could be a good change. We'll also be taking a break on Twitter, Instagram, and Facebook, but the blog will stay public so you guys can access the archives whenever you'd like.
Our internal struggle and the state of this blog is entirely of our making, and we completely own that. Please don't get mad at anyone for being honest with their feedback last week or accuse them of sending us packing. We have been struggling with that "something is off" feeling for a while now, and after way too much denial and "we'll turn it around" pep talks, we finally asked for your feedback because we truly wanted to hear what you were thinking. It was cathartic and helpful for us. It has allowed us to very clearly see that if we have any respect for this blog and our love of it, and for you guys and what you'd like to see, we need to take a break if we ever want any hope of getting back to that fun/real/spontaneous place it used to be when this was something we did for the love instead of the high stakes game of supporting a family.
In summary: we love you, we thank you, and we hope you understand.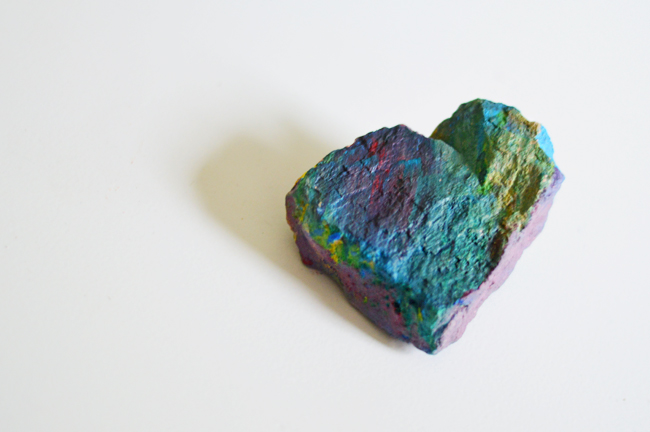 &nbsp&nbsp&nbsp
Thanks so much for sharing your thoughts so honestly over the last few days after Thursday's post update. Please know that we've read every comment and are giving them lots of thought. Sometimes we get so caught up in "the response" that it's hard to fully absorb what people are saying, really think about it, and address it in actions and not just in knee-jerk words. We aren't glossing over things by posting this, but it gives us time to keep processing so we can be thoughtful and honest in return.
In the meantime…
The laundry room's finished!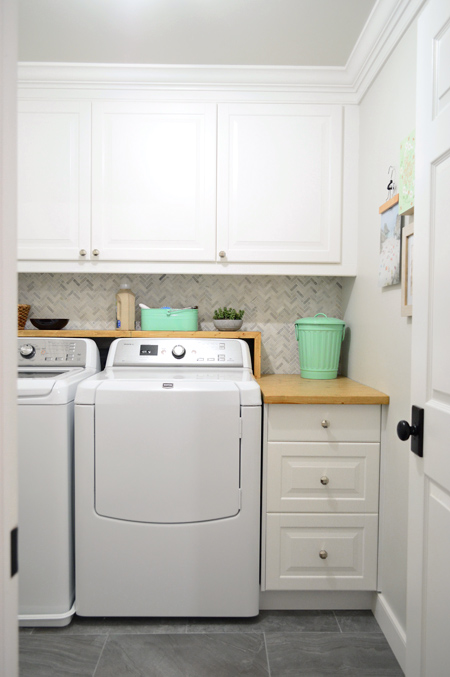 And we could kiss Lesley for her idea of carving out a new dedicated laundry room. It's like it was always there! (Plus a new glass door at the end of a formerly dark hallway with light streaming in = angels singing sound effect to us).
When we last checked in, things were looking a little unfinished, but it's amazing what that last 10% can do for a room. Our first steps were to add the missing filler, baseboard, toe kick, and crown that we had accounted for when we installed the cabinets (to bridge those gaps on the side, top, and bottom). Then it was on to adding the missing door casing, baseboards, and the new doorknob that ties into the rest of ours. Lastly, we had a party and the under-cabinet lights were invited (and installed).
Can I just say that the under-cabinet lights are my new favorite thing? I want to cover my house with them. I want to put on some R&B and bathe in a tub full of under cabinet lights.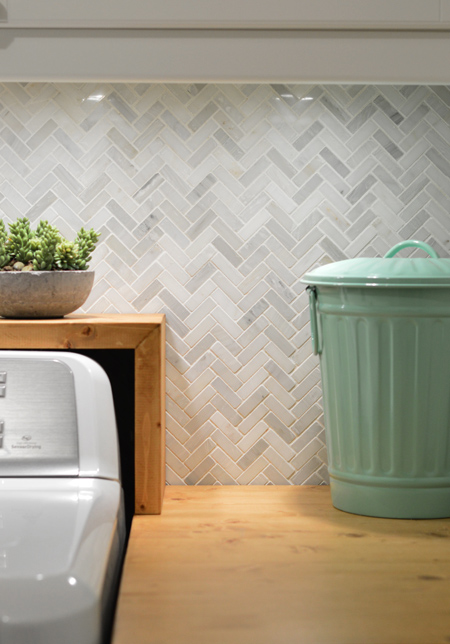 They currently plug in behind the washer – you might be able to see the small white cord snaking down the left corner of the room above the washer – but we have a call in to our electrician to add a switch for them on the wall by the door. That way we can flick them on when we walk in instead of using the toggle switch on the cord.
They were sort of an impulse update back when we were buying our cabinets and they were TOTALLY WORTH THE IMPULSE. I know I'm type shouting at you but I mean it. If I were talking to you in person my voice would be raised and my hands would be flapping around. It was all thanks to a reader who mentioned it was easier to see stains and spot treat them before tossing them into the wash after she added some. In summary: Twinkies are not always worth the impulse, but under cabinet lights? DO IT.
When they're off the room is still nice and bright from the overhead light, although we'd love to add a skylight or a some solar-tube someday.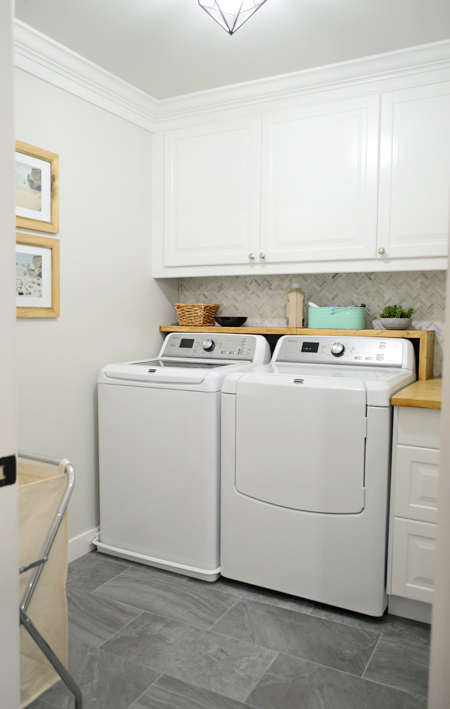 After our finishing trims, fillers, and lights were in, it was momma's favorite part. THE THINGS! Like the drying rack, the ironing board, some art, a laundry sorter, and everything that I got to basket up and stack and pile into the cabinets and drawers.
The laundry room wants to hug it out. Look at those outstretched arms.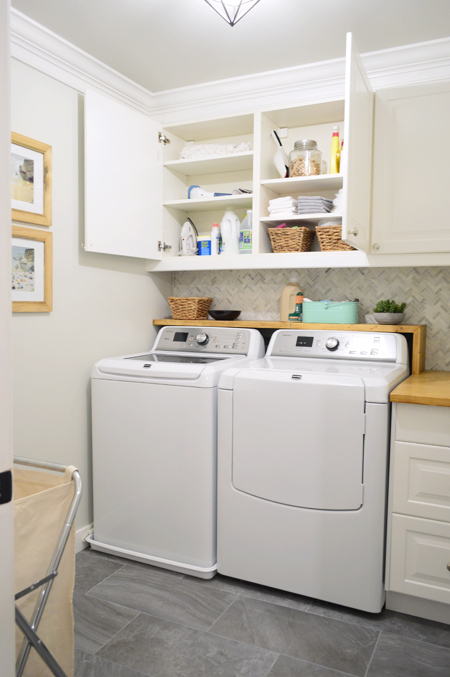 We thought things on the shelf should largely have simple functions to make life easier, so there's a basket for lost socks (currently housing a few of Clara's) and a dish for change and other random stuff we find in pockets before things go into the wash (if you're a certain aforementioned member of our family that might mean Legos, mom's earrings, and and a few crayons for good measure). We also like the idea of keeping our everyday detergent out on the shelf so it's easy to grab (you can see that in the wider shot a few photos back).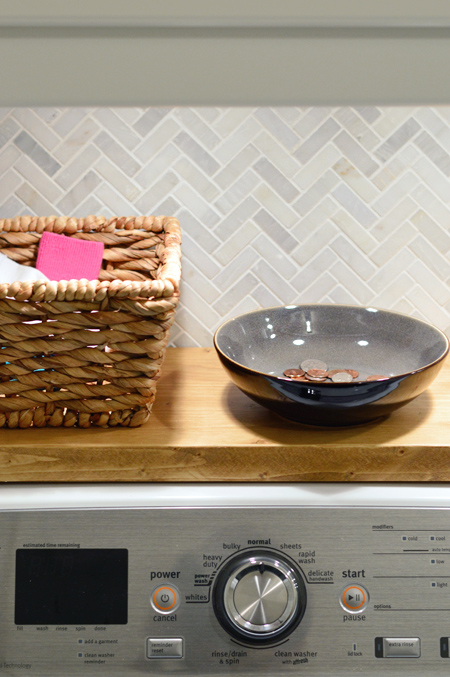 There's also a mint green caddy to store things like lint rollers and dryer balls along with a mint green trash can which we ended up putting right on the counter for small things like balls of lint and tags from clothing or old washed-papers-from-pockets. The little fake-o succulent is just there's to add some life to the laundry room – even if it's faux real.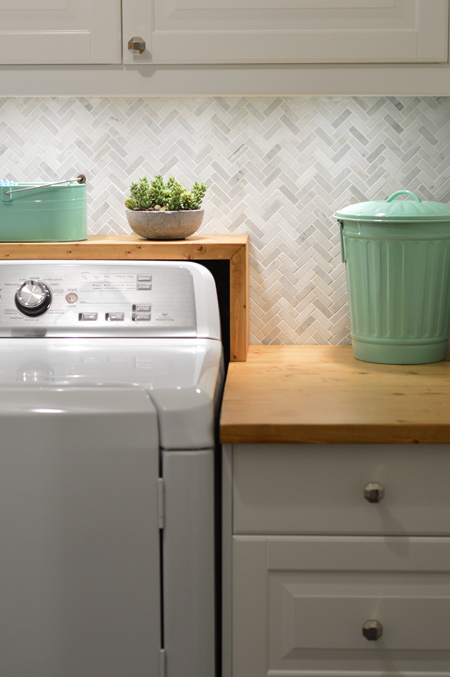 If you spin around to the wall opposite the washer, we have a drying rack. And it's kind of a game changer. We used to just lay things outside on the daybed to air dry (or in the extra deep windowsill in the living room of our last house) so to have a devoted pull-out drying rack for hanging or draping things (or clipping them up) is pretty great.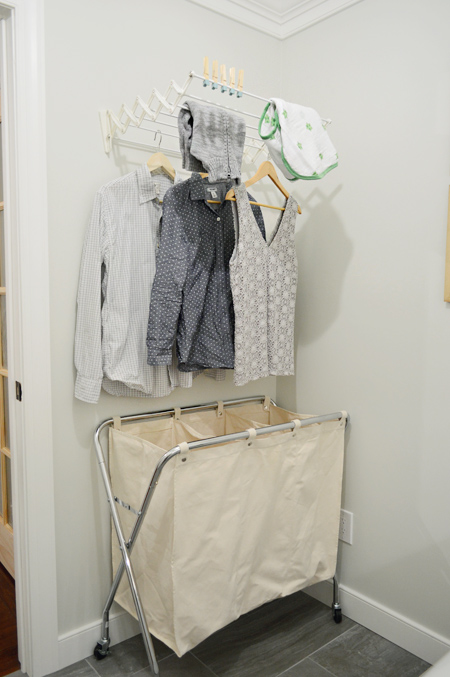 I was leaning towards ordering one from The Container Store but then I saw someone saying it was meh and I saw this one on amazon with a ton of good reviews that swayed us. It boasts over 12 square-feet of drying space for hanging or laying items thanks to the pull out design that extends two feet out from the wall. It's so nice to have this much hanging and draping real estate. I'm officially on the drying rack train now guys. High fives! I feel like we need a secret handshake or something.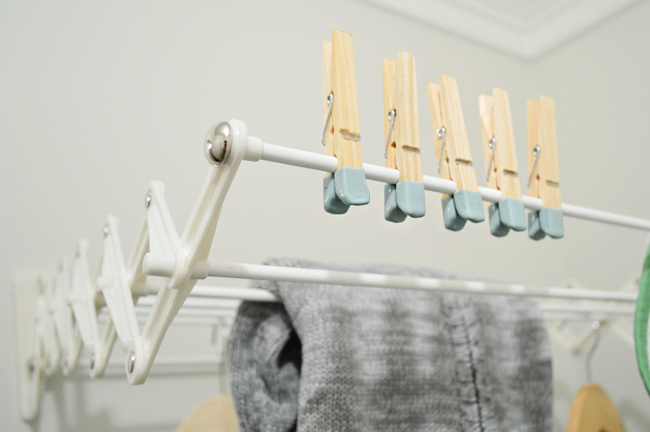 Oh and it closes up like this when it's not in use. Stealth mode.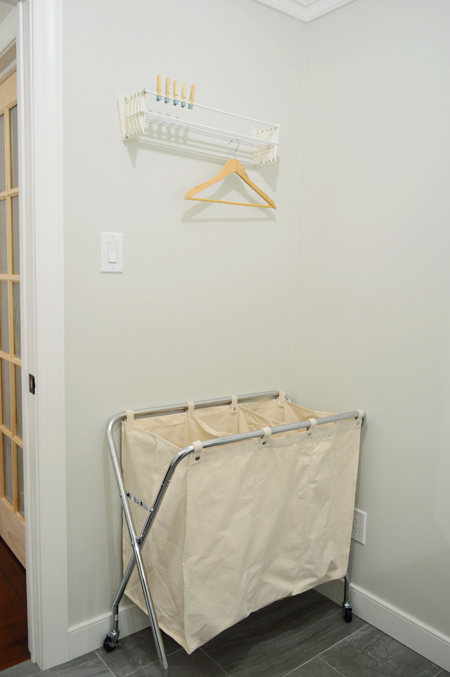 Underneath it we have a three-bin laundry sorter from Crate & Barrel. John's sister grabbed one a few weeks ago and raved about it so we took the plunge. It has only been a few days but we're drinking the same laundry sorter Cool-aid. Picture us sipping it while cruising along on The Drying Rack Express with spare under-cabinet lights in my purse.
For the ironing board we debated everything from a mini-pull-out or fold-down wall or drawer mounted one but I prefer a full sized board and I like it to be out of the way, but portable. Sometimes I just like to iron in front of the TV. We've used this system of two large wall hooks secured with anchors to hold it up off the floor in our last laundry area, which worked well (remember our ironing board wars? They are so ON).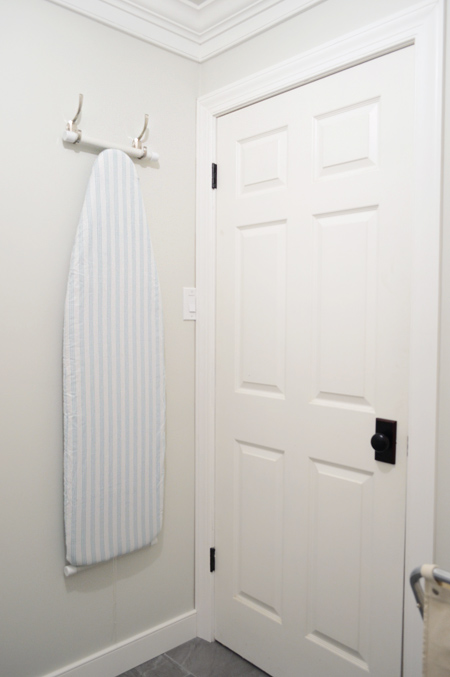 We decided to hang it behind the door on the wall (not the door itself since we worried that might rattle). The hooks stick out a little and would otherwise get slammed by the door so we got one of those small white doorstop things for the back of the door. Ignore that light switch near the door though (it's the old hall light that we debated keeping just in case but it's ridiculous back there so we're going to terminate it when our electrician comes to add a switch for the under-cabinet lights).
For now the art on the left side of the room is just framed pages from a book called Time & Tide by Christian Chaize (it's full of gorgeous photography). I still have my eye on something like this by Emily Jeffords though, so there might be some musical frames going on.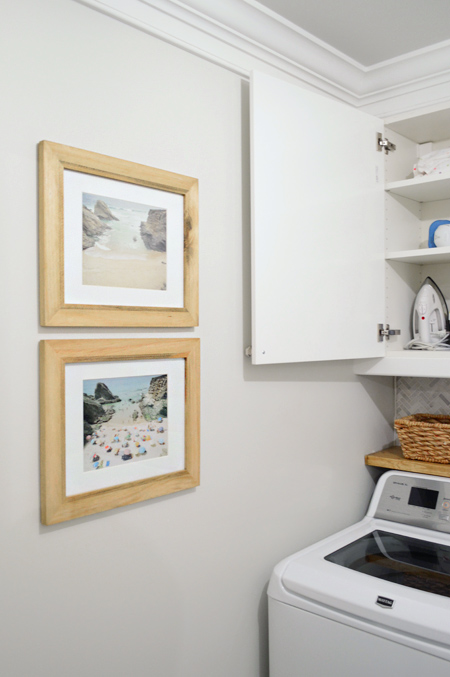 Speaking of the frames, they're from Target. We loved that the wood tone tied into our baskets and the laundry shelf and counter, so home they came.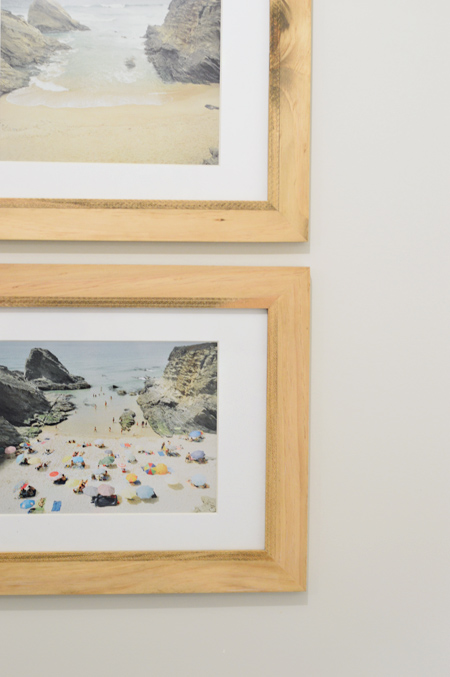 The other side of the room has a little more art – like a wood canvas from Help Ink that I love (it says Bee Kind with bees having a blast all over it). I also hung one of my favorite pieces of fabric (it's an old handkerchief that a friend of mine found with the name Clara embroidered on it). Something about the old linen fabric and the embroidery whispered laundry room to me.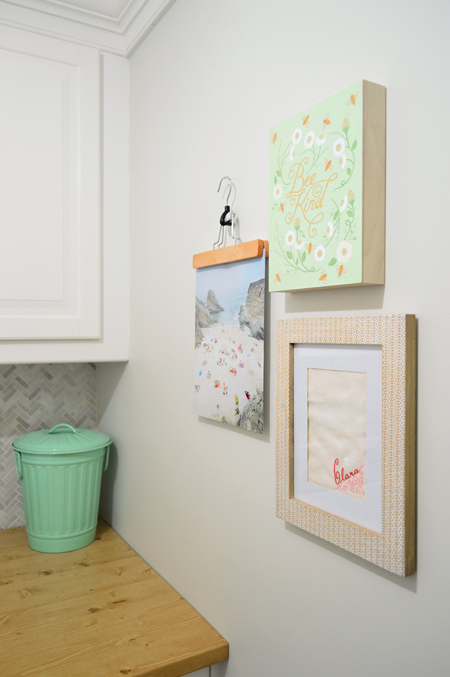 There's also another print from my Tide & Time book that I clipped up with a wooden pants hanger. Seemed laundry-room appropriate. I'd love to clip up a Clara painting eventually, so we might have a little crafternoon bonanza ahead of us.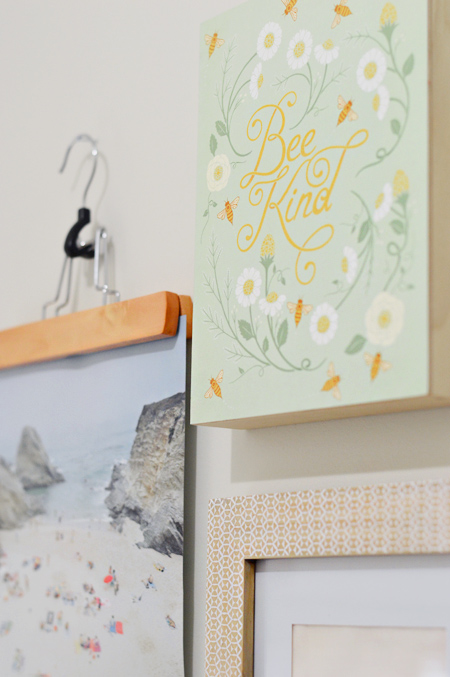 In my mood board I also had a printing press drawer (Clara and I collect heart rocks and I thought it would be so cute to display them in an old wooden drawer with all those tiny compartments for them) but we haven't come across any that would work yet. They're totally one of those I-see-them-in-every-antique-store-when-I'm-not-looking-for-them-but-they're-sneaky-like-a-snake-when-I-am-on-the-hunt.
For the cabinet hardware we went with these simple octagon pulls from Lowe's. We actually grabbed a bunch of options from Anthropologie (Fashion Show! Fashion Show! Fashion Show At Lunch!) but after holding them all up the simplicity and the nice heavy feeling of the Lowe's ones won us over. We have two metals going on in here (I like a mix as long as each of them are present enough times to look intentional), so these guys are sporting the polished chrome look along with things like the rolling cart and the knobs on the washer & dryer.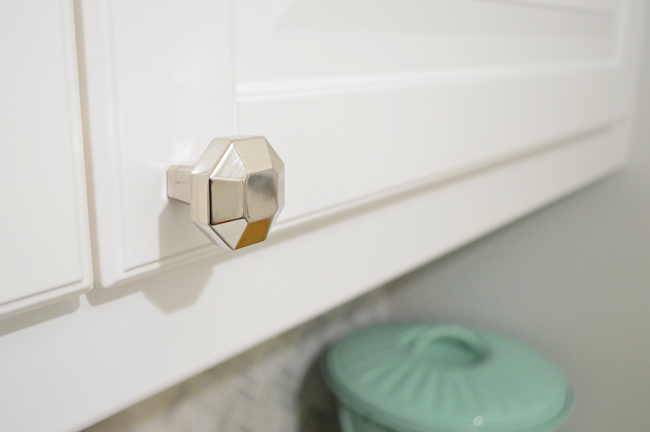 On the ceiling we went with a flush mount light from our Shades of Light collection.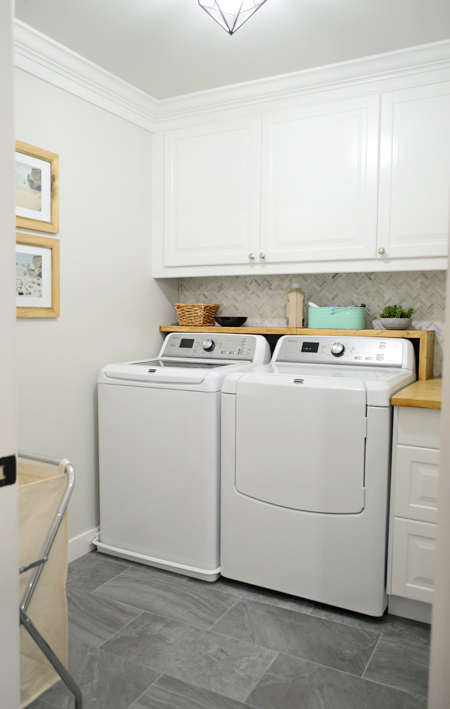 We had a whiter/cooler light bulb dangling from the fixture box before we installed this light, but switched it out for a warmer LED one that makes the room feel less cold (it brings out the honey tones in the shelf, frames, and baskets – and zaps some of the starkness out of the white cabinets).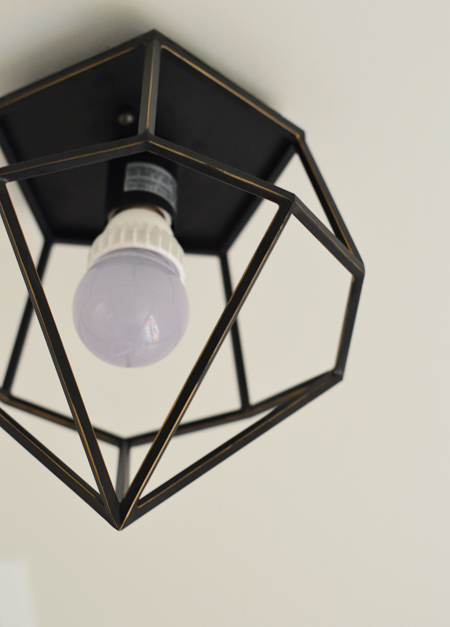 The oil-rubbed bronze doorknob and similar coloring on the washer and dryer tied it in – especially since the washer and dryer also have chrome on them – so they're sort of a bridge between those two metals that we mixed throughout the room.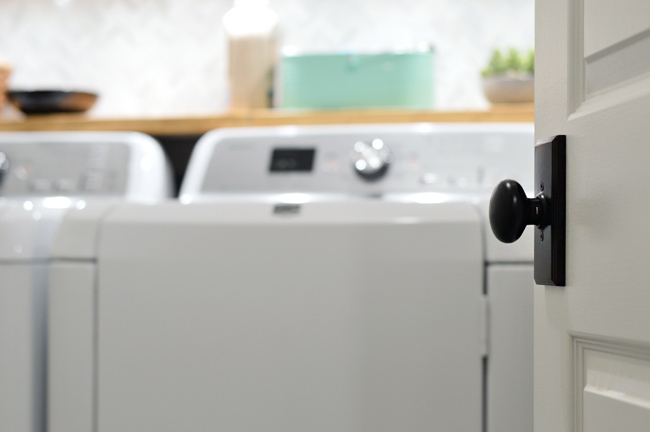 Look at John modeling the new laundry room. You'd almost believe he likes laundry…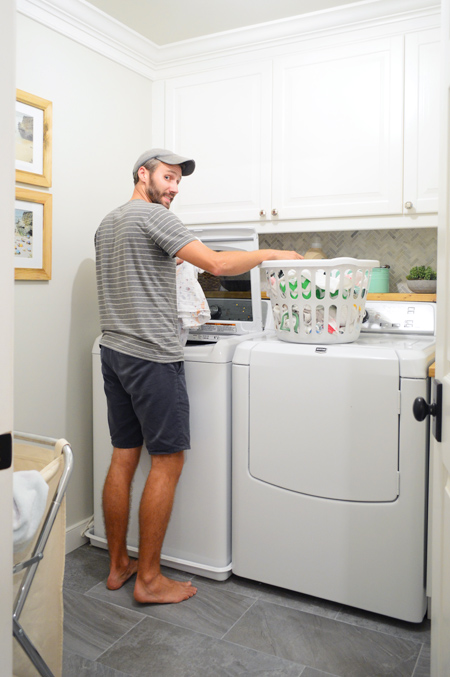 Budget breakdown:
Framing (labor & materials): $360
Electric (labor & materials): $400
Plumbing (labor & materials): $375
New dryer vent: $87
New HVAC vent: $59
Drywall & insulation: $298
Drywall mudding: $84
Sub-floor materials: $30
Tiled floor: $451
Ikea cabinets, filler pieces, toe kick, and under-cabinet lighting: $862 $802 (we went with single puck LEDs instead of the long strip ones we originally got)
Appliance re-install: $15
Tiled marble accent wall: $281
Shelf & counter (including stain testers & stain): $97
A new glass door for the hallway + framing and hanging two doors: $297 (new tools included)
Trim, crown, baseboard and door casings for both doors + two new doorknobs: $268
Function/organization stuff  (including baskets, our laundry sorter, the drying rack, hooks to hang ironing board, etc): $112
Finishing touches (like the overhead light, cabinet hardware, wood frames, etc): $176
TOTAL: $4,192

We think it would be really fun to have a realtor come and estimate what she might list our house for so we can see how much value this reno may have added (along with the other stuff we've done over the past year).
And since we're listing stuff, I think our favorite functional updates are the laundry sorting cart, the drying rack, all the storage in the cabinets and drawers, and the added countertop/shelf surface we've gained. When it comes to things that make it feel the most upgraded, the tile backsplash, under cabinet lights, crown molding, and soft-close doors and drawers definitely elevated the room for us (so if you have a laundry zone that could use a little love, those might be nice add-ons).
Couldn't leave without a little before & after action. Remember when this was our laundry area back when we moved in?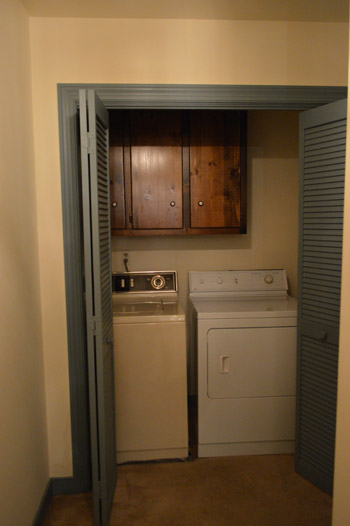 So. Much. Better.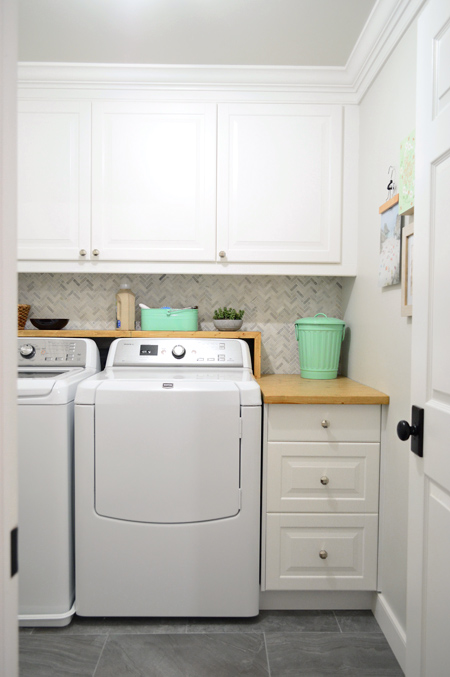 Thanks for coming along on this winding and long-winded laundry room renovation, guys! It's one of our favorite house changes so far since it's literally a room that didn't exist before. We're more gleeful than… I don't know… a pigeon with a hotdog? A dog with a blog? A kid in a candy store without adult supervision and unlimited funds? It's up there.
&nbsp&nbsp&nbsp