We loved Stacy's kitchen makeover, not only because it's beautiful (and a huuuuuuge improvement over the original) but also because we thought it was a great example of balance. Stacy found out where she could eke out the most savings and took her time figuring out what she could do herself (and where she needed a little help). And the fact that her new kitchen appraised for… well, we'll just let her tell you the story:
Hi John and Sherry, I waited about a year after I bought this house before I started re-doing the kitchen. It gave me time to save up, live with the space to see what it needed, and figure out what I wanted. I quickly realized that the original kitchen was majorly lacking in counter space. It was hard to find a place to cut vegetables. I basically ended up using the kitchen table to prep food!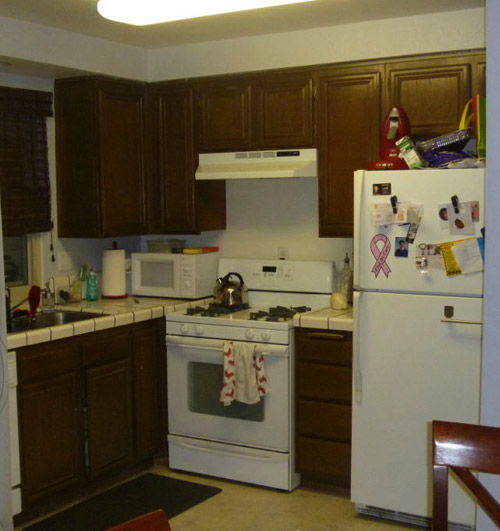 Also, the corner cabinets were placed so that the doors didn't fully open and you couldn't see what was inside. The fan didn't work very well, so a lot of times the second floor of the house smelled like what we ate for dinner. Let's not even talk about the gross linoleum floors. The one good thing is that the appliances were all in decent shape.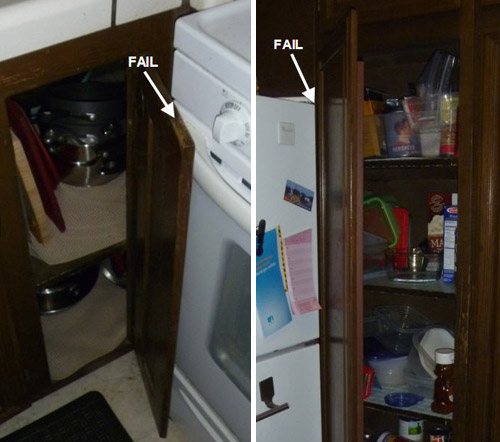 I work full time and also am getting my MBA part time, so spare time is very limited. I went through a contractor for the demo and installation (took about three weeks for everything), but I did the designing of the floor plan and picked all the finishes myself. I took a risk and changed the floor plan completely. I moved the refrigerator over into the dining area and created a pantry area. This let me extend the countertops into a U shape. What a difference!! Three people can now work in the kitchen at once.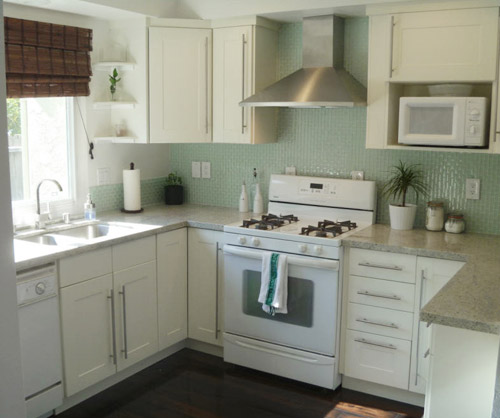 I saved a lot of money by re-using the existing appliances. Although I really wanted stainless appliances, these white ones still worked well and have a few years left in them. I also saved money by finding deals on a lot of the finishes. The vent hood, hardware, and cabinets are from Ikea. I assembled them and the contractor hung them. The backsplash was a really reasonable find as well (from Home Depot).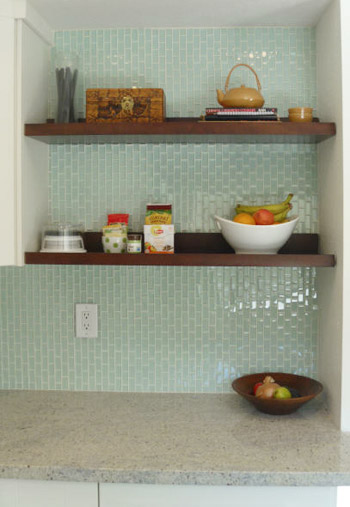 You inspired me to include open shelving, so I re-used the open shelves I had in the previous bar area. This also saved money that I would've spent on additional cabinets. The sink was also a major online bargain as well as the faucet and soap pump. I really love how the kitchen turned out. I had an appraisal done for my refinance and I recouped 100% of my costs of the reno in added value to the house. Really added a cherry on top to the whole project! Hope you enjoy! – Stacy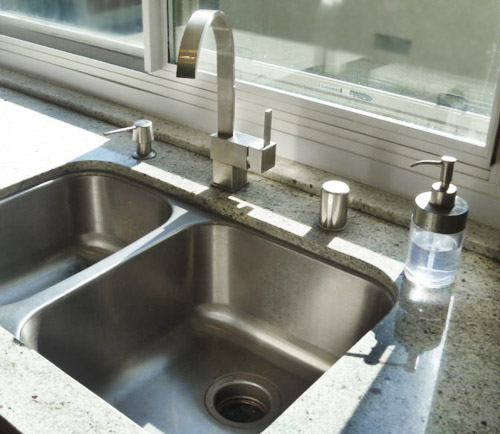 Can I just say one of my favorite decisions in the whole kitchen is not just the backsplash, but the direction of the backsplash? The vertical orientation is such a nice touch. Makes that Home Depot tile look so much more custom! Nice choice Stacy. Thanks so much for sharing! We love all the cost-saving details and that you took a chance and moved the whole layout around to make it a lot more functional (and recoup all of the money you spent). What about you guys. What's your favorite part?
Psst- We announced this week's giveaway winner, so click here to see if it's you.
&nbsp
&nbsp&nbsp&nbsp

&nbsp

&nbsp
If you enjoyed this post, please leave a comment or subscribe to the feed and get future articles delivered to your feed reader.
181 Comments
This comment section is currently closed.