Archive for January, 2011
We promised a post about the project that kept us busy yesterday, so we'll be sharing that as soon as we can get the pics uploaded and sized (we had to wait until this morning to shoot afters in the daylight). Until then, here's another pillow post (notice a theme lately?) that we've owed you for the past week.
We mentioned during our failed shower curtain attempt that our trip to HomeGoods wasn't entirely fruitless. But we just realized we never elaborated about the, er, fruit. So here we go: we found this bold pair of greeny-gold pillows that practically screamed "I want to date your duvet." So we introduced them: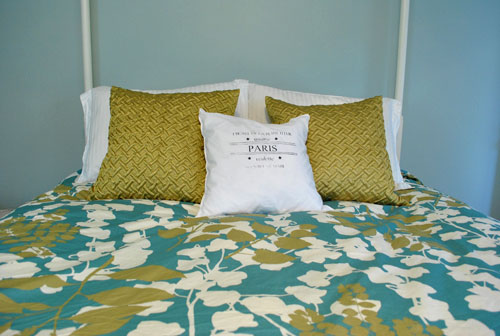 They were just $24 for the pair (12 bucks a pop), and we thought they'd complement our bedding perfectly – especially with that subtle lattice pattern and the shiny fabric to add some texture and interest. And we like the idea of a white pillow in front of them for contrast, so we're thinking we'll try to hunt down something similar to the ruffled pillow in the West Elm picture below on the cheap from TJ Maxx or World Market instead. Or maybe we'll just go crazy and pick up a bright randomly colored pillow (eggplant? navy?) and work it in with art and other accessories that'll be introduced to the room as we go. For now our white Paris pillow above works as a placeholder of sorts. No rush.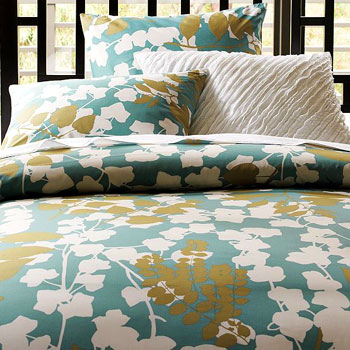 We're enjoying the extra dose of color among our formerly-all-white pillow collection on the new bed. And that "we" includes Clara (who likes to play hide and seek behind them)…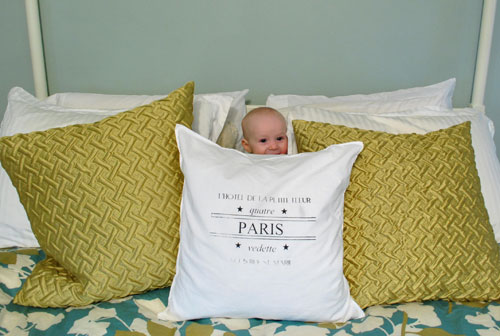 …and her big brother (who likes to go crazy in general, on and around them). Watch his antics on Vimeo below or over here on YouTube:
Ah dogs and pillows. Gotta love them.
Beefier post to come when we're done uploading and sizing pics!
&nbsp&nbsp&nbsp
You heard it here first. "Purloined" is the new "snagged." Just kidding. I'm just being weird. John didn't even know what it meant when he walked by and saw the title. "What the.. purloined?… are you sure that's a word?" was his exact response. Which is exactly what I'm going for. Not. Yes, I'm bringing back "not" too. I'm in a strange mood. Anyway, we're still working on a few different projects today (details soon!), but we figured we'd pop in and share what we recently snagged purloined at Tar-hay (btw, Tar-hay is the new Tar-jay):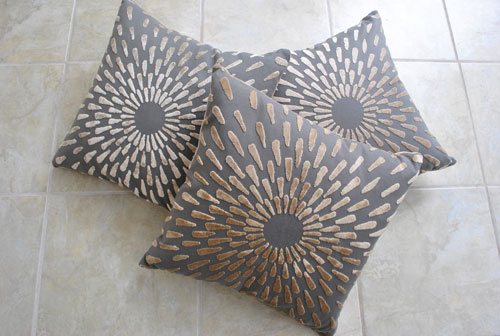 Ok, so purloined might mean "get by any means necessary" or "steal" – but we paid for them like good law abiding citizens. I couldn't pass up these patterned gray velvet pillows for Karl. At $24 a pop (well, plus 5% off that since I used my trusty Tar-hay card) they're not insanely cheap (like my $2.50 pillow from Bed Bath & Beyond) but they're nice and big (around 18″). And the velvety texture and pattern feel a lot more high end than the usual big-box store purchase (nothing piddly and cheap looking will do for our new family member sectional). So I choose to think of them as around $75 cheaper than the big textured ones I drool over at places like Restoration Hardware or Williams Sonoma Home. Glass half full, style.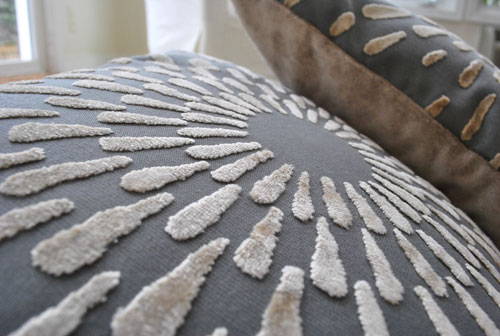 Of course we'll add in some serious color too with some other pillows, art, curtains- etc. Don't want a big gray room with nothing but a gray sectional and gray pillows. The reason I liked the textured gray tone on tone look was because I thought they would layer in with other pops of colors and even other more obvious high-contrast prints for something that's not too crazy but just interesting enough. Can't wait to see them sitting on The American Dream when it arrives (yes that's Karl's other nickname). If not we'll just return them. No harm, no fowl.
Psst:  "No harm, no fowl" is the new "no harm, no foul." Spread the word.
Psssst: Did I mention I'm in a weird mood?

&nbsp&nbsp&nbsp