Yesterday was my sweet hubby's birthday so I figured I should share what Clara, Burger and I got him. John and I have recently been talking about how we'd love to amass more "real art" to complement all the DIY stuff that we have framed on every wall. This goal is definitely inspired by our friends Matt and Kristin – who we House Crashed here and here. The cheerful original art that lights up their home always has us jonesing to add more color and fun to our walls. So consider this painting to be the beginning of an exciting little collection that will happily hang in the new house: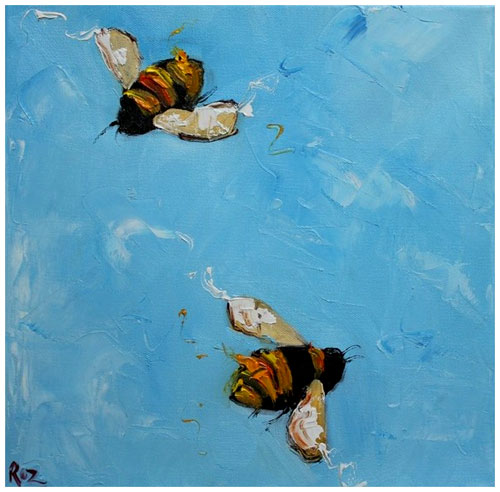 It's a 12 x 12″ original oil painting on canvas done by an amazing Etsy artist named Roz (to the tune of $75). And the moment I laid eyes on it I knew it was perfect. See, John and I actually worked bees into our wedding invitation (which you can check out here) so we've always considered them to be our animal- er, insect. And the fact that there are two of them galavanting around the canvas together makes it even easier to see as a symbol of our relationship. My man gives me a buzz, what can I say. Ok, enough cheese. Hubby loves it. So glad.
&nbsp
&nbsp&nbsp&nbsp

&nbsp

&nbsp
If you enjoyed this post, please leave a comment or subscribe to the feed and get future articles delivered to your feed reader.
98 Comments
This comment section is currently closed.