When Krystol sent over her unbelievable before & after exterior photos we just had to share the gorgeousness. Here's her letter:
I love your blog and I thought you might like our recent porch renovation. We're trying to take our rancher to a french country cottage. First we the removed the porch railings and moved the posts a bit further apart. One of the posts was right in front of the door (not too welcoming!). Then we sheathed the existing posts in rough cut oak and added a second set of posts for a little extra oomph at the front door. We also added arches (carved from a single curved tree trunk section- go hubby!) and painted the house. Well, actually we limed it. This is an ancient process where agricultural lime is mixed with water, then applied to the brick. Instead of sealing in moisture like paint can, the lime allows the brick to breathe. Eventually it does wear away, but I like that "old" look. It is also totally eco friendly and cheap! A bag of lime is around $10 and it took about 8 to do our house. I think paint would have cost around $400 or more. The house trim is Farrow and Ball's French Grey and the "new" front door is from the Habitat ReStore and we just added new hardware from Emtek. Oh and the seagrass rugs are from World Market. Anyway, like I said I love your blog.  It's an inspiration to all of us DIYers out here! I hope you enjoy the front photos. – Krystol
Here's what Krystol started with: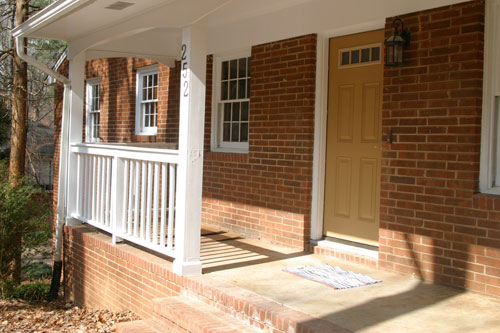 Here's the house in progress after getting limed: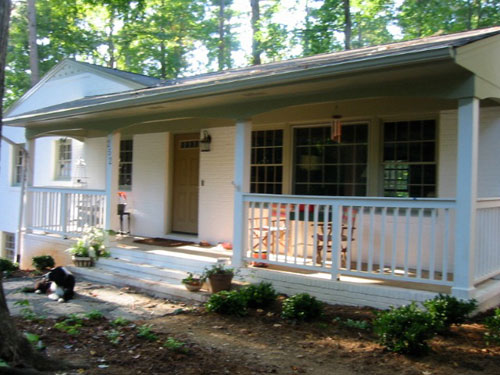 And this is finished product with new posts and arches along with a new door and furnishings: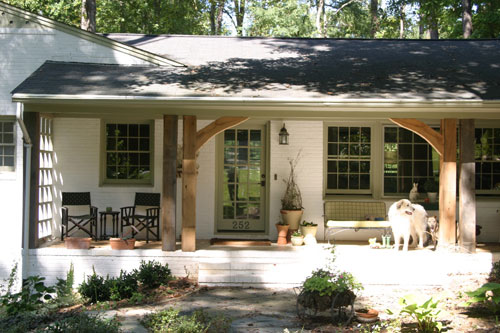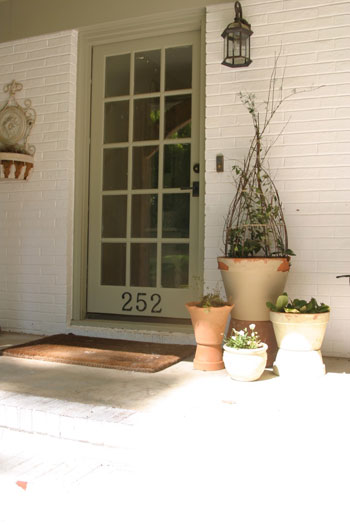 Isn't that amazing? It doesn't even look like the same house! And the fact that they limed the entire exterior themselves (for around $80!) and carved those arches from a single block of wood is incredibly envy inducing. Thanks so much for sending the gorgeous before and after photos our way Krystol! What do you guys think? What's your favorite part? We can't decide between those arches and that pretty limed brick…
&nbsp
&nbsp&nbsp&nbsp

&nbsp

&nbsp
If you enjoyed this post, please leave a comment or subscribe to the feed and get future articles delivered to your feed reader.
94 Comments
This comment section is currently closed.