Archive for December, 2009
Q: Hey guys! What's your opinion on mixing metal finishes in a room? Thanks! – Shelly
A: Do it! We don't really like anything that's too matchy-matchy, so as long as you make it look deliberate and layered (as opposed to haphazard and mismatched) the end result can be chic and elegant. For example we have a chrome-based floor lamp in our den, along with oil-rubbed bronze curtain rods and they both stand on their own and don't look mismatched because we repeat both colors & materials again throughout the room for an intentional effect. In other words, nothing is a sore thumb when you have a number of oil-rubbed bronze thumbs sharing a space with a number of brushed nickel thumbs. Does that make sense?
For example, in this house that we crashed here, there were a lot of stainless elements (the hood, the appliances, etc) and the lantern was a hammered gold color along with some other accessories in the room, so it all looked intentional and layered instead of accidental or mismatched.
In short: as long as you don't do all chrome and one thing in an oil-rubbed bronze finish, it won't look mismatched. Instead it'll look intentional, layered, and possibly even more effortlessly stylish than strictly sticking to all one color. Although in particularly small "concentrated" spaces like a modestly sized bathroom (with a faucet that's just a few feet away from the showerhead and a light fixture) you may want to keep things consistent (for example: modern chrome all the way or antique bronze for every fixture and door knob) just because things that close can look less layered and balanced in different tones. The last thing you're going for is an I-updated-half-the-fixtures-but-left-the-rest-so-they-don't-match effect. So that's our take on the whole hardware quandry that haunts many a homeowner. Hope it helps!
And speaking of finishes (like oil-rubbed bronze, antique brass, wrought iron, chrome, and brushed nickel) we'd love to know your absolute favorite. We're torn between the easy care (no fingerprints ever!) of brushed nickel and the quiet elegance of a simple oil-rubbed bronze curtain rod. Tell us all about what floats your boat in the hardware department. We're all ears.
Psst- Itching for our take on matchy-matchy furniture? Check out this post all about what we think the "rules" should be in that department.
&nbsp&nbsp&nbsp
When Lyzz sent along her awesome DIY chalkboard door project we couldn't wait to share the goods. Here's her letter:
I found your blog about 6 months ago and have been addicted ever since. I read it every single day and always find so much inspiration. I wanted to share a quick before & after that we took on. We've seen many homes painted with chalkboard paint and loved the look but unfortunately most of the homes in California have textured walls, so it was never going to work. Instead, I took the door connecting the house to the garage and used it as a large canvas for chalkboard opportunities. We added a chalkboard calendar by taking a little more time to measure out the appropriate size for a calendar. Since we didn't want to use blue painters tape for the grid since it's so wide, my car enthusiast of a husband suggested we used vehicle pin stripe tape (1/8 inch width) and it worked wonders! Two coats of paint and a couple of hours later, we got a great message board that's perfect for our busy household. The amazing part is that the project only cost about as much as purchasing a modest size message board from the store (approximately $14 including chalkboard paint and pin stripe tape). Keep up the amazing work on your blog! – Lyzz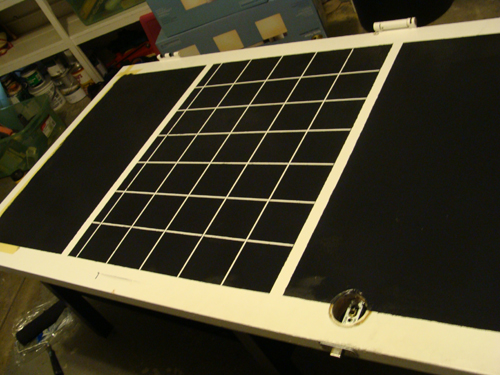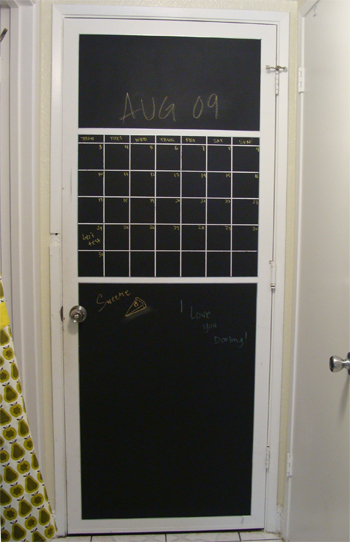 Isn't that awesome? We love everything about it from the amazingly graphic and functional calendar boxes to the extra space on top and below for everything from love notes to grocery lists. Great job Lyzz! And to learn more about her awesome chalkboard DIY just drop in on her blog! Meanwhile, we'll just be dreaming of a door to chalkboard-ify ourselves…
&nbsp&nbsp&nbsp