We're super excited to share that our humble abode made Canadian House & Home's amazing website! They approached us a while back to see if they could feature our before and after pics in an online gallery (alongside some pretty amazing designers and fellow bloggers like Grace Bonney of Design Sponge and Courtney Barnes of Style Court). Of course we jumped at the chance. Ok maybe we screamed and convulsed at the chance. And imagine our surprise when a photo of our living room actually made their home page (!) last week (by the way, thanks for all the facebook and twitter messages directing us there so we could see it for ourselves- we gaped at the screen for at least ten solid minutes).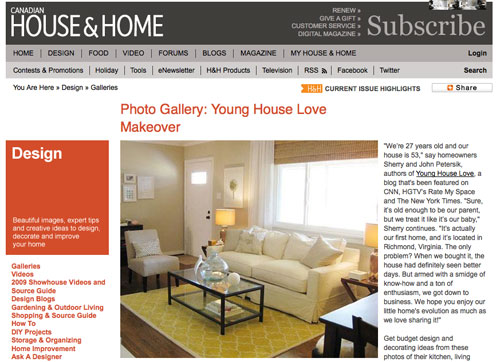 So yeah, now we're having a love affair with Canadian House & Home (in fact they came up more than once in the comment section of this old post about favorite mags) and we're beyond honored to be included on their stunning site among some pretty fantastic design greats! We're blushing. Happy Friday to all!
&nbsp
&nbsp&nbsp&nbsp

&nbsp

&nbsp
If you enjoyed this post, please leave a comment or subscribe to the feed and get future articles delivered to your feed reader.
26 Comments
This comment section is currently closed.