We're back with the final tutorial from our latest R. Home column all about reinventing thrift store items on the cheap. You've may have already seen our terra cotta planter makeover, but here's the step by step breakdown for all you clever DIYers. We picked up an assortment of cheap $2 planters from our local Goodwill and Salvation Army. Here they are fresh from the thrift store.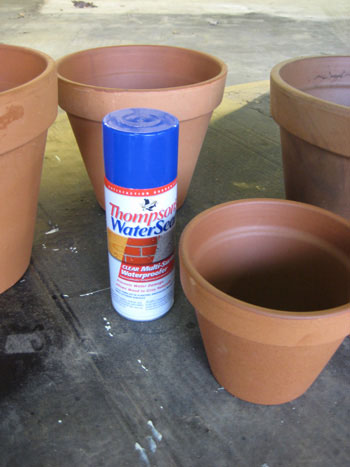 We also purchased Thompson's Water Seal from Lowe's which is specifically formulated for sealing terra cotta pots so they can be painted. It's simple and it's only about $4. You spray it all along the inside of the pot (the sides and the base) and it locks the moisture in so it can't seep through and cause your paint to bubble or peel. A few thin coats should do the trick. It will look like the pots have just absorbed it all when they dry (they don't appear to be darker or shiny afterwords, but don't worry- they're sealed).
Then just use high gloss exterior latex paint for a cheerful new look in less than ten minutes. We painted some of our pots pale yellow (Like Butter from Valspar), some of them got a darker tone below the lip (Amber Pearl by Valspar), and one special guy even got a sweet little striped treatment.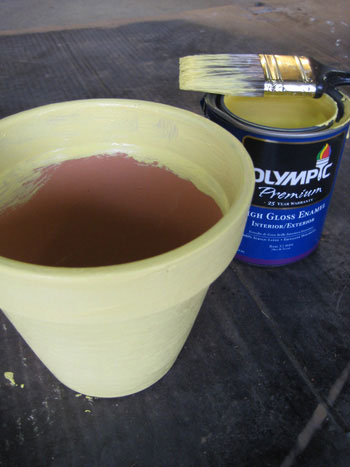 Adding the stripes was easy. We just cut a sponge into fourths to create a strip that was perfect for stamping our yellow on yellow pattern (we used a paintbrush to gently apply the paint to the sponge).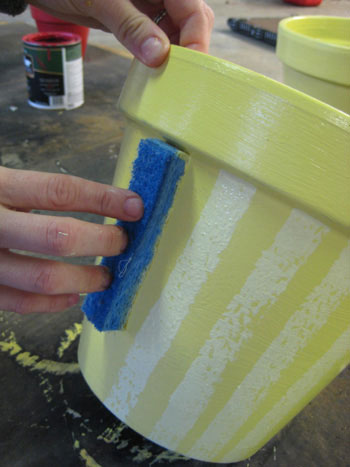 Here they are in all their glory. The hardest part of the whole shoot was finding flowering plants a few months ago (since magazines are shot so far in advance, anything seasonal is hard to dig up). But we managed to hunt down some festive foliage to complete the look. Total cost for this project: $35 for the $2 pots, the exterior high-gloss latex paint and the sealer.
If you have an hour this weekend, you can totally tackle this entire project. And now that flowering spring foliage is in season, it should be a cinch to perk up your front porch or your back patio. What colors will you go for?
Looking for another tutorial? Check out our How-To page for everything from concrete floor-staining instructions to fireplace painting advice.