Sherry and I are giving each other a slightly early Christmas present in the form of a major home improvement undertaking. It's actually something we've been dreaming about for a while, but we're not going to reveal what it is quite yet (it's still in progress) so instead, we thought we'd provide a series of daily clues leading up to next week when we'll drop the big reveal bomb and share all the yummy before and after pics.
Today's hint is the photo below. No, we didn't get a Christmas bush, we actually had to put away our tree a whole week before Christmas Day (and couldn't resist snapping this picture during the disassembly). It's just one of the many things we had to do to get the house ready for its presto-change-o.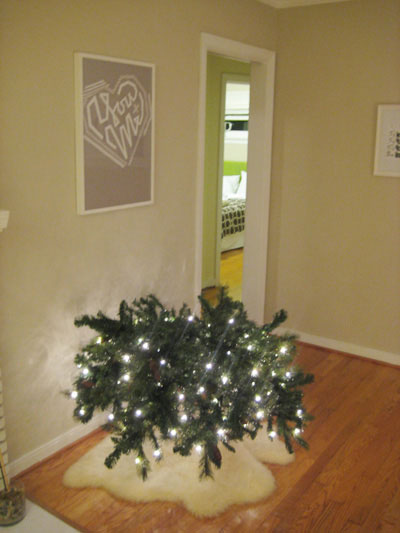 Any guesses so far? Stay tuned for tomorrow's hint, which just might shed another sliver of light on our little surprise project. Oh the possibilities…
&nbsp
&nbsp&nbsp&nbsp

&nbsp

&nbsp
If you enjoyed this post, please leave a comment or subscribe to the feed and get future articles delivered to your feed reader.
32 Comments
This comment section is currently closed.