Our major deal of the week hails from Walmart, where we recently stumbled upon these giant glass containers in the glass/tupperware aisle and just had to take home two of 'em for our cereal.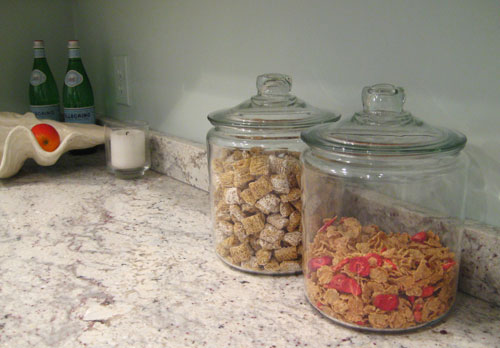 Sure, we already have a few glass containers that we use to store sugar and flour, but for just $6.97 each (they're big gallon jars!) we couldn't seem to leave the store without 'em. They beat the pants off the prices of similar jugs from West Elm, and it's nice to keep our cereal fresh without the use of off-gassing or leeching plastic containers (which we used to use in the cabinets) so displaying our cereal in easy-on-the eyes glass containers just makes us happy. What can we say?
We were originally gonna snag some of those stainless steel cereal scoops (we saw some at The Container Store) but it's actually quite convenient to pour the cereal directly from the jar into our bowls- so the scoops would have just been an extra step (although I think they would have looked adorable).
So there you have it, our steal of the week. We'd link to 'em but they're nowhere to be found online so just hit up the glass/tupperware aisle in your local store to snatch a few your yourself! And don't forget to send us the pics of them living happily on your kitchen counter…
&nbsp
&nbsp&nbsp&nbsp

&nbsp

&nbsp
If you enjoyed this post, please leave a comment or subscribe to the feed and get future articles delivered to your feed reader.
29 Comments
This comment section is currently closed.