It's great when inspiration comes full circle, and that's exactly what happened when we spotted this post about our use of mint in some lemonade-filled recycled wine bottles at our wedding: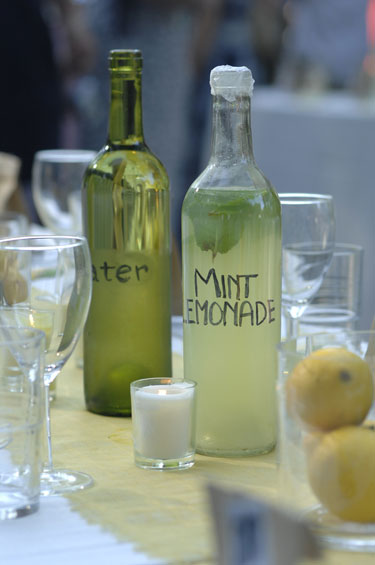 How funny is it that Katy has such a mint obsession that she couldn't wait to whip up some mint lemonade of her own? But the point at which the inspiration tables turned was when we read that she made some homemade lemonade with sprigs of peppermint in the bottle to present as a hostess gift at a swanky little soiree. What a great idea! How posh would you feel arriving at a dinner party with some freshly-squeezed minted lemonade in a darling little wine bottle? Well, according to Katy it's as exciting as I'd imagine it to be. In her words, "it looked so darn fancy I wanted to explode!"
Thanks so much for the inspiration exchange Katy. Now if only we had our own stash of mint in the backyard…
&nbsp
&nbsp&nbsp&nbsp

&nbsp

&nbsp
If you enjoyed this post, please leave a comment or subscribe to the feed and get future articles delivered to your feed reader.
10 Comments
This comment section is currently closed.