Archive for February, 2008
Remember the beeeeeautiful bouquet John got me to celebrate the culmination of a long hard kitchen remodel?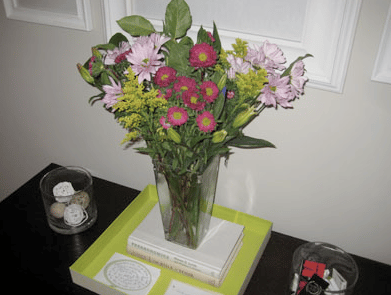 Well, there must have been something in the water, because three weeks later some of the flowers were still alive and kickin'. So I plucked out the dead buds and cut the stems a little shorter to create this tight little bouquet. And since I didn't have a small vase to put them in, I just used a drinking glass and wrapped some red ribbon around it for a little somethin' extra.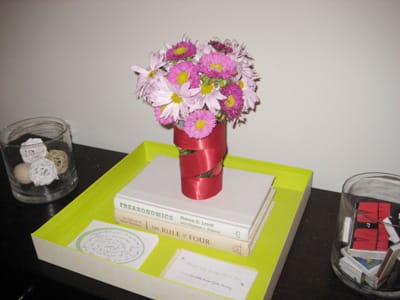 And as if that wasn't enough flower power for ya, on our two year anniversary of living in Richmond, John came home bearing more blooms. This time he was quick to explain that they were actually leftovers from a photoshoot, but it was still the thought that counted. (Note: we're both in advertising, I realize we never really get into our real jobs here, but there it is… cat's out of the bag). Anyway, so some of the flowers were gorgeous orchids, which basically arranged themselves in the vase from the previous flower delivery: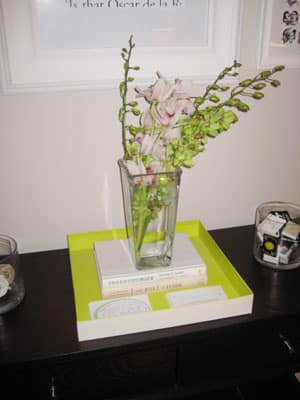 And there were also a few cheerful gerber daisies. But since I've aready mentioned that I have a serious vase shortage, I ended up displaying them in three random objects I had on hand: a blue glass, a green bottle, and a round blue vase. Lookie here: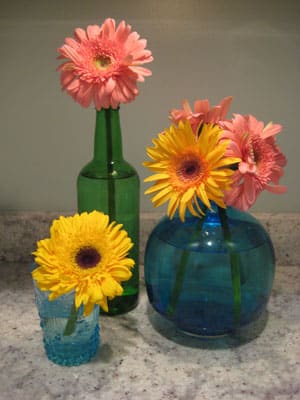 &nbsp&nbsp&nbsp
Oh, we have such a cute little mini-makeover to share. John stayed home sick today (feeling flu-ish) but somehow I found the time to pull a little presto change-o while he napped on the couch. Since we love our new wall of frames in the third bedroom so much, we need an excuse to be in there more than once a year. So I swapped out the never-used-reading-chair for our old kitchen table that had been living in the basement, creating the perfect card-writing & present-wrapping station.
One of our hall closets was jam-packed with bags, wrapping paper, tissue paper, and ribbons while my desk in the den was overflowing with cards, stationery, and envelopes for every occasion. Making a little gift-wrapping and letter writing home-base with everything organized and accessible was the perfect solution. And John awoke to a whole new reason to visit the wall of frames in the third bedroom (and a much emptier coat closet, whew). But enough jabbering, how about some photos?
Here's the ol' chair-in-the-corner set up: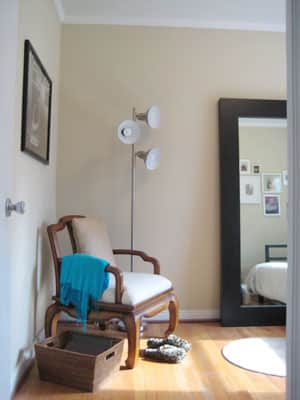 And here's our fun new present-wrapping & letter-writing station (made completely with baskets, folders, cups, bags, and even a planter we already had… gotta love a free mini- makeover):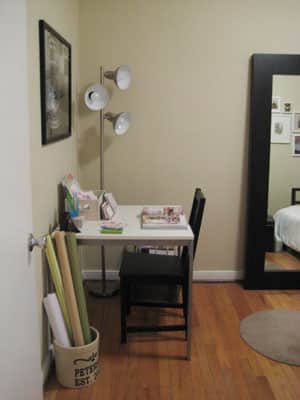 Now for some fun (and totally do-able) details. First, a planter full of wrapping paper (soooo much easier to take care of than any plant I've ever met):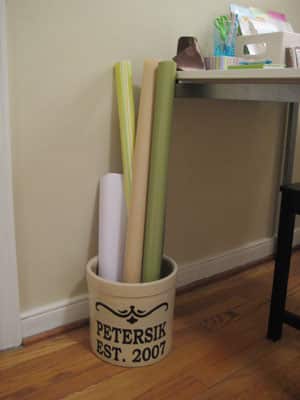 And my bag basket! I turned a woven basket that used to be full of books into an organized gift-bag and tissue paper catch-all. I know it'll save me mucho money since I can see everything I have instead of re-buying stuff that I can never seem to find.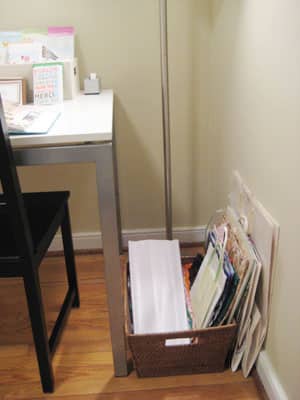 And here's my favorite part, the colorful (and über-organized) desktop. I love the old basket-turned-filing-cabinet I threw together (it holds printed manila folders full of envelopes and cards for all occasions).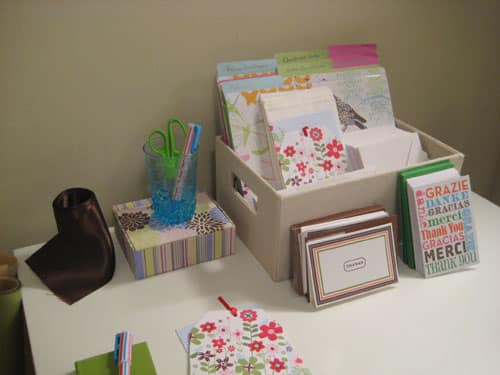 And here's another shot from a slightly different angle, just to show you how everything is at arms reach.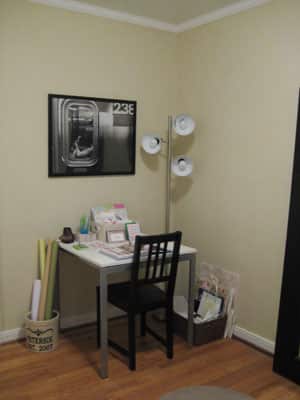 I'm so excited to go write some thank yous and wrap some presents. Bring on the birthdays.
&nbsp&nbsp&nbsp