We hooked you guys up with an easy breezy chair upholstery tutorial a while ago, and we're back with some more fabulous chair overhauls for your viewing pleasure.
John's frequently mentioned sister Emily recently recruited me to go fabric hunting with her in hopes of stumbling upon the perfect new fabric to cover two old chairs with serious transformation potential. First we pounded the pavement to find the perfect complement to this sleek, low slung chair (with worn orange fabric that had seen better days). Here we are testing out a few swatches before calling the upholsterer: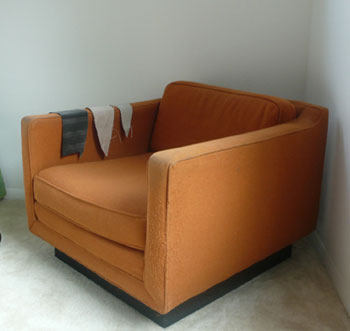 And here's the well dressed "after" proudly sporting a tiny black and white checkered fabric that gives off an overall gray effect with some movement (and a super fun pillow to keep things interesting):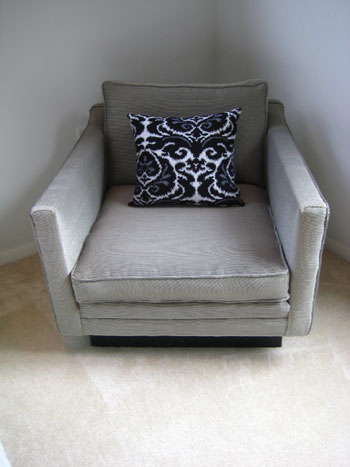 But the upholstery party didn't end there (in fact, we cleverly negotiated a discount rate thanks to the fact that we had two chairs that needed recovering). Here's a chair that Emily and I discovered for a mere $15 at a thrift store (The Love Of Jesus, here in southside Richmond- and yes it's really called that). The bones were there but it needed some major work. Here's the granny-esque before: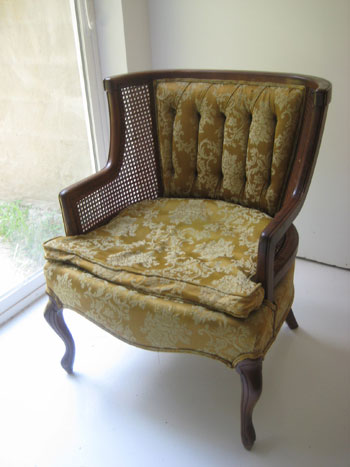 And a progress shot after we spray primed and painted the wood a bright crisp white: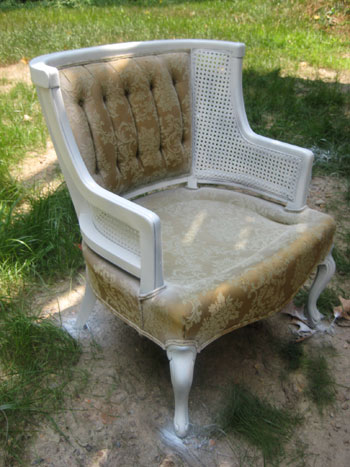 Then we sent her off the the upholsterer for a sexy little makeover (in ever so classic black suede) to compliment her new white paint job: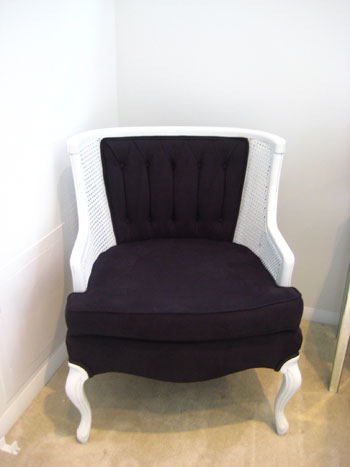 So there you have it. Two fab chair makeovers thanks to some timeless fabric selections and some much needed upholstery assistance (many thanks go out to our local upholstery guy Bruce Thorton: 437-8853). We hope you've been inspired to rescue a sad, droopy looking chair or two! If they have the right bones you'll be well on your way to sittin' pretty. And send us your chair makeover pics if ya got 'em- there's nothing like a little eye candy in the morning.