So many people have told me about the miracle that is Garden Ridge, but I'd never been to one. Until yesterday. Yes, one finally came back to Richmond (we heard a lot about the one that used to be out by the airport but it was gone by the time we moved here 4+ years ago). Anyway, here's what I found on my maiden voyage to the big Costco-ish warehouse full o' house, garden, and other random stuff.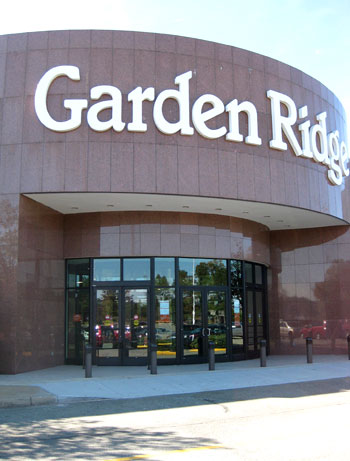 My first reaction was "man this place is huge" followed by "Teresa Guidice would like it here" (NJ Housewives reference anyone?) since there are oversized urns and stone columns a plenty. Klassy. Let's just say it's one of those places that you have to dig through to find the goodies (hidden among many insane and unnecessary things).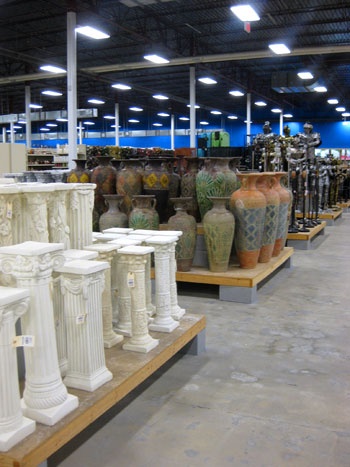 But there were definitely a few diamonds in the rough. If by diamonds you mean metal herons that I fell in love with. I know my animal obsession is weird, but these guys actually seemed kind of sophisticated – if they were used for good instead of evil (read: located among a pretty backyard garden instead of among plastic gnomes and flamingos in the front).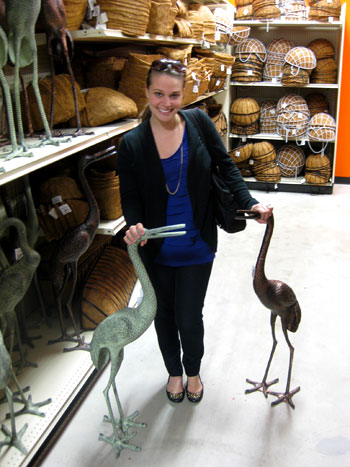 And John did his best knight impression while saying that he can't wait to get one of 'em for the new house. Just kidding. File this under "who the heck buys this stuff?"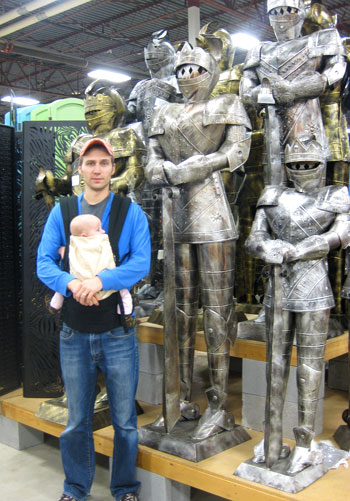 Then I fell in love with this rug and those crazy knights were forgiven. It was natural fiber (jute I think) and incredibly inexpensive (I don't remember the exact price but it was around $30 for a huge 5 x 7′ version). Uh, yes please. I especially loved how modern many of their rug options were since many other discount rugs are only available with traditional and ornate floral designs.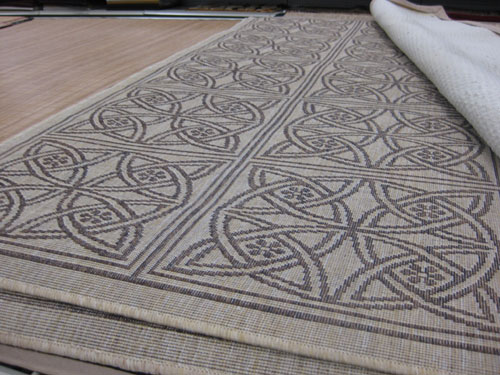 Oh and I liked this queen sized bedding (priced at just $39) that looked especially high end to me- kind of like something out of the Garnet Hill catalog.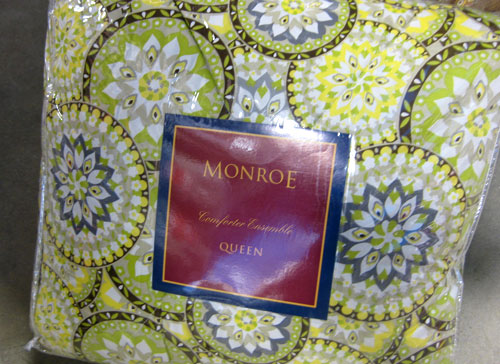 And two yards of this pre-cut fabric (priced at just $5.99) seemed like a great deal, considering it looks a lot like some $35 a yard stuff that we've seen around.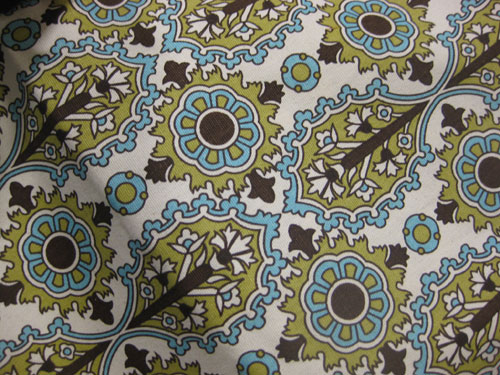 $1.99 ceramic bird. No further explanation necessary.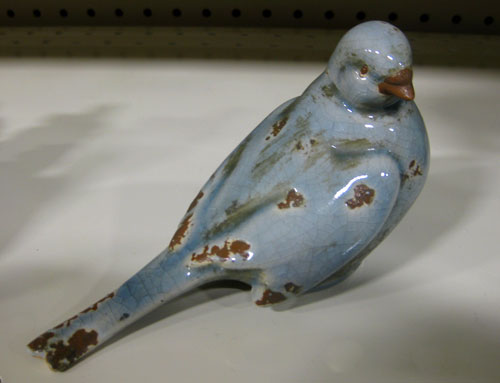 Oh and they had tons of pillows. This is just the brown and blue aisle. Yeah, we're talking tons.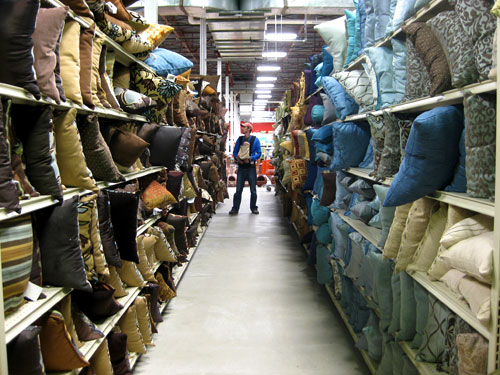 But every "wow" moment I had was tempered with a "really?" moment which followed soon after. But that's the fun of shopping at hit or miss places like this. Besides, it's not every day that you lay eyes on a toilet paper stand like this. And yes, that's a plunger on his head.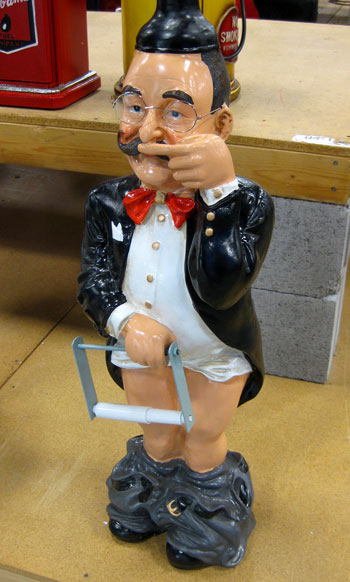 Oh and some of the art had potential, especially if it was hung in the right space. For example, we thought this cheerful cherry print would look sweet in a charming white cottage-esque kitchen with red accessories (like a red teapot and red apples in a bowl).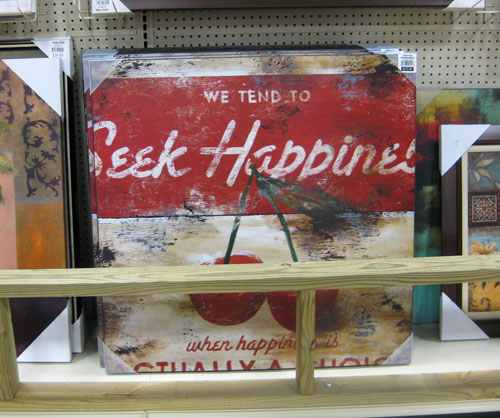 We even thought this crazy textile-ish painting could look Domino-magazine-chic if it was hung in the right room (maybe as a headboard in a soft aqua kids room with a bold orange comforter).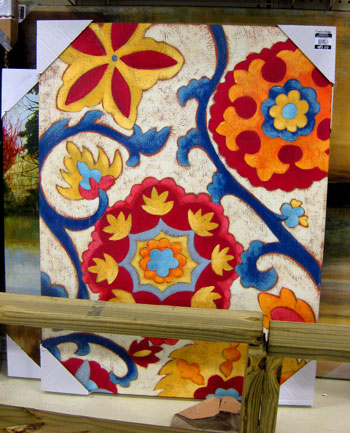 And check out this $24 mirror. Not bad right? Especially if you painted it a color for added pop (daffodil yellow or smoky gray would be cool).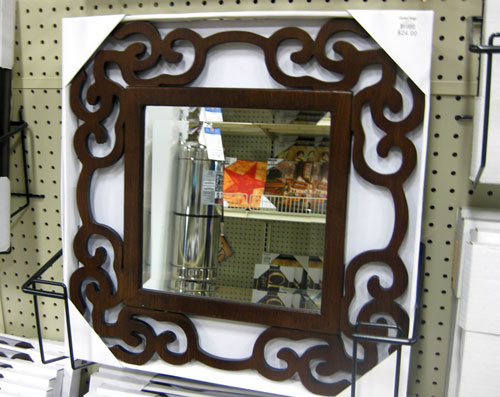 And here we have a $79 bar stool that would look great in a kitchen with a gorgeous bar-height island. Especially if you reupholstered those seats with something a bit more "custom" looking, which would really elevate the classic x-back design.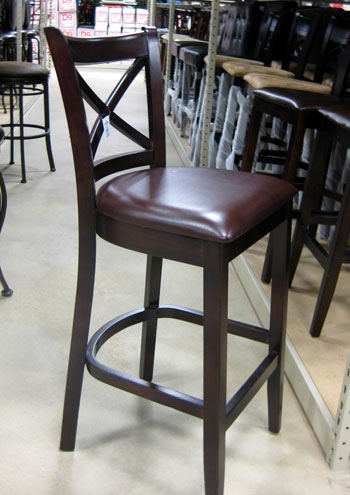 And here's the cutest thing in the store: our offspring! Just kidding. This is a picture of the square tray that John's holding (Clara's cute face is just an added bonus). We actually ended up buying that sleek branchy tray for just $12 because I love square trays (we have a green one that I move all over the house, so I love the fact that I now have a second one to put to work around here).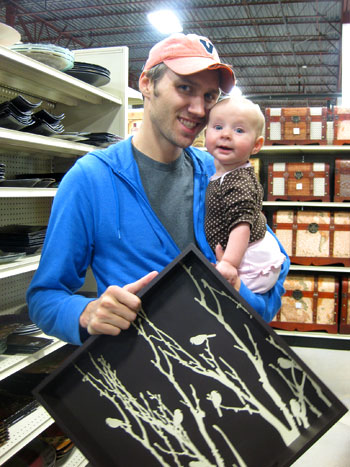 And so ends our window shopping spree at Garden Ridge. Do you guys have them in your neck of the woods? Do you know who's buying those knights in shining armor? Anyone else have an obsession with the ever-elusive square tray? Or a penchant for metal waterbirds? Let's talk.