Whoops, I almost forgot to tell you about how I scrubbed and re-sealed the existing hardwoods right before we moved in (literally, like 26 hours before we moved in). The new hardwoods upstairs were looking so flossy and glossy, I didn't want the ones in the office, living room, and dining room to feel so 2000 and late. So I gave them some love. Wax on, wax off, baby.
First I swept up the random dust and old faux Christmas tree leaves and all the other stuff that was left behind.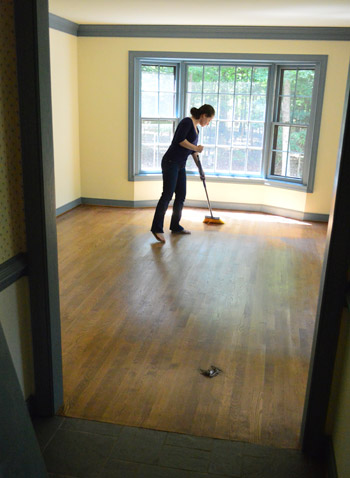 Not a bad pile for an empty looking room, eh?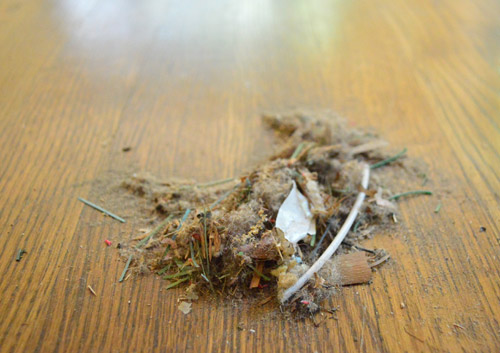 Then I bought this Bona stuff at Home Depot because I had heard good things about it when it comes to cleaning and glossing up floors that are old/dulled/mildly scratched (you know, floors that don't need a full re-finishing but could use some moisture/polish to fill in small scrapes and seal them again).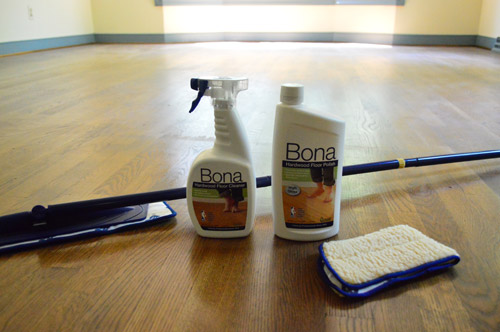 You know, little stuff like this.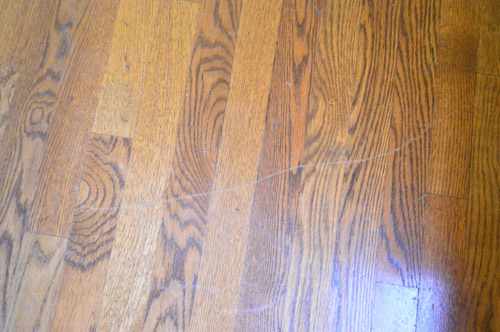 After sweeping, the next step was to use their floor cleaning spray, by just working my way around the room spraying it on the floor and following that with the mop (with the cleaning pad on it). This made me mad sweaty, yo. So I give it a 7 on the exertion scale. You're not just swabbing over the floors like you're swiffering, you're scrubbing the heck outta them to get them nice and clean.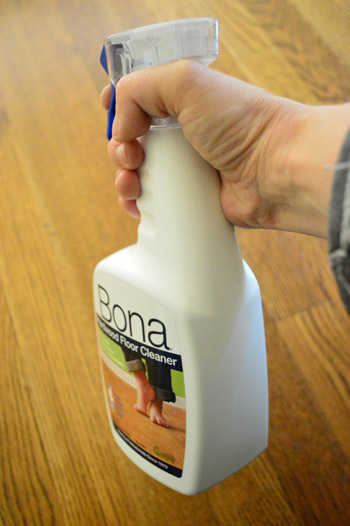 Then came the actual sealing/polishing step. This was a lot less rigorous (so you ARE doing the swiffer motion here). The idea is just to gently spread out the liquid that you're pouring out of the bottle as you work your way out of the room. Oh and for this step you have to use a polishing pad on the mop (it's more like a lamb's wool pad while the cleaning one is a bit more scrubbing-sponge-like). Note: see the green painters tape on my mop? That thing came out of the box all wonky and broken, so I had to MacGuyver it together.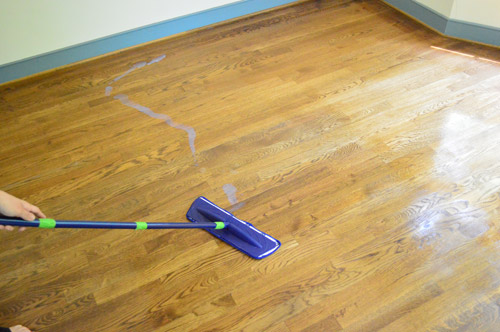 In this picture you can see how the floor that I had done was all moisturized and shiny (top left of the pic below) while the floor behind the polish pad is kind of dull and dry.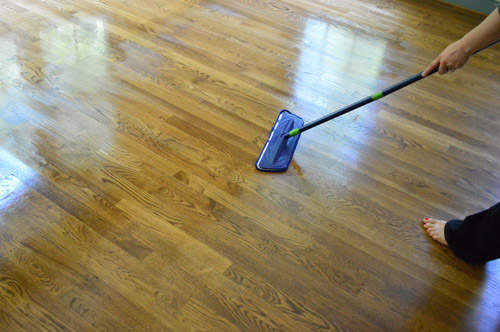 Sadly, by the time I worked my way out of the room I was only mildly impressed. Parts of it had dried and looked just like they did before (dull, grayed, slightly scratched, etc) while other areas that were still wet looked awesome.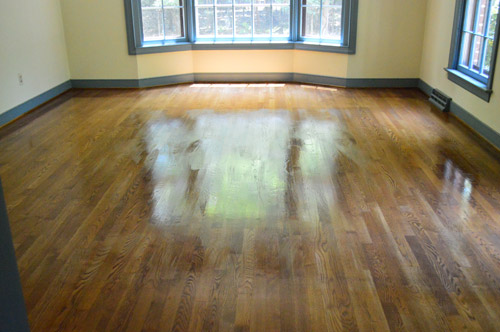 But once they dried… they were all chalky and dry again. I'm not sure if it was just something about our floors and the way they were refinished decades ago (some folks must love this stuff since we heard great things) but it wasn't an awesome enough result for me to get going on the other two room's floors. So it was back to Home Depot, where I bought another brand called Rejuvenate. It came in satin and high gloss but I chose high gloss since the floors upstairs are nice and shiny, which we like.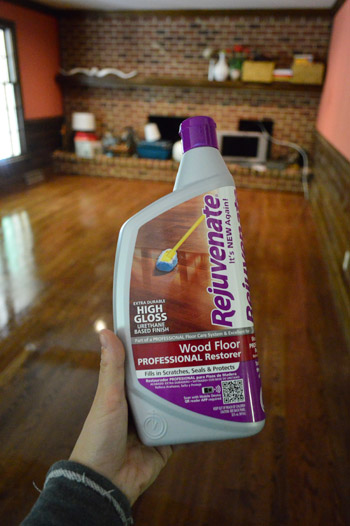 I still used the same Bona cleaning spray and the same Bona mop (with the cleaning head on it) since I already had those on hand and didn't mind the job they did. It was just the Bona sealer that had left me high and dry (ok, just dry). So I switched ol' Wonky Mop's head to the polishing one, but this time instead of using it to spread the Bona stuff, I worked my way out of the room with the Rejuvenate wood floor restorer. The room looked like this before: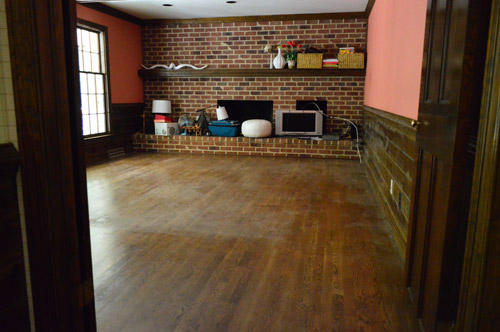 And this after: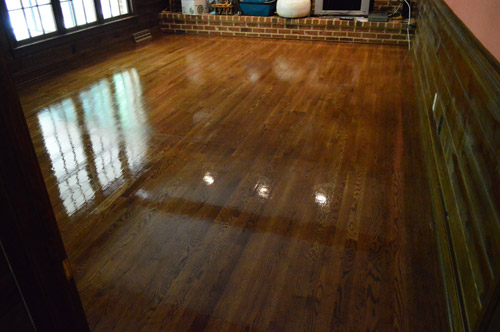 Granted it still had to dry a bit in that shot above, but the comparison between the Bona stuff and the Rejuvenate stuff definitely left us liking Rejuvenate a lot better. It went on more evenly and left everything rich and sealed looking – even well after it dried. Nothing looked chalky a few hours later, and I was able to apply two coats in each room (you could apply them a few hours apart instead of waiting 24 hours like the Bona stuff required) which was awesome. I even went back and did the office again with the Rejuvenate stuff instead of doing a second coat of Bona in there. And I was so much happier with it.
Here's the dining room all dry. Flossy and glossy, eh? This is how the living room dried as well, and the office looks the same now that we went over it.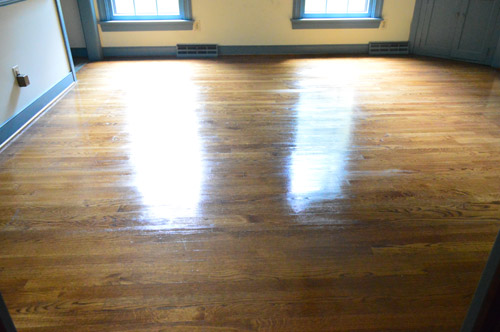 Have you used a floor cleaning and resealing system to bring life back to dull, mildly scratched, or chalky floors? Did you try Bona, Rejuvenate, or something else? Ever tried two different options for a smackdown to the death what's-better comparison?
Psst – Here's a post with an update on how the floors are holding up seven months later. Still going strong!
Update – We finally created this Shop Our House page to help you hunt down any furniture/accessories that you see in our house, along with all of our paint colors.
*This post contains affiliate links to projects we have purchased and loved*