Put a fork in 'em, cause they're done. Actually, on second thought, please don't get anything sharp or scratchy near the new hardwood floors.
It took two full days, but the floors are officially in and officially awesome. It's mind-blowing how they (along with all the wider doorways) totally enhanced this part of the house. It looks completely and amazingly updated…well, except for the still-gutted kitchen.
Here's documentation of the transformation: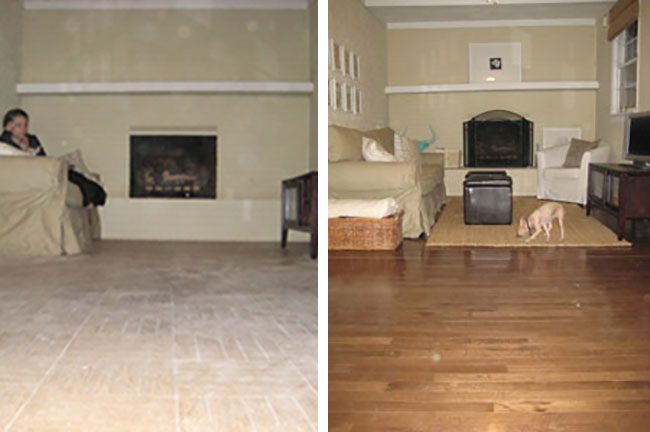 Old linoleum covered in construction dust… is now glossy hardwood.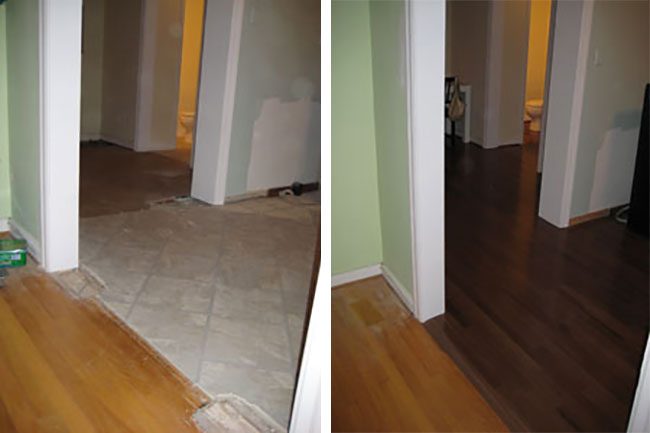 4 different foors in 4 different rooms… become only 2.
There's plenty more to share about the flooring adventure, but it'll have to wait because right now we're enjoying our "new wing" too much. And after 2 weeks of living in bubbles and choking on demo dust, it feels great to have all of our furniture back in place. Well, again, except for the kitchen. Sigh.
PS: We never showed off how that difficult brick doorway turned out. It looks great too… especially with that swank new floor of ours.