Tiffany wrote to us in hopes of a kitchen & family room makeover with worldly style and a splash of modern appeal. Here's her letter:
A friend sent us the link to your blog and we love what you've done to your house. Our current dilemma is the family room/kitchen- since it's one big room, it's a challenge to make things look cohesive. The family room is long and narrow with only one full wall (where the TV is in the pic) and we've had a hard time with window coverings. Should we do curtains or frame the windows and do shades? Can't decide. We like a worldly look (think Pier 1 and World Market) with a modern twist and we also like some subtle Asian lines. We'd like to keep the table and the red leather chairs in the breakfast nook. The tv also has to stay but we hate the tv stand and have been eying a new one from Crate & Barrel. All of the accent tables, the lamp and the rug can be replaced and those window coverings are yuck and can definitely go. Thanks so much for your help- we're looking forward to your ideas. – Tiffany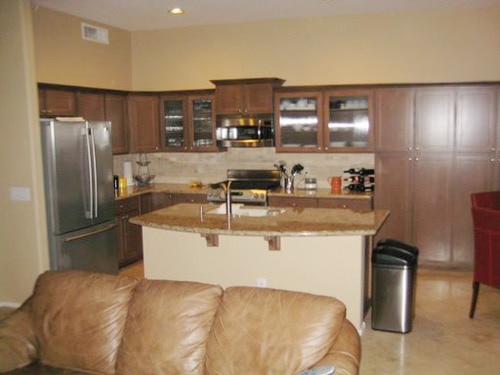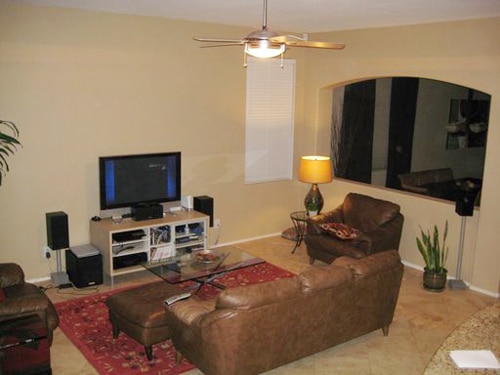 That last photo looks more like an after than a before, so we took it as inspiration for the rest of the space. Introducing lots of worldly texture and adding more splashes of red to keep things cohesive is just what this open floor plan needs. Ladies and gentlemen, our worldly/modern mood board:
Here's the mood board breakdown.
1. New bamboo blinds and subtle zebra striped sheers will add worldy texture to every window- which will definitely work wonders for keeping things consistent while softening the hard looking rectangles in both spaces.
2. Tiffany's refreshed color scheme includes the current wall color (a nice sandy neutral) along with some pops of orange and red in the form of accessories and some rich chocolate tones in the furniture to echo the kitchen cabinets.
3. Some graphic pillows (a few with a bold zebra-esque pattern and a few with a global feed-sack inspired feel) will add a dash of modern while breaking up all the brown in the living room sofa and chairs. And some red and white sea coral will introduce a natural dose of texture and chic style.
4. But where to put that coral…? Well, we think the entertainment unit that Tiffany has been coveting from Crate & Barrel is the perfect new home for the tv along and a few punchy accessories (like the aforementioned coral). She worried that it might be too dark since there are already dark cabinets on the other side of the room, but we think it'll mirror the cabinets nicely (and add some much needed height) to keep the space feeling balanced.
5. A fun modern lamp with super clean lines in a cheerful tangerine color will keep the worldly theme from becoming predictable while garnering its fair share of admiring glances.
6. This classic can't-go-wrong coffee table will completely lighten and brighten the space (and break up all the neutrals and browns going on). This little black dress of coffee tables will play well with all of Tiffany's other furniture and look great with some orange and red accessories on display (plus the lacquered finish is brilliantly modern and easy to clean).
7. John never fails to glance over my shoulder and suggest the most amazing things. This time he mumbled something like "ooh, how about some red stools tucked under the kitchen island?"- bingo. We found some great asian inspired seats (Tiffany mentioned that she loves asian lines) and called it good. Nice one honey.
8. A textured jute rug with a subtle diamond pattern will completely transform the seating area and perfectly showcase the glossy new coffee table while echoing the texture in the bamboo blinds. *Designer tip: keep large and reoccurring items neutral (like the couch, the shades, the rug, etc) and add pops of color in smaller items to keep the eye moving around the room instead of getting stuck on a big colorful rug or sofa that dominates the space.
9. These great water hyacinth storage cubes from World Market could be introduced for more of that worldly texture that Tiffany loves- and who doesn't need more storage? We thought they'd look great on top of the upper cabinets in the kitchen (broken up by some tall red and orange glass vases) for some added detail and to draw the eye up even further.
10. These chic and insanely affordable side tables from Target would work wonders in Tiffany's transformed seating area. And some elegant accessories (like this sweet ceramic elephant) will finish things off rather nicely.
So there you have it. Tiffany's tantalizing two-room reinvention. We can't wait to hear what you guys think- so start yacking.
Update: Tiffany sent us her after pictures and they're nothing short of amazing. Check them out right here.