Kids going back to school means that teachers and staff are going back too, so we were psyched to make their return a little brighter for one local public school who reached out to us for help with their teachers lounge.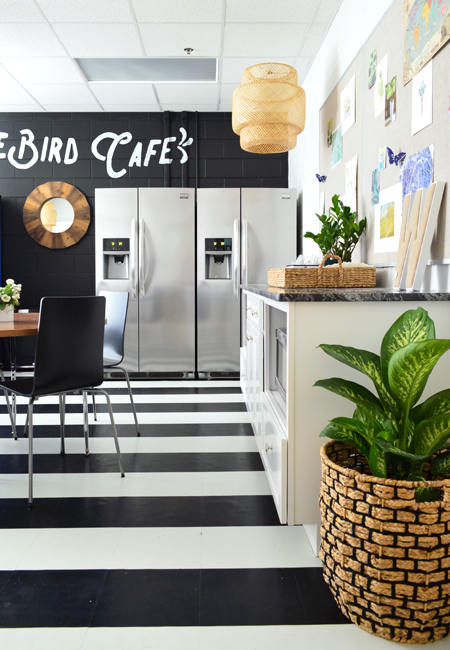 So here's the scoop. Back in June, someone who had seen our makeover of Hudson's room reached out to see if we'd be interested in another volunteer makeover for a good cause. The principal and the PTA's goal was to update the teachers lounge over the summer to surprise the staff when they came back in September. Teachers and school staff are SO DESERVING, so it was an easy yes for us.
While the PTA had earmarked a portion of their "teacher appreciation" budget for this project (not a single dime of the school's funding that could go towards students or supplies would be spent at all), our collective goal was to dip into that teacher appreciation fund as little as possible. So here's what the space looked like when we first laid eyes on it: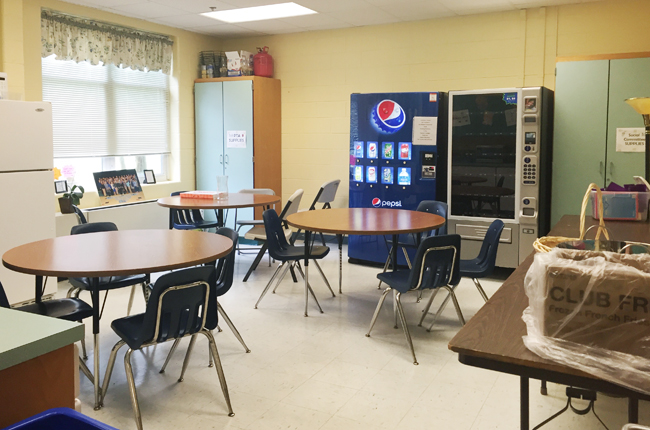 The principal and the PTA had also enlisted the help of a local contractor, who is the true hero of this project. Ryan of Ferguson General Contracting donated LOTS of time, labor, and actual items to the space. We steered the design (choosing materials & accessories) and executed some of the finishing projects (like the lettering on that back wall), but the big stuff – like painting, cabinetry, flooring, and backsplash install – fell into his capable hands.
We made this quick little video to give you an overview of everything (including some stellar dancing by John):
The principal, who arranged this whole surprise, wanted a room that still felt fun and energetic, but a bit more "grown up" (since it's one of the few kid-free spaces in the building). That's partly why we chose the black-and-white color scheme since contrast can add lots of energy to a room without a circus-load of colors. We know they're surrounded by primary colors all day in their classrooms, so we went with the whole cafe/bistro vibe in the hopes of providing a nice counterpoint. And it is a lunch space, after all.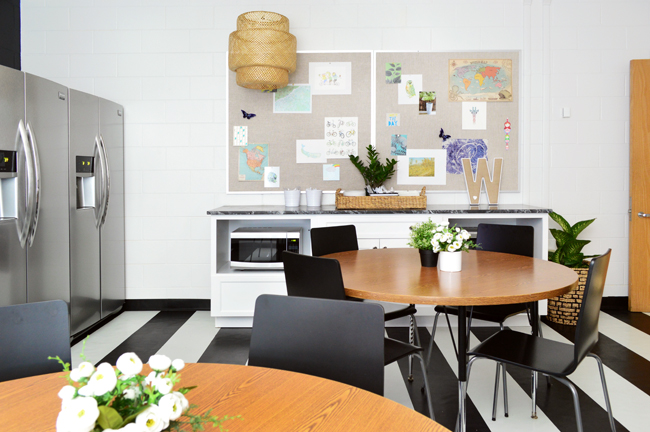 That "buffet" area under the bulletin boards is a huge improvement over the folding tables that were there before (see below). Now it houses the two matching microwaves, which Ryan kindly donated, while still providing lots of great storage and counter space for PTA luncheons and stuff. Oh, and those are the same bulletin boards as before – just minus the gray-green fabric someone had pinned over them a few years back.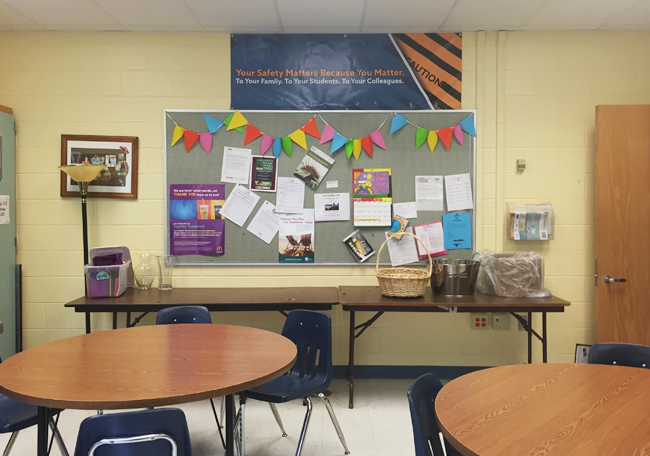 The new kitchen area is the quiet star of this space. It was exciting to give them such a updated space, without having to dip even a penny into the PTA's teacher fund at all (it was all VERY generously donated by Ryan).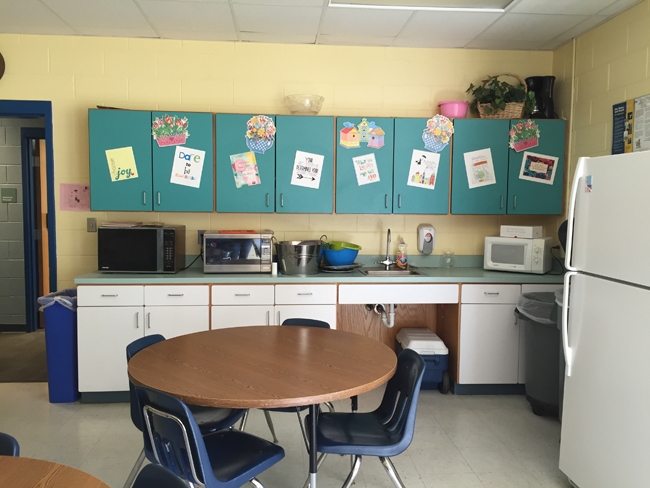 The cabinets and hardware are from Better Kitchens and Baths, the counters are from Classic Granite and Marble, the backsplash tile is from Mosiac Tile Company, and the faucet is from Ferguson Showroom. We bought the chairs in the middle of the room from Ikea. They were the right price (we needed 12!), and their steel and black tones tied right into the steel and black legs of the existing tables.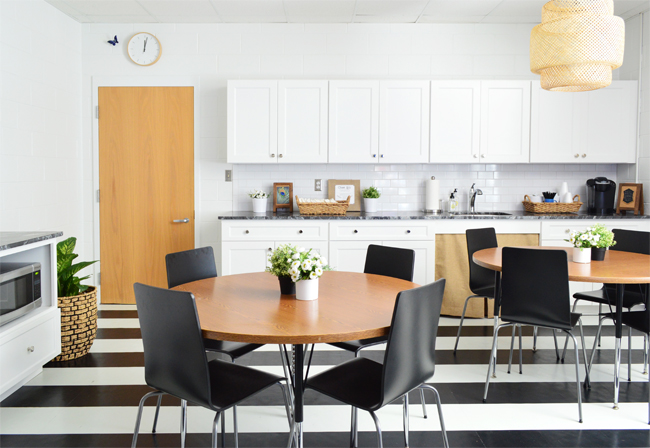 We shared a little sneak peek of the floor on Instagram a little while ago (the principal requested that we stick with "commercial vinyl" so the room could maintain the same cleaning/waxing routine as the rest of the building). At first we were stumped, because a lot of the commercial vinyl options are sort of speckled and well, commercial looking. Then we realized that the same solid black & white tiles that are applied in a checkerboard pattern could be glued down in stripes for a fun new spin, and Ryan's crew installed them for this great crisp look: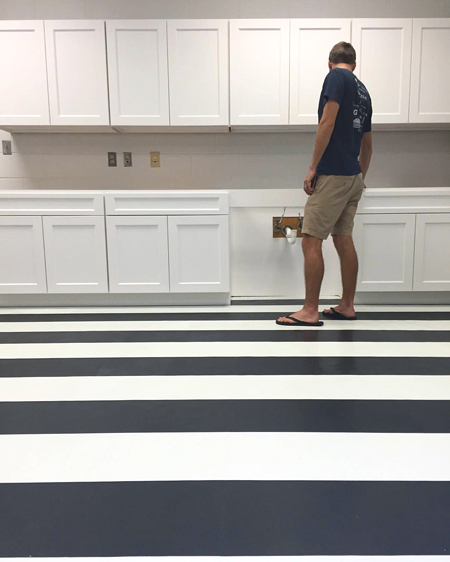 The sink base had to remain doorless for accessibility reasons, so a parent donated this custom-made burlap-like curtain (which is velcroed into place) to keep it concealed. We like that it ties into the other natural/woven tones that we added in other places, and since it's removable it can be taken down to be washed or switched out down the line if need be.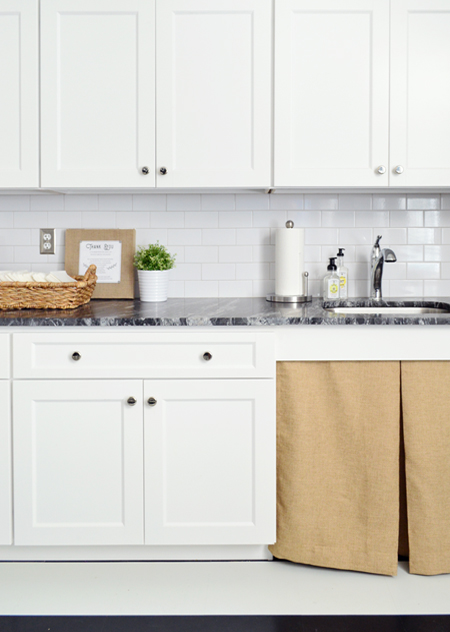 The honed veiny black granite was a discounted slab that was on-hand and budget friendly, but it turned out to be just about perfect. With the floors being so graphic, it was nice to have something a little more irregular to soften those sharp lines on the floor. Oh, and that little burlap sign on the counter is a "Thank You" plaque of sorts to everyone who contributed to the space.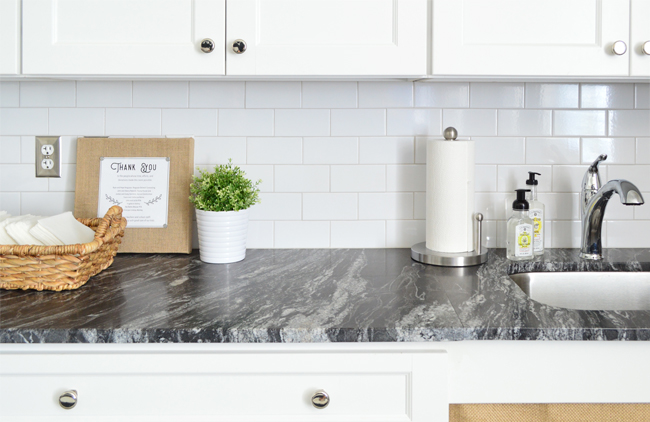 Let's talk about the fridges for a second too. They were actually a really important and challenging part of the project. There was a clear need communicated from the principal that the teachers and staff needed more than their existing single fridge for staff lunches and the occasional PTA luncheon or fundraiser. Their dream scenario: two nice large ones with ice makers.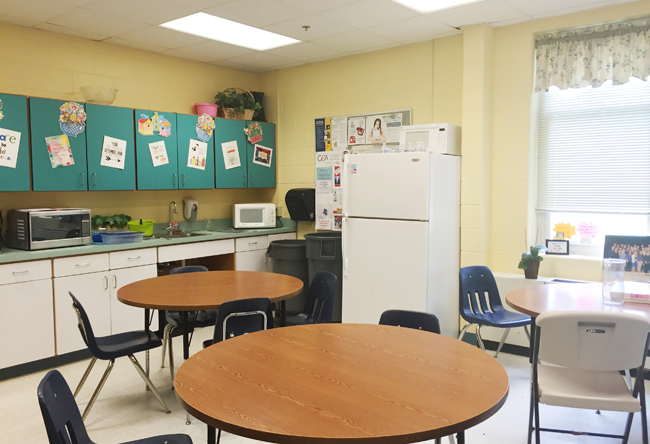 And not only was the current fridge not sufficient storage-wise, it also felt plopped into the room's layout in an awkward way. So we were determined to not only figure out a way to incorporate TWO fridges into the room, but to find a better place for them to improve the overall flow. Here's a similar angle, minus the old fridge, which was donated to another school.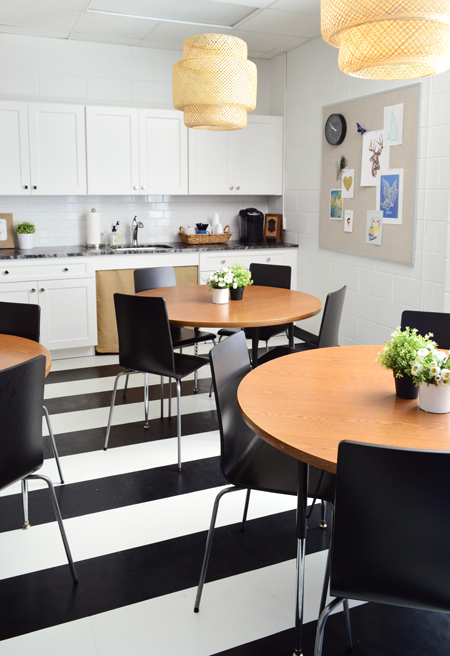 Adding two refrigerators to the back wall made the most sense since the vending machines (which were around the same height and depth) had to stay back there anyways. Now that everything is a similar size, that wall looks more balanced and polished. Well, as polished as a room with vending machines can feel.
But figuring out WHERE to put the fridges was easy compared to figuring out HOW to get the fridges. The PTA's teacher appreciation budget would have been entirely depleted on one new fridge, let alone two, so we crossed our fingers and emailed Frigidaire to see if they would be willing to donate two fridges to such a deserving group of people. And boy do I wish you could hear the principal's reaction when we called her up to gleefully announce that they said yes! We were all jumping up and down so much that Burger got freaked out and started barking.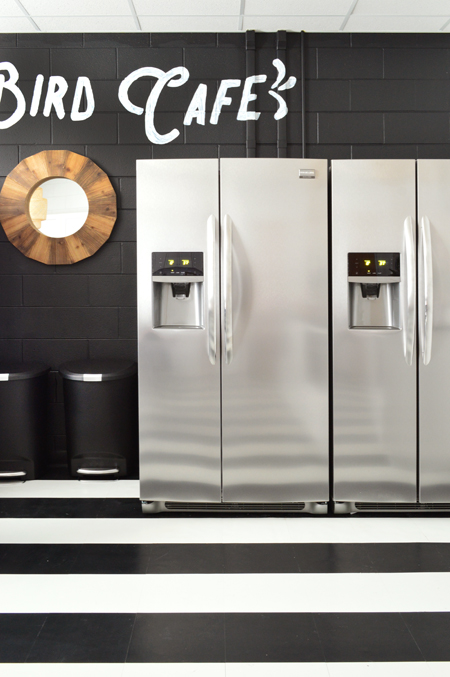 The two donated fridges are Frigidaire Gallery Side-by-Side Refrigerators. Not only do they give the teachers and staff more than double the storage space (and double the ice making!), the stainless steel finish helps tie in some of the other metal elements in the room, like the chair/table legs and the cabinet hardware. Plus they're smudge proof, since we're sure the teachers deal with enough fingerprints in their classrooms.
The "light fixtures" – which are actually these pendants from Ikea – were another easy way to incorporate some of the natural tones that appeared in the tables and the door to the room – and we love that they warm things up a little more. Since we couldn't add electrical wiring, we just removed the light fixture part and hung the shades from clear fishing wire.
And as for our little Bluebird Cafe "mural", we thought that blank space along the top of the back wall could use a fun focal element. John mocked up two fake cafe names in Photoshop, and while "The SmartyPants Cafe" was cheeky, we didn't want the teachers to think we were being sarcastic weirdos, so we went with the other one, which references their school mascot.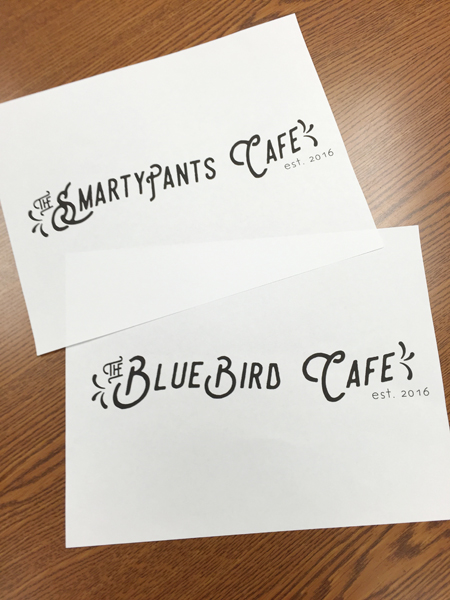 Using one of the school's projectors, we first copied the letters onto acetate (John printed the type in reverse too, which ended up being much easier to trace). The font is called "Steelworks."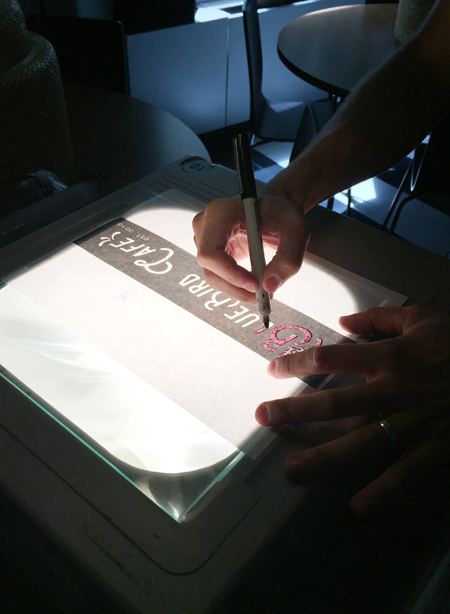 Then I used a paint pen to trace the projection onto the wall, which was slightly more challenging than I expected since it was hard to get the room dark enough to see it on that black wall.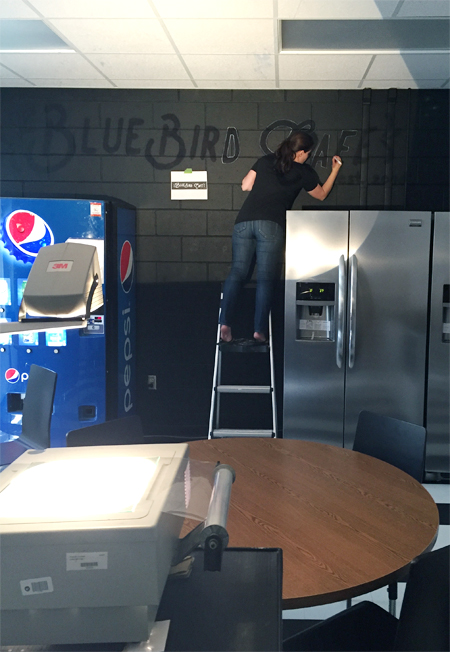 After it was all traced, we filled the letters with white paint using a small craft brush. Somehow there are no pictures of that step, but it was as easy as it sounds.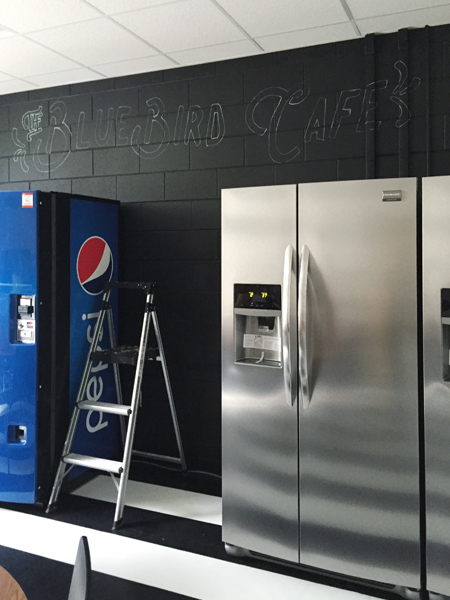 Then we loaded in all of the finishing touches, like the planters on the tables, the wood mirror, some greenery…
… the baskets on the counters, some colorful art on those bulletin boards (which will obviously get filled a lot more with notices and fliers as the year goes on), and even a donated Keurig machine.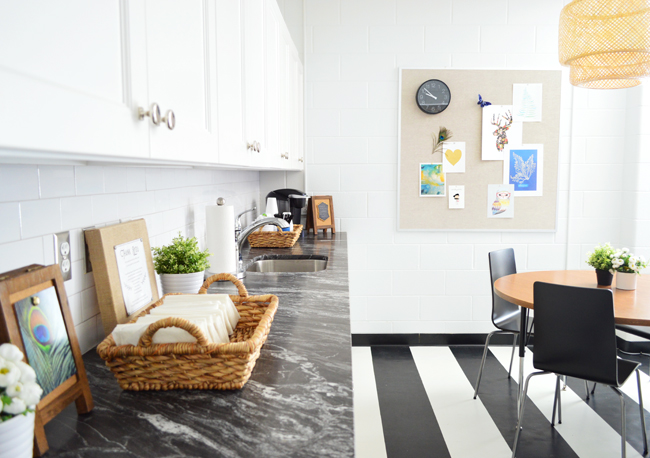 The project finally wrapped up with just a week to spare before all of the staff returned from summer break. The principal (who had kept the makeover a secret by posting a big "DO NOT ENTER! PLUMBING ISSUES!" sign on the door all summer) called an all hands on deck meeting and surprised everyone by leading them into the room, where we were excitedly waiting with Ryan and his wife to see what they thought.
Their reactions were priceless – especially from the principal who teared up when she explained why we all wanted to come together and update this space for them (which made me tear up because they are just such an amazing group of humans and we were so honored to help make this thing happen).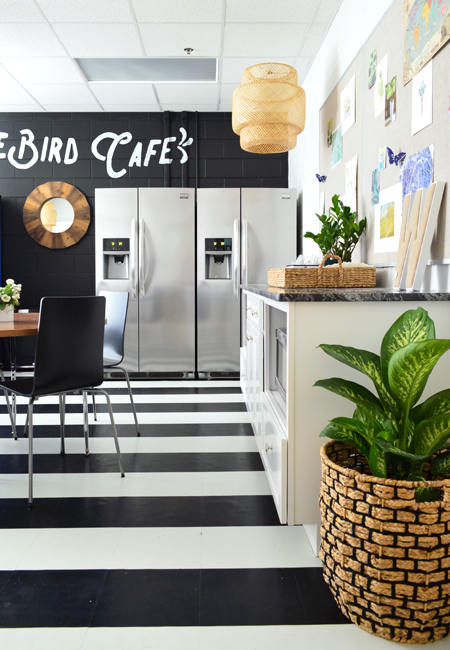 As for the room's accessories, here's a source list for ya: woven basket planter, chairs, woven baskets on counters, mirror on back wall, flowering planters on tables, art on bulletin boards (just things from our personal collection from calendars, magazines, books, greeting cards, etc), small countertop pin boards (the other side is chalkboard), woven lights, black clock on bulletin board, white clock above door.
We still can't believe that thanks to all of the generous donations – not only from Ferguson General Contracting, the PTA's teacher appreciation fund, and Frigidaire, but also from parents and another local company called Spruce Construction – that this entire room makeover was possible. We're constantly impressed by people's willingness to pitch in when deserving people are involved, and coming from a long line of teachers (my dad taught high school math for 43 years and just retired this year!), we couldn't have asked for a more fun summer project.
*This post contains affiliate links