As you last saw a few weeks ago, we removed our shoddy screen door and painted the door behind it a brilliant lipstick red. Then we ripped down the scalloped header with vigor and shared the victorious results. But Project Pimp My Porch is far from complete. We still need to relay the front walkway, because it looks bad (really bad). But while we work up the energy to tear up the jagged slate and create a wider and more level pathway, I took it upon myself to get going on some much needed front landscaping.
See, after azaleas look spectacular for three long weeks in April, they're immediately supposed to be cut back when the flowers begin to fade. So I got to work trimming all of the bushes the obligatory three inches or so. Observe: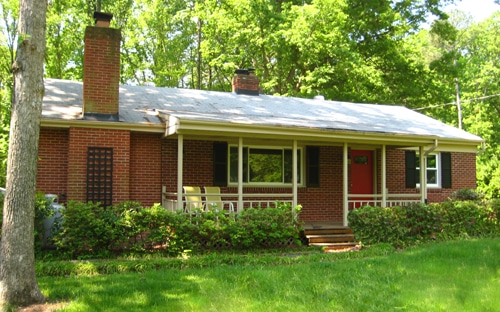 And then I did something that John and I have been talking about for two whole years. I cut the three bushes on either side of the front steps waaaay back. So far back that I was left with six giant piles of leaves when the smoke cleared. But it had to be done. As gorgeous as the jumbo azalea bushes look each spring when they show their stuff for 20 straight days, the rest of the year they're just giant green bushes that obscure the porch railing, making our house appear even more squat and encircling the perimeter like a solid wall of unvaried color and texture. And viola… we have our porch back.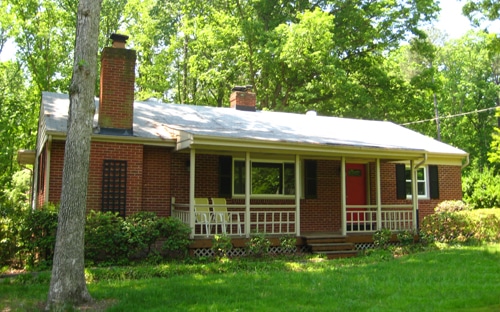 It's open and inviting and the house looks taller and more, dare I say it, updated. The old wall of unbroken bushes is no more. And the azaleas will still fill in and flower, but we'll never let them get so overgrown that our cute porch railing is hidden like gorgeous hardwood floors under a grody old carpet. And now we even have space to pop some annuals into the mix for a splash of new color and texture to boot. So as soon as my forearms stop burning and my biceps stop twitching, I just might talk John into helping me tackle that new walkway. Stay tuned…