Yesterday we learned that Young House Love was named one of the World's Best Design Blogs by The London Times when we shockingly noticed our name on their top fifty list. Insanely enough we came in at number twelve. As in, they think we're the 12th best design blog in the world. Isn't that kind of mind blowing? We're still pinching ourselves. And we're thrilled to be in good company with a slew of stateside and international blogs that we know and love (like Apartment Therapy, Desire To Inspire, Decor8, Design Sponge, Making It Lovely, Chez Larsson, SF Girl By Bay, and Brooklyn Limestone to name a few).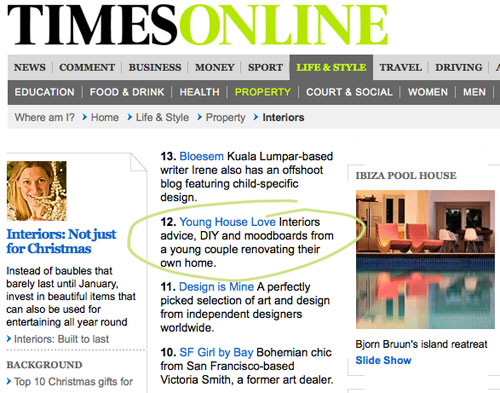 Here's a link to the page with our little ol' mention, and here's the main page where the article begins so you can click through the entire top 50 (this roundup is chock full of amazing blogs that we definitely recommend checking out!). Your google reader won't even know what hit it.
In summary: Ahhhhhhh! We're nerds. And this made our year.