When Erica sent her awesome office overhaul our way we had to share the before and after photos. Here's her letter:
I love to read your blog and see what creative ways you come up with to save money. I recently fixed up my home office on a tight budget. Of course you can find more info about the room on my blog, but the L-shaped desk is made out of two hollow core doors (only 25 bucks each!), two table legs, and a bookshelf. The paint color is Valspar "Plum Passion." Both chairs were thrift store finds and all the art from the art wall was completely free, it all consists of things I already had (fabric and giftwrap) or things I printed on my home printer. I used three sources for printing artwork: Vintage Printable, a disk of clipart images I had, and Dafont.com. The pear, bicycle and tree sihouettes are all Dingbat fonts I downloaded from Dafont. When all was said and done I spent about $200 benjamins. Hope you enjoy! -Erica
Here are the lackluster before shots: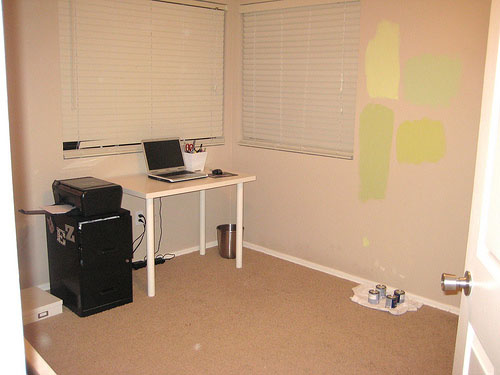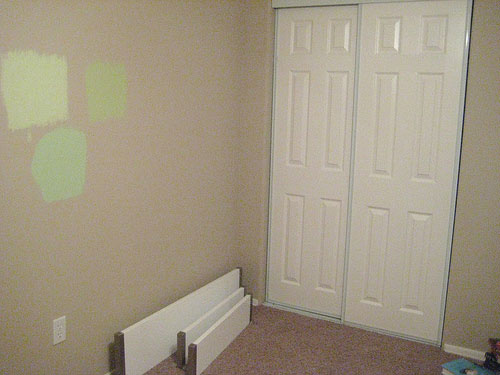 And here are the amazing (and enviably budget friendly) after photos: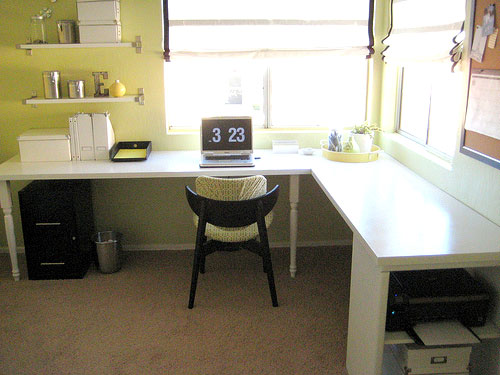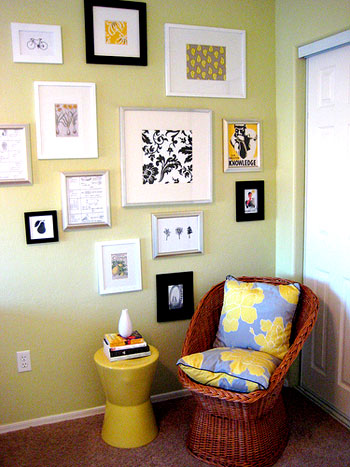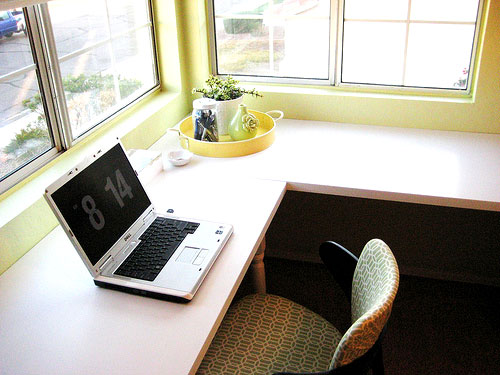 Is that not a fantastic office makeover full of wallet friendly ideas? Everything from the hollow-core-doors-turned-desk and the thrift store chairs makes us swoon. Plus the fact that the entire art wall was 100% free is amazing. We're sending over a virtual round of applause and one not-worthy bow to Erica and her fantastic office makeover. If that gorgeous room doesn't make paying bills and writing emails a bit more fun then we don't know what will! What do you guys think? And what's your favorite part? We love the white roman shades with the black ribbon trim a ton, and of course that amazing wall color paired with all the white furnishings is totally screaming our name. Lovely, lovely, lovely.
Psst- Wanna see how we made a desk with a hollow core door just like Erica? Click here for the deets.