…in his bedroom. Well, most of it. Here's Emma's hilarious letter about the makeover they turned out for their son's room:
We moved in to this three-storey 1876 "brownstone" (sidebar: it is neither made of brownstone nor located in New York City) three years ago – we're in Ontario, Canada. We've been working our way through the house converting what was four separate apartments back into a single home. This bedroom is up on the third floor and it belongs to our 5-yr old son, Angus. The 'Before' photos were taken when we first looked at the house and, at the time, this bedroom was the living room of a medical student at the University nearby.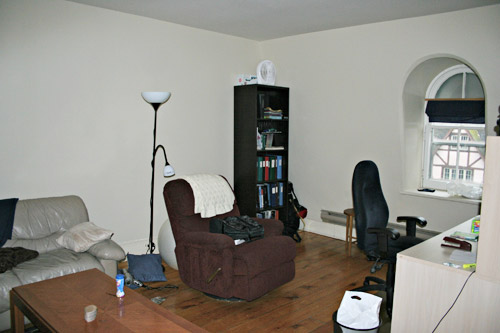 When we finally got our hands on it and finished some necessities in the rest of the house – like a working kitchen and toilet – we decided that (a) the room needed closets and (b) it should be out-of-the-park awesome so that he'll never leave home and will look after us when we are old and can't find our false teeth (sidebar #2: we will re-visit this plan when he is 16 and takes up the drums, or when he is married and his spouse doesn't want to sleep on a bunk). Enter the built-in bunk bed loft, which my husband made while I helpfully pointed out where things didn't line up.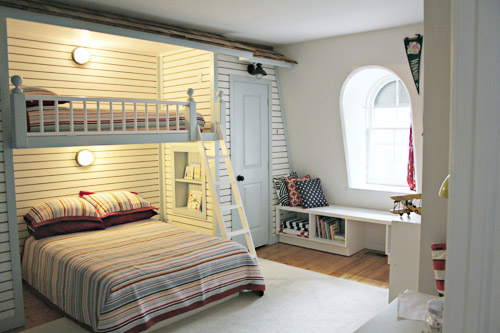 We were going for a campy/beach club look and he added in the cedar shake roof to make it feel like a real playhouse… or maybe a crab shack…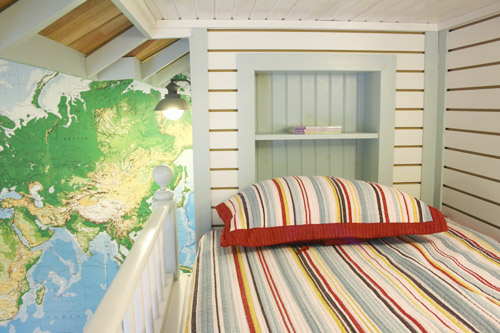 I was dying to try this map wallpaper after seeing it online. In fact, I think I impulse-ordered it well before we had even moved in to the house. We had heard a few times that wallpapering is a real relationship tester, so we armed ourselves with a bucket of paste and few glasses of wine late one night once the kiddos were asleep. The wall wasn't quite big enough for the whole earth, so the most nerve-wracking part was deciding which parts of the world to leave out (sidebar #3: our son is going to be floored when he discovers the existence of amazing places like 'New Zealand', 'Fiji' and 'Alaska').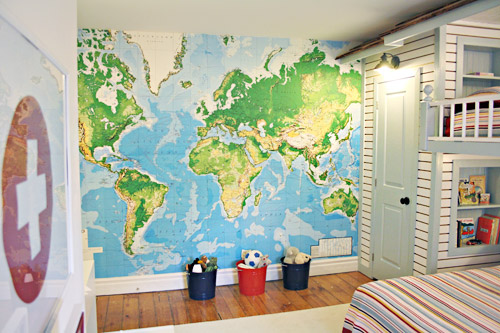 This room was so much fun to do. Hope you guys like it! -Emma J.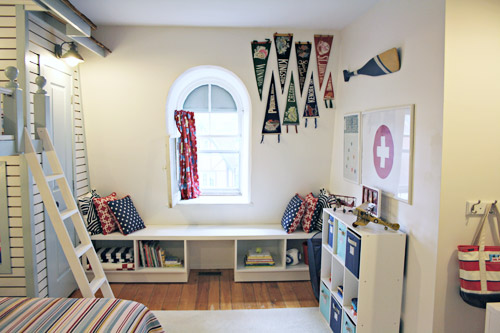 Angus is a lucky guy, right? I think Emma has as good a shot as any of us at keeping her kid around forever. You can see more pics and learn more about the makeover right here on her blog. Thanks Emma!