When Brieanne sent over her amazing nursery before and after pics we couldn't wait to share the major transformation. Here's her letter:
Last year my sister asked me (her younger sister with the architecture degree) to help her with her nursery for my future (and now completely adorable) niece Claire. Because my sister and brother-in-law could possibly have more than one child in their current space, they wanted a decently gender neutral nursery. Beginning with some bedding by Skip Hop my sister loved, we started a "mood board." The criteria: gender neutral, simple, non-cluttered and CHEAP. Jen (my sister) wanted something fresh and relaxing for herself, knowing the nursery would be mostly for her enjoyment. Armed with these thoughts, I decided to do a modern ode to "The Little Prince," even though the baby was/is a girl–it was one of my sister's favorite stories growing up. Hope you like the nursery as much as I enjoy your blog! – Brieanne
Here's the room serving as a half-hearted guest bedroom before the big makeover: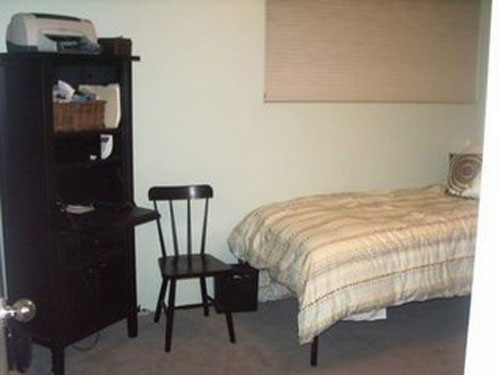 And here it is now after it has been transformed into a lovely nursery for baby Claire: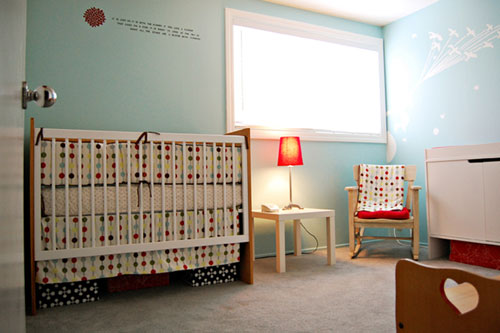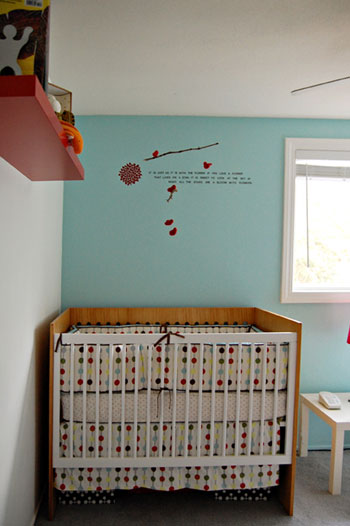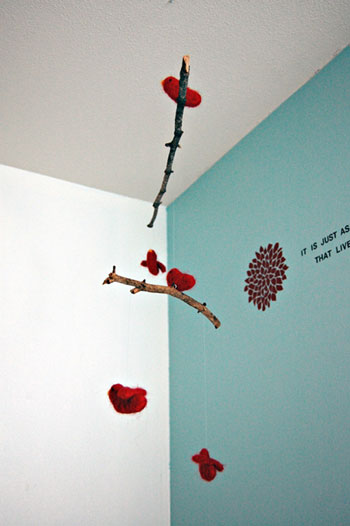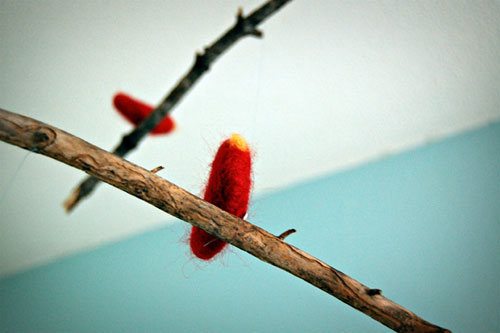 Oh and here's a resource list from Brieanne:
Crib and changer: Cub Kids by NettoCollection
Toy box: my sister's from when she was a kid
Rocking chair: my grandmother's
Bedding: Mod Dot by Skip Hop, given to my sister by her inlaws
Side table: LACK table by Ikea.
Shelf: LACK shelf by Ikea
Lamp: Confiscated from another room (lampshade from Ikea)
Mobile: needle felted birds made from red wool, hung on sticks found at our family cabin in Lake Tahoe, all assembled by me "on site."
Mural: painted by me, blown up with a projector, image from "The Little Prince"
Decal: Bloom, by Elephannie @ etsy.com
Quote: stick on letters. The quote says:"It is just as it is with the flower. If you love a flower that lives on a star, it is sweet to look at the sky at night. All the stars are a-bloom with flowers."
Didn't Brieanne and her sister do a great job making that room cozy and adorable for the lucky little lady? Let's play a little game we like to call what's-your-favorite-part? We love everything from the mobile to the charming quote on the wall so it's truly a tough call.
Update: Brieanne actually does have a blog and just shared the addy with us. Feel free to pop by and ogle the eye candy.