You know nothing makes us happier than some good ol' DIY. Here's Elizabeth's letter:
If you can believe it, I've recently tackled a headboard project since becoming a mom seven months ago. I have to thank you for your wonderful tutorials because they have given me a lot of direction to get many things done! I wanted to share this particular makeover with you since I made a headboard inspired by your tutorial. Our bed definitely needed one!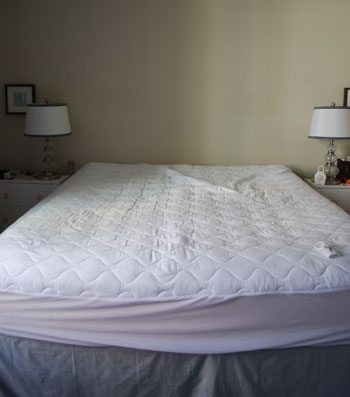 I purchased a piece of plywood and had it cut to an 82″ length at Lowe's. Once home, I traced my free-handed design on it and used a jig-saw to cut it out. This was my first time using a jig-saw and it was surprisingly easy. From there, I used some spray adhesive to adhere 2″ foam that I had cut. Then I simply covered it with fabric and I really love how it turned out!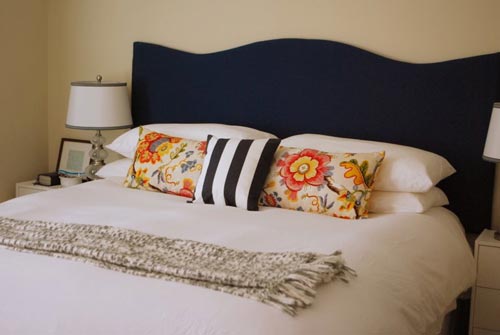 Anyway, hope you like it! Thanks for all the inspiration and tips! – Elizabeth
Didn't Elizabeth do a great job- especially since it was her first time slinging a jig-saw?! You can read more about her big headboard project on her blog. Anyone else out there ready to try something similar?