When Mary sent us her amazing closet-to-office makeover we just had to share it. Here's her letter:
I wanted to write to you to tell you how much I absolutely love your blog! You two have provided me with so much inspiration since I stumbled upon your site a few months back. Keep doing what you do! On another note, I wanted to share some before and after pictures of a little project I tackled at my house. We recently bought our first home and had to downsize a bit. We came from a 2,000 sq. foot rental home and moved into a 1,080 sq. foot home that is all ours. The only thing this home lacked was an office. Our future plans include enclosing the back patio and turning it into a large office for me and my expanding design business, but that's probably not going to be in the budget for another year or so. For the time being, I came up with the idea to turn the linen closet into a teeny tiny place to keep my office supplies, magazines, bills, laptop, etc. It's not the office of my dreams, but it will work for the time being! Hope you enjoy! – Mary
Here's the linen closet before: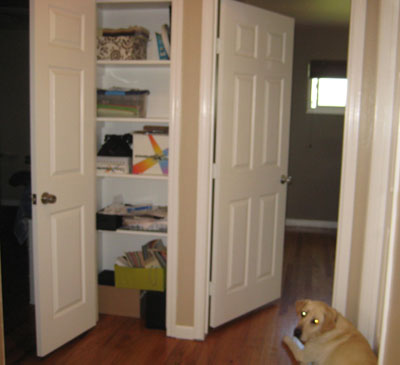 And the lovely mini office after: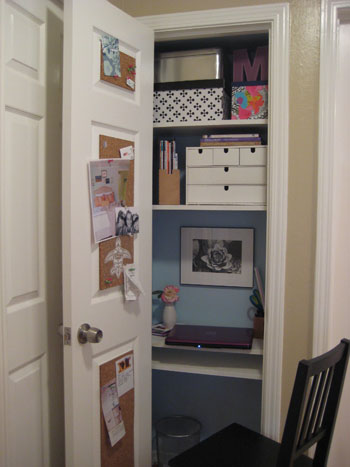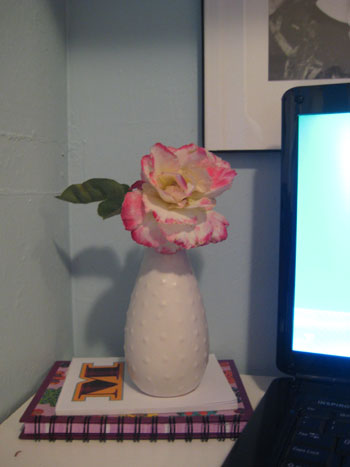 Don't you love that work-with-watcha-got spirit? We think it's a charming little place to store everything and get right to work without waiting for a big office renovation to come to fruition. Plus the cork boards on the inside of the door add even more function and display space. Thanks so much for sharing the inspiring before and after photos Mary (check out her blog here)! What do you guys think? Isn't that a sweet and simple solution to get the job done?