Sometimes the simplest changes can make a big statement, especially when it comes to updating an already-existing accessory in your home. In fact Allison proves just that with her simple and chic chandelier update. Here's her letter:
My chandelier makeover was really easy to accomplish once I found the perfect modern shade to update my 1950s crystal chandelier.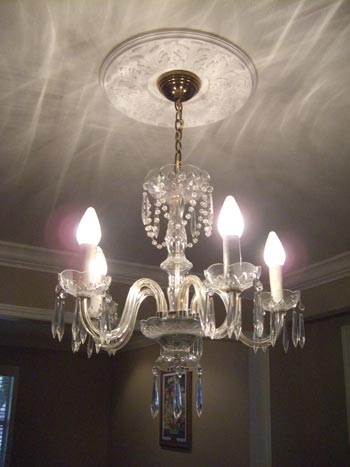 I was lucky enough to locate a fabulous shade for $10 at a warehouse sale here in Dallas. Then I spray painted the ugly brass chain white (along with the "ceiling donut") to match the already glossy white ceiling medallion. The open ring at the top of the shade made it easy to slip onto the chain, which I then re-hung from the ceiling. I think it makes my dining room look SO much better. I first saw this look in a Neiman Marcus home catalog, and of course had to try to copy it. I hope you enjoy my simple ceiling makeover as much as I do. – Allison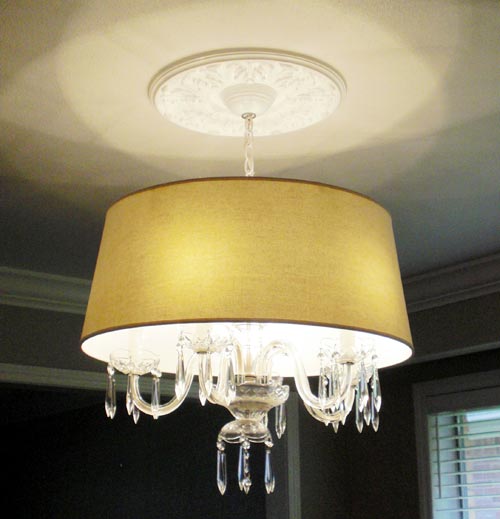 Of course we're all over that nice clean-linen drum shade. And we love how it totally upgraded that already lovely crystal chandelier. Plus the fact that people spend a pretty penny on light fixtures just like it (check out this one for $718!) is the icing on the cake. Amazing work Allison! What do you guys think? Is anyone else looking for the perfect drum shade to layer over an existing fixture for a polished and modern vibe? Has anyone else taken on a similarly easy and affordable light fixture overhaul? Do tell.