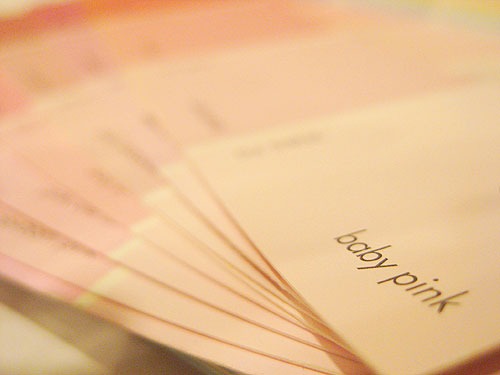 It's official: the bean is a GIRL! And we couldn't be more excited.
Well, actually, Burger's a bit oblivious to it all.
We found out on the day before Christmas Eve (December 23rd) thanks to some Oscar-worthy pleading to the doc (she wanted us to come in on the 30th but we were dying to tell our families in time for the holidays).
Best. Christmas. Gift. Ever.
And lucky for us, baby beanette wasn't shy and we got the most obvious shot of "the goods" that you can get. Woo hoo! (or should I say woo hoo-ha?). We originally thought we wanted the tech to write down boy or girl in an envelope and then go directly out to a special one-on-one Merry Christmas dinner afterwards to rip it open (before heading off to spend the next four days with family).
But when we thought about having to avert our eyes during that part of her scan (so as not to ruin the envelope surprise later) we both realized that we didn't want to miss a moment of gazing at the bean while she did her cute womb thing. We literally didn't think we were capable of turning our heads away for a second (especially since it might be the last ultrasound of Sherry's entire pregnancy) so we decided to heck with the envelope- let's find out right then and there. So that's how Sherry (with goo on her belly) and I (on the edge of my seat) learned that we were going to have a daughter. And yes I kissed my beaming wife right there on the table in front of the tech. It was such an exciting moment.
But the plot thickens. Since we love surprises, we hadn't told any of our family members that we'd scored that last-minute pre-Christmas appointment. They all thought we were finding out around the 30th when Sherry truly hit the 20 week mark. So after a romantic celebratory dinner full of name chatter and nursery brainstorming, we hit the grocery store for gingerbread cookie mix and pink icing to prepare for our big family reveal on Christmas Eve the very next day.
While the gingerbread girls that we made won't win any cookie-decorating awards, they did the trick when it came to breaking the news to our family. As soon as we showed up to my parents' house in Northern Virginia on Christmas Eve (after tiling the bathroom all day we were able to conveniently time our arrival right for dessert) I announced that we'd brought a special treat: "Surprise! We made gingerbread cookies in honor of the bean…" Sherry continued: "…and we learned yesterday that we should make them ALL PINK!!!!"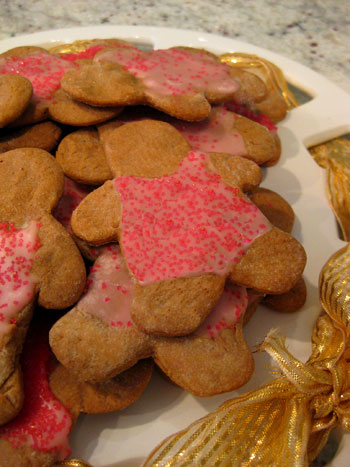 Shouting, jumping, and general merriment/pandemonium ensued. We had officially surprised the heck out of everyone and they were all thrilled. The entire crowd – especially our niece Olivia – was extremely excited to be adding a baby girl to the pair of baby boys that my sisters brought into the world in 2009. So naturally, everyone expressed their excitement by gobbling down the cookies in record time. Which was festive and fun- as long as that's not the reaction our little lady elicits when she comes into the world next Spring.
And since I know we're bound to get showered with girl-specific advice and/or questions, we should say upfront that (1) yes, this makes the name brainstorming much easier but we're not planning to settle on anything (or share our contenders) 'til we meet our little bundle of baby in May and (2) despite all the pink themes in this post, we're leaning toward a less gender specific color scheme for the nursery (think greens, blues, and yellows with a dash of pink here and there). Although now it's really fun to think through some feminine accents and DIY details to make the room feel sweet and baby girl specific (but those with baby boys shouldn't discount our nursery project completely since there will be lots of boy or girl adaptable ideas).
Enough about Baby P- we'd love to hear your stories about your big exciting boy/girl reveal (whether via ultrasound or via birth). Heck a super close family friend of ours just welcomed two beautiful twin girls into the world after believing there was only one in there for nine whole months (she didn't want to find out beforehand or even have an ultrasound so it was a huuuuge surprise!). Oh and feel free to divulge your "it's a girl!' or "it's a boy!" reveals as well – it's so much fun to picture how such a major moment was shared with family and friends.