The other day we swung by Home Depot to take a peek at the recently added Martha Stewart Living Paint collection and were of course wowed by Miss Martha's always impeccable taste in colors.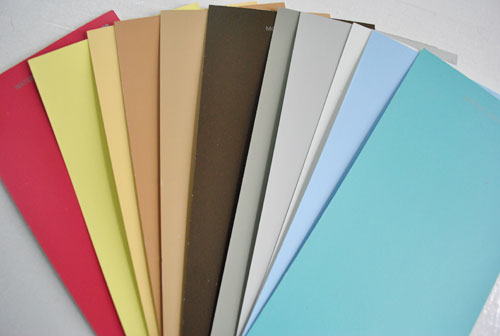 What we didn't expect was to be equally enthralled by the other side of the paint chips, where Martha has provided a bunch of "extras" to make the most of her paints. It got us wondering about what other paint brands go above and beyond when it comes to their sample chips. But let's start with the line of paints that piqued our curiosity in the first place: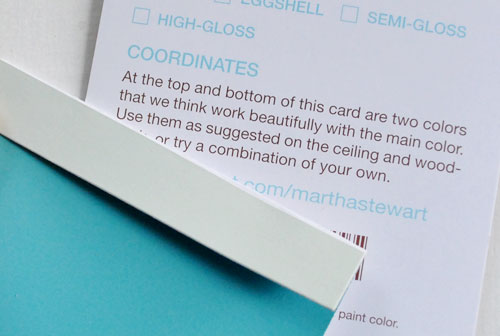 Perhaps our favorite thing about the Martha chips is that they suggest coordinating colors for the ceiling (on the top of the chip) and the trim/woodwork (on the bottom)- and you can easily fold each of them over to view it with the main color on the front. We think it's a great way to start thinking outside of the box… since without Martha you might never think of putting River Mist (slate blue) trim with a Bakery Box White (milky white) wall.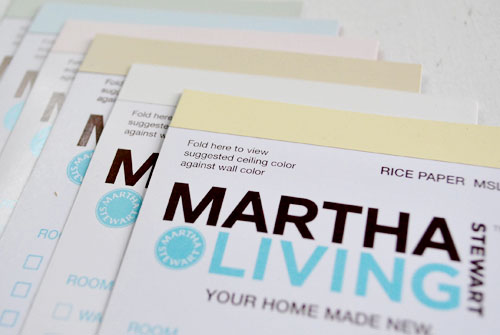 And if that's not enough coordination help, let's say you're trying to repaint your whole house. The front corners are marked with small icons to help you assemble a harmonious scheme of colors that could work seamlessly from room to room (just match the icons for foolproof cohesion).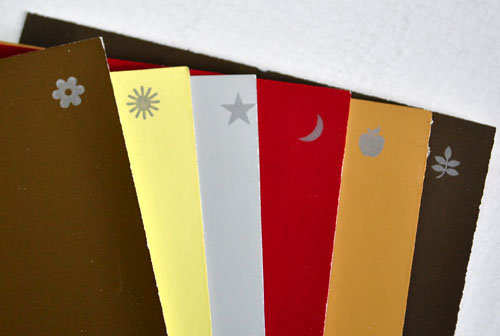 These MSL chips also leave space to assist you in organizing and remembering all of the paints in your house (leave it up to Martha to help you be as type-A as possible when it comes to remembering what room is painted what color).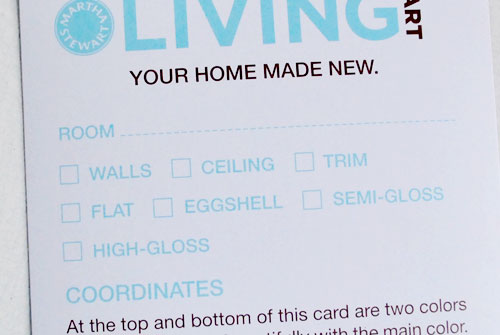 But enough about Her Hostessness, let's move on to some of the other souped up paint chips we know and love. We've always been fans of Glidden's gorgeous range of colors (also available at Home Depot) even though they eliminated some of our favs when they trimmed down their line last year (though many are still in HD's system – just gotta ask for them by name at the desk). But one thing we did like about their relaunch was that their new paint chips, like Martha's, come with suggested coordinating colors on the back. They also take it one step further and show you an inspiration photo, so you can better visualize how the colors might come together.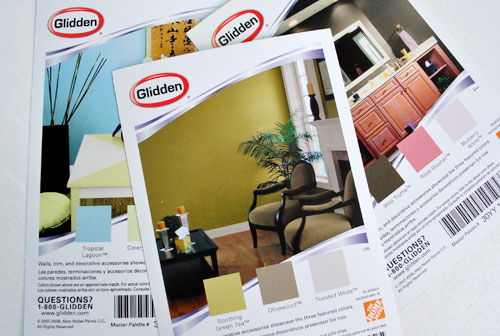 Home Depot's other main brand, Behr, is a little less generous when it comes to guiding you chip-by-chip (though, like many brands, they offer separate booklets to help you stay within a certain scheme or mood). But you gotta give 'em credit for thinking of adding a perforated hole in their cards, so you can easily build your own custom fan deck of favorite colors – they even provide the ring!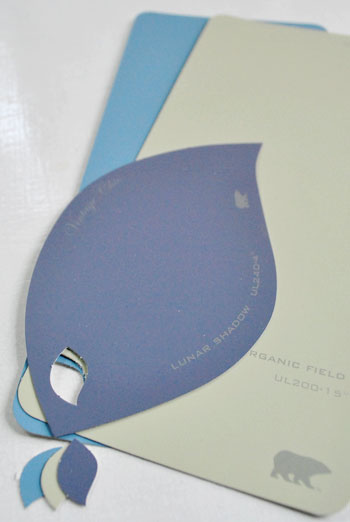 Over at Lowe's we found less in the super-chip department from their main brands Olympic and Valspar. Though you've probably seen that Valspar's chips have these pre-cut squares to help you visualize how two colors might work side-by-side or even to help you see how closely a swatch matches a pillow or other coordinating item that you have on hand. In fact we've used this feature to closely match existing wall paint in the sunroom that we couldn't identify- and the new paint touch ups were completely undetectable.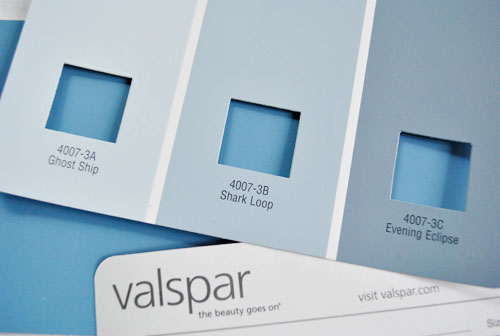 Now we didn't make it over to any of the private paint retailers like Sherwin Williams or Benjamin Moore during our tour de chips, but the fan decks we have at home don't boast any added features like the ones we highlighted above. Although we do love both brands and recognize that their separate booklets and pamphlets are full of steal-worthy ideas. In the end, we're not judging paint brands solely on how pimped out their chips are- we think it falls in the "nice to have" not "must have" category. But we do appreciate that some go the extra mile to provide some added inspiration, organization, and coordination help.
Have you guys seen any especially helpful "extras" that a paint brand, paint website, or paint department has created? Or have you used any of the bonus features that we highlighted above to help in your paint selections thus far? Has anyone checked out the new line of Martha paints and loved what they saw? We were actually chatting with the Glidden delivery guy as he stocked the paint chips and he whispered that "the new Martha stuff is second to none." We thought that was a pretty nice endorsement coming from someone who works for the competition!