We love personally crashing every house that we feature but this amazing casa was just too far away (as in, Sydney Australia) to drop in on. Not to worry, we decided that holding back the amazing eye candy was just too cruel, so we opted to "virtually" house crash Max and her husband Peter's home after they invited us to have a little look-see. They're the masterminds behind Murchison-Hume, an amazing and eco line of posh cleaning products that are even carried here in the states by shops like Anthropologie (stay tuned for a YHL giveaway with them in April). Max and Peter live in an unbelievably inviting and organized home with their two adorable boys named Charlie and Ben. But enough jibber jabber. Here's their house. Oh and you might recognize it from this Apartment Therapy House Tour, but we snagged tons of never-before-seen pics so you can enjoy every inch of their home (just keep a napkin nearby to catch the drool).
First we have their kitchen complete with a charming chalkboard wall. They ripped out the old 1980s cupboards in 2007 and replaced them with customized IKEA "Lack" shelving instead. It's basically an IKEA kitchen with fancy knobs that Max imported from Restoration Hardware. She's so happy with it, she wouldn't change a thing. And we think the idea of bringing in Ikea bookcases to create an open pantry is a seriously genius idea. Yeah, we weren't kidding about the drool factor here.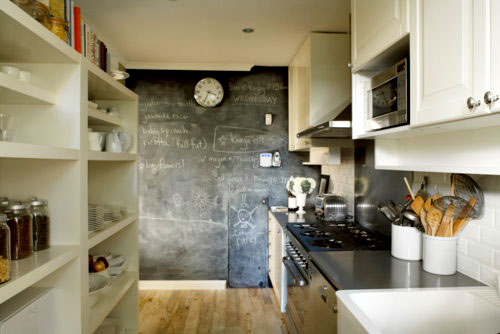 How much fun is that sweet and functional chalkboard wall that they use for everything from reminders and shopping lists to an "art spot" for the kids? So simple yet so chic.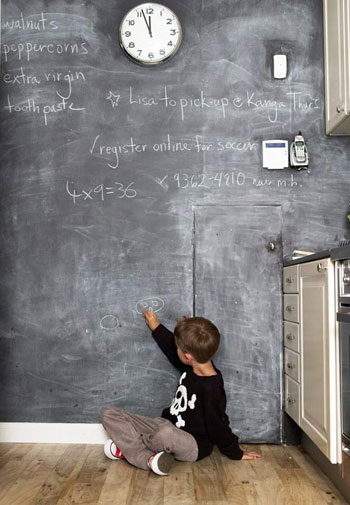 And speaking of chic, it's no surprise that their bathroom is sleek and organized- especially since they're all about keeping everything crisp and clean thanks to their cleaning line. Everything from the diamond paned windows to the gorgeous mosaic floors have us oohing and ahhing up a storm, and simple ideas like storing bathroom stuff in glass containers and on clean-lined ceramic trays can definitely be implemented in your very own home to add some spa to your loo just like Max and Peter did.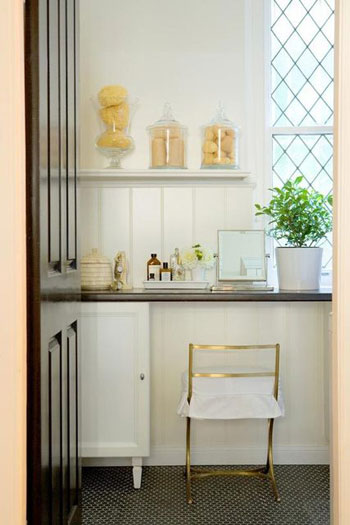 As you'd imagine, their laundry room is just as sorted and orderly. Not only do they keep extra cleaning samples on hand, but they even manage to make things like an iron and an ironing board look downright stylish. And even though Max and Peter don't have a single linen closet (talk about a challenge!) they used an inexpensive Ikea Expedit bookcase to create an organized and functional stash spot for everything from linens to laundry soap and more.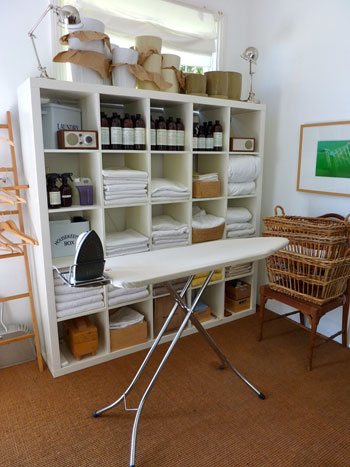 If it weren't already blatantly obvious, their children are super lucky to enjoy such a cozy and livable home. Case in point, here's six-year-old Charlie's room.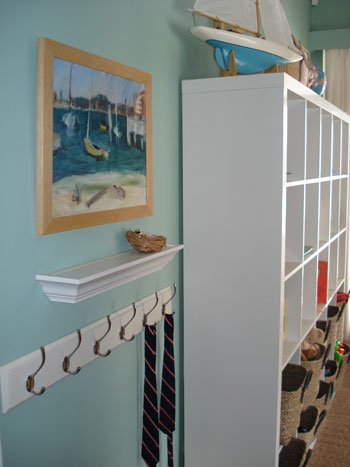 Max says: "Charlie's room is all about toys and access. I bought that another amazing IKEA Expedit bookshelf (a modern classic, if you ask me) and some nice looking baskets and that is how he manages to play in there and tidy his room almost all by himself at the end of each day."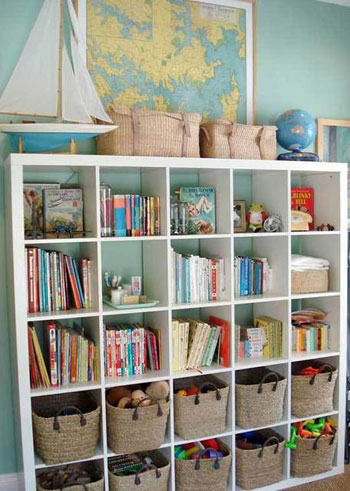 Gotta love a house that looks good and works so well with little ones- especially when it even encourages them to clean up after themselves!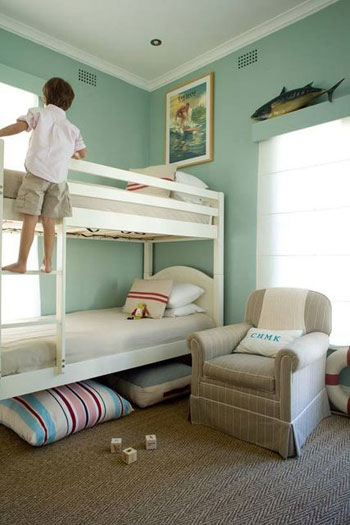 And we can't forget about ten-year-old Ben's room, which also works double-duty as Max's office during the day.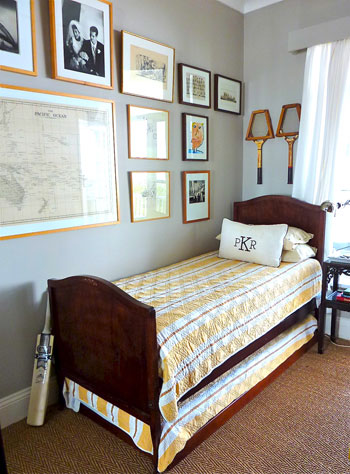 "Yes, It's tiny but it keeps me virtually paperless (there's no room for files). It's amazing what you can get away with these days…" she says. A woman after my own heart!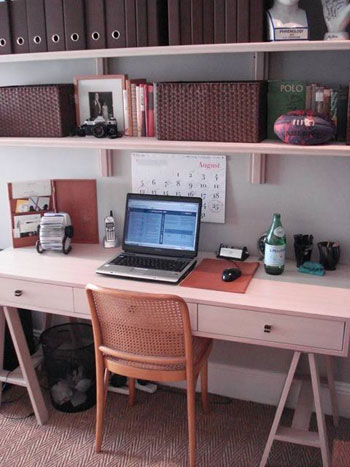 We just love how Max accessorizes every surface with things that never feel too precious but always create interesting vignettes (all while keeping function and organization in the forefront of her arrangements).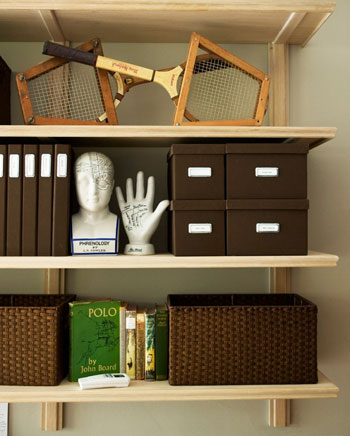 Here's Max and Peter's bedroom. We love the chic asian influences and the simple tone on tone curtains and bedding. It's certainly not one of those gigantic bedrooms and we love that they prove that it doesn't take square footage to create something inviting and lovely.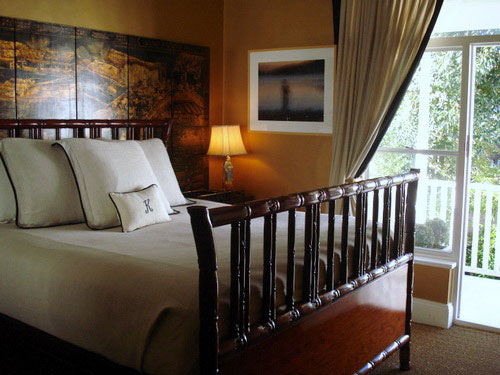 Warning: if you're anything like us, here's where the pangs of jealousy will really kick in. As in: owww. Check out their amazing backyard cabana surrounded by their gorgeously lush lawn: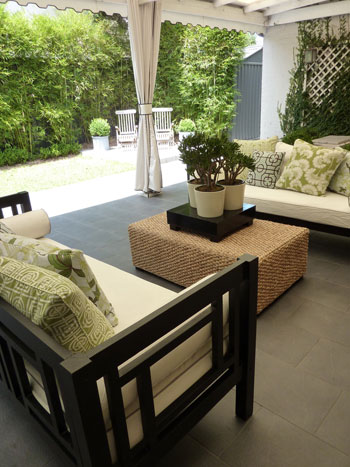 They transformed the garden in 2007 with clean-lined pavers (that happened to be discontinued and on sale) along with a custom made awning. It has virtually doubled their living space and it's where they do all of their entertaining. Pretty dreamy, eh?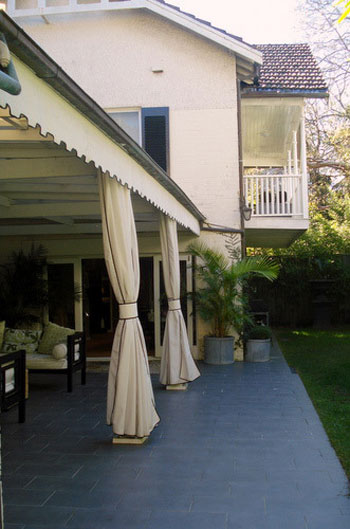 Max says that their yard isn't large but it's all that they need. We agree that their private and lush lot proves that less really can be more- especially when it's so green and gorgeous!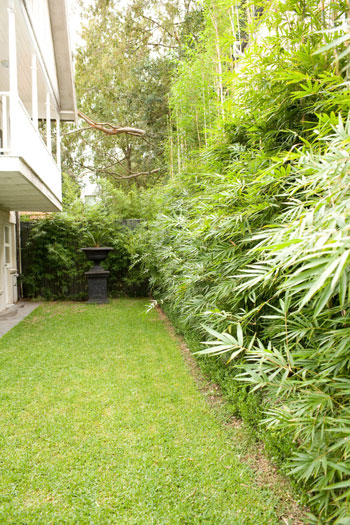 So that's the amazing casa that we wish we could have shot in the flesh for ya. Thankfully Max's great photos really paint a gorgeous picture of their home and we're thrilled to share the virtual inspiration with you guys. What do you think? Are you fighting off those envious feelings? Are you marveling at their smart and economical choices that look like a million bucks? Ikea bookcases in the laundry room, bedroom and even the kitchen! Discount pavers! Chalkboard paint! It's all pretty genius. What do you guys like best? Let's play the what's-your-favorite-part game. And thanks so much to Max, Peter, Charlie, and Ben for virtually opening up their doors to us. Next time we're in the neighborhood we might just come a knocking for even more photos. Hey, a girl can dream, can't she?
Psst- Wanna see more House Crashing tours? We have a slew of them right here (no foot wiping or hostess gifts necessary).