You guys know Lesli, right? She's a friend of ours who lives in out in the country (Greenwood, Virginia) and happens to be an amazing painter (you might remember our giveaway with her). She has an awesome blog and a sweet old house – complete with extra high ceilings that we covet and 100+ year old details that make "old farmhouse" the dream for so many people (us included). So we can't wait to show you around. Let's get to snooping…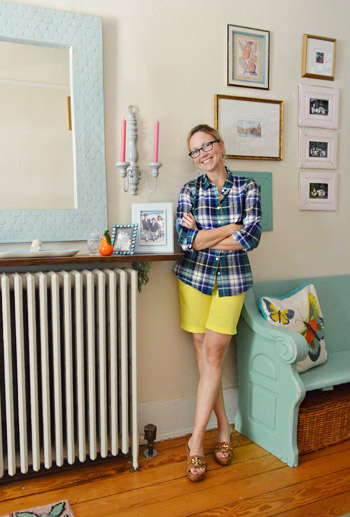 Almost every item in Lesli's home has been loved back to life. Like the old bench that sits in her entryway, which she got secondhand for $50 and painted a fresh new color. All of the mixed and matched art above it has such a fun and casual vibe – almost like it's a beach house. The best thing about this house out in the country (with gorgeous views of the mountains) is that nothing feels too precious. Clara had a blast (and I didn't have to have fifteen heart attacks worrying that she'd break something since the house was so kid friendly and fun). Oh and see that suitcase that Clara's standing on? It can be seen in this Burger birthday video (Lesli's daughter actually gave it to Clara to take home – how sweet is that?).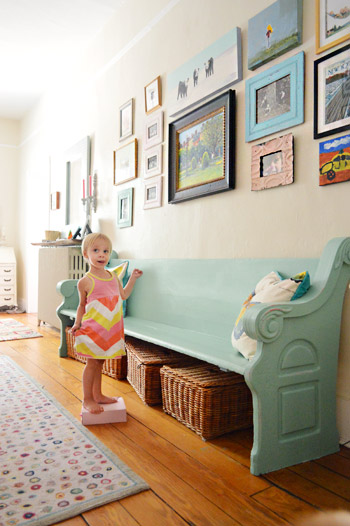 To the left of that entryway are two large rooms with awesome envy-inducing high ceilings. The room in the front is a living area, and the one in the back was once a formal dining room but Lesli realized that her family got more use out of making that another sitting area with a big couch for reading (you know, so Lesli can curl up and read in one space while the kids watch TV in the next room). So she moved the dining room to the other side of the house and made this side into one big casual chill-out area.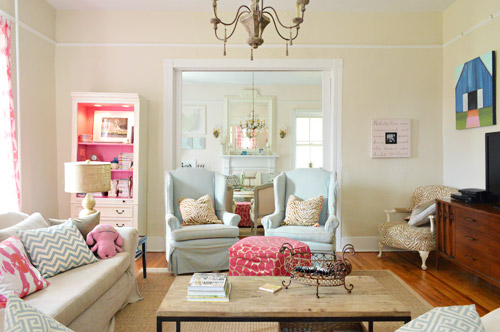 I think some of the most noteworthy choices that Lesli made in the room had to do with color. Look at those bold patterned curtains! That awesome kid-art with bright pink mats! Even the colorful Uglydoll on the couch is inspired! Too many exclamation points? Sorry, this room just gets me excited. And the coolest thing is that Lesli actually designed the fabric for those curtains herself (it's a horse painting that she did, which she uploaded to Spoonflower and duplicated a bunch of times to create an abstract ikat-ish effect). I got woozy when she told me that. Seriously, it was horse-print-induced hysteria.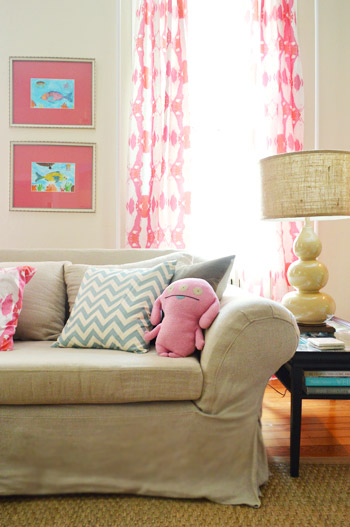 Here's that room behind the one we shared above (which used to be the formal dining room until she moved that to the other side of the house). I love that Lesli made things work for her family instead of being locked into using the same layout that the previous owners did. And see that round coffee table? It was actually a kitchen table from Lesli's old house, but she cut the stand down to make it coffee-table height. Isn't that a smart use-whatcha-got trick?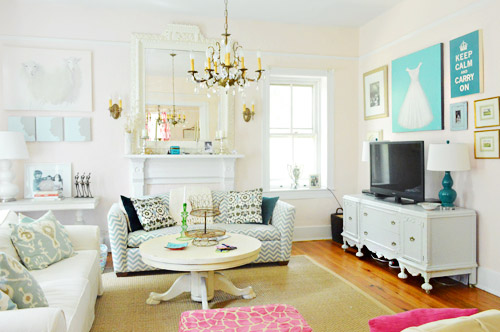 Check out that big mirror over the mantel. It's original to the 100+ year old house. Gorgeous, right? Lesli was so humble about everything but I was totally standing there drooling. The cool thing about this house is that it's a great example of how you can fill an awesome old farmhouse with inexpensive items and reinvent old thrift store pieces. And nothing feels like you're going to break it or ruin it… it's approachable and comfortable.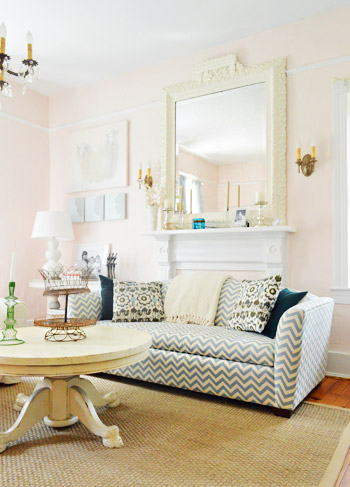 Here's a secondhand cabinet that she rescued with some fresh paint. I love the pops of yellow and the wooden fish on the wall with the name of her city painted on it. And see that bolt of fabric leaning casually in the corner? I love it there. The whole house is so refreshingly unfussy and easy.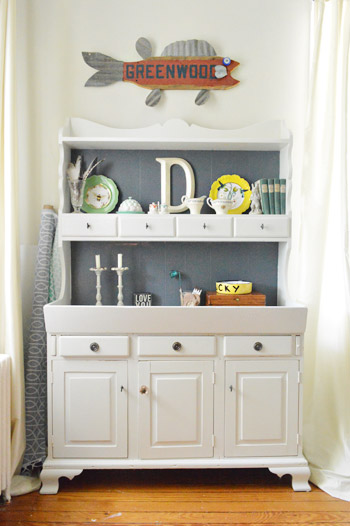 Here's her upstairs bathroom complete with a few more pops of color in the art and the textiles. It's cool to see how Lesli mixes old (the ornate antique mirror) with new (the geometric bath mat – which is actually a TJ Maxx find) along with a whole lotta fresh white.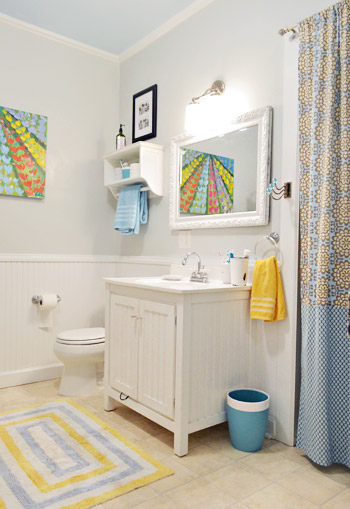 Lesli's bedroom was having some drywall work done in a few areas, but we were able to sneak this shot of the corner of the room complete with a fun graphic chair, a non-working fireplace that she filled with books, and a window cornice that she actually made out of fabric and foam core (seriously! she took one down and showed me and it looked so legit – I never would have guessed it was foam core under there and not wood). And as for a little more info on that chair, she got it cheaply because it was a floor model and then recovered it with $9.99 Dwell Studio fabric from U-Fab (she found a great upholstery guy out there who only charged $100 to recover the chair!).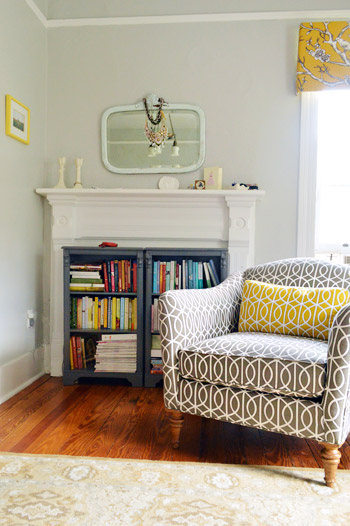 Now on to my favorite room in the house! You may have seen her daughter Phoebe's room since it actually won in a recent Washington Post kids room contest, but even if you have, it's totally worth a second look. Everything from that awesome colorful chandelier (from Urban Outfitters!) to the bold blue wall with the fun pink border and some more patterned fabric cornices (plus that great geometric rug that she got on clearance from PB Teen for $150!) was completely fun and charming.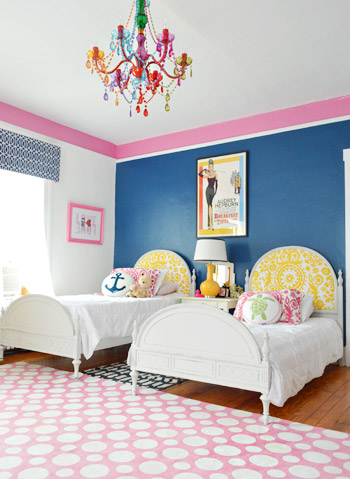 Without a doubt my favorite thing in the room were the beds. Can you believe that Lesli got them at a thrift store for super cheap and then painted and upholstered the back herself? It looked complicated (how do you curve the fabric like that?) but the curved panel actually just pops out so she added some batting and some fabric, pulled it taut and stapled it in the back, and then just screwed the panel back on. Easy peasy. The fabric is Premier Suzani Slub in Corn. Don't they look like a million bucks?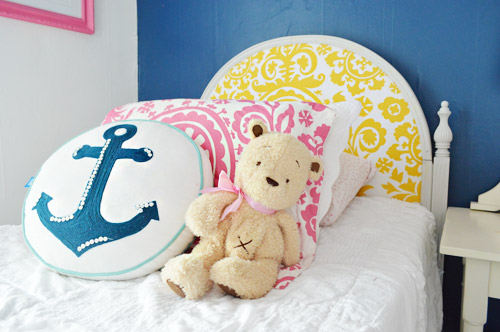 The room that her sons share was just as sweet with fun orange accents (the over-sized ceiling shade and the curtains that she made with this fabric were awesome)…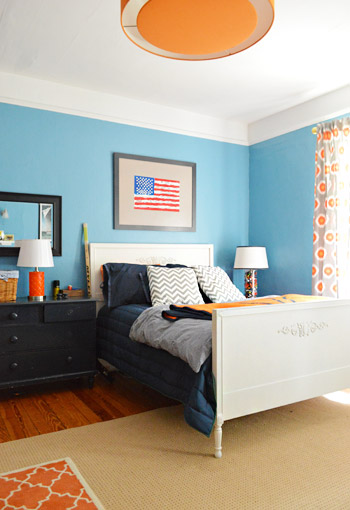 … but my favorite things in that room were these crazy.awesome.lamps. They were just cheap glass lamps that she got from Target, but they were fillable – so she decided to fill one of them with a bunch of tiny toys that her son had collected when he was younger but no longer plays with. And the other one got filled with old cars that used to be enjoyed all the time. I thought it was such a cool way to keep something sentimental around that your child might not actively play with anymore. Imagine the possibilities: legos, polly pockets, colored pencils, rubber erasers, the list goes on! Now I can expand my shadowbox obsession to fillable lamps…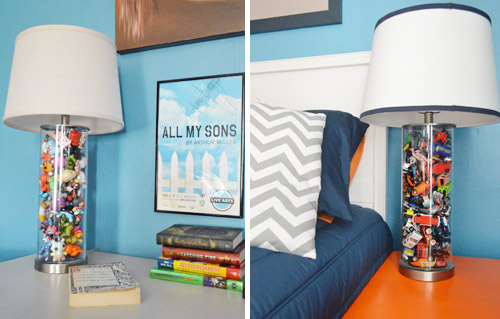 So there you have Lesli's awesome house. Thanks so much to her and the family for so graciously inviting us over to crash! We had the best time, and couldn't wait to share all of her creativity with you guys. I mean, from those spoonflower curtains that Lesli designed herself to the lamps full of kid paraphernalia, we definitely left feeling super inspired! Now let's play the what's-your-favorite-part game. I gotta stick with those genius thrift store beds that she completely redid for Phoebe's room. Amazing.
Psst- Don't wanna stop snooping around? You can check out dozens of House Crashing adventures right here.