Let's get wreath the program, shall we? Forgive the bad pun, I'm just a little (ok, a lot) hyper about our latest holiday project. You may remember Cardboard Safari from our recent Sponsor Shout-Out post. Well, they generously sent over two of their amazing white cardboard snowflake wreaths and we couldn't wait to put them together. One of the most fun things about everything from Cardboard Safari is that it arrives flat in a box, and all the laser cut pieces of recycled cardboard can then be punched out by the lucky recipient and put together, like a highly entertaining 3-D puzzle for adults.
It really is our idea of a good time. Especially since we love anything DIY, anything recycled, and anything white. Seriously, can you say jackpot? Here's how our fun little cardboard wreath started out, just a series of laser cut cardboard sheets just waiting to be punched out and assembled: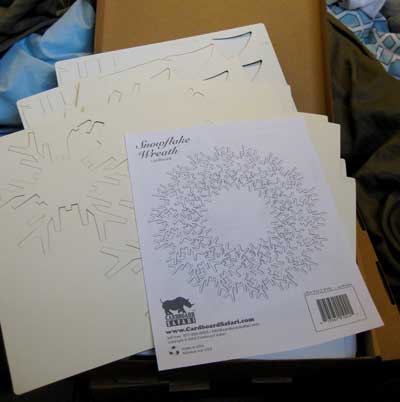 Here's the wreath as it started to take shape (the directions were actually really simple, just the same two steps over and over again). And yes I did make it in bed since I was quarantined in the bedroom while John worked away on this little project.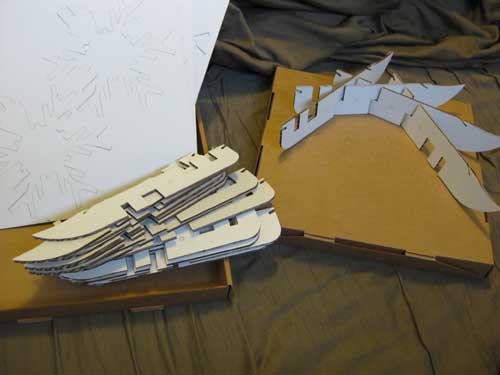 Here it is as almost completed about ten minutes later: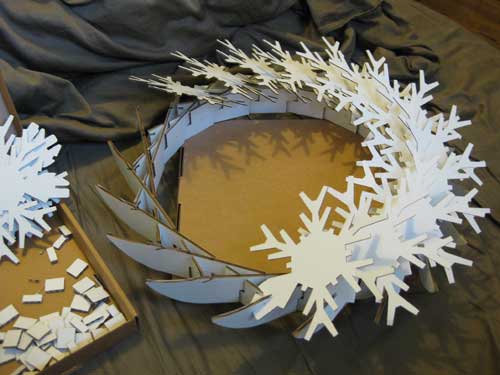 And here's the totally finished product…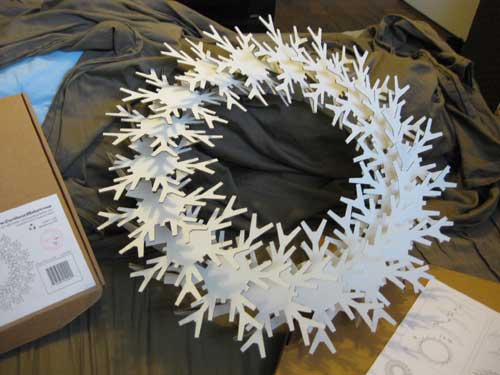 … which we happily got to make twice since Cardboard Safari generously sent two over. As you can see even animals like their stuff. Probably because many of their products feature animal likenesses but no four-legged (or two-legged) creatures are hurt in the making of these fun cardboard creations. Heck, no trees are even hurt since they're made from 100% recycled and non-toxic cardboard (that's local to boot, so no energy is spent shipping things overseas).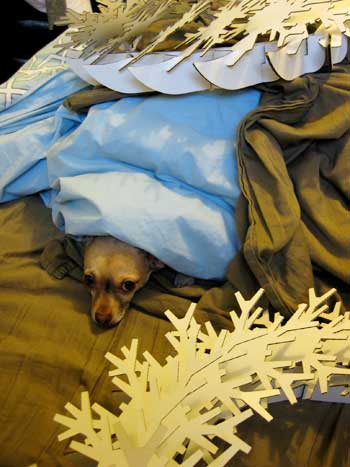 And here we have our lovely little snowflake wreaths hanging in the two windows of the den. All it took was some ribbon looped over the curtain rod and we were in business.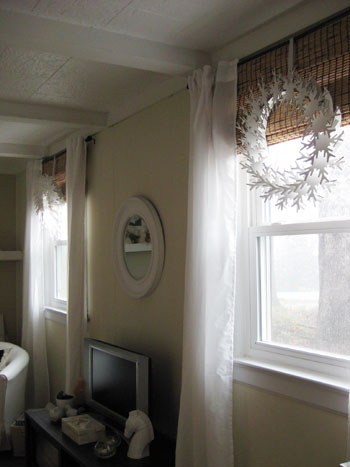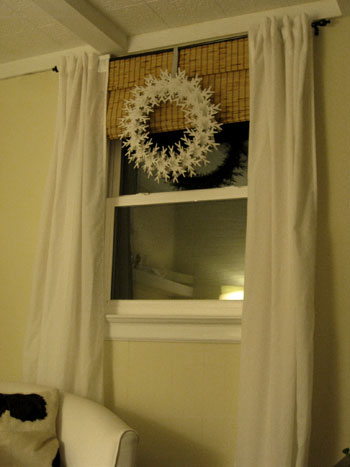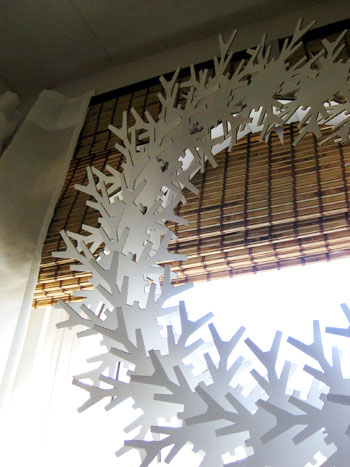 And just because we love seasonal decor that can multitask, we also wanted to show you how else you can use these fun little cardboard creations. Check out this little holiday breakfast set-up we whipped up with one of the wreaths as the centerpiece. We imagined a little pancake breakfast around it with the candle in the hurricane softly flickering. Mmm, pancakes.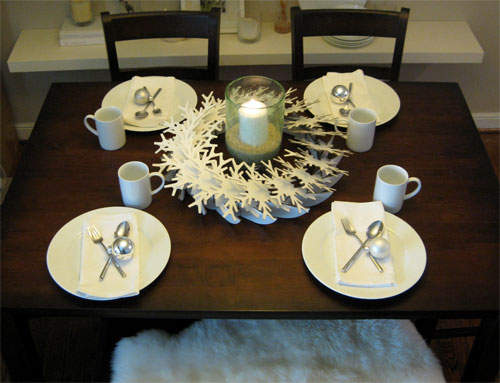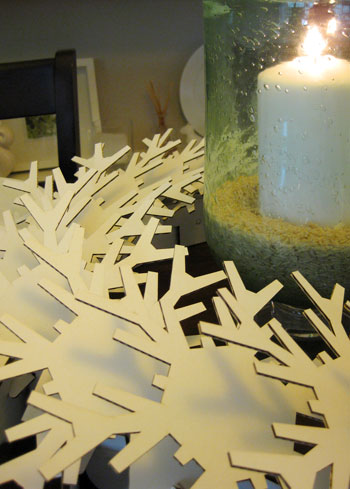 So what would you guys do with one of these babies? Don't you love that they're paintable (and otherwise pimpable) so you can spray them with glitter spray, coat them with a bright glossy candy apple red color, or even hang edible treats around them (wouldn't candy canes hanging off of a few of the snowflakes look cute n' tasty?). Let's chat about how you would customize your own (which you can grab right here by the way). And while we're at it, let's talk about wreaths in general. Do you love fresh pine ones? Modern ornament-riddled ones? Architectural square ones? Do tell.