***This giveaway is no longer accepting entries – see who won below!***
Although only 3 will win free prints, everyone can score free shipping on Genuinely Yours orders before June 30th with code YHL2011FS. And according to random.org, our trio of winners are… Alicia (whose family all shares their mom's dark eyes), Sondra (who feels like she gave birth to three exact clones of her husband) and Erica (whose first two kids have her eyes, but the third got daddy's). Congrats ladies!
This giveaway combines some of our favorite things: silhouettes, colorful art, and family (if there were a ceramic animal or a map involved, our heads might explode). So needless to say, this prize from Etsy seller Genuinely Yours gets us going. She designs graphic prints that are customized to feature your family, your choice of color, and even your preferred language (good thing, since this prize goes anywhere in the world). So this week THREE of you can pick either her modern spin on the family tree or her silhouette-y take on the family portrait (she does couples too).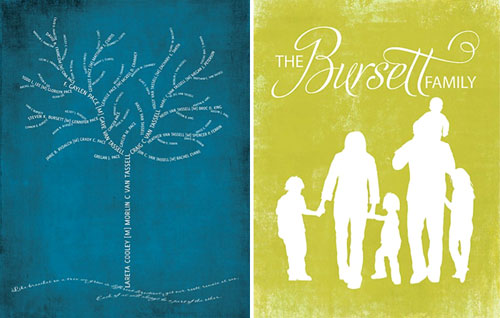 PRIZE: A family tree, family silhouette or couples silhouette in either 8″ x 10″ or 11″ x 14″ from Genuinely Yours
TO ENTER: Comment on this post with the words "FAMILY ME! and…
BONUS QUESTION: … tell us what trait or quality ties your family together. Are you all known for being particularly athletic? Bookish? Funny? Friendly? Or maybe you all share a common physical trait?
GIVEAWAY CLOSES: Wednesday, May 25th at 8pm EST
NUMBER OF WINNERS: Three
PRIZE SHIPS: Anywhere on the entire planet!
USUAL STUFF: One entry per e-mail address is permitted. The winners will be selected using random.org and announced on Thursday as an update to this post. That's right, come right back here on Thursday for the announcement of our winners. Good luck…
Note: We weren't paid or perk'd for hosting this giveaway, we just like rewarding our lovely readers! See our Giveaway FAQs page for more info. Pics from Genuinely Yours.