***This giveaway is no longer accepting entries – scroll down to see who won!***
Thanks to the devilish randomization that is random.org, our two winners are… Steph (who was just talking to a colleague about the two tattoos she has…for now) and Alason (who's thinks her little butterfly tattoo on her back makes people assume she's a bad girl). Congrats ladies!

Since you guys seemed to enjoy last week's spring cleaning related giveaway, how about another? Your house can't possibly be all cleaned up yet can it? This one comes from the folks over at Dirt Devil who are gonna hook two of you up with a tattoo. But you're not going to disappoint the parental units in this case. The Tattoo is a light-but-powerful canister vacuum that boasts an ornate "tattoo" design on its body, comes in four devilish hues, and includes cool details like an automatic cord rewind feature. You know, so you can suck with style.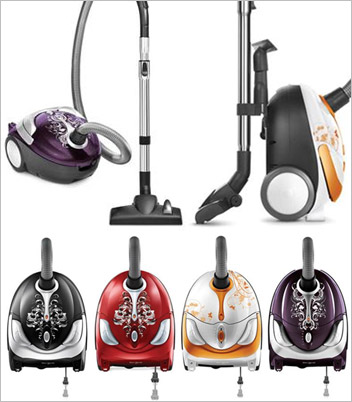 PRIZE: A Dirt Devil Fantasy Tattoo series canister vacuum in any color
TO ENTER: Comment on this post with the words "TATTOO ME!" and…
BONUS QUESTION: … dish about what tattoo(s) you have, wish you had, wish you didn't have, or never ever wanted (feel free to share the where and the why too if you'd like).
GIVEAWAY CLOSES: Wednesday, April 6th at 8pm EST
NUMBER OF WINNERS: Two
PRIZE SHIPS: The United States and Canada
USUAL STUFF: One entry per e-mail address is permitted. The winners will be selected using random.org and announced on Thursday as an update to this post. That's right, come right back here on Thursday morning for the announcement of our winners. Good luck…
Note: We weren't paid or perk'd for hosting this giveaway, we just like rewarding our lovely readers! See our Giveaway FAQs page for more info. Pics from Dirt Devil.