***This giveaway is no longer accepting entries***
We may be toilet-installation and cabinet-painting experts, but when it comes to cooking we can use all the help we can get. Which is why we were psyched when our latest giveaway sponsor, America's Test Kitchen, offered to send their newest cookbook our way in addition to doling out some great prizes for you guys (yes, prizes with an "s"). And when our complimentary preview copy of "Cooking For Two" arrived last week, we knew we were in for a good meal (sorry Burger, it's not Cooking for Three).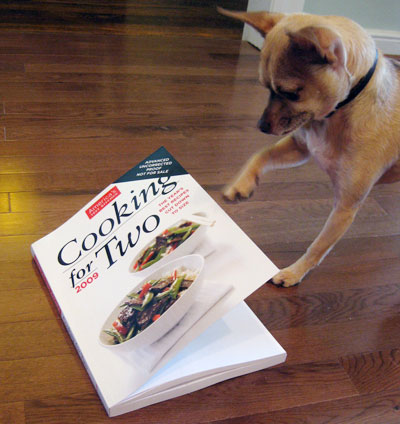 I'm Young House Love's resident (wannabe) chef, so perusing the book for a beginner-friendly recipe was the first thing I did. I loved that every recipe was already portioned for just two people (sweet, no math), but even better was all the background info surrounding each recipe. Hearing about how they arrived at the right ingredients, perfect temperatures and ideal prep techniques was extremely educational for a novice like me (so that's how you properly shred basil). It even gave me the confidence to take on their Crunchy Baked Pork Chops with Aoili dipping sauce (page 79) on Saturday… although you'll have to excuse the frozen veggies on the side, I was busy making my own breadcrumbs.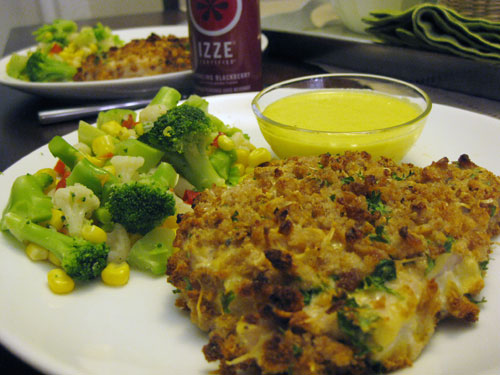 And a handful of you will get to try it for yourselves! Yep, America's Test Kitchen is giving away a hot-off-the-presses hardcover copy of "Cooking for Two" to FIVE randomly selected readers. To enter, just comment on this post with the words "I WANT A TASTE" by Wednesday, April 8th at 8pm EST. And while you're at it let us know what makes up your all-time favorite meal. You know, the one you'd pick as your last meal or eat everyday if you were trapped on a desert island.
As always, only one entry per e-mail address is permitted and our five lucky winners will be chosen using random.org and announced on Thursday. Good luck…
Full details about our freebies are available at our Giveaway FAQs.