***This giveaway has reached is now closed – see who won below!***
Happy Valentine's Day everyone! And an especially happy one to our randomly selected, lucky winner who goes by the name of… Oona (who will likely celebrate tonight with dinner at "a lovely vegan restaurant"). Congrats Oona!
We love celebrating Valentine's Day with you guys by giving away some free jewelry, and this year Sherry's especially stoked because the prize is coming from none other than Kendra Scott – one of her favorite places to request that I buy her earrings for various occasions (like the past two Christmases). Kendra Scott has definitely earned me a few husband points, so this (are you ready for it?) $500 gift card means that someone else out there can score major points from the one they love – or one lucky winner can grab her own jewels for herself. And probably have money leftover to share the wealth with a few friends or relatives. Oh and if you fancy yourself a Kendra Scott in the making, you can even use their Color Bar to customize several of their pieces. So yeah, Happy Valentine's Day everyone!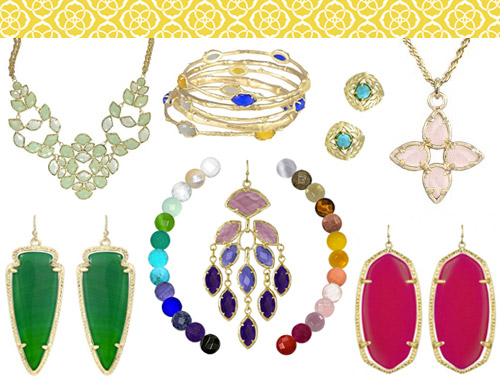 PRIZE: A $500 gift card toward Kendra Scott
TO ENTER: Comment on this post with the words "JEWEL ME!" and tell us…
BONUS QUESTION: …how you plan to celebrate (or not celebrate) Valentine's Day this year. Is there a special date night in your future? Are you sending your kids off with backpacks filled with cards for classmates? Or are you just gonna treat it like any other Thursday?
GIVEAWAY CLOSES: Wednesday, February 13th at 8pm EST or at 10,000 entries (whichever comes first)
NUMBER OF WINNERS: One
PRIZE SHIPS: This giveaway ships worldwide. Woot!
USUAL STUFF: One entry per e-mail address is permitted. The winner will be selected using random.org and announced on Thursday as an update to this post. That's right, come right back here on Thursday for the announcement of our winner. Good luck…
***COMMENT ISSUES? If you're trying to enter but keep getting a "duplicate comment" warning, click here to see how to solve it!
Note: We aren't paid or perked for hosting these giveaways, we just do 'em to thank you awesome folks for stopping in. See our Giveaway FAQ page for more info. Pics courtesy of Kendra Scott.