Well, Clara can go ahead and add fabric designer to her resume. With her 23 month photo in the can (see the full photo project here), it means the next monthly picture in line is the big 2-4… otherwise known as age 2.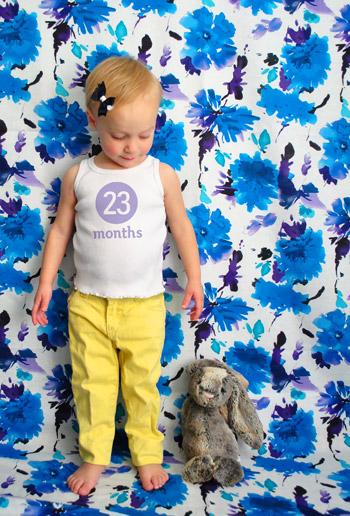 And since we concluded her first year of weekly-fabric-backdropped photos…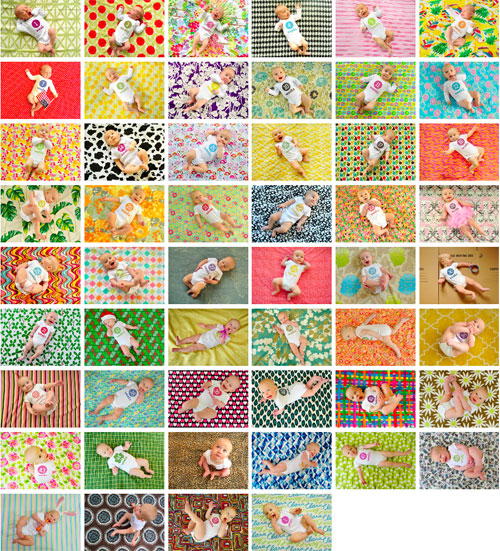 … with a custom fabric design that we made through Spoonflower by scanning her name drawn out in marker on paper (and tiling it in Photoshop), we though we'd make it a tradition and create more homemade fabric for her second birthday.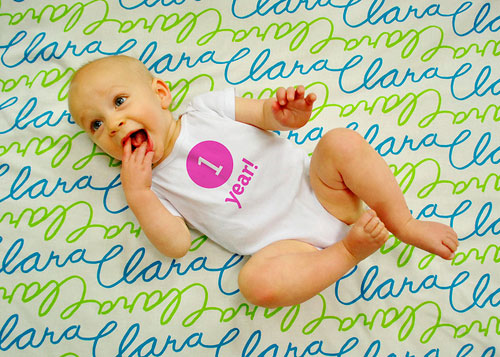 We thought about doing something similar with Clara's name for our she's-two fabric (perhaps in Sherry's handwriting instead of mine) since we liked how personalized it felt, but then we realized it could be even more special if we left it to someone else. Enter our latest fabric designing project- it's a bit more subtle than last year's but it's so much more meaningful to us because… Clara drew it herself!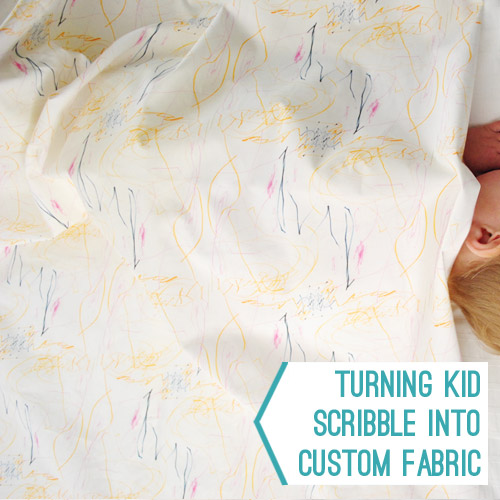 It basically just involved some Clara scribble, photographing said scribble, playing around in Photoshop, and tiling it in Spoonflower, but we'll get to that in a minute.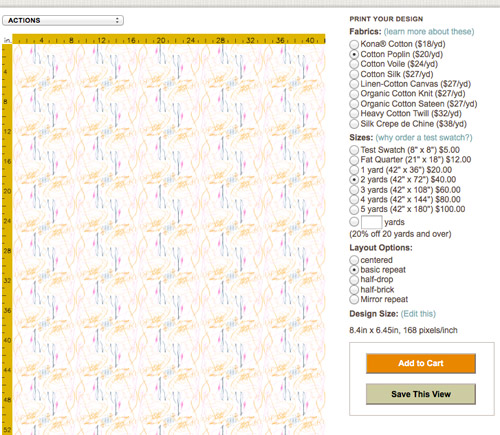 It started on Easter afternoon when we broke out a big sheet of paper and some markers and let Clara do her thing: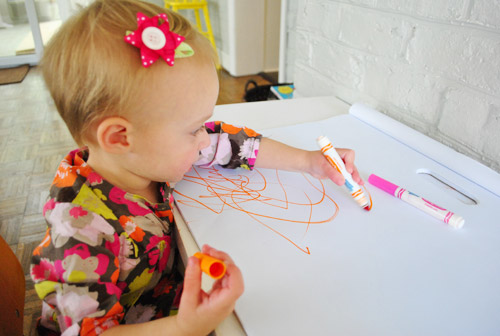 We gave her an orange and pink marker, since they're her current favorite colors (and the ones we're planning to use for her party) but eventually she requested a black one and we handed that over too. Gotta let the artist do her thing.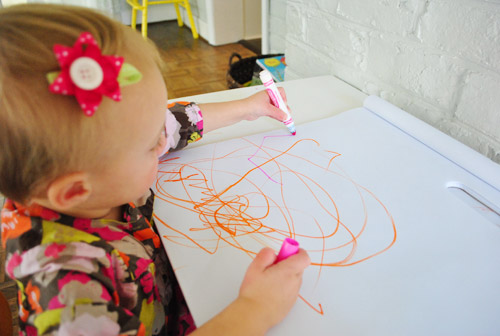 She was definitely in the zone. Which was good because we were determined not to interfere so the drawing would truly be hers.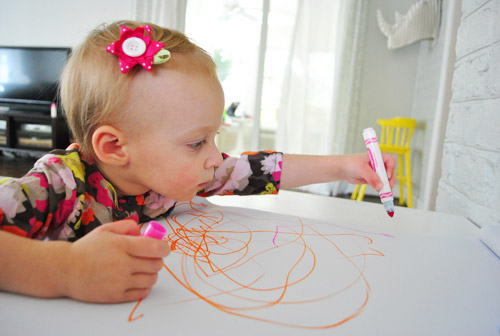 And although it might be hard to see them in the final work of art, Clara not only incorporated her party colors – but also her party theme, which is, by her own request: "WORMS!" (the girl is so in love with worms that she regularly tells us she dreams about them and looks out the window and says "Oh, hi worms."). It's kind of hilarious.
Here's the final result… which had us scratching our heads thinking "how exactly is this going to become fabric?" and wondering if maybe we should've "assisted" a bit more.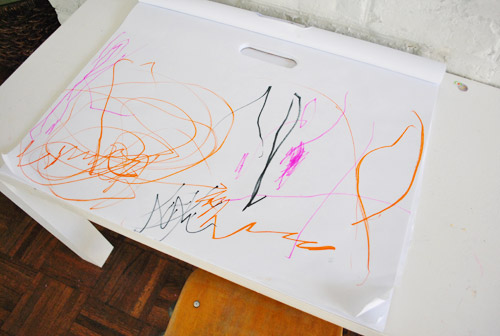 But sometimes you've just gotta trust the artist and her "vision." So I snapped this pic of it straight on (since the paper was too large to scan):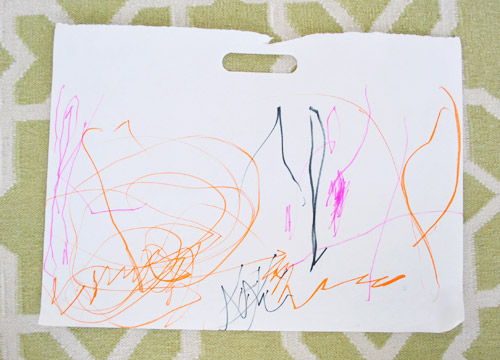 Then using Photoshop we put the design on a plain white background (by upping the contrasting and then selecting and deleting the rest of the background). The black marker sort of turned navy, but we didn't mind, so we went with it. Still not looking very much like patterned fabric though, is it?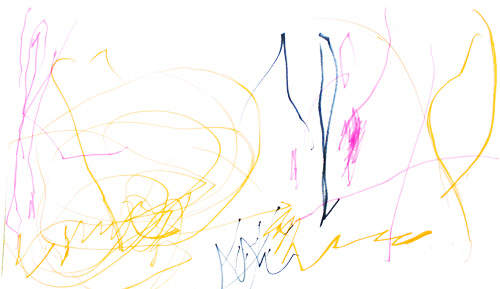 Just like with the first-year fabric, we figured we might be able to make it look more "pattern-like" by repeating it. So we duplicated the layer and began playing around with different ways to tile it in order to make an abstract pattern out of the bean's masterpiece. Here's what it looked like when I duplicated the layer once, rotated it 180-degrees, and placed it on top of the original drawing: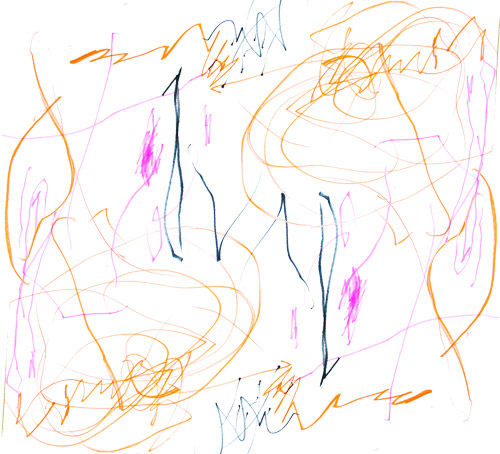 Then we took a second copy of the original (also rotating it 180-degrees) and lined it up on the bottom:
Confusing, I know, so here we've put a red box around the original rectangle (and two blue boxes around the flipped and shifted ones) so you can hopefully see how they're layered a little better: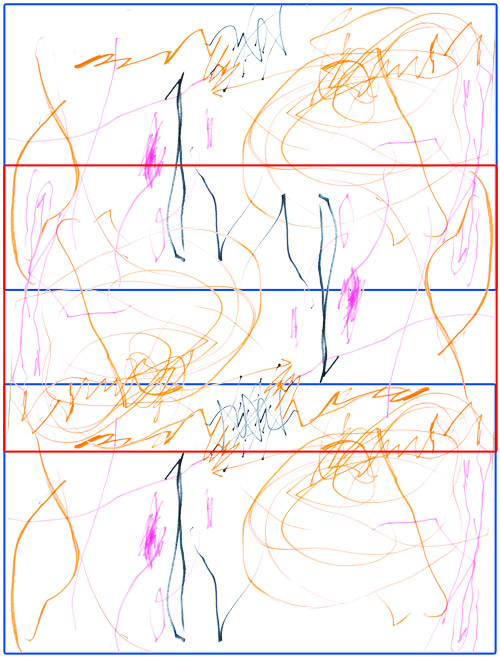 But of course if we want the Spoonflower program to tile the pattern accurately, we had to crop it in a way that it would repeat seamlessly. So I just found an easy reference point for where I could cut it off at the top and bottom, like this: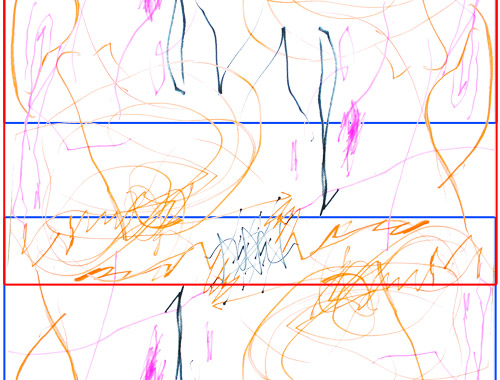 So here's what the pattern looks like cropped and without those colored boxes on each section. The alternating orange circles with the navy squiggles and the dark pink splotch were starting to look kinda cool. At least to proud parents like us.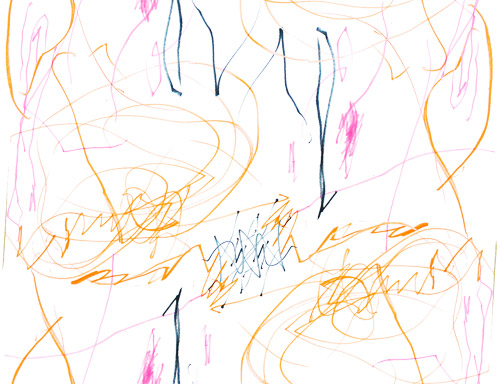 But we'd have to upload it to Spoonflower and see it as a sheet of fabric to really see if were were on to something…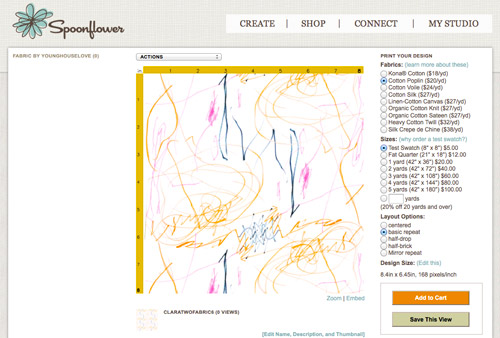 Spoonflower actually gives you a lot of options for resizing and adjusting how your pattern repeats. We didn't really explore this much in our our last fabric-designing adventure, but here's just an idea of the different ways you can tile your pattern (the one on the bottom right with the stripe was achieved by adding a bit of white space on each side of our JPG before uploading it to Spoonflower).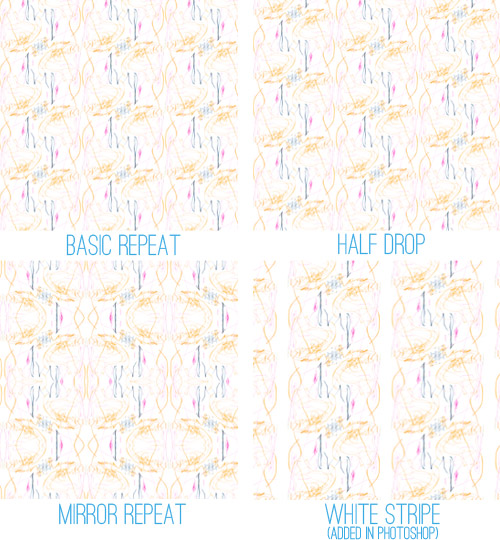 After some contemplation we chose the Basic Repeat just like last time (we initially liked Mirror Repeat, but Sherry said it was a bit female-form-ish and once we saw that we couldn't unsee it – or stop giggling like twelve year olds). So then Basic Repeat became the favorite. It's kind of ikat-esque, and not obviously kid-scribble until you get closer, which is part of the fun. So we ordered two yards of it for $36 + $3 shipping (for a total of $39) thanks to a discount at checkout for uploading our own design. Yes, it's still more expensive than our usual fabric budget, but you gotta splurge sometimes, right?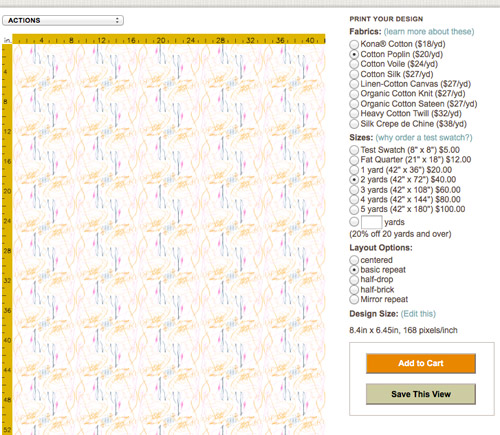 Not only do we plan to use it for the backdrop of her big birthday photo, Sherry wants to sew something memorable with it (along with the Clara fabric from last year) – so we'll keep you posted on that. She's already made a birthday banner, a quilt, and a beanbag from other weekly photo fabrics.
Fast forward about a week and our fabric arrived. Woot. These photos don't really do it justice (it's bolder/brighter in person), but it's awesome. It probably won't be winning any fabric design awards or anything, but it's the coolest thing we've seen in a while.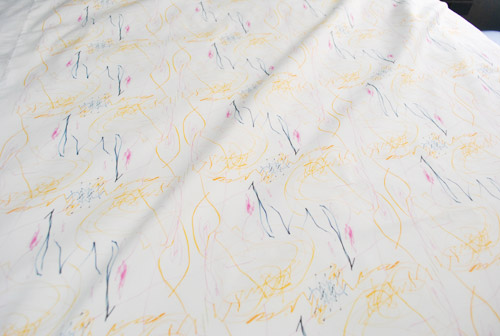 We have to wait a few more weeks before Clara is officially 24 months old to put it to use for a photo session…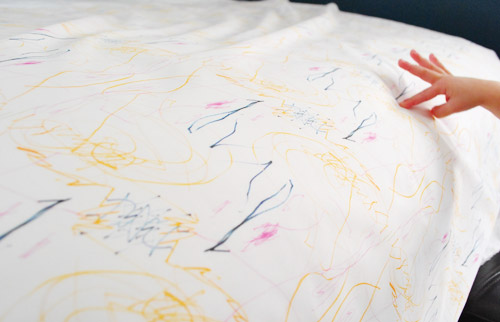 … but Clara decided she couldn't keep her hands off of her own creation, so we had a little playtime with it in the guest room…
…which turned into a little impromptu photo shoot as well. She liked hiding under it.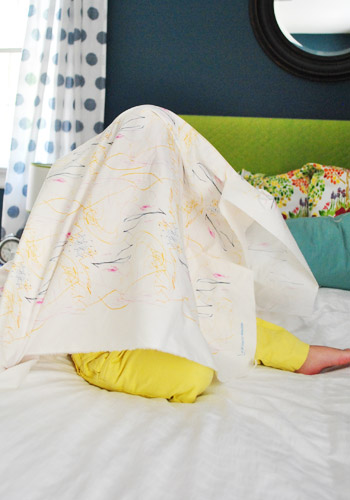 And gazing lovingly at her creation.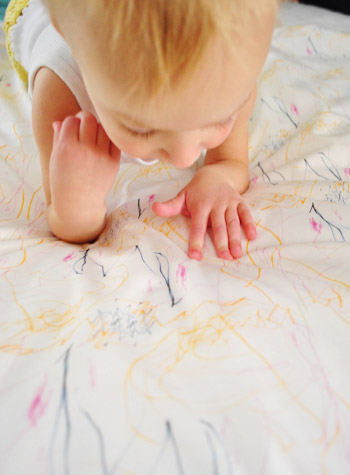 At one point she even asked to take a nap under her "blanket."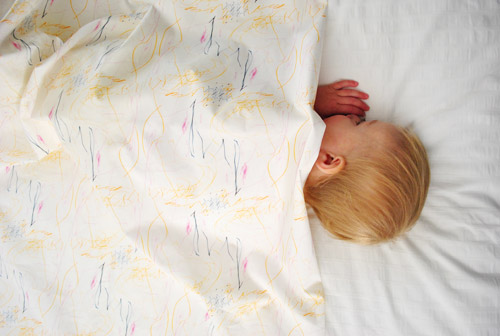 This is the expression I got when I reminded her that naps involve closed eyes: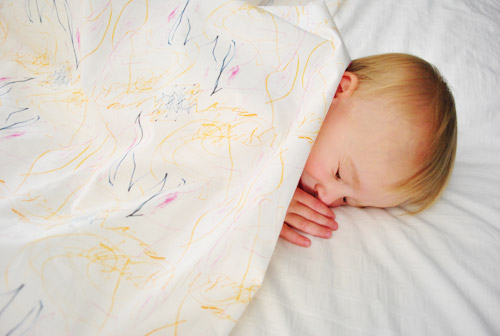 Then fabric playtime turned into pillow playtime. And there was some hiding…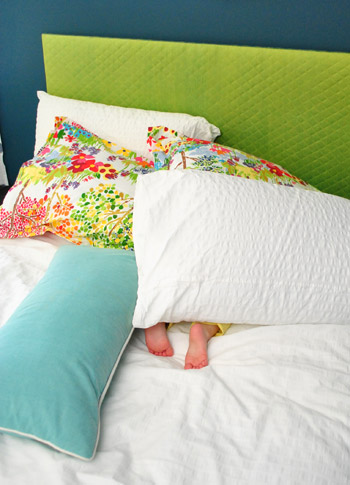 …and some spirited "Clara popping out!" (her words, every time it happened).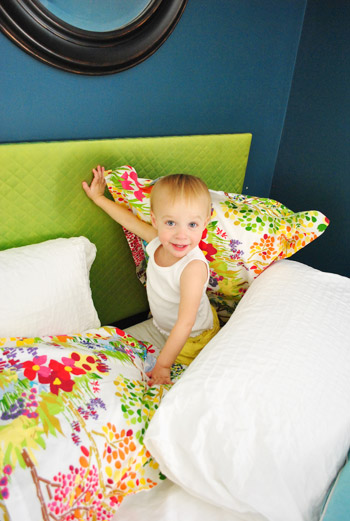 Receiving her scribble fabric makes us even more excited for Clara to hit the big 2 year mark, though we're also in disbelief. It seems like just yesterday we were designing fabric for her… and now she's doing it on her own. Well, sorta.
Anyone else use Spoonflower lately? Or do something else with your son or daughter's artwork?
Psst- Check out Clara getting her Rihanna on here on Young House Life.