By sheer coincidence, our actual blogiversary (which occurred last Friday) falls just days before what we lovingly call a "dogiversary" around these parts. Yep, Burger's birthday was this week (yesterday actually) and this year he's a whopping four years old. Happy Birthday Burgmeister!
Here's the old man now in a tribute to his sister's weekly photos: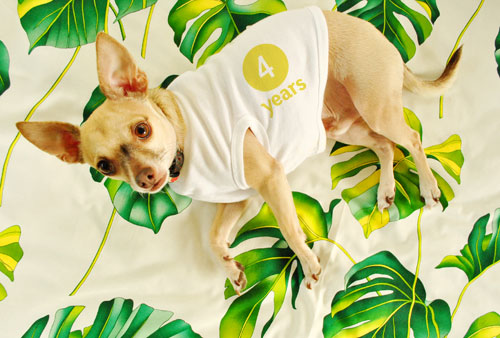 We marked his special day as we usually do – a walk, some extra play time, and of course a special dessert from Three Dog Bakery. But this year Sherry and I also decided to break out the old home videos to take a look back at our little guy when he was truly a little guy (all 2 pounds of him). And lo and behold, the videos contained an interesting peek into our old decor (circa 2006 – before the blog even existed). So despite these being never-intended-for-public-consumption home videos, we decided they were too entertaining to hoard for ourselves. As long as you can forgive the shaky camera work, sweats as wardrobe, overuse of cutesy baby voices, and dog kisses on the mouth – yes, we're "those" kind of people.
Oh, and might we suggest that you keep an eye out for these decorating gems in the background:
Sherry's original "office" that featured a desk skirted with a wrinkly old sheet
A view of our old laundry area / entryway complete with bi-fold doors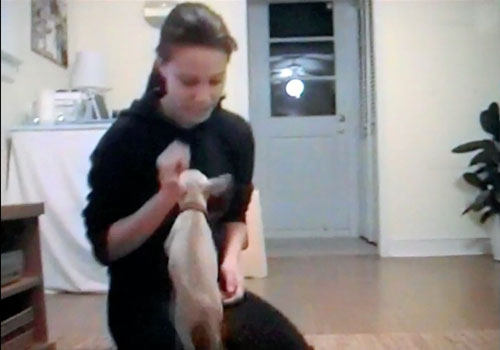 Our old floor plan. To give you a sense of flow, Burger even runs through the now closed-off doorway between the kitchen and our then-dining-room (now nursery) at one point.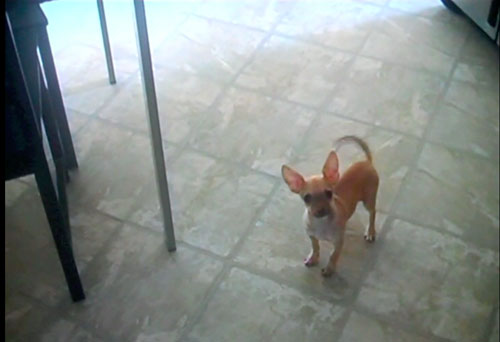 The yellow and ice blue color scheme in our den, complete with weird silver ornaments atop blue vases – and our fireplace screen painted white (before we repainted it back to black).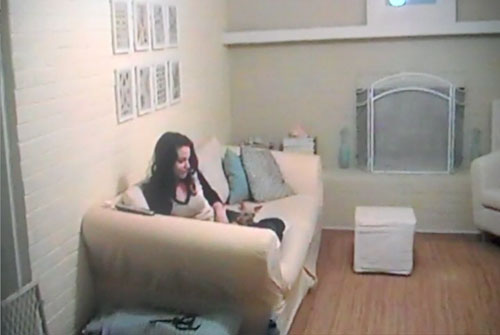 Tons of old furniture, including our original den couch (both slipcovered and uncovered).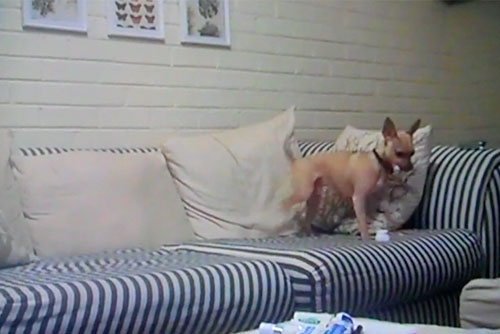 A very bare looking living room before we figured out it would serve us better as a living and dining room.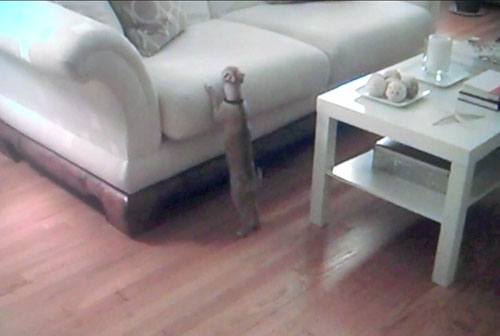 This video is the perfect reminder that homes, and the way they're decorated, evolves over time. Rooms don't look picture perfect right away. In fact ours took four and a half years to get to where it is today- and we were definitely learning as we went (this video makes it pretty darn clear that we didn't start out with a knack for the decorating thing at all). So fret not if your house is a work in progress – you'll get there.
But enough explanation. Grab some popcorn and enjoy! View the video below, or click here to see it on YouTube
So what do you think? What was our most grievous decor offense? Was Burger not the cutest pup ever? Thoughts in general about how a house slowly evolves into a home? Let's chat.
Psst: Although the footage is only 4 years old, it was shot on a ten year old mini-DV camera which is why this video is so grainy. Thank goodness for our new Flip Ultra HD (scored at Target for only $150 thanks to some sales!). For anyone out there looking for a video camera recommendation, that would be it!
Oh yeah, and don't forget to check out our BabyCenter post of the week right here. This time we're talking about how our house can look a bit like a daycare center one minute, and how we can stash all the baby gear for a lot less chaotic and crazy look the next minute.