Nothing lights a fire under your arse like making a public proclamation that you're going to get rid of 100 things. So even though we're not moving until mid-December, we made our way from room to room paring down every single thing that we don't love/need/use. The mantra as we went? No mercy. Because nothing is worse than packing, moving, and unpacking things that aren't worth the time they took to transport or the space they're eating up in the new place.
Here's our getting-rid-of-it office pile: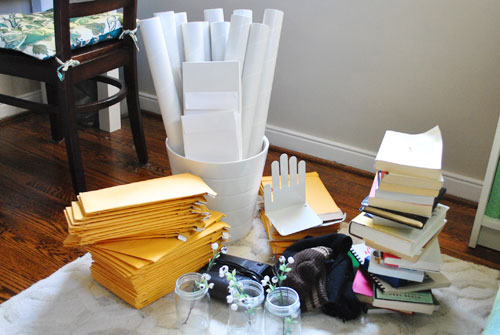 Then we tackled the kitchen (Clara helped):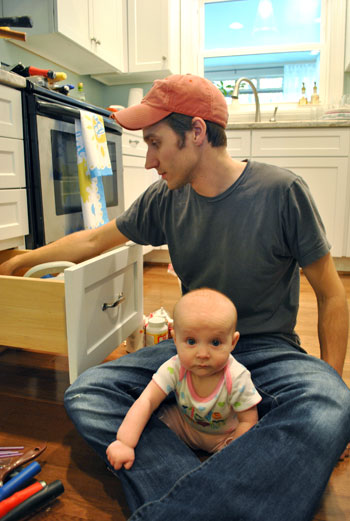 Here's our outgoing kitchen pile (what you don't see are a bunch of baskets and towels on the floor):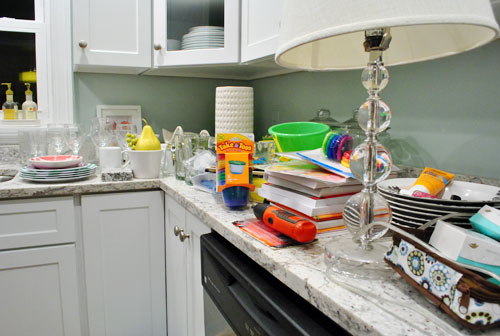 And here's our den's see-ya-later pile (cry not for the board games, they were doubles so we still have a copy of each one):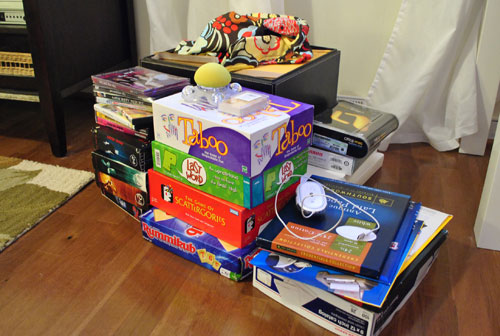 Our garage to-go pile: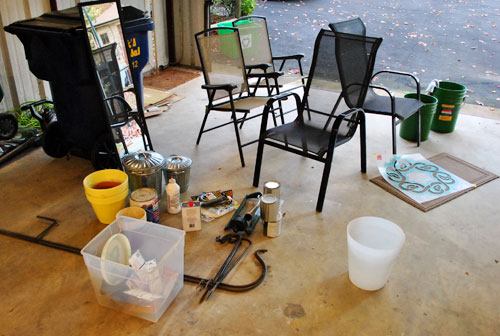 Our basement done-zo pile: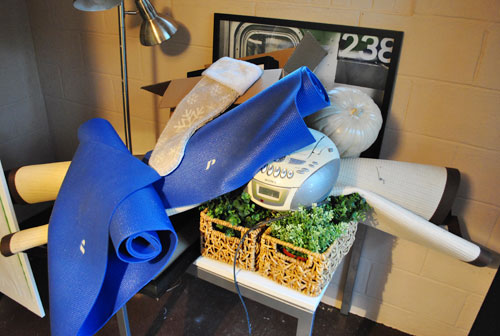 And our big bedroom buh-bye pile (minus the baby and the dog of course- they stay):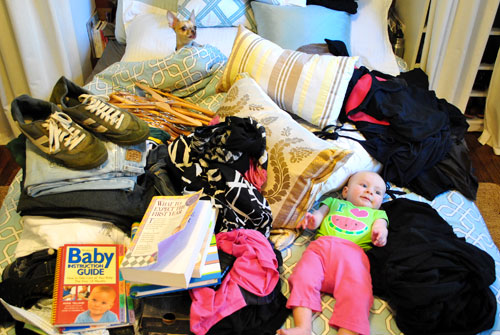 And now for the full list of purged items:
11 pairs of shoes (10 of mine, one of John's)
36 books (10 of which were cookbooks)
10 video tapes & DVDS
1 alarm clock
1 computer mouse
countless padded envelopes & mailing tubes (from the days of our online print shop)
6 board games (some of which we had two identical versions, so we got rid of one)
2 yoga mats
1 radio
1 stocking
2 faux pumpkins
1 lamp
4 pillows
1 mirror
5 frames
54 items of clothing (including coats, hats, ties, tees, jeans, shirts, socks, etc)
4 plastic plates
6 ceramic plates
1 power screwdriver
4 outdoor chairs
2 welcome mats
1 rug
2 baskets of faux plants (they lived in the not-sunny-enough-for-real-plants basement)
1 floor lamp
4 plant pots
6 garden hooks
1 stencil
1 frisbee
4 old quarts of paint
2 buckets
2 metal tins (we came up with a new diaper & wipe disposal system- more details soon)
1 sprinkler
1 trash can
1 fabric basket
1 dark wicker basket
5 bath towels
1 nursing cover
8 baby toys & feeding supplies
4 glass cups
3 vases
4 pieces of faux fruit
8 wine glasses
8 mugs
GRAND TOTAL: 222 items
Saweeeeeeeet. I mean on one hand it's kind of embarrassing to admit that we were storing all that excess but boy does it feel good to get rid of it. Yup, that's right. It's all out of our house already – thanks to donating and selling every last item (we had an impromptu moving sale this weekend while we still had some steam and that no mercy attitude). We feared if things sat around for a while before we had a chance to donate or sell them we might have changed our minds and kept things that we didn't need. And you know I have the patience of a 5 year old, right? More of those get-it-gone details coming soon.
What have you guys been purging? Have you identified any problem areas? We definitely held onto lots of books and clothes that we had no need for, but we were also surprised how many unnecessary kitchen items we were hoarding (many of which we had used exactly zero times).