Painting
Cabinet hanging continues in the laundry room (details tomorrow!) so since yesterday's post had a giveaway worked into it (we can't believe over 25,000 of you took the poll, John is beside himself with infographic glee), I thought I'd share a quick post about three recent redos. Sometimes things get wonky when you least expect them to, and the second time ends up being the charm (at least you hope it is).
Redo #1. Our cork bulletin board in the office. Back when we made this a few months ago, we used Loctite Spray Adhesive, since the back specifically said it worked for bonding cork to wood. Well… the cork squares slowly started to pop off the wall. To be fair, the directions did suggest spraying both surfaces (since we didn't want to spray it indoors on the wood backing, we just spayed the back of the cork outside and carried each square in and stuck it up). I'm not sure if that would have made the difference or not (we heard from a reader who sprayed both sides and still had issues with hers falling off) so I took down all of Clara's art…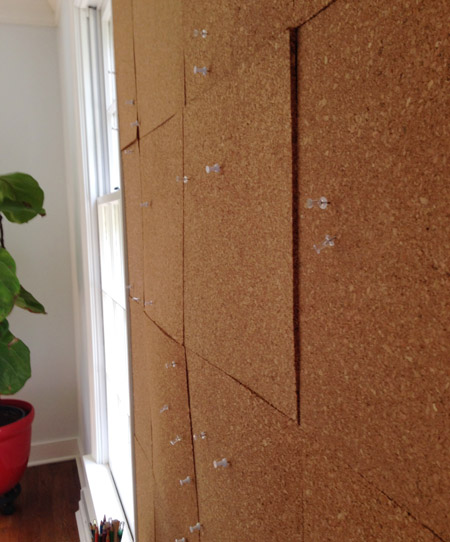 … and added some reinforcement in the form of Aleene's Tacky Glue on the back of each tile, along with a few tiny finish nails to hold the corners down (they're so small they sink into the cork and can't really be seen).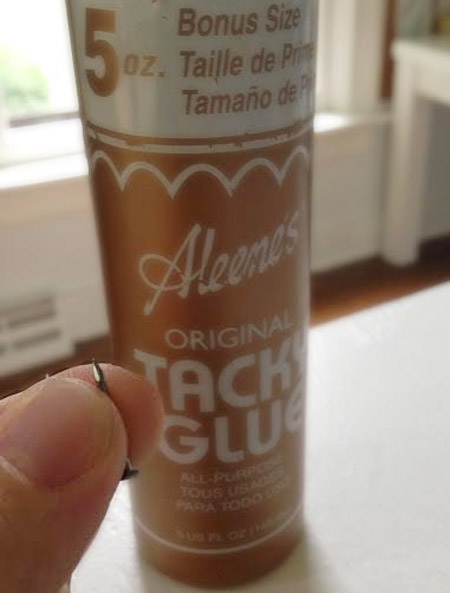 So far, this method has been great, and the cork is staying put this time. Even when it's super hot and humid.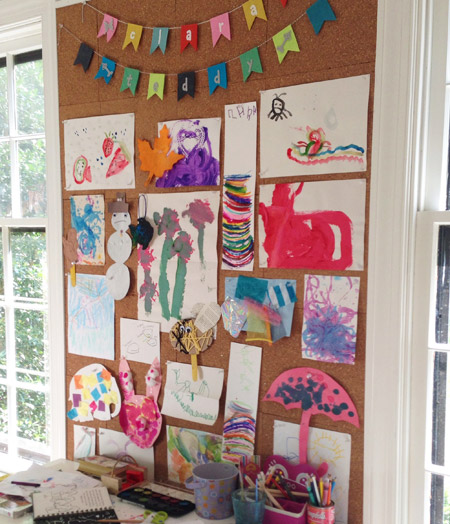 Redo #2. Our red adirondack chairs out back. Remember when we bought these guys two years ago? We hoped that splurging for pro-painted chairs would hold up better than spraying some wood ones ourselves. These are our famous last words from that post: "Chairs that came pre-painted by the pros with polyurethane paint for protection against the weather, heat, and sunlight definitely appealed to us as something that would hopefully stand the test of time. Just didn't want to spend less but end up with something that looked shoddy by next summer." Well, they lasted more than one summer, but two summers later they were maaaajorly faded. Sometimes they looked ok in photos, but in real life (especially when the pillows were off) they were very sad indeed.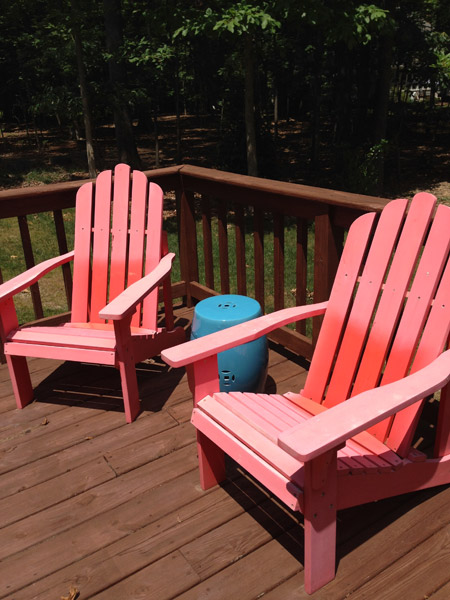 It was clear they needed more protection and a fresh coat of paint to help restore their bright happy color and protect them from the elements.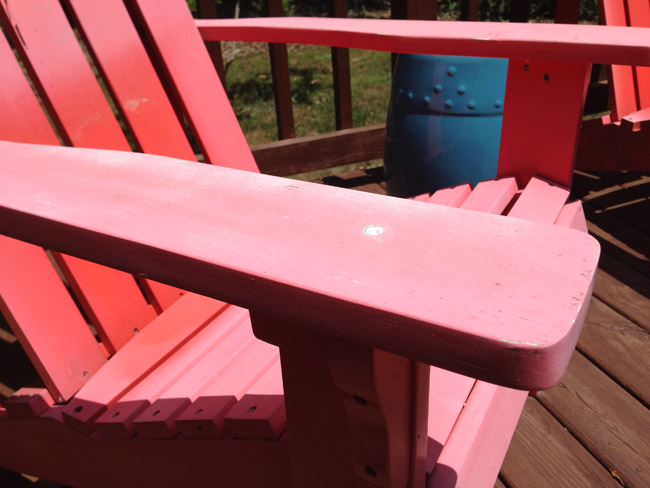 So I sprayed them with three thin coats of Gloss Protective Enamel by Rustoleum in their Regal Red color. It has a built-in primer and it's meant for wood furniture that's outdoors, so we hope it holds up well. Note: you can kind of see from the spray paint pattern on the cardboard that I flipped them over (resting them on the top of the seat and their arms) and sprayed their back/underside first, let that dry, and then stood them up to get all the other parts.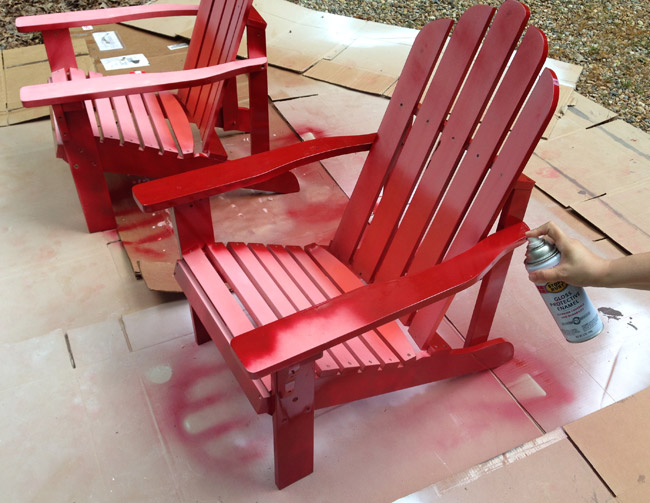 The happy news is that they look like new!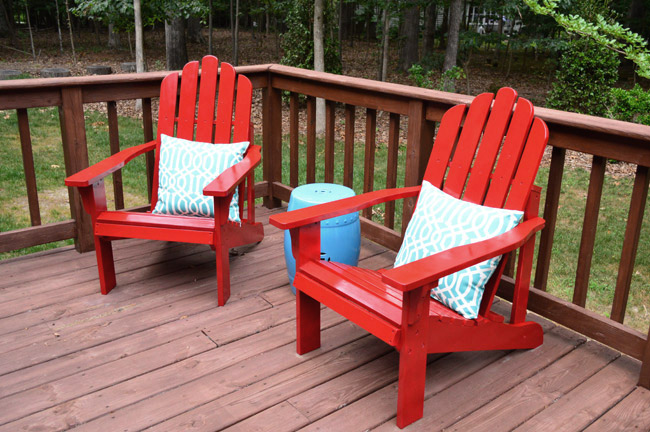 Only time will tell if this is going to be an every-few-years ritual, but I'm glad to have done it and seen great results (that always inspires me to do those "maintenance" things again down the line if I need to).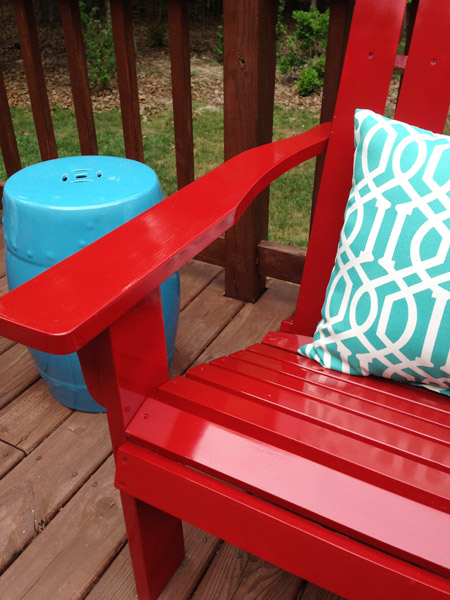 And now they match the red stool over near the egg chair, which is a nice bonus.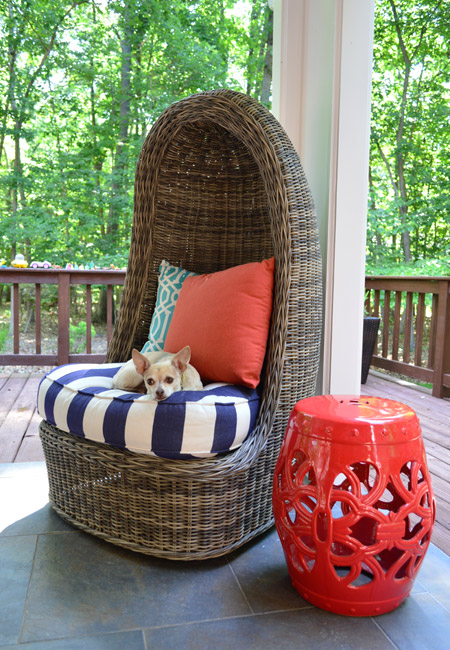 Redo #3. My little light-turned-terrarium. I showed you how I made it here, and how everything I planted gave up on me here…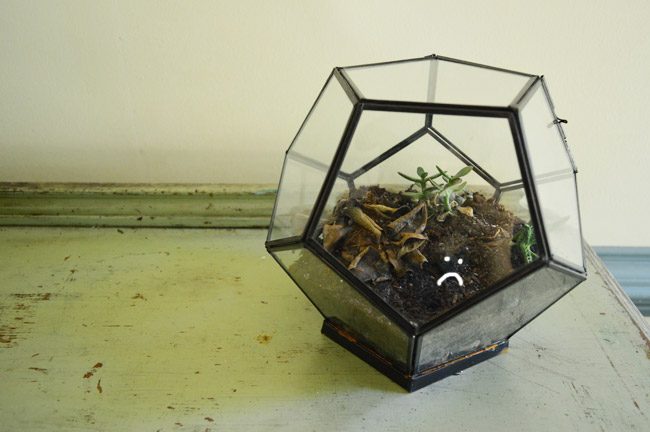 … but some of you noticed that things looked less bleak in a recent post.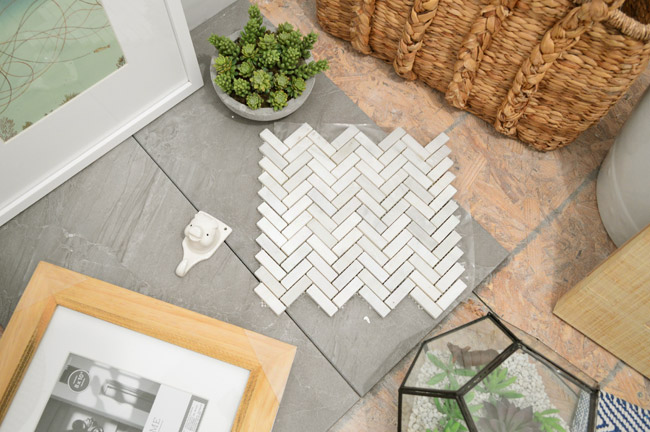 At the urging of some "I use fake ones in my terrarium!" comments, I grabbed a few faux succulents at JoAnn. I also noticed some pretty white aquarium rocks at the pet store while buying new food for Burger, so into my cart they went. Once at home, Clara and I had fun filling the glass case with white rocks and poking my fakers in there to hang out. Clara insisted that the deer should go back in there too, and five minutes later we had a finished product.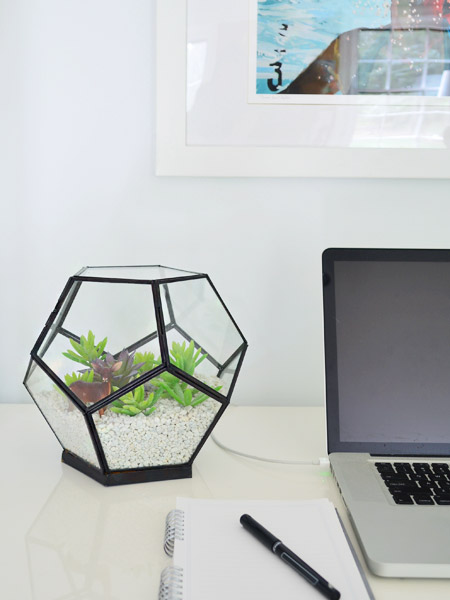 I still have plants that need to be watered and loved (much like Michael Scott, they want me to fear how much I love them) but it's nice to have something unkillable in the mix.
And now for a bonus. This isn't really a redo, just a giant duh moment. A few of you eagle-eyes noticed I was painting a door sign waaaay back here while making little desserts for Clara's tea parties, and correctly guessed it was going to be one of those "please don't ring the bell – the baby is sleeping" signs for the front door.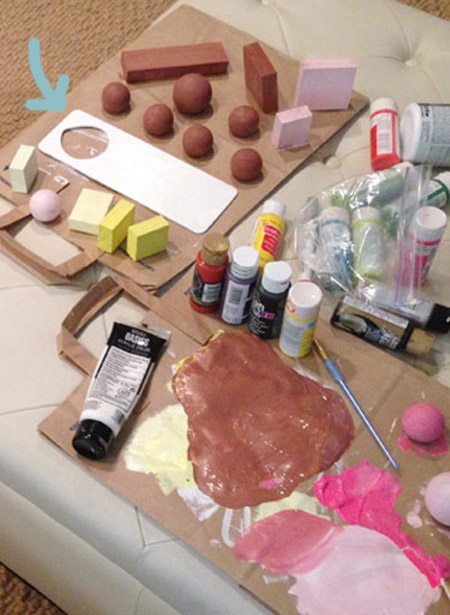 Well, after painting the background white, it stalled for a few months. I had big plans for using a thin brush to paint pretty scripty words on it, but after staring at the blank white doorknob hanger on the kitchen counter for way too long I finally just grabbed a red sharpie and scribbled out a message. "There" I thought. "It's not Pinterest worthy, but it's done!"
And then I walked over to the front door to hang it… and realized we don't have a doorknob on our front door.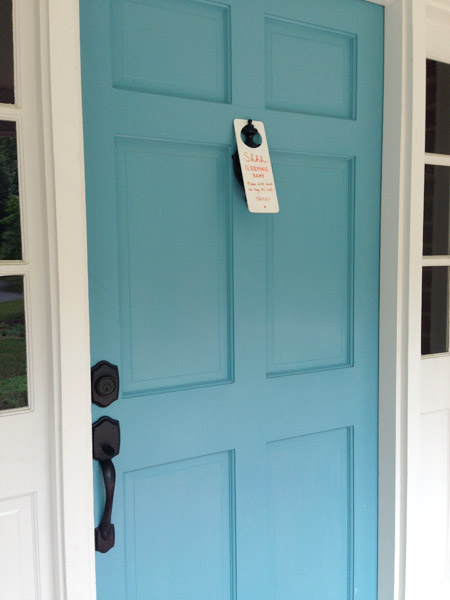 I laughed so hard there were tears, guys. How much of a duh moment is that? I mean I literally had months to reach this realization as the door hanger sat on the kitchen counter taunting my in its half-finished state… and yet… nada. So I Tim Gunned that sucker by hanging it over the door knocker. And you know what? It works. The sweet Fed-Ex guys just leave stuff instead of ringing the bell and setting off Burger The Barking Maniac. Just thought you guys would get a kick out of that. Feel free to pin your little heart out (insert winky face here).
The lesson for all of these redos? If at first you don't succeed, try try again. Also, check your door for a knob before making a door-hanging sign.
&nbsp&nbsp&nbsp
Favorite project ever! Okay, not really at all. (I just couldn't help trying to match Sherry's enthusiasm from yesterday's post), but this is a nice simple way to update basic garage doors so they look a little more stately. Back when we had our house's exterior patched & painted right after moving in, we opted not to get the garage doors painted since we knew it was a task that we could easily tackle ourselves. Well, 12 months later and it's finally done.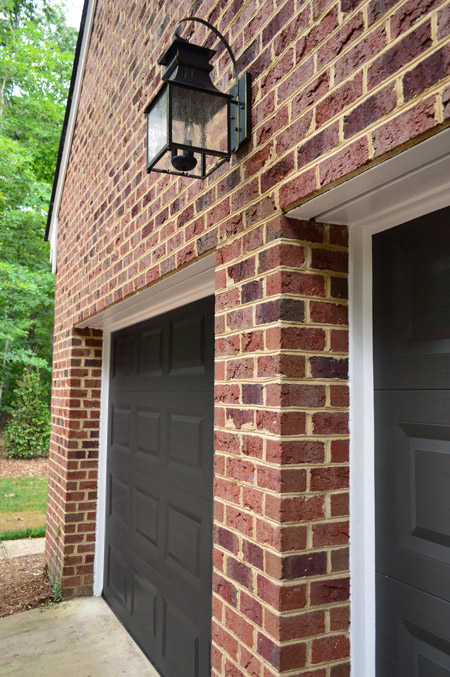 These two doors were sporting the same cream color that the old trim was before it went white, which wasn't a very good look since it was nixed everywhere else. So we debated going bright white, medium gray/brown like the siding, or with a nice dark gray/brown color that's a few shades deeper than the siding (like the tone of our metal window frames with the white sills).
Talking about those options pretty much got us nowhere, so we hopped in the car and drove around the neighborhood. We saw lots of white doors and black or deep gray/brown ones, and even some medium gray ones. And after staring at them all like neighborhood creepers, we decided that rich dark ones on a brick house was our favorite combination.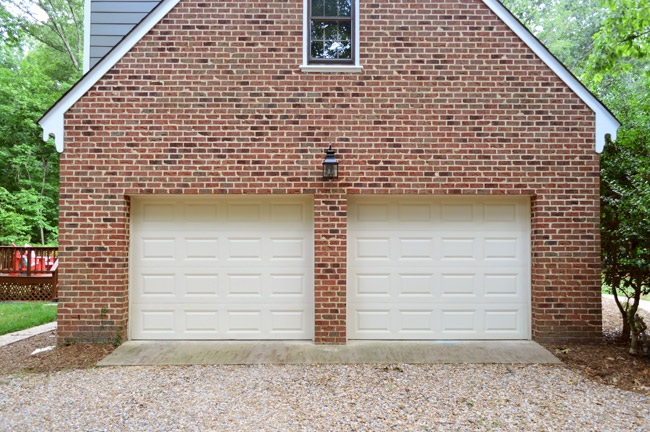 I kicked off the paint-fest with a cleaning party, courtesy of a hose-down (note: not nearly as fun as a hoedown) and a wipe / dry session with a rag.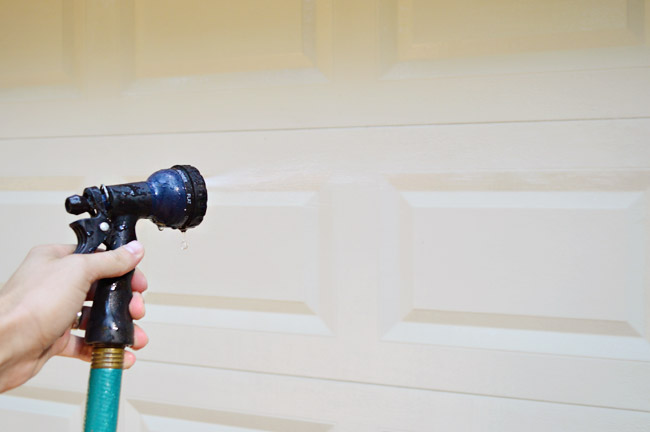 This painting task quickly promised to be more involved than our previous rendezvous with a garage door, mainly because there were some added maintenance tasks involved – like redoing the patchy caulk around the weather stripping trim.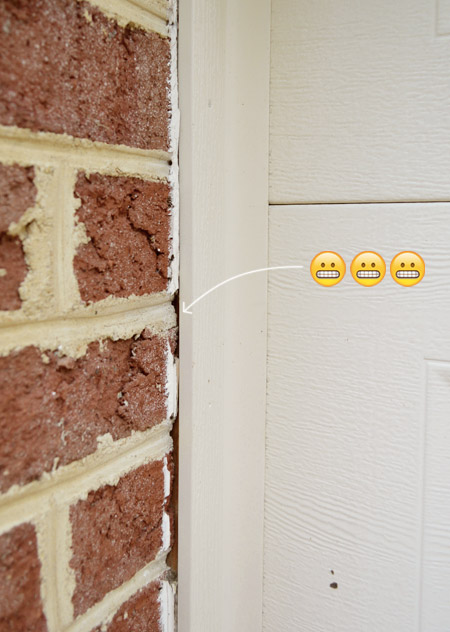 Since I know I'd be re-caulking anyways, I figured I'd go ahead and remove the weather stripping entirely since it would make my paint job easier and more thorough (I'd be able to paint all the way to the edge of the door, rather than stopping at the weather strip, which could shrink back in colder months and show an obvious unpainted line). I used my crowbar to pry off each strip, and then used a spackle knife to scrape off as much of the old caulk as I could.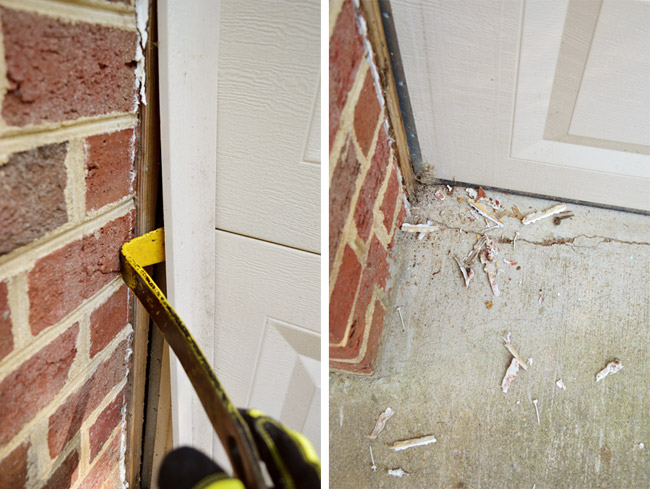 These weren't tough tasks, but they ate up about an hour before I could get to actually painting anything.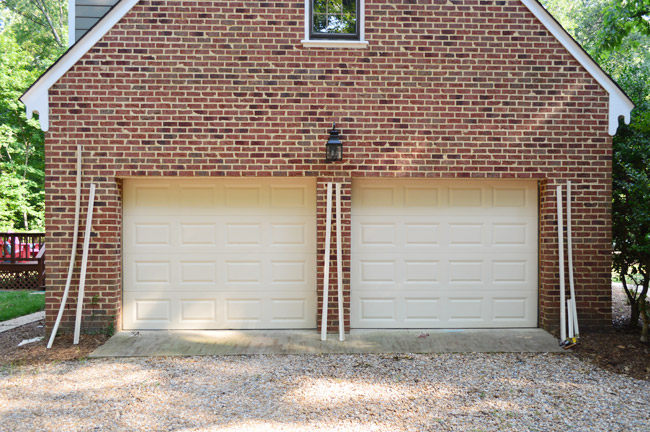 The paint color we chose was Urbane Bronze by Sherwin Williams, which was the darkest color on the same swatch as our siding color (Anonymous) which pretty much guaranteed that they'd go well together.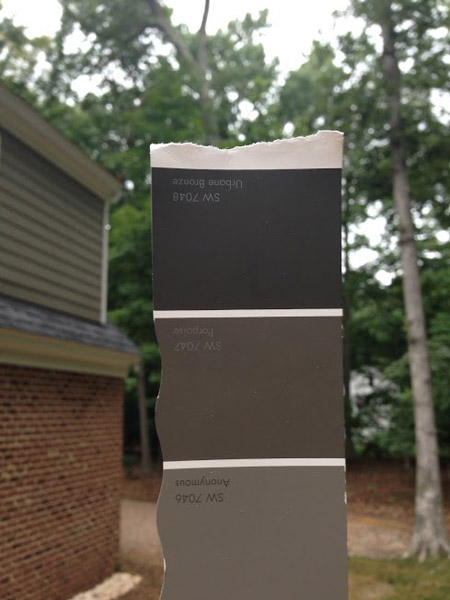 We bought a gallon of it in their Duration line since that's what the house painters used and loved (it's supposed to be extra durable and even has exterior primer built in). The Urbane Bronze color was nearly identical to the color of the dark metal window frames and oil-rubbed bronze light fixtures around our house, and it even tied into the charcoal roof pretty nicely, so it was an easy choice.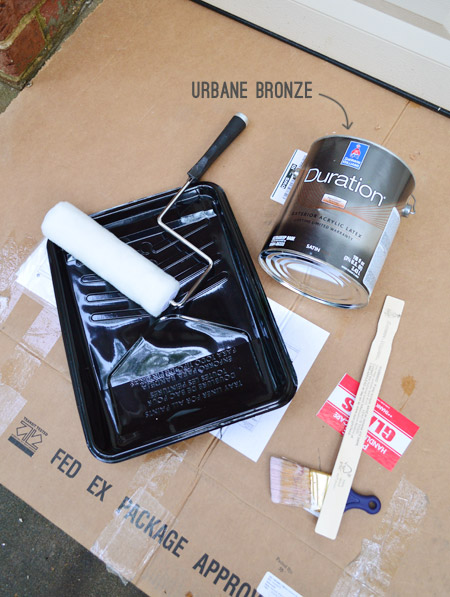 Painting was a combination of brushing (around the recessed panels and edges) and rolling (everywhere else). I worked in small sections so that the brushed portion didn't dry and become tacky before rolling.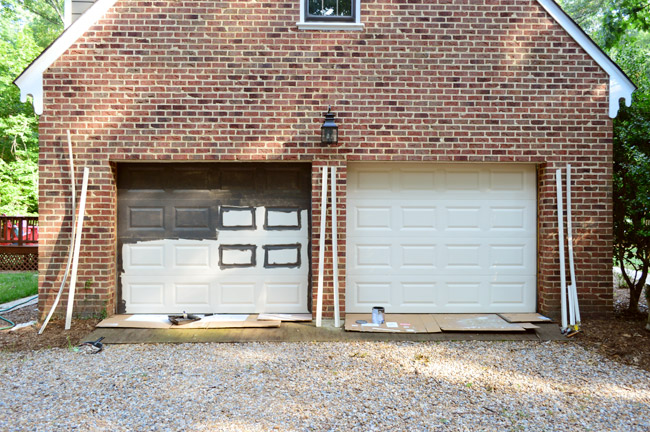 The first coat was fairly spotty looking, but that's to be expected. I was just happy the second coat was enough – although it's hard to tell in this photo since the sun spots are making it more uneven looking than it really was.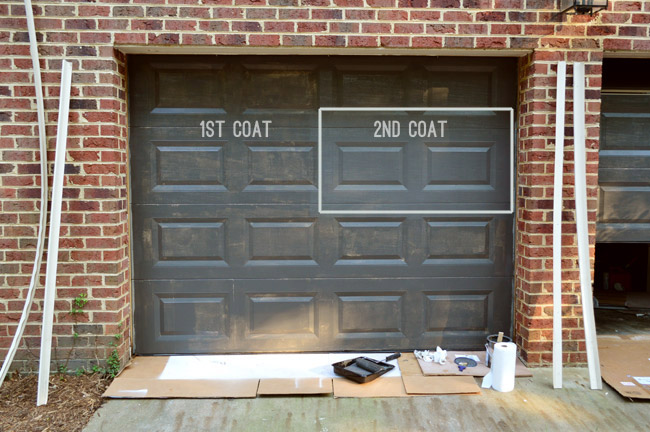 After the main part of each door was painted, I also raised them up bit-by-bit so I could paint the cracks in between each section of the door. That way it didn't flash stripes of cream color every time the doors went up and down. This took a fair amount of patience because I had to let each part dry before raising the door a little more to do the next one.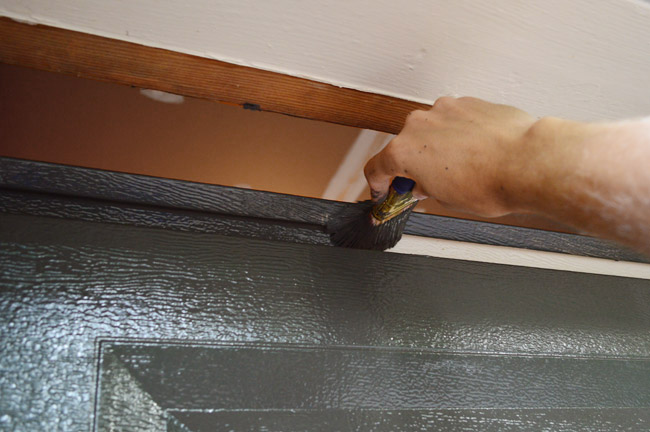 The next day, once everything had dried, I reattached the weather stripping and recaulked the edges. I hate caulking against brick because it's basically impossible to get a clean line against the craggy surface (I've tried painter's tape in the past, but the result wasn't much better), but since I was already working against the previously uneven caulk/paint job, I wasn't going to beat myself up over it.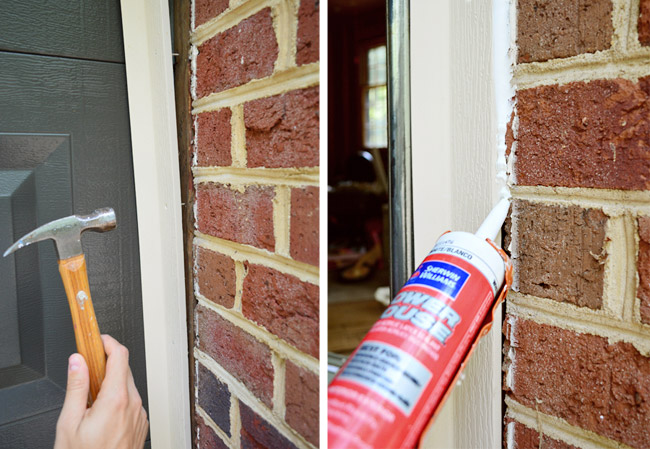 We actually contemplated painting the weather stripping Urbane Bronze to blend with the door, but after staring at it (and a few of our neighbors' garage doors again) we decided going white like the rest of the trim on the house (Snowbound by Sherwin Williams) was the better bet. I opened the garage doors when painting these so I wouldn't have to worry about getting any paint on them, which made this step go pretty quickly.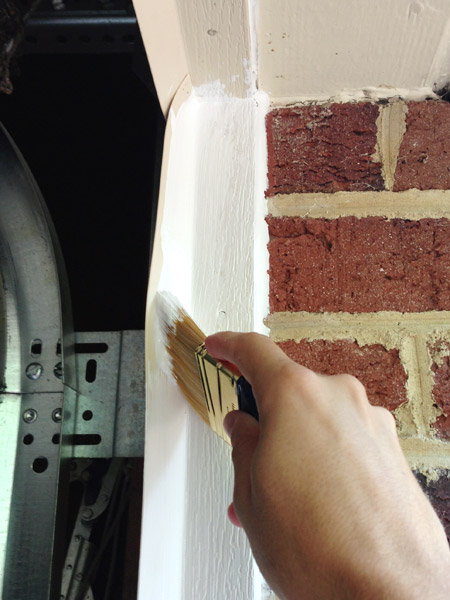 After a bit more drying, and a second coat, we were officially back in business. And by business, I mean Clara could reclaim her favorite chalking spot. Just don't look too closely – that needs a nice power wash.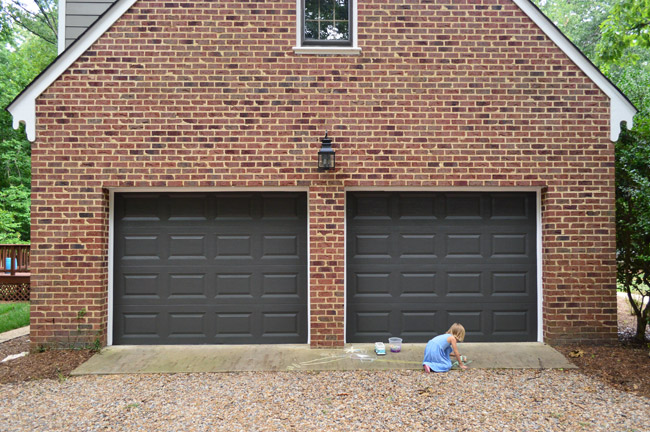 Oh and we also contemplated adding some decorative hardware, like some handles or what-not, but none of the options that we found felt like a good fit for our doors. We might try hunting a little more online, so we're open to suggestions if anyone's got some.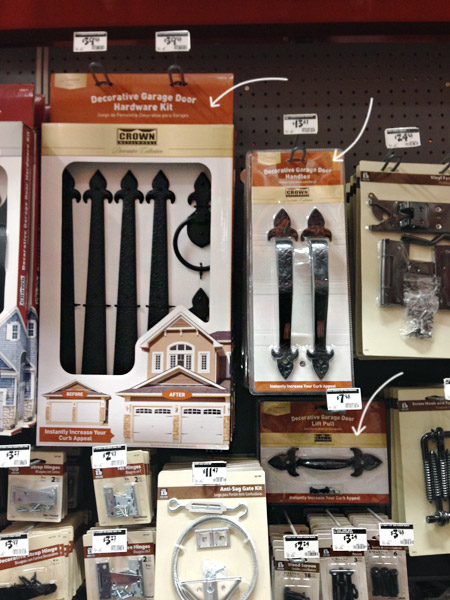 In addition to just being glad the cream is gone, we also like how the darker doors seem to tie in with other dark accents – like the light fixture and those dark metal window frames.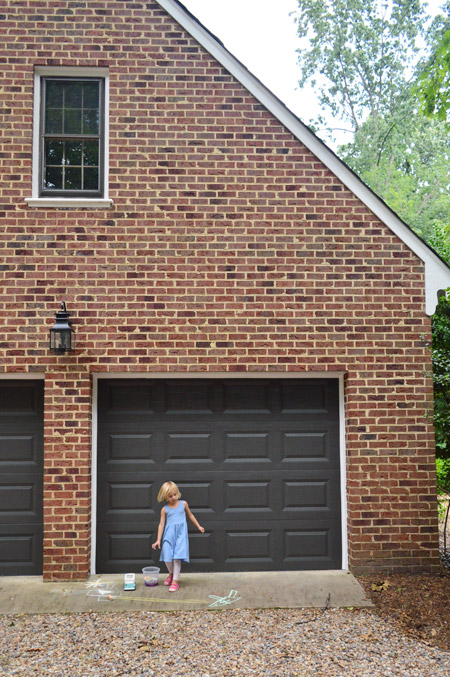 Overall, it's not the world's most exciting update, but it feels good to have it checked off the to-do list (finally). They feel like they ground the house a little better and don't get lost in the beige-iness of the surrounding driveway and walkways.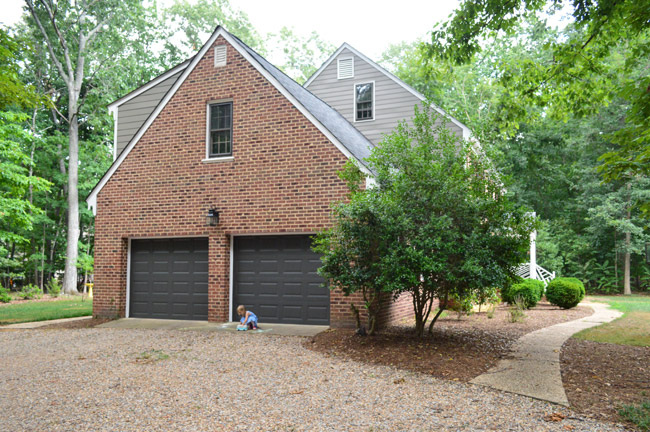 Have you guys painted your garage doors? Did you slowly drive around the neighborhood to check out other door ideas like a creep? All of the homes around us have their garage doors on the side of the house (like ours) so that made it especially neck-craning for us, but thankfully nobody called neighborhood watch on us. That we know of.
&nbsp&nbsp&nbsp