Painting
Cabinet hanging continues in the laundry room (details tomorrow!) so since yesterday's post had a giveaway worked into it (we can't believe over 25,000 of you took the poll, John is beside himself with infographic glee), I thought I'd share a quick post about three recent redos. Sometimes things get wonky when you least expect them to, and the second time ends up being the charm (at least you hope it is).
Redo #1. Our cork bulletin board in the office. Back when we made this a few months ago, we used Loctite Spray Adhesive, since the back specifically said it worked for bonding cork to wood. Well… the cork squares slowly started to pop off the wall. To be fair, the directions did suggest spraying both surfaces (since we didn't want to spray it indoors on the wood backing, we just spayed the back of the cork outside and carried each square in and stuck it up). I'm not sure if that would have made the difference or not (we heard from a reader who sprayed both sides and still had issues with hers falling off) so I took down all of Clara's art…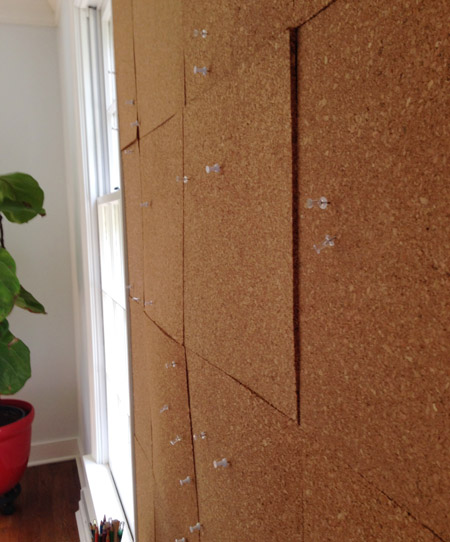 … and added some reinforcement in the form of Aleene's Tacky Glue on the back of each tile, along with a few tiny finish nails to hold the corners down (they're so small they sink into the cork and can't really be seen).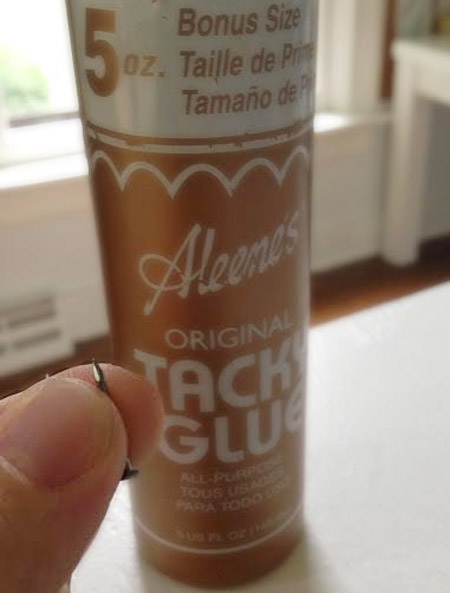 So far, this method has been great, and the cork is staying put this time. Even when it's super hot and humid.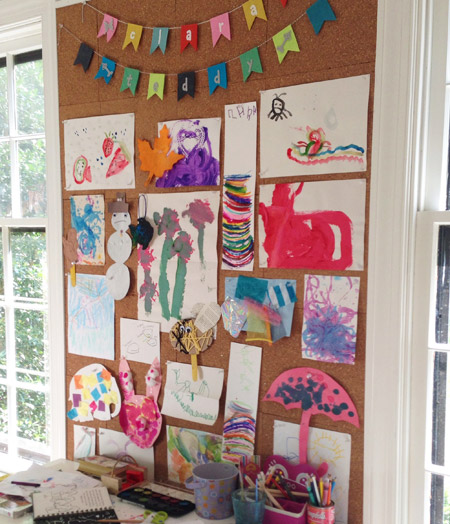 Redo #2. Our red adirondack chairs out back. Remember when we bought these guys two years ago? We hoped that splurging for pro-painted chairs would hold up better than spraying some wood ones ourselves. These are our famous last words from that post: "Chairs that came pre-painted by the pros with polyurethane paint for protection against the weather, heat, and sunlight definitely appealed to us as something that would hopefully stand the test of time. Just didn't want to spend less but end up with something that looked shoddy by next summer." Well, they lasted more than one summer, but two summers later they were maaaajorly faded. Sometimes they looked ok in photos, but in real life (especially when the pillows were off) they were very sad indeed.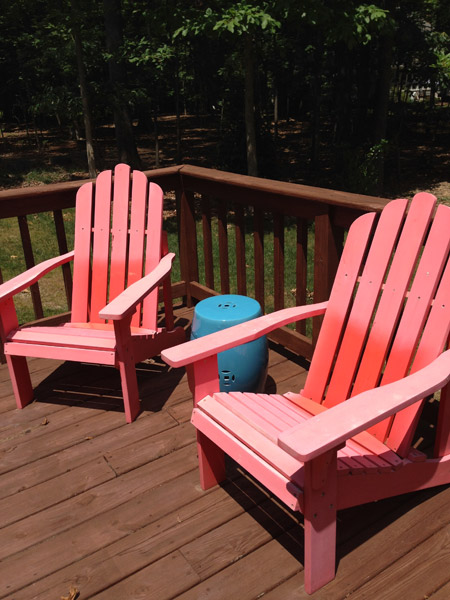 It was clear they needed more protection and a fresh coat of paint to help restore their bright happy color and protect them from the elements.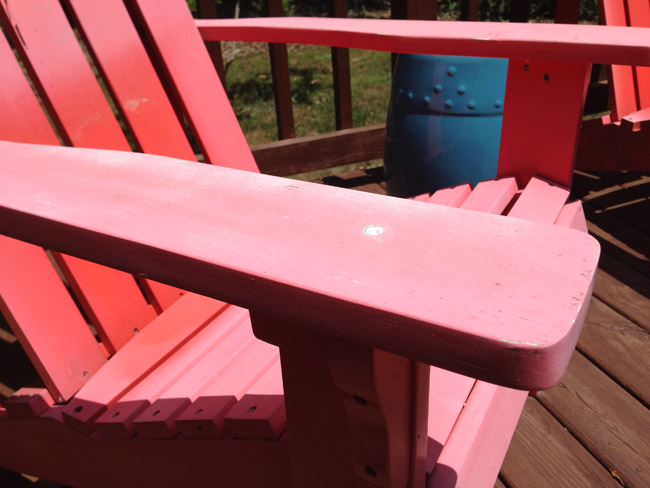 So I sprayed them with three thin coats of Gloss Protective Enamel by Rustoleum in their Regal Red color. It has a built-in primer and it's meant for wood furniture that's outdoors, so we hope it holds up well. Note: you can kind of see from the spray paint pattern on the cardboard that I flipped them over (resting them on the top of the seat and their arms) and sprayed their back/underside first, let that dry, and then stood them up to get all the other parts.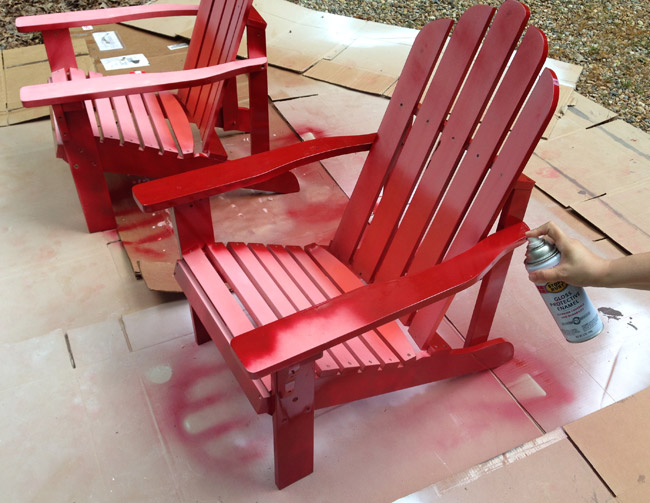 The happy news is that they look like new!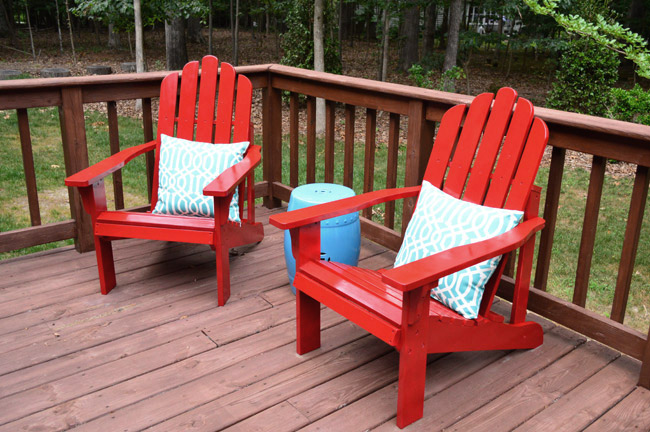 Only time will tell if this is going to be an every-few-years ritual, but I'm glad to have done it and seen great results (that always inspires me to do those "maintenance" things again down the line if I need to).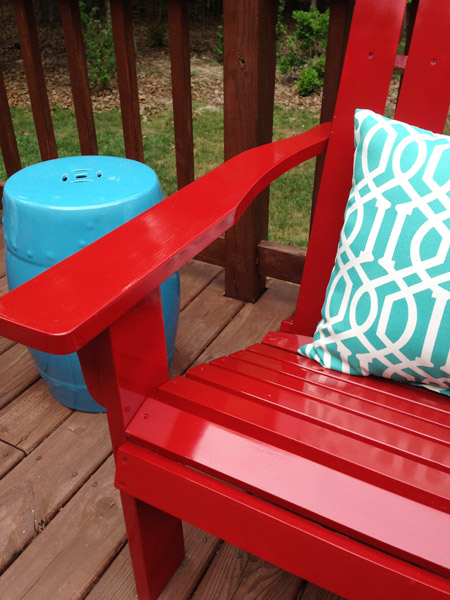 And now they match the red stool over near the egg chair, which is a nice bonus.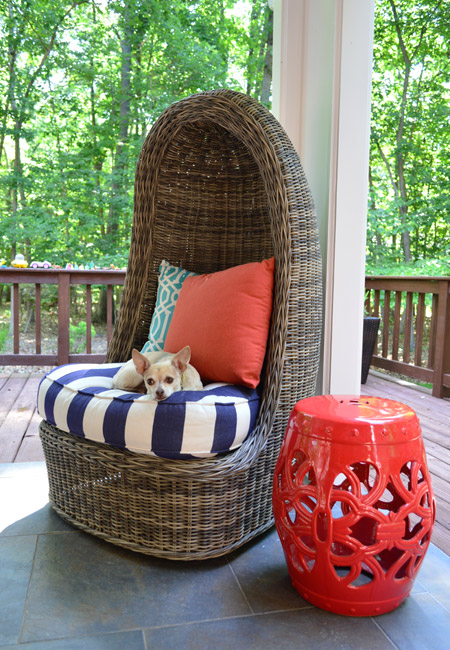 Redo #3. My little light-turned-terrarium. I showed you how I made it here, and how everything I planted gave up on me here…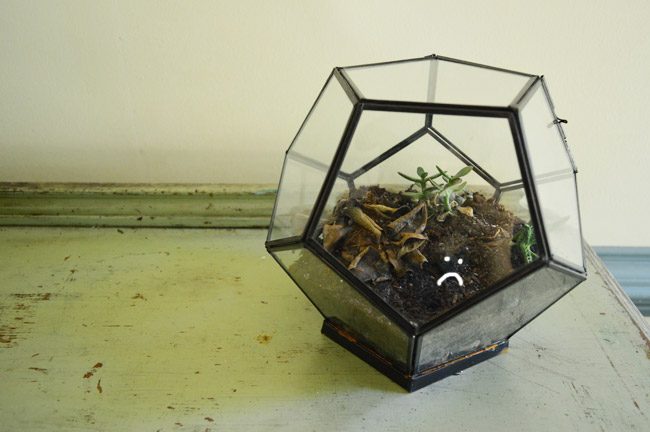 … but some of you noticed that things looked less bleak in a recent post.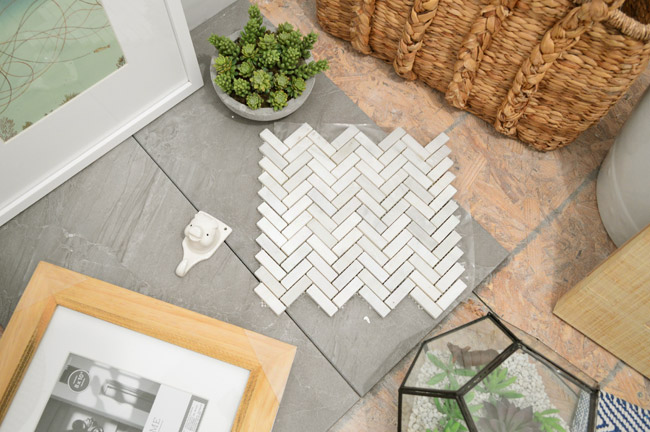 At the urging of some "I use fake ones in my terrarium!" comments, I grabbed a few faux succulents at JoAnn. I also noticed some pretty white aquarium rocks at the pet store while buying new food for Burger, so into my cart they went. Once at home, Clara and I had fun filling the glass case with white rocks and poking my fakers in there to hang out. Clara insisted that the deer should go back in there too, and five minutes later we had a finished product.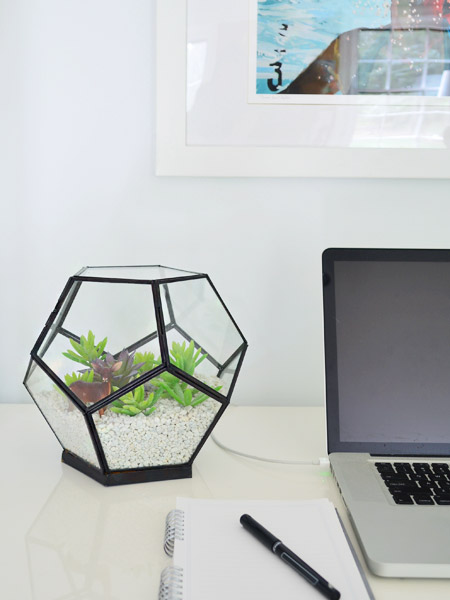 I still have plants that need to be watered and loved (much like Michael Scott, they want me to fear how much I love them) but it's nice to have something unkillable in the mix.
And now for a bonus. This isn't really a redo, just a giant duh moment. A few of you eagle-eyes noticed I was painting a door sign waaaay back here while making little desserts for Clara's tea parties, and correctly guessed it was going to be one of those "please don't ring the bell – the baby is sleeping" signs for the front door.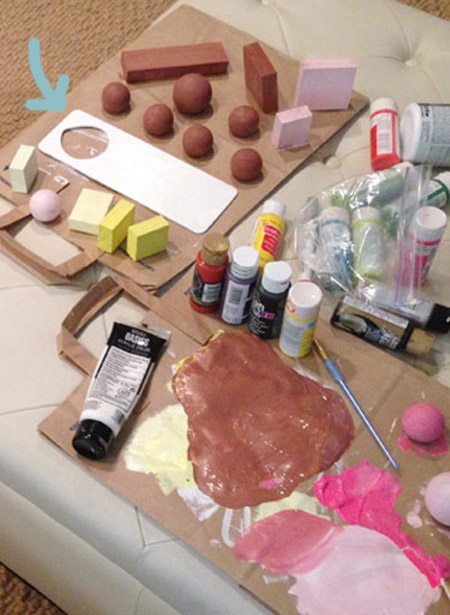 Well, after painting the background white, it stalled for a few months. I had big plans for using a thin brush to paint pretty scripty words on it, but after staring at the blank white doorknob hanger on the kitchen counter for way too long I finally just grabbed a red sharpie and scribbled out a message. "There" I thought. "It's not Pinterest worthy, but it's done!"
And then I walked over to the front door to hang it… and realized we don't have a doorknob on our front door.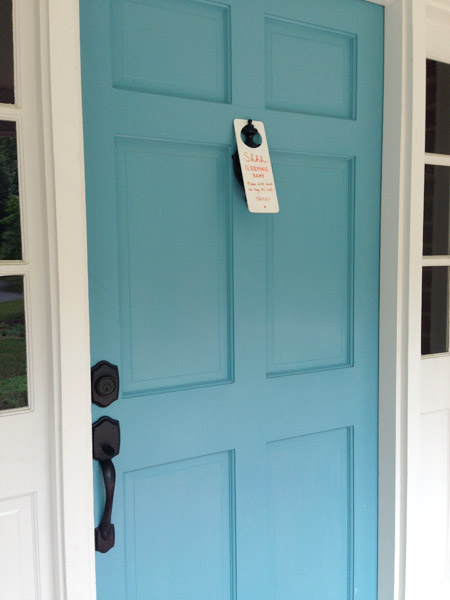 I laughed so hard there were tears, guys. How much of a duh moment is that? I mean I literally had months to reach this realization as the door hanger sat on the kitchen counter taunting my in its half-finished state… and yet… nada. So I Tim Gunned that sucker by hanging it over the door knocker. And you know what? It works. The sweet Fed-Ex guys just leave stuff instead of ringing the bell and setting off Burger The Barking Maniac. Just thought you guys would get a kick out of that. Feel free to pin your little heart out (insert winky face here).
The lesson for all of these redos? If at first you don't succeed, try try again. Also, check your door for a knob before making a door-hanging sign.
&nbsp&nbsp&nbsp
Back to THE ROOM THAT DIDN'T EXIST A FEW WEEKS AGO. Pardon my type-screaming, but it doesn't get much more exciting than that in my world. (Sidenote: I had a dream last night that there was a column in the newspaper called Shellac This! – all about shellacking a different piece of furniture each day – and the world was so enamored with it that normal morning conversation was "did you see what they shellacked this morning in Shellac This?" and it was getting turned into a major motion picture).
We left you with a primed-&-ready picture of our new laundry room in Monday's post, so let's start there (we used VOC-free Kilz Premium from Home Depot). This room is only around 7′ wide by 8′ deep so it went pretty fast. Here she is all ready for paint: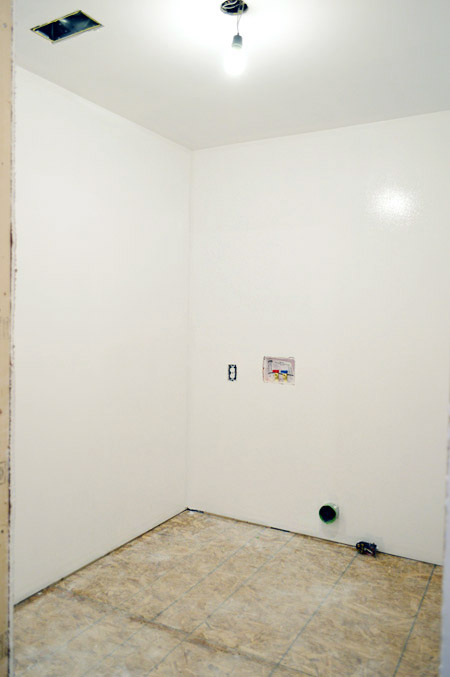 Oh but before picking a paint color we picked floor tile. It's from The Tile Shop & it's called Blast Anthracite. It's $6.59 a square foot so the whole floor will be around $350 (we got 10% off with the YHL10 discount code). We loved how it looked with the accent tile we bought (remember that will go above the washer & dryer but below the wall cabinets).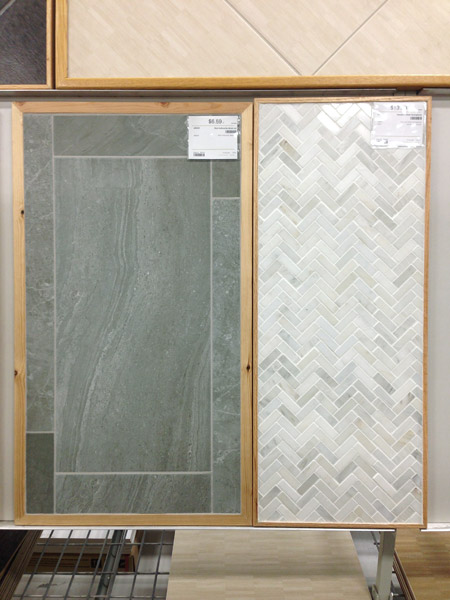 We appreciated that the floor tile wasn't too light (read: it won't show every ball of lint or hair) and that it would look good running up against the hardwoods in the hallway (it always helps to remember what will be next to what). But the main thing that sold us are the striations. You can sort of see the pretty veins and variations in this shot, but in person they're gorgeous.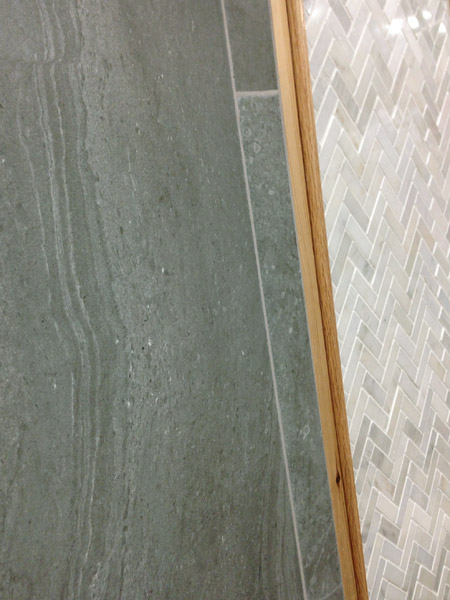 After we picked the tile, I sat down and played around with a little mood board action – just to see what we liked together, and to figure out what wall color we wanted. Of course everything here might change as we go (except for the appliances and tile picks), but it feels like a nice place to start: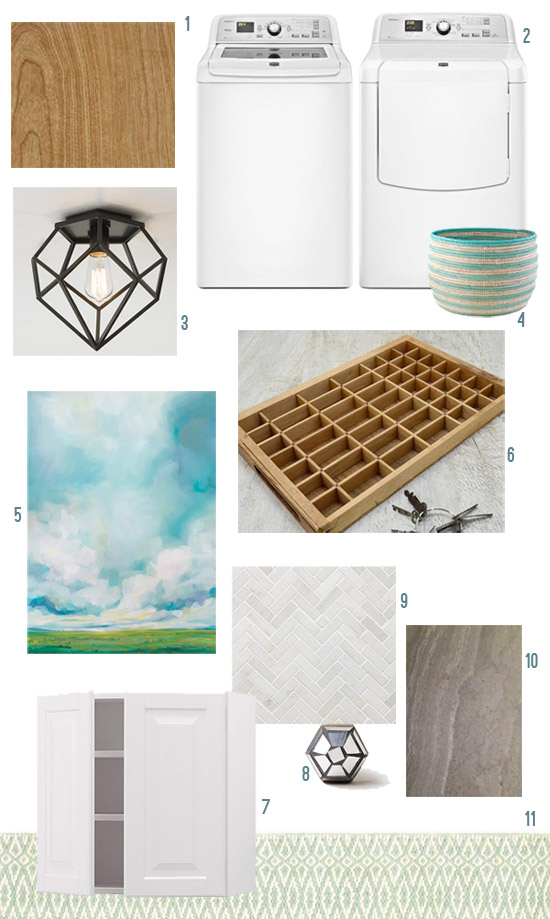 Some warm wood elements will balance out the gray tile & the shiny appliances – like a butcher block counter for the cabinet next to the appliances.
Here's our washer & dryer (more on those here).
We think this cozy room is a nice spot to try out one of the newer designs from our Shades of Light collection.
This colored basket is charming. Colorful yet natural. So… coltural?
I've been pining after these prints for a long time, and the laundry room might be just the place.
A cute wood letterpress drawer on the wall could display something Clara & I have been collecting for a while…
White cabinets to tie into our appliances and make the butcher block pop.
These knobs could be fun on the cabinets – especially since they resemble our lighting choice.
Here's the tile we already got for the wall above the washer & dryer (more on that here).
And here's our floor tile.
Last we have a Dash & Albert rug to add a little more texture and a hint of color.
After playing around and seeing things like the tile and the warm wood tones with some colorful art come together, we were ready to pick our wall color. We knew we wanted something light (it's not very big and doesn't have any windows), but we also didn't want to go with stark white since we want the trim and the cabinets to feel more like architecture by standing out a bit from the wall color. But finding a good light-but-not-white tone for the walls still felt a little arbitrary (hello 167 swatches, I'm sure one of you will be perfect). So we decided to make a more abstract, in-person mood board right in the room: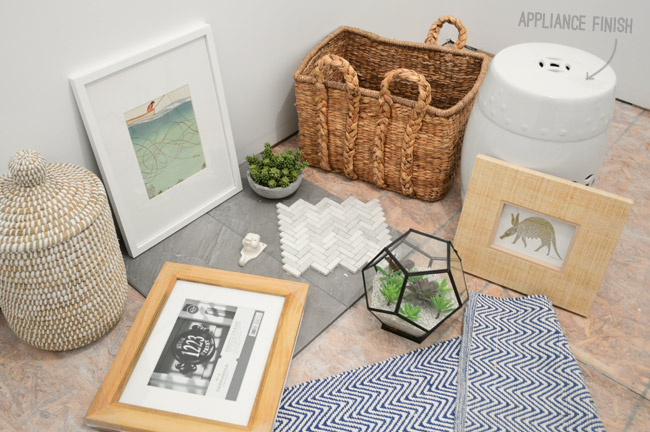 We just sort of grabbed things from around the house that we thought could loosely represent materials/colors/patterns that might end up in there, like the shiny white drum stool (it's really close in color to our appliances), our tile samples, some warm wood tones, etc. Oh and the terrarium actually represents the light fixture, since it has similar coloring and lines.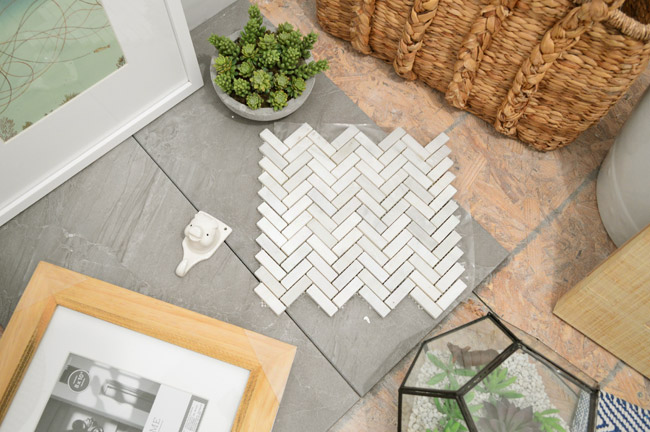 Bringing all of these things together into the room made picking a paint color feel less arbitrary (we could hold swatches up to the tile and the wood tones and the finishes and see what looked best right in the room). And imagine our surprise when our favorite swatch ended up being Going To The Chapel by Benjamin Moore – which we actually used in Teddy's room! We like the idea of repeating that color somewhere else in our house since we're fans of a whole-house palette that ties together, usually with a few colors that reoccur a few times. So into the laundry room it went (we went with an eggshell finish in BM's VOC-free Natura line).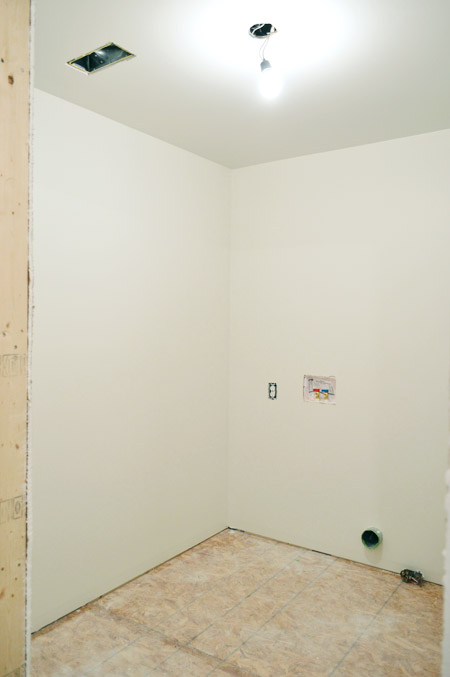 I realize that photo isn't wildly different than the priming one that started this post, but in person the room went from feeling stark and unfinished to feeling a lot more polished and room-like. And it was amazing to give the new end of the hallway a fresh coat of paint to tie it into the original walls. Aside from those raw doorways and floors, it looks like it has always been this way!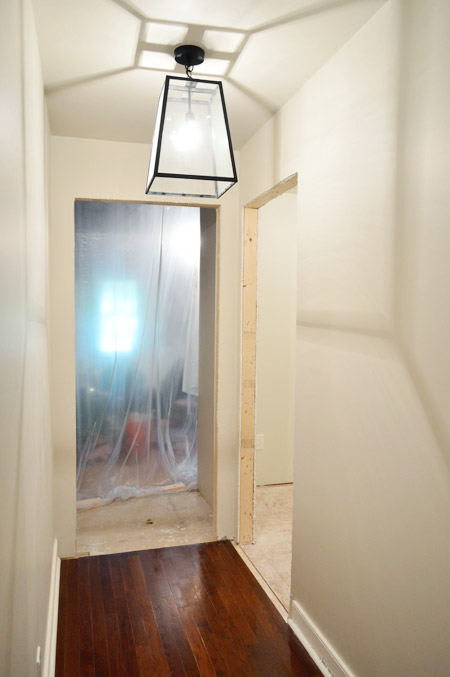 Remember we were just drawing on pictures a month ago and now these rooms and doorways are a reality?!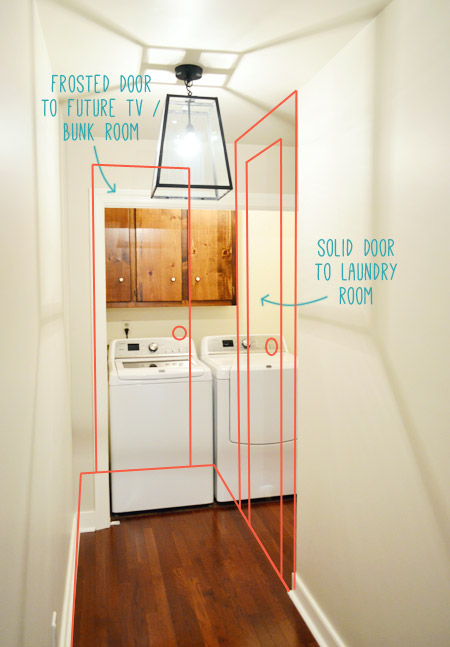 I can't wait to get our special glass door to the future bunk-room in. Speaking of that, we picked one out! After considering a bunch of options (something that came frosted, one big glass pane, etc) we decided it would feel nice and cohesive to go with the same type of 15-paned glass door that we have downstairs leading out to the deck.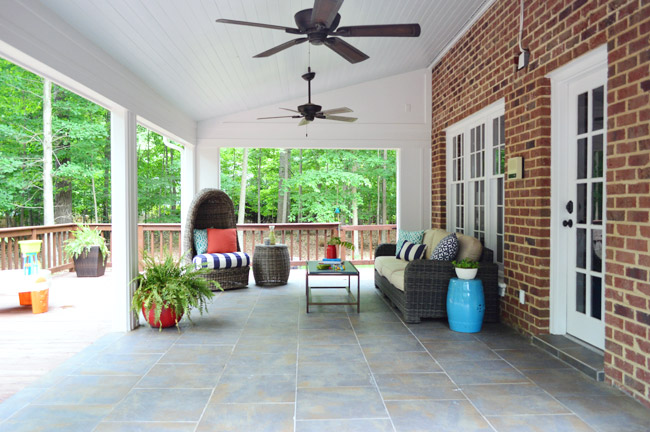 We also would love to add glass paned french doors like that to the office someday (like this), so knowing that those would be the same style felt like it was a good choice for upstairs as well. That way they might all look original, if that makes sense. And we liked the idea of the glass being clear so that we have the option of frosting it or adding a shade from behind the door (like this) instead of committing to a frosted door forever.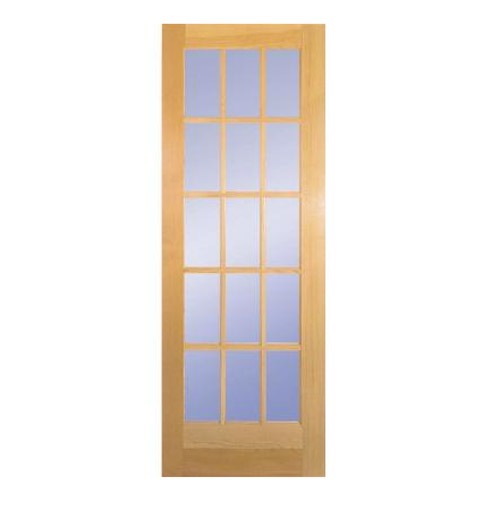 The good news is that it's an in-stock door at Home Depot so it's only $149. We do have to paint it ourselves and of course frame it in, add hinges, add a knob, etc – but it's going to be one of my favorite parts, I just know it. So now our to-do list looks something like this:
Move washer & dryer and remove cabinetry (more on that here)
Demo cased opening, side wall, back wall, part of the floor and the attic step
Frame new walls & doorways

Move laundry plumbing hook-ups & drains

Move laundry electrical (plus other lights, switches, and outlets) (more on those last four bullets here)

Move dryer vent & HVAC duct (more on that here)
Hang drywall (more on that here)
Add insulation (more on that here)
Mud, tape, and sand all the drywall seams in the new room (more on that here)

Prime & paint laundry room and hallway walls
Tile & grout new laundry floor
Add baseboards and door casings
Rehang laundry door
Add new glass door to future bunk-room
Add upper cabinetry and crown molding
Add lower cabinet next to washer & dryer with countertop
Tile & grout laundry room backsplash
Reinstall washer & dryer
Add ceiling light fixture
Hang art, ironing board, and bring in other laundry room items
Finishing touches and repairs (drywall in garage, step in attic, etc)
So before we hang any doors we have to install & grout the laundry room floor tile, which we hope to have done by Monday. I can't even handle how much that's going to make things feel like a room. And we'll be one step closer to bringing the washer & dryer back in. I know doing laundry doesn't excite many people, but the idea of being able to wash things at home again is pretty captivating to this girl right now. I predict a reenactment of Happy Feet while those machines hum.
&nbsp&nbsp&nbsp